New York Hockey:

Patrick Kaleta
March, 12, 2013
3/12/13
10:40
AM ET
At a glance:
With five wins in their past six games, the Rangers take on the struggling Sabres in Buffalo on Tuesday night while looking to leapfrog the Devils in the Eastern Conference standings. Coming off a 3-2 loss to the Flyers on Sunday, the Sabres are in 14th place after posting an abysmal 3-5-2 record in their past 10 games, and they won't even have starting goaltender Ryan Miller in net. According to multiple reports, Miller is out with a sinus infection and will back up Jhonas Enroth.


Bad blood:
Tuesday marks the first meeting between the two clubs since Buffalo's
Patrick Kaleta
injured Rangers veteran center
Brad Richards
with a nasty hit that earned the Sabres forward a five-game suspension. After the game, Richards, his teammates and Rangers coach John Tortorella blasted the hit and the player as "dirty." Kaleta is eligible to return Sunday against the Capitals.
Boyle bounces back:
After sitting out Friday's 3-2 loss to the Senators as a healthy scratch,
Brian Boyle
rebounded with a nice performance Sunday in D.C. Boyle tallied his first goal of the season as the Rangers knocked off the Capitals 4-1 in the first of a four-game road trip.
Not just yet:
After missing the first 26 games of the season with a hip injury, the Sabres'
Ville Leino
appeared ready to play his first game of the season against the Rangers, although indications from the Sabres' morning skate are that he will have to wait at least one more game. The 29-year-old Leino, who injured his hip before the season began, is looking to improve on an underwhelming 2011-12 season, when he finished with only eight goals and 25 points after inking a monster six-year, $27 million deal. Meanwhile, Tyler Ennis will also miss Tuesday's game. Ennis is "day-to-day" after being rocked by a hit from
Wayne Simmonds
on Sunday, although Sabres coach Ron Rolston said Ennis did not suffer a concussion.
Back on track:
Since sitting out for two games while recovering from the effects of Kaleta's suspension-earning hit, Richards has scored two goals in as many games. In his first game back, the 32-year-old alternate captain snapped a 15-game goal drought. He added his fourth of the season on Sunday.
Still streaking:
Although his five-game goal streak was halted in Sunday's win,
Rick Nash
has registered at least a point in each of his past 10 games played. He has 16 points (six goals, 10 assists) in that span and a whopping 11 points in the six games since he has returned from an undisclosed injury (believed to be a concussion) that sidelined him for four games last month.
March, 5, 2013
3/05/13
10:47
AM ET
After missing practice Monday while recovering from a nasty suspension-earning hit from Buffalo's
Patrick Kaleta
on Sunday,
Brad Richards
returned to the ice with the Rangers for the team's morning skate.
Richards did not stay on the ice long, however, so it remains unclear as to whether he will play Tuesday against the Flyers when the Rangers wrap up a four-game homestand.
Richards was visibly shaken up after sustaining the hit in the third period of Sunday's 3-2 shootout win over the Sabres. But the veteran center returned to the game after Kaleta was tossed with a game misconduct.
On Monday,
Kaleta was hit with a five-game ban
after a hearing with the NHL's department of player safety.
March, 4, 2013
3/04/13
5:35
PM ET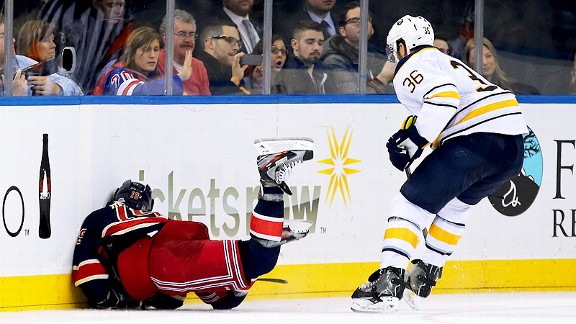 Bruce Bennett/Getty ImagesHere's a look at the aftermath of Kaleta's hit on Richards.
In what comes as no shock to anyone who saw Sunday's game,
Brad Richards
did not practice with the Rangers on Monday. Considering the amount of pain he appeared to still be experiencing after the game -- he was essentially wincing through his answers to questions -- Richards is due a maintenance day, at the very least.
The veteran center said he hit both his head and his neck when he was sent headfirst into the boards by the Sabres'
Patrick Kaleta
in the third period of the Rangers' 3-2 shootout win. After the game he said he considered himself "very fortunate" to have been able to return to the game.
Coach John Tortorella, who called Kaleta's hit "disgusting" and "ridiculous" after the game, said he does not have any long-term concerns regarding Richards' health. The 32-year-old alternate captain missed a significant amount of time due to a concussion while with the
Dallas Stars
back in 2011.
"He'll be fine," Tortorella said.
Meanwhile, Kaleta was slated to have a phone hearing with the NHL's Department of Player Safety at 3 p.m. on Monday. Because it is a phone hearing, the maximum suspension Kaleta could get is five games. Any ban of six games or more requires an in-person hearing.
Kaleta, who declined to speak with reporters following Sunday's game, spoke to local reporters in Buffalo, N.Y., on Monday and defended his actions.
"I just play hard, and I was on the penalty kill trying to do my job," Kaleta said, according to the Buffalo News' John Vogl.
Kaleta also told the Buffalo News that he felt like a "bag of garbage," although it was not for his hit on Richards, but rather that he put his team in a short-handed situation.
When asked if he cared to offer a message to Richards, Kaleta declined. "I'm good for now," he said.
It is not immediately clear when the NHL's disciplinary team will issue a decision, but the crew will surely take into account that Kaleta is a repeat offender.
March, 4, 2013
3/04/13
10:10
AM ET
Buffalo's
Patrick Kaleta
will have a phone hearing at 3 p.m. Monday with the NHL's Department of Player Safety over his hit Sunday night on
Brad Richards
, a source confirmed to ESPNNewYork.com.
Kaleta shoved Richards into the boards face-first at 3:28 of the third period of the Sabres 3-2 shootout loss to the Rangers. Richards went sprawling into the boards, hitting his head and neck before falling to the ice in obvious distress. Kaleta earned a checking from behind major penalty and a game misconduct for the play.
Although Richards was down on the ice for several minutes being looked after by the Rangers' head medical trainer, he skated off on his own and returned to the game in the third period.
After the game Richards, his teammates and coach John Tortorella blasted both the player and his actions.
Tortorella called it "disgusting" while Richards questioned Kaleta's place in the game.
"I don't know what game he plays, actually," Richards said, still grimacing in pain after the game. "He doesn't play hockey to begin with. Same guy, all the time."
Kaleta, a repeat offender with prior suspensions, cannot be suspended for more than five games. A player is given the right to an in-person hearing if the league is considering a ban of six games or more
March, 4, 2013
3/04/13
1:07
AM ET
"Disgusting," "ridiculous," "cheap," "dirty" -- these were among the adjectives the Rangers used to describe the hit from
Patrick Kaleta
that sent alternate captain
Brad Richards
head-first into the boards and down to the ice in obvious pain during the third period of the team's 3-2 shootout win over the Sabres on Sunday night at Madison Square Garden.
Suffice it to say they were not happy with Kaleta, a repeat offender who is likely to face supplemental discipline for his actions. To read more about what the Rangers had to say about the play that served as the turning point of the game,
click here
.
March, 3, 2013
3/03/13
10:23
PM ET
The New York Rangers rallied around teammate
Brad Richards
, who was the victim of
Patrick Kaleta
's reckless and dangerous hit from behind, to tally two goals in the third period and score twice in the shootout, as the club
topped the Buffalo Sabres 3-2
at Madison Square Garden on Sunday.
Rick Nash
and
Ryan Callahan
's goals in the shootout, and the stellar penalty-killing effort in overtime that preceded them, gave the Blueshirts their second straight win and snapped a season-high three-game winning streak for the Sabres.
Kaleta tossed:
Kaleta was ejected from the game after the nasty push from behind that sent Richards sprawling neck-first into the boards and onto the ice writhing in pain for several minutes at 3:28 of the third period. Kaleta earned a five-minute major for checking from behind and a game misconduct on the play, and will likely face supplementary discipline as a result. Richards was able to skate off on his own, and the Rangers scored almost immediately after on
Derek Stepan's
power-play marker. Nash followed up 43 seconds later for a 2-1 lead.
Tied up:
Up 2-1 with a firm grip on momentum, the Rangers surrendered a spirit-sapping shorthanded goal to Sabres winger
Nathan Gerbe
at 8:19 of the third period. It was the second shorthanded goal the Rangers have given up this season.
First strike:
After
Anton Stralman
iced the puck, a tired Rangers squad got caught at the end of a lengthy shift to surrender the game's first goal midway through the second period, when Drew Stafford's shot glanced off Rangers goaltender
Henrik Lundqvist
's glove for a 1-0 lead at 8:04.
Musical wings:
John Tortorella tried to jump-start the Rangers offense with a number of different line combinations in the second period, as he shuffled struggling winger
Marian Gaborik
. Gaborik began the game on the third line with rookie
J.T. Miller
and center
Brian Boyle
, but also skated with first-liners Richards and Nash and second-liners Stepan and Callahan during the middle frame.
Top gun:
The Sabres were without their leading scorer,
Thomas Vanek
, for the second straight game. Vanek, who has an unspecified upper-body injury, is third in the league with 12 goals and 15 assists. Meanwhile, the Rangers were missing rugged fourth-liner
Arron Asham
for the fifth straight game with a back injury that, although initially thought to be minor, has sidelined the forward since Feb. 21.
Up Next:
Rangers versus the Philadelphia Flyers, Tuesday at 7 p.m.