New York Hockey:

Petr Sykora
June, 8, 2012
6/08/12
1:57
PM ET
Despite whittling a 3-0 hole to a two-game series deficit with their win over the Kings Wednesday night, the Devils know the odds are stacked against them.

Only one team in NHL history has come back after falling behind by three games in the Stanley Cup final -- the 1942 Toronto Maple Leafs -- but coach Pete DeBoer believes this Devils club can become the second.

"You know it's going to happen again," he said Friday. "So why not us?"

That will be his team's approach as they host Game 5 at home in Newark Saturday night against a Kings team that has won all ten road games this post-season.

"You're not going to go 200 years without someone else doing it," DeBoer said. "So it's been long enough, it might as well be us."

Same forward lines for the Devils in practice Friday, so it appears Petr Sykora will remain in the lineup after making his series debut in Game 4. Veteran defenseman Henrik Tallinder is also expected to remain in for Peter Harrold.


• • •
Parise-Zajac-Kovalchuk
Sykora-Elias-Zubrus
Ponikarovsky-Henrique-Clarkson
Carter-Gionta-Bernier
June, 7, 2012
6/07/12
7:58
PM ET
By
Mike Mazzeo
| ESPNNewYork.com
NEWARK, N.J. -- Zach Parise says his left ankle is "fine."

The Devils captain went into the boards funny and got his left skate caught during the third period of New Jersey's 3-1 victory over Los Angeles in Game 4 of the Stanley Cup finals on Wednesday. He skated gingerly toward the bench, but didn't miss any time.

"No," Parise replied Thursday when asked if he was worried that his ankle might affect his game.

But even if you were, would you tell us?

"No," Parise replied, smiling.

Parise has no points in the Stanley Cup finals so far. Linemate Ilya Kovalchuk has one -- and it came on an empty-net goal.

"We're playing fine. It's just pucks aren't going in," Parise said. "We're getting good chances every game. Just unfortunately right now for whatever reason it's not going in for us. I don't think that we need to change anything about what we're doing. We're working hard. We've just gotta score and then we don't have this conversation."

Devils coach Peter DeBoer thought it was important for Kovalchuk and Patrik Elias to break though.

"We need guys to start scoring, and just like a win, you hope one goal translates into some confidence," DeBoer said. "It can't do anything but help everyone's mindset."

Must be the 'stache.

Adam Henrique elected to shave prior to Game 4, keeping only his mustache.

"I've done it before in juniors," Henrique said. "It's worked before, so why not try it again."

It ended up working again.

The 22-year-old rookie center scored his third game-winning goal of the playoffs with 4:29 left.

"It's in his character and his ability to rise to the occasion, he's not overwhelmed in situations when the game is on the line," DeBoer said of Henrique. "He has that special quality. He wants to be on the ice. He wants to make a difference at those points in the game.

"We obviously wouldn't be here without him."

The Devils are 0-for-15 on the power play in the series, but DeBoer thought their man-advantage was much better in Game 4.

"I thought we had some really good looks," DeBoer said, giving credit to Kings netminder Jonathan Quick. "You can't get discouraged, you just gotta stay with it."

Los Angeles has found success on the penalty-kill by aggressively pressuring the points .

"They pressure all over," DeBoer said. "They're very good with their pressure and the guys they use killing penalties are offensive players and dangerous guys, so I think that helps."

DeBoer liked what he saw from Petr Sykora and Henrik Tallinder, who were both inserted into the lineup for the first time in the series.

"They gave us a real shot of energy," DeBoer said.

Devils right winger Dainius Zubrus got his first-ever Stanley Cup finals victory in Game 4. He had been 0-7.

Zubrus said it was brought up in a conversation on the plane-ride home with Sykora, but he downplayed any significance given the 3-1 hole his team currently finds itself in.
June, 6, 2012
6/06/12
11:36
AM ET
By
Mike Mazzeo
| ESPNNewYork.com
With his team facing a 3-0 hole in the Stanley Cup finals, Devils coach Peter DeBoer has decided to make a pair of changes for Game 4 on Wednesday night.

Left winger Petr Sykora and defenseman Henrik Tallinder have been inserted into the lineup, while center Jacob Josefson and defenseman Peter Harrold will be healthy scratches.

Sykora hasn't played since Game 3 of the conference finals, while Tallinder has been out since mid-January with a blood clot in his lower left leg.
May, 21, 2012
5/21/12
12:19
PM ET
By
Mike Mazzeo
| ESPNNewYork.com
NEWARK, N.J. -- Petr Sykora hasn't missed a game this season.

Which is why the 35-year-old left winger wasn't happy to see reporters congregate around his locker stall after Monday's morning skate.

"What do you guys want?" Sykora said. "I get more media attention now than when I'm playing."

Sykora, who played in all 82 regular-season games and his team's first 15 playoff contests, will be a healthy scratch in Game 4 of the Eastern Conference finals, Devils coach Peter DeBoer confirmed.

Center Jacob Josefson, who has not played since fracturing his left wrist on April 3, will return to the lineup in place of Sykora.

"It's not my decision," said Sykora, who has been held off the scoresheet in his last four games and has just four postseason points. "All I can do right now is stay in shape and be ready to play."

"That's the way it is."

The scratch serves as the only blemish on what has been a marvelous season for Sykora.

The Czech native, who hadn't played in the NHL since 2009-10, signed a one-year, $650,000 contract with the Devils after making the team following a tryout. He proceeded to have 21 goals and 23 assists.

Josefson, 21, has been snakebitten by injury in his first two NHL seasons.

Last year, he missed 30 games due to a detached ligament in his right hand. In 2011-12, he had to sit out 37 games after breaking his clavicle. He came back and was starting to make an impact, but wound up fracturing his left wrist, which forced him out of action for 17 more games.

"He's had a tough year between the injuries and the adversity he's faced over the last two years," DeBoer said. "I really felt in the last 2-3 weeks of the season, he had re-found his game and his confidence. If we can get a version of that player in the lineup [Monday night], we'll be a better team."

Josefson was asked what he can bring to the lineup.

"I haven't been playing in awhile, so I'll have fresh legs and bring speed and energy," Josefson said.

Josefson is expected to center New Jersey's third line, which features David Clarkson and Alexei Ponikarovsky on the wings.

"He's excited, and I'm excited for him," Clarkson said. "He's dealt with [all the injuries] really well."

Zach Parise and Ilya Kovalchuk are expected to be separated in Game 4 after skating on different lines in Sunday's practice. Parise should play with Travis Zajac and Dainius Zubrus, while Kovalchuk is likely to play with Adam Henrique and Patrik Elias, who will move from center to left wing.

The team's fourth line -- Ryan Carter, Stephen Gionta and Steve Bernier -- will remain the same.

• Defenseman Anton Volchenkov didn't want to discuss Brandon Prust's one-game suspension. After taking a second-period elbow from Prust to the back of his head in Game 3, Volchenkov said he feels good.

DeBoer was asked if Prust's suspension would have an impact on his team.

"None," he responded. "It's one guy out, one guy in. And for us, nothing changes. I'm sure they're gonna dress a good lineup and be ready to go."
January, 17, 2012
1/17/12
10:09
PM ET
By
Mike Mazzeo
| ESPNNewYork.com
Ilya Kovalchuk
hasn't forgotten how badly he and his Devils teammates were bludgeoned by the Bruins the last time the two teams faced one another.
"We remember that game. It was embarrassing," Kovalchuk told MSG Network after pumping in a pair of goals on Tuesday night in New Jersey's 5-1 whooping of lowly Winnipeg.
On Jan. 4, Boston blew the Devils out of their own building, 6-1, in what was without question their worst performance of the season. The Bruins dominated them in every facet of the game.
The Devils will have a chance to get their revenge when they meet the Bruins on Thursday night at the Prudential Center.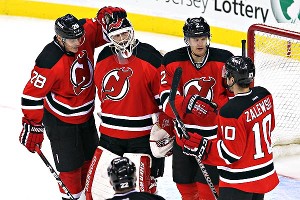 Ed Mulholland/US PresswireMartin Brodeur and the Devils face a big challenge when the champion Bruins come to town Thursday.
"We weren't happy with our effort [last time],"
Patrik Elias
told MSG Network. "We just have to give a better effort. It's a great challenge, so we have to rise to the occasion."
The defending Stanley Cup champion Bruins are as complete a hockey team as you'll find. Boston has scored the most goals, and allowed the fewest.
"We have to be ready, we have to be ready to win a lot of 50-50 pucks on the wall," captain
Zach Parise
told MSG. "That's where that team is really good. We have to be mentally ready."
"They have four very good lines. We have to come out with a good effort, be patient and play our game,"
Petr Sykora
added.
The Devils are hot, having won three in a row. They went 3-1 on their four-game road-trip, and then took care of the Jets with ease.
Their stars are playing like stars:
• Kovalchuk has seven goals in his last six games;
• Elias has a six-game points streak (four goals, six assists);
•
Martin Brodeur
is 9-3-1 since Dec. 6.
Brodeur, who is 39 and in the final year of his contract, confirmed what he told the New York Post to MSG Network after Tuesday's game when he said, "I'm leaning toward maybe playing a little more. I'm having fun."
The Devils (26-17-2) have had their fair share of victories this season. That's why they're in sixth place in the Eastern Conference.
But they've struggled against the top teams in the East, going 1-4 combined against the Rangers, Bruins and Flyers.
Sykora said he thinks the Devils can beat the Bruins.
Now, it's time to prove it and make a statement that this Devils team is a force to be reckoned with.
December, 28, 2011
12/28/11
10:48
PM ET
The Devils took a chance on Petr Sykora, signing him to a one-year deal after an impressive training camp tryout this September. And the 35-year-old veteran continues to make that decision look like a damn good one.

Sykora tallied twice to boost the Devils 3-1 over the Sabres Wednesday in his first multi-goal game since January 28, 2009.

In his second stint with the Devils -- he spent four seasons with New Jersey from 1999-2002 -- Sykora has been an absolute steal of a signing. The Czech winger has 10 goals and 11 assists in 36 games for the Devils, all for the modest price tag of $650,000.

Coach Pete DeBoer didn't know much about him going into training camp, but he likes what he's seen so far.

"He's really grown on me," DeBoer said. "He's a seasoned vet. He shows up, works hard, he does the right things, he's great with the young guys and he's filled a really big void for us there on the top two lines."

Sykora has re-established strong chemistry with his old linemate Patrik Elias -- who assisted on both of his goals Wednesday -- and emerged as one of seven Devils to reach double-digits in goals.

Sprung by a sharp pass up the middle from goaltender Martin Brodeur, Sykora potted his first of the night, slipping the puck past a diving Ryan Miller for a 1-0 lead in the first. Elias then made a beautiful feed to find Sykora in front as he notched his second of the night and tenth of the season at 1:26 of the second.

"I'm getting the chance to play, I'm getting quite a bit of ice time and I'm getting the chance to play with great players," Sykora said. "It's been a lot of fun."

Given his two-year layoff from the NHL, the Devils didn't know exactly what to expect. Sykora spent last season playing in Europe and had a disappointing 2009-10 season with Minnesota, during which he played only 14 games.

"There was a lot of uncertainty regarding where he would fit, how much we'd be able to play him. To his credit, he's taken his second-chance opportunity and made the most of it," DeBoer said.

Brodeur said he's been happy to see the success of Sykora, who has re-emerged as an offensive threat and vital member of their club.

Especially with the route he had to take to get back to the NHL.

"When you leave the NHL its hard to get back, sometimes," said Brodeur, who earned his third assist of the season. "It's the hardest thing for a player who has had success to say, 'Well I'm going to go without a contract and try to make the team."

"It takes a guy that's really committed to want to come back to NHL to do that. He did it and proved he is an important factor for our hockey club and we were able to sign him. It's all to his credit, nobody else's."

December, 15, 2011
12/15/11
5:10
PM ET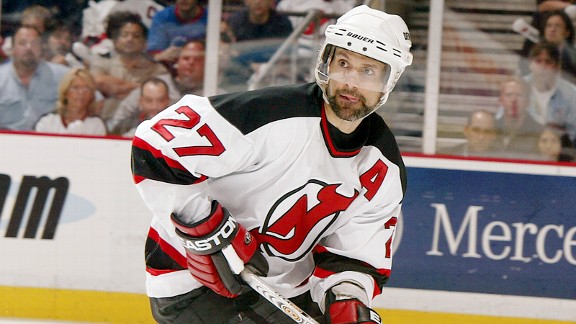 Al Bello/Getty ImagesScott Niedermayer won Stanley Cups with the Devils in 1995, 2000 and 2003.
Looking back, the thing that strikes Devils forward
Petr Sykora
most about former teammate
Scott Niedermayer
was his skating.
"He could not skate a day all summer, then lace up the skates the first day of training camp and be the best one out there," Sykora recalled Thursday.
Niedermayer, whose No. 27 will be retired Friday in a pregame ceremony at Prudential Center, set the standard for what an elite puck-moving defenseman could do for a team.
"He could play 30, 32 minutes a night and just dominate every shift," Sykora said. "Half the game, the opponents couldn't do anything. There would be no odd-man rushes, no breakaways.
"He was phenomenal," Sykora continued. "When you have a guy like that, you always have a chance to win."
Niedermayer did plenty of that, too. The 38-year-old Alberta native won four Stanley Cups, two Olympic gold medals, a World Cup, World Championship, World Junior Championship and Memorial Cup.
During his illustrious 18-season NHL career, the former Norris Trophy winner amassed 172 goals and 568 assists before retiring in June 2010. He was a member of all three Stanley Cup teams for New Jersey and won a fourth in Anaheim with his brother, Rob. His performance during the Ducks' Cup run in 2007 also earned him the Conn Smythe Trophy as playoff MVP.
Niedermayer's winning legacy will be forever remembered when his jersey is raised to the rafters Friday. Niedermayer joins fellow defensemen
Scott Stevens
and
Ken Daneyko
as the only three players in Devils history to have their numbers retired.
The tribute to Niedermayer, who spent 12 seasons with the Devils (1992-2004), will be a special night for Niedermayer, his family and his legions of fans. Not to mention everyone within the Devils organization, whether they played with Niedermayer or not.
"These are good examples for our kids coming up," said goaltender
Martin Brodeur
, one of three current Devils -- along with Sykora and
Patrik Elias
-- who teamed with Niedermayer in New Jersey. "This is our history. This is an important day for our organization."
The ceremony will begin at 6:45 with pregame warm-ups slated to begin afterward at 7:30 for an 8:08 puck drop against the Pacific Division-leading Stars. The festivities will require a slight deviation from the team's normal schedule, but nothing that gives coach
Pete DeBoer
much concern.
Rather, DeBoer said he thinks "it can be nothing but positive" for his players to be on hand for the special event.
"For our guys, especially our young players who didn't get a chance to play with him or against him, to get to be part of a night like that, I think, is invaluable," DeBoer said. "Whatever setbacks it might lead to from the start of the game or energy level is far outweighed by the positives of our guys getting to see that."
October, 5, 2011
10/05/11
12:28
PM ET
By
Mike Mazzeo
| ESPNNewYork.com
Petr Sykora earned a second stint with the Devils after an impressive preseason tryout with the club.

In four games, the 34-year-old scored two goals and also had a hat trick during a team scrimmage.

The Devils reportedly signed Sykora, a two-time Stanley Cup winner who has notched 302 career NHL goals, for just one-year at $650,000, making it a low-risk but potentially high-reward move.

Even though he's three seasons removed from a 25-goal campaign in Pittsburgh, the Devils are hoping that Sykora can rediscover his prowess for putting the puck in the net.

After all, they ranked last in the NHL in goals scored last season, so why not give this a try?

Sykora also gives the Devils some versatility up front given his ability to play both on the wing and in the middle.

Head coach Peter DeBoer could elect to play Sykora at right wing with Patrik Elias and Zach Parise on the team's top line, or have him play with young pivots like Jacob Josefson or Adam Henrique on the bottom two forward combinations. The veteran Sykora could be used on special teams as well.

Maybe Sykora doesn't give the Devils an 81-point season like he did a decade ago. Maybe he plays like he did in Minnesota in 2009-10 and they have to waive him after just 14 games.

But given the cost, it wouldn't be such a big deal if it came to that.

The Devils aren't asking for Sykora to be the Sykora of old per se (there's a reason they're paying Parise and Ilya Kovalchuk the big bucks), but if he can come in and provide leadership along with a goal now and then, it would do wonders in helping them get back to the postseason after missing it last year.
September, 16, 2011
9/16/11
5:12
PM ET
The Devils missed the playoffs for the first time since 1995-96. Along the way, franchise forward Zach Parise was lost to injury and rookie head coach John MacLean was fired. The team had a remarkable surge after stalwart Jacques Lemaire appeared back behind the bench, but it wasn't enough to score a postseason berth. Can they pick up the pieces with new coach Pete DeBoer at the helm?

Main Storylines

1. Will Parise stay? That will be the question in everyone's minds all season, even though the 27-year-old winger can't resign with the Devils until Jan. 1. If he opts to test the market, it would be a devastating blow to the organization and the team's future. Teams will be clamoring after the franchise forward in what could be the biggest free-agent sweepstakes the NHL has ever seen.

2. New regime: In his first year as head coach of the Devils, DeBoer will be charged with juggling several sensitive issues. What type of relationship can he forge with Parise and fellow marquee player Ilya Kovalchuk? How will he allot playing time between the two players -- both of whom play the left wing? And how will he manage veteran NHL icon Martin Brodeur between the pipes? Every move will be scrutinized and a misstep could prove costly.

3. Filling the void: The loss of first-line center Travis Zajac to a torn Achilles tendon leaves the Devils with a gaping hole down the middle. Zajac, who suffered the injury in August during an offseason workout, is expected to be out until December. Who will step up in his place? Patrik Elias, Jacob Josefson and Dainius Zubrus are all candidates to fill the void.

New additions

• D Adam Larsson: The Devils selected the 18-year-old Swedish defenseman fourth in this year's draft and hope he can step in and contribute right away. Larsson (6-2, 209) played in 37 games for Skelleftea of the Swedish Elite League last season and finished with one goal and eight assists.

• LW Eric Boulton: One of two signings this summer made to bolster the team's toughness, 35-year-old Boulton will battle it out with Cam Janssen for a role as the team's enforcer.

• RW Cam Janssen: The former Devil (2005-07) signed this summer on a two-way deal. The 27-year-old winger returns to New Jersey after racking up 370 penalty minutes in the past three-plus seasons he spent with the Blues.

Wild card

Former Devil Petr Sykora, who won a Stanley Cup with the team in 2000, is attending camp on a tryout. There will be no guarantees of a roster spot and the veteran will be likely fighting for his last chance to play in the NHL.

Bottom line

The 2011-12 season is a pivotal year for the franchise. Many questions integral to the team's future need to be resolved so the Devils can move forward and re-establish themselves as a perennial postseason lock.