New York Hockey:

Steven Stamkos
February, 28, 2013
2/28/13
9:42
PM ET
At a glance:
Returning to the lineup after missing four games,
Rick Nash
finished with a goal, an assist and a game-high 12 shots as the Rangers earned
a 4-1 win
over the
Tampa Bay Lightning
. In snapping a four-game winless streak, the Rangers also completed a series sweep against the Bolts in front of a home crowd at Madison Square Garden on Thursday night.


Thanks, ref:
With the Rangers trying to build on a 2-1 lead in the second period, the team got an unexpected assist from one of the game's linesmen.
Marty St. Louis
tried to clear the Tampa zone on the penalty kill but ended up pegging the linesman in the back, preventing the Lightning from making a change. The Rangers didn't take long to capitalize, as
Marc Staal
hammered away at a loose puck in the crease for a Rangers power-play goal with less than four minutes left.
Big returns:
Nash returned to the lineup for the Rangers after missing four straight games with an undisclosed injury, believed to be a concussion. Also making their comebacks Thursday were defensemen
Ryan McDonagh
and
Michael Del Zotto
, who both suffered injuries during the team's two-game trip through Canada last weekend.
Setting the tone:
Buzzing around the ice and swarming the puck, Rangers speedster
Carl Hagelin
was rewarded with the game's first goal. After making a great move along the boards to blow past a Bolts defender, Hagelin unleashed a blast from the left circle to open up scoring at 7:23 of the first period.
Derek Stepan
extended the Rangers' lead to 2-0 less than two minutes later, burying a deft backhand feed from captain
Ryan Callahan
at 8:40.
Pretty play:
Outshot by the Rangers 20-1, the Lightning cut the Rangers' 2-0 lead in half by notching a goal on their second shot of the game. St. Louis notched his fifth of the season with a sensational redirect of
Eric Brewer
's shot to cut the Rangers' lead in half, 2-1, at 16:09 of the first period.
Still streaking:
Although the Rangers snuffed out his six-game goal streak, league-leading scorer
Steven Stamkos
registered a point in his eighth consecutive game with an assist on St. Louis' first-period marker. Stamkos has 14 points during that span.
Up next:
Rangers vs. Sabres, Sunday at 7:30 p.m. ET.
February, 28, 2013
2/28/13
11:07
AM ET
At a glance:
The Rangers aim to snap a four-game losing streak with a win over the
Tampa Bay Lightning
on Thursday at Madison Square Garden, but the Bolts are also looking to get back on track. The Lightning have dropped two straight games, a 2-1 loss to the downtrodden Sabres on Tuesday and a 5-3 defeat against Pittsburgh over the weekend, and must win to stave off a series sweep by the Rangers.


Guess who's back:
Finally some relief for a depleted Rangers squad that has seen its lineup ravaged by key injuries. It appears that both star winger
Rick Nash
and top-pair defenseman
Ryan McDonagh
are set to return against Tampa, possibly even
Michael Del Zotto
, too. The team has suffered without some of its brightest stars; the Rangers are 0-3-1 in all four games that Nash has missed with an "undisclosed injury" that was believed to be a concussion.
Leading the way:
Steven Stamkos
has carried the Lightning this season. The former first overall draft pick is leading the league in both goals (14) and points (30) through 19 games this season. Stamkos, a two-time Rocket Richards Trophy winner, appears to be on pace to contend for the title again this season. He enters Thursday's match with a six-game goal-scoring streak. He has registered a gaudy 13 points in the last seven games.
Power outage:
Stamkos' heroics have not translated on the power-play, however. The Bolts have struggled with the man advantage of late, converting on only one of 14 opportunities in the last four games. They'll face a Rangers' penalty-killing unit ranked 10th in the league and bolstered by the recent return of forward
Darroll Powe
.
Season for speculation:
With the Rangers struggling to recapture last season's success, there has been speculation that the team may be on the lookout for some outside help. The fact that a contingent from Newport Sports, one of hockey's premier agencies, is in town for Thursday's game only adds fuel to the fire. Newport represents Norwegian winger
Mats Zuccarello
, who is currently playing in the KHL, and Colorado's Ryan O'Reilly, who is entrenched in a contentious contract stalemate with the Avalanche. There's another name to consider -- college free agent Danny DeKeyser. The defenseman out of Western Michigan University uses Newport as his advisers.
Missing men:
The Lightning will be without defenseman Sami Salo and forward Ryan Malone, both of whom are dealing with lower-body injuries. According to coach Guy Boucher, the Bolts will roll seven defensemen and start goaltender Mathieu Garon in net.
February, 27, 2013
2/27/13
7:11
PM ET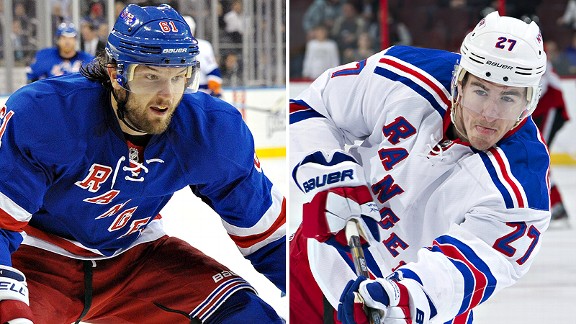 Getty ImagesRick Nash and Ryan McDonagh are expected to return to the Rangers on Thursday night.
GREENBURGH, N.Y. -- Winless in their past four games, the Rangers appear to be in line for a big boost heading into Thursday's game against the
Tampa Bay Lightning
at Madison Square Garden.
Although neither player would give a firm commitment, it appears that both star winger
Rick Nash
and top-pair defenseman
Ryan McDonagh
are poised to return to the lineup.
For an injury—ravaged squad that has struggled of late, that news comes as a huge relief.
"The guys that are out are pretty important guys," coach John Tortorella said. "If you get some back in, it will certainly help."
It would've been pretty easy for the Rangers to blame their recent woes on injuries. During their current 0-3-1 skid, the team has seen Nash and McDonagh felled by injuries, as well as another top-pair defenseman --
Michael Del Zotto
. Even ironman blueliner
Dan Girardi
had to be helped off the ice in Saturday's shutout loss to Montreal after blocking a shot with his foot, although he returned the next game.
[+] Enlarge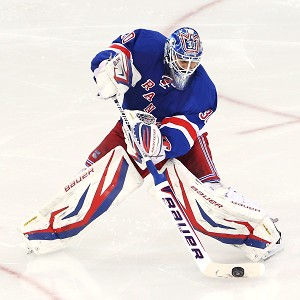 Anthony Gruppuso/USA TODAY SportsEven if Nash and McDonagh play, a struggling Henrik Lundqvist faces a mighty challenge ...
But dwelling over each absence would not have been a productive endeavor, nor would it have invoked much sympathy around the league -- has anyone seen what the
Ottawa Senators
have accomplished without both
Erik Karlsson
and
Jason Spezza
, for example? -- so it was not ever a crutch the Rangers employed.
Still, the Rangers need to inject some life, and depth, into their lineup and the return of Nash and McDonagh may be just what the doctor ordered.
"Pucks aren't going to flow around the ice like they potentially would when you have the full lineup. It's a fine line there of staying patient and not trying to do too much and where you're pressing and all of the sudden it's in your net,"
Brad Richards
said. "We can't do anything about injuries, but if they're coming back, we'll welcome them with open arms."
Richards would be one of the main benefactors in Nash's return, especially if he reprises his role as first-line center between Nash and speedy forward
Carl Hagelin
against his former team on Thursday.
The 32-year-old veteran has gone 13 straight games without a goal, a painful slump that has caused both benchings and demotions for the alternate captain.
If the Rangers are to reclaim their swagger of 2011-12, when they finished with the top regular-season record in the Eastern Conference, the team will need top players like Richards,
Marian Gaborik
and captain
Ryan Callahan
to produce.
The last had one of his finest efforts of the season in Tuesday's 4-3 loss to the
Winnipeg Jets
, a performance Tortorella hopes will inspire those around him.
"He tried to will us to a win [Tuesday] night and he almost got us a point," Tortorella said. "Other players, the more skillful guys, I think can take a lesson from that and add some of that grind and will in their game and it may help a lot of guys on the team to get out of their funk."
[+] Enlarge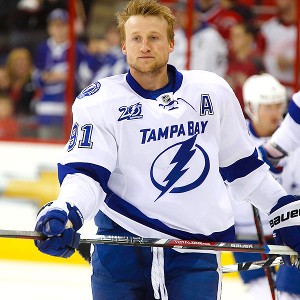 James Guillory/USA TODAY Sports... with sharpshooting Steven Stamkos in town.
Aiming to turn things around and recapture some confidence in the second game of a four-game homestand, the Rangers will entertain the eighth-place Lightning on Thursday night with a mere point separating the two teams in the standings.
Although the Bolts have surrendered two straight, they still boast one of the NHL's elite talents in former first overall draft pick
Steven Stamkos
. Stamkos leads the league with 14 goals and 30 points and enters Thursday's tilt on a six-game goal-scoring streak. The 23-year-old center has also racked up a whopping 13 points in the past seven games.
A lot of that comes down to his notorious shot, which he has an uncanny ability to rip past opposing defenders.
"He just has a knack for getting it off under pressure," said defenseman
Matt Gilroy
, who played with Stamkos in Tampa. "His one-timer, he can one-time almost anything you throw at him -- hard, soft, wobbly, and his wrist shot is just as good, just lethal."
With McDonagh back on defense, the Rangers will likely have a better chance at keeping Stamkos' shot contained -- he registered a season-high eight shots on goal against Buffalo on Tuesday -- but reigning Vezina Trophy winner
Henrik Lundqvist
is prepared for what he'll be facing.
Lundqvist chastised himself Tuesday night for giving up the game-deciding fourth goal against the Jets to Winnipeg's
Evander Kane
, and he's not in the mood to mull another save he should've made.
"They're a skilled team," Lundqvist said. "Great shooters. You can't give them too much space. They're really tricky. But, if we play like last night, we have a good chance of winning."
April, 27, 2012
4/27/12
11:40
AM ET
Another day, another nomination for star goaltender Henrik Lundqvist.

Less than a day after leading his first-place Rangers team past the eighth-seeded Senators in Game 7 of the Eastern Conference quarterfinals, the 30-year-old netminder was named as one of three finalists for the NHL's Hart Trophy. The trophy, voted on by the Professional Hockey Writers' Association, is awarded to the player deemed "most valuable" to his team.

Lundqvist joins fellow Hart candidates Evgeni Malkin (PIT) and Steven Stamkos (TBL), but is the only nominee with his team still standing in the playoffs. The Rangers take on the Capitals in the Eastern Conference semifinals beginning Saturday.

"I'm really happy and honored and proud to be in that selection," Lundqvist said after Friday's practice.

Heralding what has been a career season for the steady Swede, Lundqvist was also nominated for the NHL's Vezina Trophy earlier this week. He set career-highs in wins (39), save percentage (.930) and goals against average (1.97), and was among the tops in the league in all three categories. Lundqvist also had eight shutouts while leading his Rangers squad to capture both the Eastern Conference and Atlantic Division title.

"It's fantastic. You don't see that often, a goaltender int hat position," coach John Tortorella said of the Hart nomination. "I'm not too interested in talking a lot about awards and stuff like that, but for this guy here and what he has done for the hockey club, he belongs there. "

Both the Hart and Vezina Trophies will be announced at the NHL Awards Show in Las Vegas in June.
December, 23, 2010
12/23/10
9:55
PM ET
Recap
|
Box score
|
Photos
WHAT IT MEANS:
In the 11th round of the shootout, the Rangers dropped a tough one, falling 4-3 to the Tampa Bay Lightning Thursday Night at Madison Square Garden. The loss, the second to Tampa Bay in two meetings this season, drops the Rangers to 8-8-2 at home and to 20-14-2 overall. The Rangers have now lost two straight after a three-game win streak.
THE SHOOTOUT:
In the 11th round, Lightning Left Wing
Ryan Malone
beat
Henrik Lundqvist
to end the shootout. The Rangers and Lightning each went seven rounds without a goal.
The Rangers and Lightning each scored twice in the first three shots.
Erik Christensen
and
Mats Zuccarello
each scored for New York, while Tampa Bay's
Victor Hedman
and
Adam Hall
scored. Zuccarello scored on the Rangers third attempt to tie the shootout, as the Lightning led 2-1.
SENDING IT TO OT:
Trailing 3-2 more than halfway through the third period, the Rangers rallied for the game-tying goal. With just 8:42 left,
Derek Stepan
beat Lightning goalie
Dan Ellis
with a perfectly placed shot to the left post while Stepan was positioned right outside the right post to tie the game.
KING DOWN:
Rangers goalie
Henrik Lundqvist
, while great in the shootout, lost in back-to-back games for just the second time this season. The seven goals he allowed in the losses to Tampa Bay and Philadelphia on Saturday are the most he's allowed in two starts since he allowed eight combined in a 5-1 loss to Colorado on Nov. 19 and a 5-3 loss to Tampa Bay on Nov. 24.
ACTION IN THE FIRST:
Sloppy turnovers and a lack of defense led to an action-paced first period that resulted in a 2-2 tie. Tampa Bay took a 1-0 lead just two minutes into the game when
Martin St. Louis
intercepted a pass and beat Lundqvist to his stick side.
The Rangers later tied the game and took the lead in a span of 12 seconds.
Ruslan Fedotenko
tied the game at the 11:16 mark, and just 12 seconds later,
Alex Frolov
gave the Rangers the lead on a goal that seemed to have deflected off one of Tampa Bay's defenders' skates. Fedotenko notched his sixth goal, while Frolov's score was his seventh.
That wasn't all the action in the first, however. Tampa tied the game with just 1:06 remaining in the period when a Rangers turnover in their own zone led to a goal by
Steven Stamkos
. It was Stamkos' 27th goal of the season.
NOT CONVERTING:
The Rangers outshot the Lightning in every period in regulation and 37-24 overall, but couldn't convert enough of their opportunities to win the game in regulation. New York had a 10-7 edge in shots in each of the first two periods and a 17-7 edge in shots in the third period.
The Lightning did have a 3-0 advantage in shots in the five-minute overtime period.
THE DEBUT
: Rookie Left Wing
Mats Zuccarello
had a memorable debut for the Blueshirts Thursday night. Zuccarello, an undrafted free agent signed by the Rangers on May 26, was called up from the Rangers AHL affiliate in Connecticut with
Marian Gaborik
out with a groin injury. He skated for 17:07 in regulation and had two shots.
His big moment, however, came in the shootout as Zuccarello scored on the Rangers third shot to extend the shootout.
UP NEXT:
The Rangers will try and snap their losing streak against the suddenly red-hot Islanders Monday night at Madison Square Garden. It will be the fourth meeting between the teams this season, with the Rangers holding a 2-1 series edge.
December, 22, 2010
12/22/10
8:43
AM ET
By
Mike Hume
| ESPNNewYork.com
The banged-up Isles skate against the
Tampa Bay Lightning
at the Coliseum tonight. Here are three factors to watch for when the puck drops.

Unstoppable Stamkos
Steven Stamkos
reached the century mark in goal scoring on Monday, making him just the sixth player in NHL history to reach 100 goals before his 21st birthday. It wouldn't be surprising if he continued his scorching start to the season tonight. Stamkos has put up 10 points in his past six games against the Isles, including two power play goals. The remarkable thing about Stamkos' goal-scoring is that so many of his markers come from the same spot -- a one-timer from the left faceoff circle. Call it a hunch; he'll fire a few off from that area tonight if the Bolts go a man up.
Defensive Adjustments
With
Mike Mottau
out for the season with hip surgery the Islanders blue line takes a big hit, but compensating for his absence shouldn't be anything new. Mottau was sidelined since late November with an eye injury before suffering the torn labrum that's ended his season. That said, they'll probably want to improve on the defensive downturn since Mottau's absence that's seen their goals-allowed per game spike to 3.5 since Nov. 21. Their season average hovers at 3.37, an NHL worst.
Tough Sledding for Tavares
With little help around him, it certainly appears that the development of
John Tavares
has stalled. His point-per-game totals are down from last season and he currently lacks a goal in his last nine games. This is starting to have the look of a lost season for the growing youngster and it's a tough spot to find himself in so early in his career. It's going to be an interesting test of his resolve to see how he carries himself, but everything I've seen from him so far indicates he'll have the poise and level head to stay strong ... if only mentally. Asking him to carry the league's second-worst offense may be asking a little too much though.
November, 24, 2010
11/24/10
8:04
AM ET
By
Mike Hume
| ESPNNewYork.com
The Rangers made a
minor trade
Tuesday, acquiring minor-league D Stu Bickel from the
Anaheim Ducks
for Hartford D Nigel Williams.
Bickel has eight points in 63 career AHL games, with stints split between Iowa, San Antonio and Syracuse. Bickel, 24, was signed by the Ducks as an undrafted free agent in 2008 after playing a season with the University of Minnesota.
Bigger news, however, is that
Michal Rozsival
was on the ice in a yellow no-contact jersey yesterday in Tampa,
according to The Record's Andrew Gross
. It was the first time the injured D-man has skated since being sidelined with a pair of problems (shoulder/knee). Gross also notes that Vinny Prospal is on the road trip, though there is no time table for his return.
Morning Links
November, 18, 2010
11/18/10
8:58
AM ET
By
Mike Hume
| ESPNNewYork.com
New coach? No matter. The losing streak still spiraled to 11 games.
The snake-bit
New York Islanders
gave up 32 shots in the first two periods and succumbed to the Lightning, 4-2, Wednesday, with the ringing of pucks off pipes and crossbars supplying a funeral-bell chorus for the Isles' playoff chances.
Game Story | Recap
The Isles just couldn't get a bounce last night, hitting more iron than most blacksmiths see in a lifetime. Meanwhile, a
Steven Stamkos
goal just barely beat the first period buzzer by a split second. Those are the kinds of breaks that keep teams from snapping losing streaks.
Bad luck? Sure. But the sample size of the Islanders season has been about more than just bad luck. And the Isles still scored just twice last night, giving them just 10 goals over the last nine games.
With just 11 points through 18 games the Isles need to snag 79 points over their next 64 games to reach the 90-point threshold that usually signifies the lowest rung on the playoff ladder. To do so, New York needs to claim about 62 percent of the remaining available standings points on the schedule. Over the course of a full season, the Isles haven't put up a mark that good since they last saw the Stanley Cup finals in 1983-84.
With points awarded like merit stickers in Kindergarten in the post-lockout NHL, do the Islanders still have a chance of turning the corner and getting hot? Maybe. About a third of the NHL is currently playing at a points-percentage of .618 or better. But there has been nothing to suggest that the Islanders are as talented as that top third of NHL teams.
Morning Links
November, 17, 2010
11/17/10
3:05
PM ET
By
Mike Hume
| ESPNNewYork.com
In case anyone has forgotten, the Islanders are still riding a 10-game losing streak into Nassau Coliseum tonight. With new coach Jack Capuano now at the helm, here are three keys to stopping the skid Wednesday night against the visiting
Tampa Bay Lightning
.
The First 20 Minutes
When a team jettisons its coach mid-season it's expected that the players give themselves a long look in the mirror and acknowledge that their poor performance contributed to a guy losing his job. The hope is that will reinvigorate them and redouble their effort on the ice. The best way the Isles can pay their penance is to provide a high-energy first period. Which will hopefully result in ...
The First Goal
Now, all the effort in the world means diddly if you don't score. And the first goal has been particularly key for the Islanders this season. The Isles actually have a winning record (4-1-1) when they score first. When their opponent notches the first goal? They're winless. Seems pretty important to light the lamp first, no?
The PK
Steven Stamkos
is a machine on the power play. Nearly half (40) of his career goals have come with the man advantage. He particularly favors the left faceoff circle where he can set up for his blistering one-timer. The Islanders, and the rest of the NHL, know that. Stopping it will be the trick. It will be interesting to see how Capuano's new crew approach the problem and if they can be successful taking away time and space from one of the NHL's most lethal snipers.