New York Hockey:

Wade Redden
May, 18, 2013
5/18/13
1:53
PM ET
BOSTON -- Ex-Ranger
Wade Redden
said he's not yet ready to return to the Bruins' lineup -- the injured defenseman will be a game-time decision Sunday -- but admitted there will likely be a mix of emotions in facing his former team.
Redden played only two seasons in New York after signing an ill-fated six-year, $39 million contract in 2008, during which he was beaten up by both the fans and the media before he was dispatched to the minors.
[+] Enlarge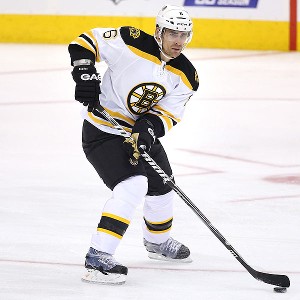 Tom Szczerbowski/USA TODAY SportsWade Redden had a rocky time with the Rangers.
"It does and it doesn't [dredge up emotions]," Redden said after Saturday's practice at TD Garden. "I've dealt with it all year. I've answered questions about it since I've come back. ... It's gonna be nice, hopefully, to get out there and be part of it, but I've kind of turned the page on all that stuff that's gone on."
Redden was buried in the AHL for two years -- serving as a savvy vet and consummate professional on a young minor league team -- before a post-lockout accelerated compliance buyout allowed him to resurrect his NHL career.
The 35-year-old signed a one-year deal with St. Louis to begin the season before he was traded to the Bruins at the deadline in April.
Two teams and three years removed from that painful time period, Redden is ready to close that chapter of his life.
"I've accepted my part of it, for sure," he said. "Things weren't going great in New York. It went the other way. It was a change that was needed, probably for everyone."
Redden's play did not make him a popular guy among the Blueshirt faithful, but the burden of his hefty contract didn't help matters either. It was an ugly combination of circumstances.
"It's unfortunate, obviously, how things went there, but, you know, it didn't work out and you move on," Redden said.
He reflected on his time in the AHL and said he had plenty of positive experiences to draw from that two-year stay. There were periods he battled the doubt that he'd ever play in the NHL again, but ultimately he believed he could get back.
He was right.
Redden has provided some depth and experience to the Bruins' blue line since joining the team late in the season. He had one goal and one assist in the Bruins' first-round series against the Leafs before he was sidelined with an undisclosed injury.
He said he is making progress and eager to get back into action. After all, there were times he wondered if he'd ever have that chance again.
"There are certain days where you have your ups and downs," Redden said. "At the end of the day, I did believe. That's why I did stick with it."
October, 25, 2012
10/25/12
2:25
PM ET
You could argue that in today's locked-out NHL, every contract is the worst.
After all, how good is a contract if it's not being honored?
That notwithstanding, there are some monumental contract failures in the league. Here's a list of what we think are the worst; all salaries courtesy of Capgeek.com (
click here for more information on each contract
):
1.
Scott Gomez
, Canadiens, seven years, $51.5 million
2.
Rick DiPietro
, Islanderes, 15 years, $67.5 million
3.
Ville Leino
, Sabres, six years, $27 million
4.
Ilya Bryzgalov
, Flyers, nine years, $51 million
5.
Mike Komisarek
, Maple Leafs, five years, $22.5 million
6.
Wade Redden
, Rangers, six years, $39 million
7.
Paul Martin
, Penguins, five years, $25 million
8.
Mikhail Grabovski
, Maple Leafs, five years, $27.5 million
9.
Tyler Myers
, Sabres, seven years, $38.5 million
10.
James Wisniewski
, Blue Jackets, six years, $33 million
September, 30, 2010
9/30/10
4:17
PM ET
By
Mike Hume
| ESPNNewYork.com
As John Tortorella mulls the final cuts of Rangers training camp, reportedly coming after Saturday's game, his players gave him plenty to think about after a
5-1 smackdown of the Red Wings
at MSG last night.
The line of
Ruslan Fedotenko
,
Derek Stepan
and
Sean Avery
earned the game's first, second and third stars, while combining for two goals, three assists and each finishing with a plus-two rating. Stepan could have added a second goal to his night had he been able to covert after a shifty drive to the goal mouth in the mid-second period.
Box Score
Fedotenko and Stepan certainly made solid strides towards securing the final open spots on the Rangers' opening day roster. In all likelihood, the Rangers will cut two more forwards and two defensemen to reach the roster limit of 23 players.
On the blue line, Pavel Valentenko and
Mike Sauer
also looked strong – though the Red Wings did not dress any of their premier stars, with
Henrik Zetterberg
,
Pavel Datsyuk
and
Nicklas Lidstrom
all sitting out. Sauer scored a 4-on-4 goal late in the third period on a behind-the-back pass from
Erik Christensen
. Valentenko asserted himself physically all game long and returned to action after breaking his nose in the first period,
according to the Post's Larry Brooks
.
Also from the Post write-up, waivers may play a role in which D-man is kept and which are demoted. Sauer and
Steve Eminger
(a healthy scratch last night) must pass through waivers to reach the Rangers' AHL affiliate in Hartford. Valentenko and
Ryan McDonagh
(another scratch) would not be subjected to waivers.
One of the team's top prospects, McDonagh needs to get ice time wherever he lands. That likely means he'll need crack the Rangers' top four in order to stick in New York.
Afternoon Links
September, 28, 2010
9/28/10
8:14
AM ET
By
Mike Hume
| ESPNNewYork.com
The Rangers trimmed their roster
by 11 players
Monday, leaving just a handful of cuts before finalizing the locker room for the start of the regular season Oct. 9 in Buffalo.
Among the cuts was prime prospect
Evgeny Grachev
, as well as small-but-shifty forward Mats Zuccarello. The latter cut makes me particularly sad, mostly because it denies me the opportunity of using "
Norwegian Hobbit Wizard
" in headlines this season.
A bigger theme of the cutdown is how it relates to the organization's immediate future. For all of the talk about a youth movement on Broadway, it sure seems like the team plans to lean on its veterans this season, at least at forward. Impressive center Derek Stepan is the only rookie among the 16 remaining forwards. There's a little more youth on defense, with
Ryan McDonagh
,
Mike Sauer
and
Pavel Valentenko
sticking around on the blue line at least a little longer. D
Matt Gilroy
and F
Artem Anisimov
, both entering their second NHL seasons, also survived the cuts.
Training camp invitee
Ruslan Fedotenko
made the grade, but not all invitees were so lucky, as
Garnet Exelby
and
Alexei Semenov
packed their bags.
With the roster down to 27, the Rangers still need to cut at least four players, though if memory serves it's been some time since a John Tortorella team carried a full roster of 23.
One final note: Also among yesterday's cuts, the maligned
Wade Redden
will report to Hartford
and keep his contract intact, according to the New York Post's Larry Brooks.
Morning Links
September, 27, 2010
9/27/10
8:33
AM ET
By
Mike Hume
| ESPNNewYork.com
Here are some quick hits to get you caught up on the big news over the weekend. Check back later today for some more on the Isles, Rangers and Devils, including a glimpse of the ESPN The Magazine Power Rankings that will be released today.
Islanders
The Islanders' playoff hopes took an enormous hit during Saturday's practice as
Mark Streit
reportedly suffered a torn labrum and torn rotator cuff that will sideline the team's top do-everything defenseman for six months,
according to Newsday
.
A TSN report
lists the Swiss D-man as out indefinitely after falling awkwardly into the boards following a check by teammate
Matt Moulson
.
Last season, Streit was the Islanders' ice-time leader by a wide margin, and given his offensive skill set, replacing him may be altogether impossible. Blue line depth was already a problem for the Islanders, who brought in D
James Wisniewski
to help over the summer. Now Wisniewski and his fellow blueliners are all moved up a peg. Whether or not they can handle that responsibility will likely tell the Islanders' playoff fortunes for this season.
If the Islanders look outside the organization for help they could turn to the
Edmonton Oilers,
who are still shopping
Sheldon Souray
. The Devils'
Bryce Salvador
is no replacement for Streit, but he's on the market as well, as the Devs look to free up cap space after signing
Ilya Kovalchuk
. And given the latest roster move by the Rangers, there's always another option …
Rangers
The inevitable happened Saturday as
Wade Redden
was
placed on waivers
without even suiting up for a preseason game. He missed the first game against the Devils to be with his wife while she gave birth to their first child. He was waived before the second game on Saturday --
another win for the Blueshirts
.
The move gets the Rangers below the salary cap for this season and gives them an additional $2.45 million of room. As for Redden, he will clear waivers at noon ET Monday. If he goes unclaimed (more than likely) he must report to the Rangers' AHL affiliate in Hartford to protect the remaining $23 million (and four years) owed to him on his contract.
Devils
Also on the salary cap front, there may finally be some movement as the Devils try to get below the ceiling. According to Tom Gulitti of the Bergen Record, the Avalanche are reportedly interested in acquiring Devils captain
Jamie Langenbrunner
if GM Lou Lamoriello were to make him available.
With a young roster, the addition of Langenbrunner would add some veteran leadership and the Avs have more than enough cap space to absorb Langenbrunner's $2.8 million hit for this season. Langenbrunner already has some chemistry with the Avs'
Paul Stastny
; the two skated on a line with
Zach Parise
at the 2010 Vancouver Olympics. Any deal would require Langenbrunner's approval however, as he has a no trade clause.
Langenbrunner did not play in the team's third preseason game Saturday, with Alex Vasyunov replacing him on the line with
Patrik Elias
and
Jason Arnott
.
September, 16, 2010
9/16/10
9:20
AM ET
By
Mike Hume
| ESPNNewYork.com
The Rangers have signed
Marc Staal
to a
five-year contract extension
with a cap hit of $3.975, ensuring one of the league's best young defensemen will skate on Broadway through the 2014-15 season.
With the signing, the Rangers' currently sit a little over $4 million over the cap ceiling as training camp begins. Though it has been rumored all summer, it now appears inevitable that defenseman
Wade Redden
-- who carries a $6.5M per season cap hit by himself -- will enter camp assured of being placed on waivers and demoted from the team.
With Staal back on board and Redden likely gone, the stage is set for a camp showdown for the final two defensemen spots on the Ranger roster. It is thought that Staal,
Michal Rozsival
,
Dan Girardi
, and
Michael Del Zotto
already have the top four slots locked up, leaving the battle for
Steve Eminger
,
Matt Gilroy
, rookie
Ryan McDonagh
, AHL veteran
Mike Sauer
and camp invitees
Garnet Exelby
and
Alexei Semenov
.
Camp officially begins tomorrow for veteran players, though many have already arrived at MSG Training Center.
Morning Links
September, 15, 2010
9/15/10
8:37
AM ET
By
Mike Hume
| ESPNNewYork.com
Now well within a month of the start of the NHL season and mere days before veterans report for training camp, the media is starting to roll out its pre-season power rankings. Blog conglomerate SB Nation released its rankings, placing the Devils third in the East behind Washington (No. 1) and Pittsburgh.
As for the Rangers and Islanders? Well,
there's always next year
.

Morning Links
Speaking of next season, TSN's Bob McKenzie is already looking ahead to the 2011 NHL Entry Draft.
In the name of all things synergistic, here's ESPN's Gare Joyce's first cut at the top 10 prospects from the 2011 (Insider) field from earlier this summer.
As a cap to the summer, ESPN's E.J. Hradek takes a look at the best and worst offseason moves in the Atlantic Division. On that Kovalchuk signing you may have heard about? Not a fan. (Insider)
Islanders
Rangers
Devils
Commissioner Gary Bettman tells Tom Gulitti that there
will not be an appeal
on the league's punishment of the
New Jersey Devils
.
"The arbitrator found that there was a circumvention in this particular case and I've been very clear to the board that in the event that there's a finding of circumvention it has to be punished," Bettman said. "It's that simple."
I would argue that there has been nothing simple about the Kovalchuk signing/circumvention and that the league itself is to blame for previously allowing contracts of absurd length, padded with low-rent years to alleviate a salary-cap hit.
September, 7, 2010
9/07/10
8:51
AM ET
By
Mike Hume
| ESPNNewYork.com
As promised, with the ink drying on
Ilya Kovalchuk
's new $100 million mega-deal, the blog is back to examine some of the implications of the never-ending fiasco. We start overseas.
Did the KHL just get KO'd?
This was easily the Kontinental Hockey League's best shot to land a legitimate, world-class star in his prime. Indeed, it felt like a perfect storm was surging forward to keep Kovalchuk in the Motherland. As constant delays kept bogging down his deal in the NHL, one wealthy KHL club told the winger he could name his terms. Instead, Kovalchuk told Yahoo!'s Dmitry Chesnokov that he
didn't really consider playing in the KHL
. Ouch.
In the end of this Odyssey, Kovalchuk took less money and endured a 49-day wait while his contract was raked over the coals and caught in the crossfire of a battle between the NHL and its players' association. If a king's ransom and sheer convenience doesn't tip the balance in the KHL's favor, what will? KHL president Alexander Medvedev pulled out all the stops to recruit Kovalchuk and still struck out.
While we've been focusing on the changes to the collective bargaining agreement, the KHL's loss has been a little overlooked. To me, this was a referendum on the Russian league's ability to attract top talent. It failed. And now you have to wonder how -- or if it will ever -- attract legitimate top-shelf stars.
One answer is to keep home-grown talent at home. But several of its top younger hockey players, such as Islanders' draft pick Kirill Kabanov, are on the record saying they prefer the NHL over the KHL. If the Russian league keeps striking out in free agency, will it work harder to keep its kids at home? And can the KHL afford to toughen up as it desperately recruits NHL players for the 2014 Sochi Olympics?
The CBA changes: Long-term deals aren't dead
Back in North America, there were two main changes to the CBA as a result of Kovalchuk's deal with the Devils, both of them specifically addressing
what is permissible in long-term contracts
:
"The compensation for all seasons that do not include or succeed the player's 41st birthday will be totaled and divided by the number of those seasons to determine the annual average value. In all subsequent seasons, the team's cap charge will be the actual compensation paid to the player in either that season or seasons.

"For any long-term contract that averages more than $5.75 million for the three highest-compensation seasons, the salary cap value for any season in which the player is age 36, 37, 38, 39 and/or 40 shall be a minimum of $1 million."
Given that so few players have laced up their skates beyond the age of 40, the first change eliminates the salary cap circumvention of adding low-paying years to the end of the contract to reduce the average salary (which determines the cap hit). Even if teams wanted to load up those post-40 years and reduce the cap-hit on the south side of age 40, they'd still be on the hook for that cap money at the end of the contract. But we still could see some massive deals signed for 15 or more years.
Even abiding by the second change, teams could theoretically extend a career-length offer to a 21-year-old player reaching free agency for the first time -- as long as teams were prepared to pay the full-cap hit.
You could conceivably see a perceived superstar signing a 19-year contract worth $150 million, making the cap hit over a million bucks lower than the existing figure for
Sidney Crosby
,
Alex Ovechkin
and
Evgeni Malkin
.
But is that contract now worth it to a team? One injury and a team's financial structure could be crippled along with its star. Those are the higher stakes following the amendment.
The NHL wasn't trying to eliminate all long-term offers, merely to prevent teams from ducking the full-impact of salary cap hits. We could still see contracts both longer and richer than the deal signed by Kovalchuk, but teams will have to think long and hard before they put that deal on the table.
As the week continues, we'll take a look at what the CBA changes mean for three key players in the New York area and how their contract talks will be affected.
In the meantime, here's some morning reading.
Morning Links
Devils
Islanders
Rangers