March, 8, 2014
Mar 8
12:29
AM ET
Associated Press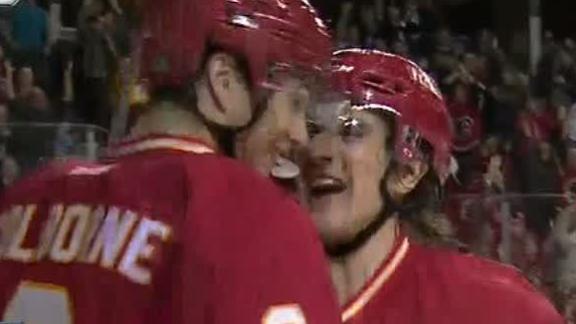 CALGARY, Alberta -- Joe Colborne scored twice during a furious third period comeback for the Calgary Flames, who got three goals in less than five minutes for a 4-3 victory over the New York Islanders on Friday night.
Colborne got the comeback started at 11:29 when Mark Giordano's point shot missed the net, but the puck caromed out sharply to Colborne. He fired it in the open side on rookie goaltender Anders Nilsson.
Rookie Sean Monahan tied it at 14:22. Taking a slick pass from behind the net from T.J. Galiardi, Monahan went forehand to backhand to tuck his team-leading 19th goal past Nilsson.
Colborne completed the comeback, deflecting in Giordano's slap shot at 15:41. It was the seventh goal of the season for the 2008 first-round pick acquired from Toronto at the start of the season.
March, 7, 2014
Mar 7
12:32
AM ET
Associated Press
EDMONTON, Alberta -- Taylor Hall scored the overtime winner and the Edmonton Oilers rebounded from a listless start to earn a 3-2 come-from-behind victory over the New York Islanders on Thursday night.
The Oilers got the win after trailing 2-0 after the second period.
Sam Gagner stole a puck in the neutral zone and went around defender Brian Strait before sending it on net, where Hall was able to slip it past goalie Evgeni Nabokov 2:29 into overtime.
Ryan Smyth and Philip Larsen also scored for the Oilers, who have won two games in a row and are 7-2-2 in their past 11 games.
Frans Nielsen and Anders Lee scored for the Islanders, who have lost 10 of their past 13 games.
The Islanders have also lost 10 games this season in which they led heading into the third period.
March, 6, 2014
Mar 6
2:48
PM ET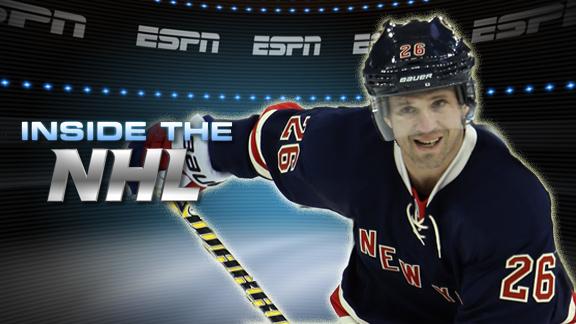 The
St. Louis Blues
,
Montreal Canadiens
and
Minnesota Wild
tallied the most mentions in an unscientific poll of NHL general managers who were asked which clubs impressed them the most with their trade deadline moves.
The Blues were the most cited among responses from 10 GMs on Thursday, their blockbuster acquisition of netminder
Ryan Miller
and gritty forward
Steve Ott
solidifying St. Louis as a Cup contender. Blues GM Doug Armstrong got lots of kudos from his peers in our little survey Thursday.
"[Armstrong] gave up a lot, but he got the goalie he needed," said a Western Conference GM. "He's got conviction. He went for it. I admire him for that."
Added an Eastern Conference GM: "St. Louis for sure got better. Ott is a bit overrated, but [coach Ken Hitchcock] has had him before and will get the best out of him. Miller obviously is the key guy there, a huge upgrade in goal."
The Habs and Wild were tied for the second-most mentions after Montreal nabbed
Thomas Vanek
and Minnesota got busy over a 48-hour period, adding goalie
Ilya Bryzgalov
and scorer
Matt Moulson
.
[+] Enlarge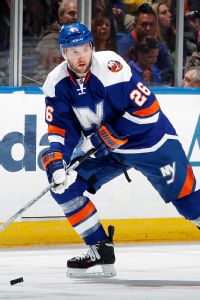 Paul Bereswill/Getty ImagesGetting Thomas Vanek for a bargain price earned praise for Marc Bergevin.
Montreal GM
Marc Bergevin
got high marks from his peers for getting Vanek at a discount rate from the
New York Islanders
, while Minnesota GM Chuck Fletcher got praise for his industrious few days.
"Bergevin did a really good job on Vanek," said a Western Conference GM in a comment that was repeated by many.
The two Florida teams also got a few mentions and for the purpose of this survey would rank tied for third.
Tampa Bay Lightning
GM
Steve Yzerman
had only one team to deal with in meeting the trade demand of his captain,
Martin St. Louis
, but Yzerman still got a decent deal out of it from the
New York Rangers
.
"I thought Steve did an excellent job managing that situation. He got a nice return," said a Western Conference GM.
Said another Western Conference GM via email: "To me, Steve Yzerman did the best job. He was dealt a bad hand. And nobody could have played that hand any better. Plus he did it with class (as always)."
Panthers GM Dale Tallon also got some attention for stunningly getting
Roberto Luongo
out of Vancouver. "Dale Tallon had the best deadline of all," said one Eastern Conference GM.
The Penguins were mentioned by one Western Conference GM, with Pittsburgh adding forward
Marcel Goc
and
Lee Stempniak
. "Pitt was strong with quality, under-the-radar players," a GM said via email.
Buffalo Sabres
rookie GM Tim Murray has been busy over the past week, beginning a rebuild and getting a vote from one Western Conference GM for his efforts.
"Tim Murray certainly added a lot of long-term assets," said the GM.
The
Anaheim Ducks
struck out on Canucks center
Ryan Kesler
but did add veteran blueliner
Stephane Robidas
. Ducks GM Bob Murray got a vote from a fellow Western Conference GM.
"[Murray] always sees the big picture. He is two steps ahead of what is in front of him," said the GM. "No one has come close to doing the job he has done the last five years. He inherited a very difficult situation and executed flawlessly."
Other post-deadline notes and thoughts:
• Interesting to find out from a source Wednesday night that Toronto was among the teams that inquired about Vanek. Imagine the Leafs' reaction when rival Montreal got him, especially given the modest price the Canadiens paid.
• Needless to say, the Canadiens were never going to get Vanek if the Islanders' asking price continued to include a first-round pick, which it did for quite some time. Once the first-round pick was eliminated from the equation, the Habs jumped in with both feet.
• Vanek is on record saying he's going to the free-agent market on July 1, and at this point there's no reason to think that won't happen. Still, in the back of my mind I wonder whether this is a repeat of the Alexei Kovalev situation, with a presumed rental player ending up staying around because he falls in love with the electric market that is Montreal. Food for thought ...
• The Penguins made an effort on Kesler and also had a line in the water on
Ales Hemsky
, the
Edmonton Oilers
forward who went to Ottawa instead. I thought Hemsky would have been a nice fit in Pittsburgh, but Goc and Stempniak are solid additions. Goc is versatile and provides depth at center while Stempniak could surprise some people after being given a fresh start, like
Jussi Jokinen
has done since joining the Pens at last year's trade deadline.
And this, from our friends at Bovada:
March, 6, 2014
Mar 6
12:29
PM ET
Now that the NHL trade deadline has come and gone as of Wednesday afternoon (with some deals not officially announced until up to an hour thereafter), we can fully assess the haul that each team received.
Some of the big names that were moved -- Ryan Miller, Martin St. Louis, Thomas Vanek and Matt Moulson included -- will help their teams during the stretch run and the postseason. In other situations, the players involved are still prospects, and their immediate future isn't quite as clear.
The following is my analysis on the key prospects dealt in the days leading to the deadline, including where each player fits in to his new team's long-term plans.
---
F Andre Petersson is a small forward with fantastic hands who can flash elite vision and good speed. However, he's really small -- 5-foot-10, 176 pounds -- and his physical game makes him questionable in terms of jumping to the NHL level. He's a former top-level prospect who hasn't really broken through in North America.
---
F Hudson Fasching has had a significant breakout season following his draft campaign, producing one of the top freshman seasons in recent years skating for the University of Minnesota; he has 12 goals and 15 assists in 31 games. Fasching was also a top player for Team USA at the most recent IIHF World Junior Championship, skating on the "grind" line. His ability to play at a high level as an underage forward in that tournament is not a common occurrence. Fasching drew praise for his skill level in his draft season, having a good frame but lacking in the other areas of the game. In a short period of time, that's completely turned around.
In 2013-14, Fasching has displayed great physicality, work ethic and defensive value. His consistency issues are a thing of the past. Fasching was a fourth-round pick in 2013, but was an honorable mention for my top 50 overall drafted prospects during my midseason update. Fasching is likely still a year or two away, but he has the potential to be a significant top-six forward who contributes in all areas of the game. Even in a deep Sabres system, he could be considered a top-five prospect in their organization.
To continue reading this article you must be an Insider
March, 5, 2014
Mar 5
5:41
PM ET
Well, if you are an Islanders fan, you have good reason to be very, very disappointed.
Granted, it could have been worse. In fact, it looked that way when the clock struck 3:01 p.m. ET with no deal for pending unrestricted free agent
Thomas Vanek
had been announced. Not being able to move the 30-year-old winger, especially considering what they originally gave up to acquire him in October from Buffalo, would've been an absolute disaster.
Islanders general manager Garth Snow avoided that, which many believed would have been a fireable offense, but he still bungled a critical deal in the future of the organization.
Snow sent Vanek -- a two-time 40-goal scorer and perhaps the most coveted forward on the rental market -- plus a conditional fifth-round pick to Montreal for what appears to be a pretty meager return.
The Islanders acquired a conditional 2014 second-round pick and Swedish prospect Sebastian Collberg in the deal, which pales in comparison to what they surrendered to land Vanek in the early-season blockbuster with Buffalo. Looking to shake things up with his team, Snow sent heart-and-soul winger
Matt Moulson
, plus a first-round pick and a second-round pick to the Sabres. Compare the two returns, and you can understand why Islanders fans are livid.
What's more, the Islanders won't even get back that second-round pick if the Canadiens don't make the playoffs -- a nightmare scenario that would mean all they get in the deal is Collberg, who is 20. And he's not exactly lighting things up over in the Swedish Elite League. Collberg, a 5-foot-11 winger, has three goals and nine points in 40 games for Frolunda.
Now, compare that also with the returns that other players netted -- guys like Moulson,
Marian Gaborik
, arguably even
David Legwand
-- and it's hard not to feel that Snow was unable to maximize his return.
What is even more perplexing is that Snow didn't believe it was a ripe market, going so far as to characterize it as "very quiet."
"It wasn't the same action you usually see at the trade deadline," Snow said in a conference call.
That was him speaking about a jam-packed few days that saw the likes of
Ryan Callahan
,
Martin St. Louis
,
Roberto Luongo
, Gaborik, and Moulson traded.
Perhaps he waited too long. It did seem like the market shifted on Vanek, as other teams began exploring other options at the forward position, and judging by the timing of the announcement of the deal, Snow took it down to the wire.
Could he have been facing a scenario in which he was painted into a corner, forced to accept the only deal remaining with time winding down?
Snow said the club feels "very fortunate" to have done the deal he did, which he insisted was the most favorable that came across his table.
"This was the best offer we received," he said.
Too bad for the Islanders and their fans that it wasn't significantly better.
March, 5, 2014
Mar 5
5:01
PM ET
Canadiens get:
F
Thomas Vanek
, conditional 2014 fifth-round pick
Islanders get:
F
Sebastian Collberg
, conditional 2014 second-round pick (picks exchanged if Canadiens make the playoffs this season)
---
Montreal Canadiens: A
It was hard to find a general manager excited about Vanek in the days leading up to the deadline, with many questioning his commitment and lack of success in New York and Buffalo. The reason for the suddenly picky critique was the high asking price GMs said they were being asked to pay for Vanek (first-round pick and a high-end prospect), and you can see why they weren't eager to deal.

But for the price Montreal paid, it's an absolute steal for the Canadiens, especially considering it could cost them only Collberg if they miss the playoffs.
To continue reading this article you must be an Insider
March, 5, 2014
Mar 5
3:34
PM ET
ESPN.com news services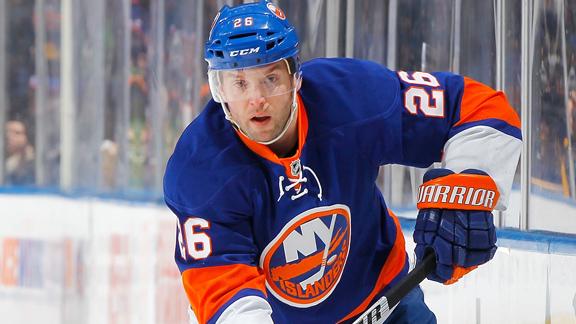 The Montreal Canadiens made a splash prior to Wednesday's trade deadline, acquiring high-scoring left wing Thomas Vanek from the New York Islanders.
The Islanders, who landed Vanek earlier this season in a trade with the Buffalo Sabres, received a conditional second-round draft pick in 2014 and prospect Sebastian Collberg from the Canadiens, who also got a conditional fifth-round pick.
The draft picks will be exchanged only if the Canadiens (34-22-7), who entered Wednesday with the third-best record in the Eastern Conference, reach the playoffs this season, a source told ESPN.com's Pierre LeBrun.
"When you think of a hockey mecca, Montreal is it," Vanek said on a conference call. "I played many times for Buffalo in Montreal, and it's so electric. I'm super excited."
Vanek has 21 goals and 32 assists in 60 games, and is now the Canadiens' leading scorer. He should provide some punch for Montreal, which ranks 20th in the league in scoring.
Vanek, who is in the final season of a $50 million, seven-year contract and will be an unrestricted free agent this summer, had told the Islanders he wasn't interested in signing a contract extension and was eager to test the free-agent market.
Vanek would not speculate on whether he would seek a new contract to stay in Montreal after this season.
"It's been a tough year for me and my family," he said. "I knew there was a chance we'd move again. Now it's over and I'm a Montreal Canadien and I can just focus on hockey and helping that team win a lot of games."
March, 5, 2014
Mar 5
12:25
PM ET
Although
Thomas Vanek
remains one of the top trade chips on the market,
it can he hard to judge what's out there
, as GMs may be trying to downgrade him publicly to lower his value. Some believe that Vanek will be headed out West -- possibly to the Ducks, Kings or Sharks -- but there's also a chance that an Eastern Conference contender ponies up to bring him in from Long Island.
To continue reading this article you must be an Insider
March, 5, 2014
Mar 5
11:44
AM ET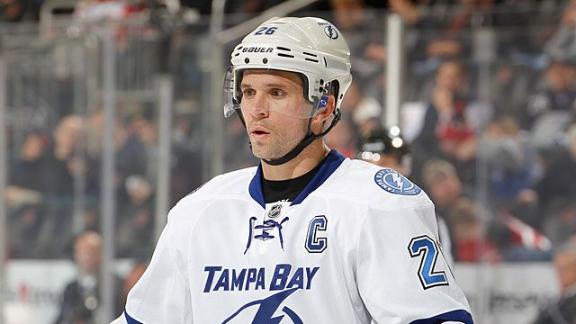 You've got to hand it to Tampa Bay GM Steve Yzerman.
Faced with a disgruntled captain in Martin St. Louis, who made it clear he was unhappy with his lot in life in Tampa, Yzerman turned lemons into lemonade by acquiring New York Rangers captain Ryan Callahan, a second-round draft pick this year and a first-round pick in 2015. Conditions on how far the Rangers advance in the playoffs and whether Callahan ends up staying in Tampa will alter (or add to) those picks. But it's still a pretty good haul for a GM who was essentially held up by a future Hall of Famer.
Now, it doesn't matter how you twist this one around, the Lightning gave up the most talented hockey player in the deal.
And St. Louis is under contract for one more year, with a cap hit of $5.625 million, while Callahan will become an unrestricted free agent in July and is rumored to be headed to Buffalo, which is near Callahan's hometown of Rochester, N.Y.
St. Louis, at age 38, remains a dynamic offensive force. He is the defending NHL scoring champ. That said, Callahan brings an element of snarl to a Lightning lineup that might prove useful come playoff time, especially if the Lightning end up playing a physical team such as the Boston Bruins, which is entirely possible.
Throw in the two picks (and it could become three pending the Rangers' playoff success this spring) and that's a pretty good return for a Lightning team that was essentially held over a barrel given that St. Louis was apparently only interested in moving to the Rangers.
March, 5, 2014
Mar 5
9:54
AM ET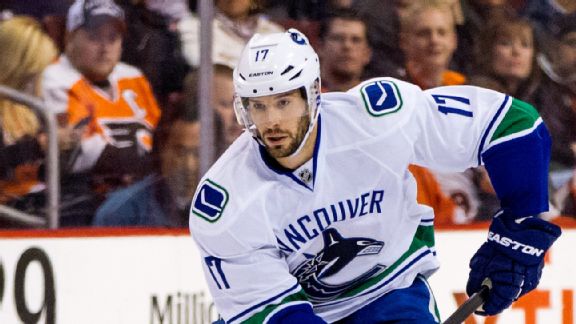 AP Photo/Chris SzagolaRyan Kesler remains the top target available ahead of Wednesday's trade deadline.
The suspicion was that this could be an especially active trade deadline. On Tuesday, it delivered, with a huge deal that sent
Roberto Luongo
to the
Florida Panthers
. The beauty of that trade? It leaves us with so much to talk about on the final day of the trade deadline.
Here are the latest notes and buzz on the trade front:
•
Thomas Vanek
of the Islanders remains the biggest rental piece on the market, yet there doesn't seem to be a huge appetite among the contenders to pay GM
Garth Snow
's asking price -- at least not when I checked around Tuesday night. When Vanek didn't play Tuesday night, there were rumors that a deal was close at hand. The Sharks, Kings, Ducks and Red Wings all were cool on Vanek at that time, so if a deal was close, they probably weren't the destination.
That all can change the moment the asking price comes down, because when general managers say they aren't thrilled with a player, it's often a reflection of what it will cost rather than his ability.
"When we say we don't like someone, we don't like the situation," said one GM on Tuesday. "By maxing [Vanek] out of the market, teams might have cooled if you have to give up a first[-round pick] and a prospect to get him and you don't know if you can sign him."
• That's the other factor with Vanek. Teams considering acquiring him aren't optimistic that doing so would give them any advantage when it comes to re-signing him, especially with the way it's ending with the Islanders.
To continue reading this article you must be an Insider
March, 4, 2014
Mar 4
11:23
PM ET
Associated Press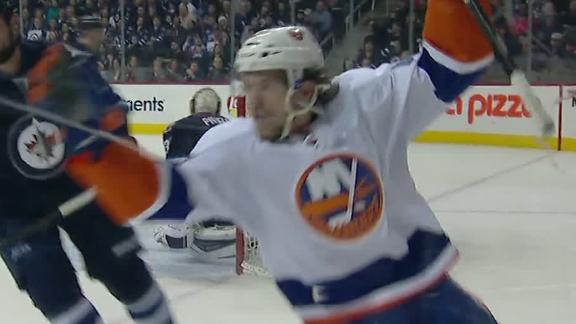 WINNIPEG, Manitoba -- Michael Grabner scored on a breakaway 3:53 into overtime as the New York Islanders defeated the Winnipeg Jets 3-2 on Tuesday night.
Cal Clutterbuck sent a pass from around the blue line up to Grabner, who slipped between two Jets and beat Ondrej Pavelec.
The Islanders also got a goal and assist from Anders Lee and a goal from Colin McDonald to end a two-game skid. Jets captain Andrew Ladd scored his 16th and 17th goals of the season, tying the game 2-2 with 5:07 left for Winnipeg, which had won its last two games.
Islanders winger Thomas Vanek was a healthy scratch amid rumors he'll be traded before Wednesday afternoon's deadline. Captain John Tavares is out for the rest of the season with a knee injury he suffered playing for Canada in the Olympics.
March, 4, 2014
Mar 4
6:50
PM ET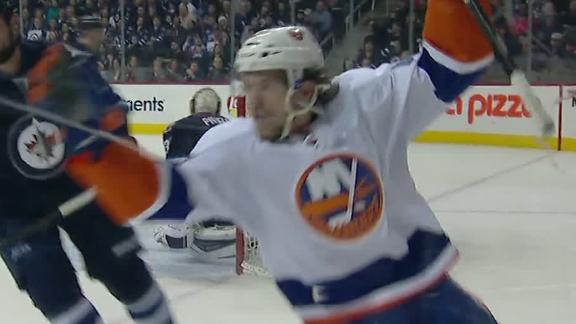 With Wednesday's 3 p.m. ET trade deadline looming, the New York Islanders scratched coveted trade target Thomas Vanek from Tuesday's 3-2 win over the host Winnipeg Jets.
The decision protects their most valuable trade chip in the event of injury, which could derail any potential deal worth making.
Vanek, a pending unrestricted free agent, is one of the most sought-after players on the market, with multiple teams reportedly interested in acquiring him to add some offense for a playoff push.
The Islanders dealt their other pending unrestricted free agent, defenseman Andrew MacDonald, to the Flyers for a pair of picks and a prospect Tuesday.