New York Islanders:

New York Rangers
February, 13, 2014
Feb 13
7:12
PM ET
Islanders forward
Michael Grabner
recorded a hat trick for his native Austria Thursday morning, though it wasn't enough against the Finnish team, who won 8-4 in the preliminary game in Sochi, Russia.
His Islanders teammate and fellow countryman
Thomas Vanek
made more headlines after the game than during with his critical words about Austrian goaltender Bernhard Starkbaum for his sub-par play.
"I thought he was good but not great," Vanek said after the team's tournament-opening loss. "That is not a knock on him. That's just reality."
Awkward...
In other New York local hockey news, Rangers
Ryan Callahan
,
Derek Stepan
and
Ryan McDonagh
were part of an impressive effort in their first game of the tourney. The U.S. completed a 7-1 rout against a Slovakian squad that, while not amongst the favorites, was still considered by some a dark horse team that could surprise some people.
Canada (
Rick Nash
- NYR,
John Tavares
- NYI) did not have as convincing of a win, but they still edged a plucky Norwegian club 3-1. Team Norway boasts just one NHL player, the Rangers' own
Mats Zuccarello
.
January, 31, 2014
Jan 31
10:16
AM ET


At a glance:
You again? Yes, that's right the
New York Rangers
and
New York Islanders
meet for the third time in 12 days, having last played in Wednesday night's outdoor Stadium Series game in the Bronx. While the Blueshirts are rolling along towards the Olympic break with five wins in the last seven games, the Islanders are desperate to snap a four-game losing streak that is putting their playoff chances in peril.
Keeping hope alive:
if the Islanders want to prevent general manager
Garth Snow
from going into sell mode at the trade deadline March 5, they'll probably have to win their final five games before the Olympic break. As it currently stands, the Islanders sit eight points back from the last wild card playoff spot in the Eastern Conference. Though they went on a run to secure their first playoff appearance in six years last spring during a lockout-shortened 2013 season, their chances are looking pretty grim right now.
Adjustment period:
The Blueshirts played their last pair of games outside in sub-freezing temperatures. Although they recorded four points with wins in each, the Rangers are likely to feel a bit relieved to play under normal conditions the rest of the way. Players can ditch the extra layers and ear-warmers. They'll worry a little less about the ice conditions and a bouncing puck.
Nice stretch for Nash:
Rick Nash
is producing at an impressive clip as he prepares to compete for Team Canada in the 2014 Olympic Games in Sochi, Russia. The star winger, who won gold in Vancouver in 2010, has tallied 11 goals in the past 12 games. He leads the Rangers with 18 on the season. He'll join forces in Sochi with Islanders' superstar center
John Tavares
, who is second in the NHL in scoring (only behind Sidney Corsby) with 64 points.
Stingy on D:
The Rangers have allowed two goals or fewer in nine of their last 11 games and were particularly stingy on the penalty kill against a dangerous Islanders power-play that boasts the likes of Tavares,
Thomas Vanek
and
Kyle Okposo
. The Rangers held the Isles without a power-play goal on four man-up opportunities.
Down and out:
The Islanders will be without one of their top defensemen
Travis Hamonic
, who was placed on injured reserve Tuesday with what is believed to be a concussion.
January, 24, 2014
Jan 24
12:35
PM ET
Artist CeeLo Green will headline the entertainment for the pair of Stadium Series games to be held at Yankee Stadium on Jan. 26 and Jan. 29, the NHL announced Friday.
[+] Enlarge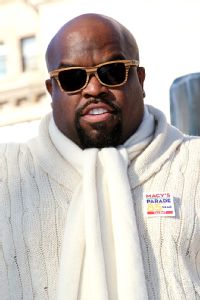 Steve Mack/NHLI/Getty ImagesCeeLo Green
Other entertainment includes singer-actress Michelle Williams, the cast of Jersey Boys, Southside Johnny and the Asbury Jukes, the FDNY Emerald Society Pipes and Drums, actor Marin Mazzie, Beatles tribute band Strawberry Fields and the NYPD Pipes and Drums.
The NHL takes over Yankee Stadium starting Jan. 26 when the Devils will host the Rangers, and three days later when the Islanders face the Rangers.
Green, who stars on NBC's "The Voice" and is a five-time Grammy Award winner, will perform on Jan. 29 before the game and during the first intermission. Williams will sing the National Anthem that night and Strawberry Fields will perform during the second intermission. The game is scheduled for 7:30 p.m.
Sunday, Jersey Boys will perform pregame, and the FDNY Emerald Society Pipes and Drums, and the NYPD Pipes and Drums will play as the Rangers and Devils are introduced. Mazzie will perform the National Anthem, and Southside Johnny and Asbury Jukes is the first intermission entertainment.
These are the first hockey games Yankee Stadium will host.
"Our goal with the NHL Stadium Series games is to give our fans an unforgettable experience," NHL Executive VP of Events Don Renzulli said in a release. "We're very excited about the entertainment line-up for our twin bill at Yankee Stadium, which celebrates the City of New York and the entire Metropolitan area, and pays homage to the teams, the venue, and our fans."
January, 18, 2014
Jan 18
4:50
PM ET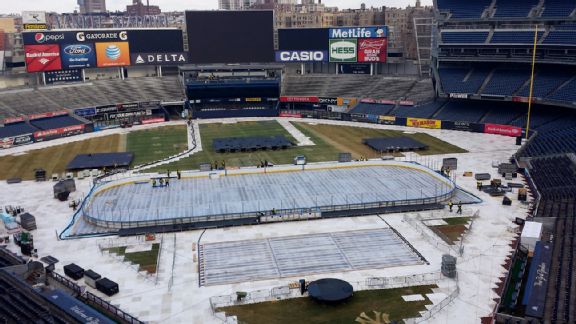 Matt Ehalt/ESPNNewYork.comWith remnants of the Pinstripe Bowl remaining, Yankee Stadium was starting to look more like an NHL arena on Saturday.
NEW YORK -- Just eight days before the first Stadium Series matchup between the
New York Rangers
and
New Jersey Devils
, Yankee Stadium is starting to resemble a hockey arena.
[+] Enlarge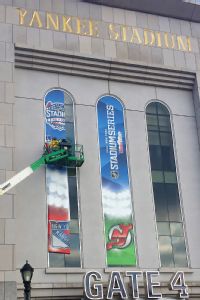 Matt Ehalt for ESPNGate 4 gets decked out for hockey.
As of Saturday afternoon, the boards for the rink were being installed and the ice pans had been put down, but the ice had not been made yet. NHL senior manager of facility operations Mike Craig said Wednesday the goal was to start making ice Saturday. The ice pans keep the ice near its ideal temperature of 22 degrees Fahrenheit.
The rink runs horizontally from foul line to foul line in the middle of the field.
The roadway that will allow individuals to walk around the field has been constructed, and three stages were built in the outfield that will be part of the entertainment and setup for the games.
The outfield actually still had the Notre Dame end zone markings visible from the Pinstripe Bowl on Dec. 28. The midfield logo for the game could also be seen. Notre Dame beat Rutgers in that contest, 29-16.
An auxiliary rink near home plate was also in its initial stages as the ice pans were set down. The ice had yet to be placed in that rink, as well.
Workers were busy Saturday getting the Stadium ready for the two games, which also includes the Rangers against the
New York Islanders
on Jan. 29. Drilling sounds reverberated throughout the Stadium as forklifts were driven around the ballpark. There were piles of boards along the base lines, as well.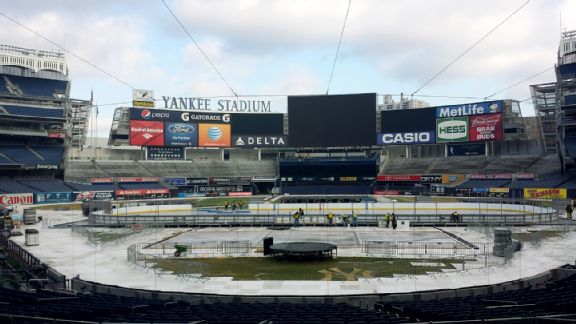 Matt Ehalt/ESPNNewYork.comThe view of the Stadium from field level shows workers preparing for the Rangers, Devils and Isles.
January, 15, 2014
Jan 15
6:31
PM ET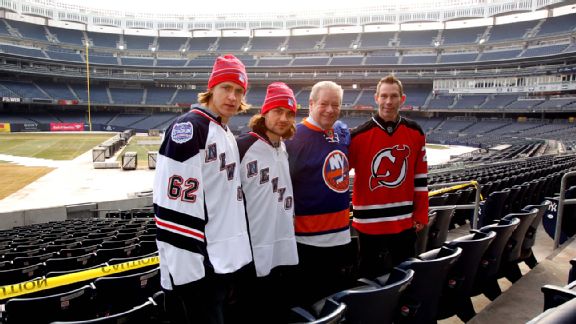 Brad Penner/USA TODAY SportsRangers Carl Hagelin and Mats Zuccarello joined ex-Islander Jean Potvin and ex-Devil Grant Marshall to take in the sights in the Bronx.
NEW YORK -- The transformation of Yankee Stadium into a hockey arena is underway.
The NHL has started the initial phases of converting Yankee Stadium for the two Stadium Series games to be held there later this month. The
New York Rangers
will face the
New Jersey Devils
on Jan. 26, and the
New York Islanders
on Jan. 29.
As of Wednesday afternoon, only the initial stages of construction had begun, with the roadways and staging for the rink being built. The NHL ice truck that will help create the rink also arrived Wednesday.
"Today is probably the day when I'm really thinking about how much fun it's going to be and how excited I am," Rangers forward
Carl Hagelin
said, sporting a Stadium Series jersey.
Starting Thursday, the crew will lay out the piping and ice pans, with the goal to start making ice Saturday, according to NHL senior manager of facility operations Mike Craig.
The truck that arrived Wednesday has a 300-ton capacity and serves as a mobile refrigeration unit and rink system. It pumps up to 3,000 gallons of glycol into aluminum trays on the field that help keep the ice near the ideal temperature of 22 degrees Fahrenheit, according to a release.
Water is then added, with the outdoor rinks needing up to two inches of thickness compared with the normal 1-1.25 inches. Each inch requires approximately 10,000 gallons of water. The surface will be whitened before the lines and logos are placed on the ice.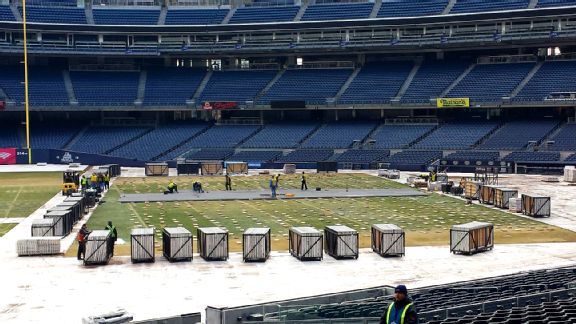 Matt Ehalt/ESPNNewYork.comConstruction has begun in earnest -- though there's still a lot of work to be done before faceoff.
Building a rink inside Yankee Stadium doesn't present any new problems for the crew.
"I think for the most part, our rink build is pretty similar no matter what stadium or park we go to," Craig said. "Refrigeration truck setup, piping setup is a little bit different here. A little bit longer run."
While all the talk surrounding the weather later this month is fixated on how it will affect the Super Bowl, weather is also going to be the biggest challenge for the NHL. The weather will dictate how the NHL preps the ice and maintains it for the games.
"We do a lot of research on the challenges that are going to be put to us. We have meteorologists that work very closely with the National Hockey League," NHL senior director of facility operations Dan Craig (Mike Craig's father) said. "We're very much in tune and what mother nature is going to give to us. When we wake up in the morning it is what is and the crews are ready to welcome that challenge."
In the first outdoor game this season in Ann Arbor, Mich., on Jan. 1, it was a snowy and frigid day for the Detroit-Toronto game. Mike Craig said they were able to get through that game well despite the snow.
He does have an ideal weather forecast for the games at Yankee Stadium.
"[I] always like to see cooler temperatures and cloud[s]. No wind," Mike Craig said. "If we could order that up that would be great."
Mike Craig, a native of Canada, called it "a bit of a fairy tale" to be turning Yankee Stadium into a hockey arena, and can't wait for the games. His excitement was shared by Hagelin.
"It's a great venue with a lot of history," said Hagelin, who was joined at Yankee Stadium by teammate
Mats Zuccarello
, former Islander Jean Potvin and former Devil
Grant Marshall
. "It's going to be incredible."
December, 19, 2013
12/19/13
3:52
PM ET
GREENBURGH, N.Y. – A rivalry is only as good as the teams involved, right?
Well, at least the Rangers and Islanders will both be desperate teams when they square off at Madison Square Garden Friday night – the second meeting between the division rivals this season.
Both clubs have endured difficult starts to the 2013-14 season. While the Blueshirts' middling performance through 36 games has them in 10th place in the Eastern Conference, the Islanders have suffered a much more precipitous decline.
After a surprising playoff appearance last spring in which the plucky Isles took a dominant Penguins squad to six games in the quarterfinals, the team has been in an absolute freefall over the last few months.
Jack Capuano's squad has won only one game in the last 14 and has registered only five regulation/overtime wins this season. They currently reside in 15th place with a 9-19-7 record.
"We need to, obviously, get some wins. Playing well is great but results are what we want and what we expect of ourselves," captain
John Tavares
told ESPNNewYork.com earlier this week. "We need to be better."
Tavares and his linemates
Thomas Vanek
and
Kyle Okposo
will be a trio the Rangers focus on shutting down Friday night. After all, the Blueshirts are a desperate team, too, with only one win in six games of a nine-game homestand.
That trio has combined for 30 of the team's 81 goals this season, and Vanek wasn't even around until the blockbuster deal that sent
Matt Moulson
back to Buffalo in the first month of the season.
"In my estimation, as big of a challenge as containing [Sidney] Crosby's line last night," coach Alain Vigneault said of the task.
But the Rangers will be wary of
Frans Nielsen
and the team's second line as well.
Brian Boyle
said he watched the Isles game against the
Tampa Bay Lightning
on Tuesday (in which the Isles blew a two-goal lead in the third to fall in the shootout) and said that line generated a "ton of chances."
"They can hurt you, too, if you're not careful. They've got a ton of speed," Boyle said. "That top line is dangerous but, we can't shut them down and think the game's over."
Meanwhile, the Rangers appear to be pondering some changes to their lineup in advance of Thursday night's roster freeze, which begins at midnight.
Vigneault said the coaching staff and management team will huddle Thursday afternoon to make some necessary personnel decisions.
Vigneeault confirmed that defensive prospect
Dylan McIlrath
, who was a healthy scratch in Wednesday's 4-3 shootout loss to the
Pittsburgh Penguins
Wednesday night, will be a player whose status is discussed.
The Rangers do expect to have goaltender
Henrik Lundqvist
available for the rivalry match. The 2012 Vezina Trophy winner had a stiff neck after the game following an overtime collision with Penguins winger
Chris Kunitz
.
Though Lundqvist did not partake in the team's optional practice Thursday, Vigneault is confident he'll be fine to make his season-high eighth consecutive start.
"If he's good to go, he's going to play," Vigneault said.
October, 31, 2013
10/31/13
3:11
PM ET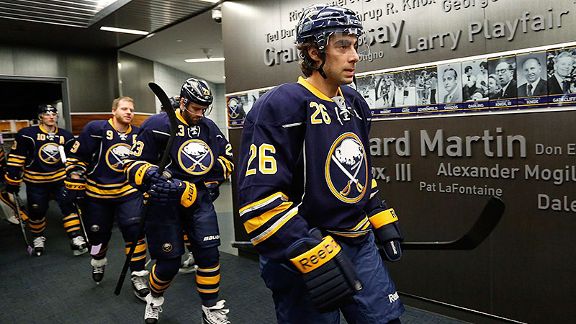 Bill Wippert/Getty ImagesMatt Moulson may not stay in Buffalo for long.
NEW YORK -- Less than a week after having his world turned upside down by a stunning early-season trade that sent him to Buffalo, former Islander
Matt Moulson
had a chance to check back in with his family on Long Island.
Back in the Big Apple for the Sabres' match against the Rangers, Moulson got to see his wife, Alicia; 14-month-old daughter Mila; and newborn son George on Wednesday night. The Moulsons also had a familiar houseguest pay a visit:
John Tavares
.
"It was almost like saying goodbye again," Moulson said jokingly. "It was sad all over again."
Moulson, who turns 30 on Nov. 1, said he knew a trade was possible but believed in his heart things would work out with the Islanders. He said it was tough to part with teammates and friends such as Tavares and
Kyle Okposo
(both players are godfathers to Moulson's children), but that the Sabres have been tremendous in making the transition smooth. Plenty of his new teammates' wives have offered to help; team owner Terry Pegula's wife, Kim, even reached out.
The plan is for his brood to decamp to their home in Connecticut until baby George is able to fly, after which they'll join him in Buffalo.
"Having to pick up and move your life isn't easy, but other people have obviously done it many times before," Moulson said. "As gut-wrenching as it was, you get over it pretty quickly."
Moulson indeed seemed to acclimate to his new team seamlessly, appearing in Buffalo's game against Dallas just one night after the trade and notching two goals in his Sabres' debut. He now has eight goals and 11 points.
"If I would've thrown up a stinker, it would've been a lot tougher," he said.
Given Buffalo's last-place spot in the standings, there is plenty of speculation as to how long he will be a Sabre. General manager Darcy Regier got an excellent return for
Thomas Vanek
-- two high draft picks were also included in the deal -- and may be looking to flip Moulson again as the trade deadline nears and suitors come calling.
Moulson's gritty, goal-scoring ability makes him a prime candidate for trade rumors, and he knows that won't die down anytime soon.
"That's something that everyone's brought up to me -- no one within the organization -- but obviously a lot of media questions about it. I think it's a similar attitude as I had with the Islanders. I didn't have a contract past this year and I always said, 'Take it day by day and make sure I'm getting better and doing whatever I can to help the team win.' "
"If it's for a couple months, a year, a couple years, I don't think my game style is going to change at all," Moulson said. "I'm going to go out there and try to score goals and help this team win."