New York Islanders:

Matt Moulson
March, 18, 2014
Mar 18
1:21
PM ET
UNIONDALE, N.Y. -- It's hard to believe that
Matt Moulson
is making his first trip back to Long Island since the surprising blockbuster trade that sent him from the
New York Islanders
to the
Buffalo Sabres
in October.
But the former core forward is on his third team of the season now, playing for the
Minnesota Wild
after being moved by the Sabres at the trade deadline earlier this month.
[+] Enlarge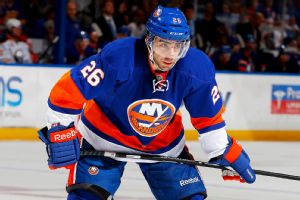 Mike Stobe/NHLI/Getty ImagesDon't expect to see Matt Moulson back in an Islanders jersey any time soon.
The whirlwind season hasn't left the 30-year-old Moulson much time to process all of the events that have transpired since he left, but there appears to be little love lost between he and his former club.
Though he still keeps in touch with some of the lifelong friends he made on Long Island --
John Tavares
and
Kyle Okposo
in particular -- it doesn't sound like there will be an Islanders reunion in his future.
"It's been said that I wasn't in the future plans, so I don't think that will quickly change," Moulson said. "I'm just going to concentrate on helping Minnesota to win right now."
Moulson still sounded shocked about how it all went down.
"It definitely kind of caught me off guard," Moulson said. "At the time, I thought I'd be here for the rest of my career. We never had discussions about any future plans or anything. That kind of caught me off guard."
Moulson entered the 2013-14 season on the last of a three-year $9.4 million deal looking for an extension that would keep him with the team for years to come. With the Islanders, Moulson had blossomed into a three-time 30-goal scorer and forged irrefutable chemistry with the team's star, and his best friend, John Tavares. But, the two sides never had substantive contract talks -- multiple sources told ESPNNewYork.com that numbers were never even exchanged -- despite Moulson's willingness to stay and forgo unrestricted free agency. And then he was suddenly dealt, less than one month into the season.
It was a stunner, both for Moulson and his family -- he and wife Alicia had recently celebrated the birth of their son, George -- and for Islanders fans, who viewed the gritty goal-scorer as a vital component of the team's future. Moulson was shipped to Buffalo, along with a pair of picks, in exchange for
Thomas Vanek
. Vanek, a pending unrestricted free agent, was peddled to Montreal at the deadline.
At the time, it was a deal that was heavily scrutinized. After the trade deadline, GM
Garth Snow
came under fire for what was considered a pretty underwhelming return on Vanek, who rejected a lucrative long-term offer by the Islanders earlier this season. Regardless, neither Vanek or Moulson are around anymore and the Islanders appear headed for yet another bottom-five finish.
Simply put, it's not what Moulson had envisioned heading into the season, particularly after the team's competitive series against the
Pittsburgh Penguins
last spring -- a postseason appearance that appeared to signal a step forward for the long-struggling club.
"When I was here and how close I felt to the guys and to the team, I didn't think it was ever going to happen," Moulson. "I always figured in my mind that something would get figured out and I would've stayed. I told myself it could happen, but I didn't think it would happen that early. But that's the business of hockey."
In his third jersey of the season, Moulson is well-acquainted with the business of hockey by now. He'll get another taste of that Tuesday night when he faces some of his old Islanders buddies at Nassau Coliseum.
"Obviously this game will be a little more special," he said. "I'm sure once I get out there, it'll be a little weird."
October, 31, 2013
10/31/13
3:11
PM ET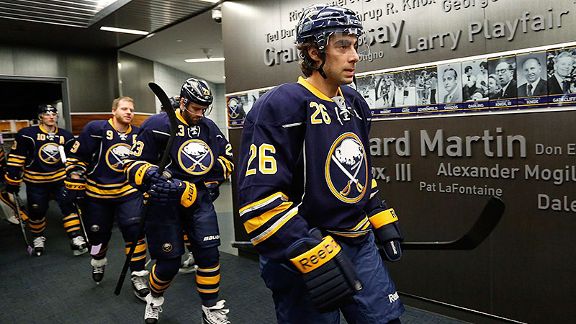 Bill Wippert/Getty ImagesMatt Moulson may not stay in Buffalo for long.
NEW YORK -- Less than a week after having his world turned upside down by a stunning early-season trade that sent him to Buffalo, former Islander
Matt Moulson
had a chance to check back in with his family on Long Island.
Back in the Big Apple for the Sabres' match against the Rangers, Moulson got to see his wife, Alicia; 14-month-old daughter Mila; and newborn son George on Wednesday night. The Moulsons also had a familiar houseguest pay a visit:
John Tavares
.
"It was almost like saying goodbye again," Moulson said jokingly. "It was sad all over again."
Moulson, who turns 30 on Nov. 1, said he knew a trade was possible but believed in his heart things would work out with the Islanders. He said it was tough to part with teammates and friends such as Tavares and
Kyle Okposo
(both players are godfathers to Moulson's children), but that the Sabres have been tremendous in making the transition smooth. Plenty of his new teammates' wives have offered to help; team owner Terry Pegula's wife, Kim, even reached out.
The plan is for his brood to decamp to their home in Connecticut until baby George is able to fly, after which they'll join him in Buffalo.
"Having to pick up and move your life isn't easy, but other people have obviously done it many times before," Moulson said. "As gut-wrenching as it was, you get over it pretty quickly."
Moulson indeed seemed to acclimate to his new team seamlessly, appearing in Buffalo's game against Dallas just one night after the trade and notching two goals in his Sabres' debut. He now has eight goals and 11 points.
"If I would've thrown up a stinker, it would've been a lot tougher," he said.
Given Buffalo's last-place spot in the standings, there is plenty of speculation as to how long he will be a Sabre. General manager Darcy Regier got an excellent return for
Thomas Vanek
-- two high draft picks were also included in the deal -- and may be looking to flip Moulson again as the trade deadline nears and suitors come calling.
Moulson's gritty, goal-scoring ability makes him a prime candidate for trade rumors, and he knows that won't die down anytime soon.
"That's something that everyone's brought up to me -- no one within the organization -- but obviously a lot of media questions about it. I think it's a similar attitude as I had with the Islanders. I didn't have a contract past this year and I always said, 'Take it day by day and make sure I'm getting better and doing whatever I can to help the team win.' "
"If it's for a couple months, a year, a couple years, I don't think my game style is going to change at all," Moulson said. "I'm going to go out there and try to score goals and help this team win."