New York Islanders:

Thomas Vanek
March, 18, 2014
Mar 18
1:21
PM ET
UNIONDALE, N.Y. -- It's hard to believe that
Matt Moulson
is making his first trip back to Long Island since the surprising blockbuster trade that sent him from the
New York Islanders
to the
Buffalo Sabres
in October.
But the former core forward is on his third team of the season now, playing for the
Minnesota Wild
after being moved by the Sabres at the trade deadline earlier this month.
[+] Enlarge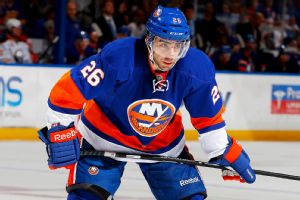 Mike Stobe/NHLI/Getty ImagesDon't expect to see Matt Moulson back in an Islanders jersey any time soon.
The whirlwind season hasn't left the 30-year-old Moulson much time to process all of the events that have transpired since he left, but there appears to be little love lost between he and his former club.
Though he still keeps in touch with some of the lifelong friends he made on Long Island --
John Tavares
and
Kyle Okposo
in particular -- it doesn't sound like there will be an Islanders reunion in his future.
"It's been said that I wasn't in the future plans, so I don't think that will quickly change," Moulson said. "I'm just going to concentrate on helping Minnesota to win right now."
Moulson still sounded shocked about how it all went down.
"It definitely kind of caught me off guard," Moulson said. "At the time, I thought I'd be here for the rest of my career. We never had discussions about any future plans or anything. That kind of caught me off guard."
Moulson entered the 2013-14 season on the last of a three-year $9.4 million deal looking for an extension that would keep him with the team for years to come. With the Islanders, Moulson had blossomed into a three-time 30-goal scorer and forged irrefutable chemistry with the team's star, and his best friend, John Tavares. But, the two sides never had substantive contract talks -- multiple sources told ESPNNewYork.com that numbers were never even exchanged -- despite Moulson's willingness to stay and forgo unrestricted free agency. And then he was suddenly dealt, less than one month into the season.
It was a stunner, both for Moulson and his family -- he and wife Alicia had recently celebrated the birth of their son, George -- and for Islanders fans, who viewed the gritty goal-scorer as a vital component of the team's future. Moulson was shipped to Buffalo, along with a pair of picks, in exchange for
Thomas Vanek
. Vanek, a pending unrestricted free agent, was peddled to Montreal at the deadline.
At the time, it was a deal that was heavily scrutinized. After the trade deadline, GM
Garth Snow
came under fire for what was considered a pretty underwhelming return on Vanek, who rejected a lucrative long-term offer by the Islanders earlier this season. Regardless, neither Vanek or Moulson are around anymore and the Islanders appear headed for yet another bottom-five finish.
Simply put, it's not what Moulson had envisioned heading into the season, particularly after the team's competitive series against the
Pittsburgh Penguins
last spring -- a postseason appearance that appeared to signal a step forward for the long-struggling club.
"When I was here and how close I felt to the guys and to the team, I didn't think it was ever going to happen," Moulson. "I always figured in my mind that something would get figured out and I would've stayed. I told myself it could happen, but I didn't think it would happen that early. But that's the business of hockey."
In his third jersey of the season, Moulson is well-acquainted with the business of hockey by now. He'll get another taste of that Tuesday night when he faces some of his old Islanders buddies at Nassau Coliseum.
"Obviously this game will be a little more special," he said. "I'm sure once I get out there, it'll be a little weird."
March, 5, 2014
Mar 5
5:41
PM ET
Well, if you are an Islanders fan, you have good reason to be very, very disappointed.
Granted, it could have been worse. In fact, it looked that way when the clock struck 3:01 p.m. ET with no deal for pending unrestricted free agent
Thomas Vanek
had been announced. Not being able to move the 30-year-old winger, especially considering what they originally gave up to acquire him in October from Buffalo, would've been an absolute disaster.
Islanders general manager Garth Snow avoided that, which many believed would have been a fireable offense, but he still bungled a critical deal in the future of the organization.
Snow sent Vanek -- a two-time 40-goal scorer and perhaps the most coveted forward on the rental market -- plus a conditional fifth-round pick to Montreal for what appears to be a pretty meager return.
The Islanders acquired a conditional 2014 second-round pick and Swedish prospect Sebastian Collberg in the deal, which pales in comparison to what they surrendered to land Vanek in the early-season blockbuster with Buffalo. Looking to shake things up with his team, Snow sent heart-and-soul winger
Matt Moulson
, plus a first-round pick and a second-round pick to the Sabres. Compare the two returns, and you can understand why Islanders fans are livid.
What's more, the Islanders won't even get back that second-round pick if the Canadiens don't make the playoffs -- a nightmare scenario that would mean all they get in the deal is Collberg, who is 20. And he's not exactly lighting things up over in the Swedish Elite League. Collberg, a 5-foot-11 winger, has three goals and nine points in 40 games for Frolunda.
Now, compare that also with the returns that other players netted -- guys like Moulson,
Marian Gaborik
, arguably even
David Legwand
-- and it's hard not to feel that Snow was unable to maximize his return.
What is even more perplexing is that Snow didn't believe it was a ripe market, going so far as to characterize it as "very quiet."
"It wasn't the same action you usually see at the trade deadline," Snow said in a conference call.
That was him speaking about a jam-packed few days that saw the likes of
Ryan Callahan
,
Martin St. Louis
,
Roberto Luongo
, Gaborik, and Moulson traded.
Perhaps he waited too long. It did seem like the market shifted on Vanek, as other teams began exploring other options at the forward position, and judging by the timing of the announcement of the deal, Snow took it down to the wire.
Could he have been facing a scenario in which he was painted into a corner, forced to accept the only deal remaining with time winding down?
Snow said the club feels "very fortunate" to have done the deal he did, which he insisted was the most favorable that came across his table.
"This was the best offer we received," he said.
Too bad for the Islanders and their fans that it wasn't significantly better.
February, 20, 2014
Feb 20
12:08
PM ET
John Tavares
sustained a tournament and season-ending
knee injury
in Canada's quarterfinal win over Latvia on Wednesday.
The news is a tough blow to Team Canada, but even more devastating to an Islanders squad already reeling heading into the Olympic break.
ESPN.com's Craig Custance writes an excellent analysis of both the short-term and long-term implications of this injury for the Islanders, evaluating the impact of Tavares' absence, the Islanders' pending trade-deadline plans, and a tough decision facing GM Garth Snow over which first-round pick to part with in the (likely) event of a bottom-10 finish for the Isles this season.
Take some time to check it out
right here
(Insider subscription required).
By now you have heard the sobering news out of Sochi, Russia, where
February, 13, 2014
Feb 13
7:12
PM ET
Islanders forward
Michael Grabner
recorded a hat trick for his native Austria Thursday morning, though it wasn't enough against the Finnish team, who won 8-4 in the preliminary game in Sochi, Russia.
His Islanders teammate and fellow countryman
Thomas Vanek
made more headlines after the game than during with his critical words about Austrian goaltender Bernhard Starkbaum for his sub-par play.
"I thought he was good but not great," Vanek said after the team's tournament-opening loss. "That is not a knock on him. That's just reality."
Awkward...
In other New York local hockey news, Rangers
Ryan Callahan
,
Derek Stepan
and
Ryan McDonagh
were part of an impressive effort in their first game of the tourney. The U.S. completed a 7-1 rout against a Slovakian squad that, while not amongst the favorites, was still considered by some a dark horse team that could surprise some people.
Canada (
Rick Nash
- NYR,
John Tavares
- NYI) did not have as convincing of a win, but they still edged a plucky Norwegian club 3-1. Team Norway boasts just one NHL player, the Rangers' own
Mats Zuccarello
.
January, 3, 2014
Jan 3
2:07
PM ET
As we close the book on the first half of the NHL season, we looked at the
10 big questions for the NHL in 2014
.
One that's of interest to Islanders fans: Will
Thomas Vanek
re-sign with the Islanders?
Islanders general manager
Garth Snow
rolled the dice early in the season, shipping out
Matt Moulson
and a pair of high draft picks to Buffalo in exchange for Thomas Vanek. Snow landed a marquee talent in the two-time 40-goal scorer, but in doing so traded away one of his heart-and-soul leaders and top offensive weapons. Whether the deal goes down as a shrewd move or an epic blunder (count me among those betting on the latter) will likely hinge on whether Vanek, scheduled to become an unrestricted free agent, chooses to re-sign with the Islanders.
The 29-year-old Austrian would be a nice piece to play on the wing along superstar center
John Tavares
for years to come, but if he opts for greener pastures in free agency as many assume he will, Vanek will be remembered as nothing more than a high-priced rental.
Considering the Islanders' abysmal first half -- the team is mired in 15th place in the Eastern Conference standings with a woeful 13-21-7 record -- Snow is facing an uphill battle.