November, 21, 2014
Nov 21
4:33
PM ET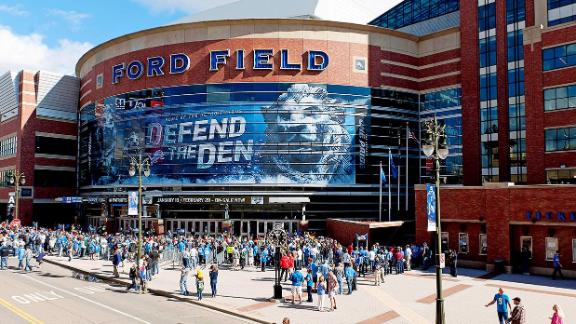 The NFL is giving something away for free.
Tickets for Monday night's game between the New York Jets and Buffalo Bills that was moved to Detroit are free and available first to season-ticket holders beginning Friday, and then to the general public starting Saturday on the Detroit Lions' website. Tickets also can be claimed at Ford Field on Sunday and Monday prior to the 7 p.m. ET game. All of the tickets are general admission seating, so first come, first serve.
The game was moved because of snowstorms in Western New York this week that made Ralph Wilson Stadium unplayable Sunday.
The Lions also will hold a 50/50 raffle Monday night with benefits going to the American Red Cross of Western and Central New York Disaster Relief Fund. The Lions' first four home games of the season averaged around $100,000 in the pot for each one.
"We are pleased to be hosting the Bills and Jets for their game Monday night," Lions president Tom Lewand said. "While our thoughts are with the people of the Buffalo area during this difficult time, our team at Ford Field will do everything we can to be good hosts to their team this weekend."
This isn't the first time Ford Field has hosted a displaced NFL game and is not the first time tickets have been free, either. When the collapsing Metrodome roof moved the New York Giants-Minnesota Vikings game in December 2010 from Minneapolis to Detroit, tickets were also free and general admission.
November, 21, 2014
Nov 21
4:20
PM ET
FLORHAM PARK, N.J. -- Due to the change in scheduling, the final practice reports of the week will now come out Monday. The
Buffalo Bills
won't even hold their first practice of the week until Friday night, so their reports have been estimates to this point.
That said,
New York Jets
coach Rex Ryan announced in his Friday afternoon press conference that all the Jets had practiced fully and would be probable for Monday night's game in Detroit against the Bills.
"Everyone was a full go today and everybody's probable for the game," Ryan said. "Like I said, no excuses. Here we come."
That won't be official now until Saturday, but it's a good sign for the Jets.
November, 21, 2014
Nov 21
4:05
PM ET
FLORHAM PARK, N.J. --
Chris Johnson
, the
New York Jets
veteran running back, expressed what many of the Jets were feeling when they heard the divisional game against the Bills was moving indoors to Detroit's Ford Field on Monday night.
"Big relief," Johnson said with a cagey smile.
Wide receiver
Jeremy Kerley
echoed the sentiment.
"I was happy, playing inside," Kerley said. "It'll be warmer inside, we won't be dealing with the cold weather, hopefully no wind. A better game on both sides."
Jets coach Rex Ryan said the NFL didn't consult the team when relocating the game, but Ryan said they would have played any time and anywhere. The team held practice indoors on Friday once learning of the venue.
"We're just happy to play, but for a guy like Mike Vick, Chris Johnson, Percy (Harvin), sure they want the ideal conditions -- they would love to have that. So, on one hand your skill players on offense are excited, but your defense is like, 'Where's the snow, where's the wind?'"
There was at least one report that the Bills wanted an outdoor venue to test veteran quarterback
Michael Vick
in the elements.
I'm also told the Bills preferred a game outdoors forcing Michael Vick into the elements instead of the controlled climate of Ford Field

— Dianna Marie Russini (@NBCdianna) November 20, 2014
.
"Yes, that would have been tough for me," Vick allowed. "But we've still got to go out there and get it done. It's just going to be a faster track. But who knows, I might not even run that day, it all depends on what the game dictates, but I'm always looking to apply pressure to the defense."
Offensive lineman
Willie Colon
wasn't so sure Vick would have faired poorly in cold or snow.
"He just came from Philly," Colon said. "It wasn't like he was in Atlanta his whole career. He had to deal with snow, he had to deal with rain."
But, like many of the Jets, Colon felt like the NFL was able to come to a fair solution for both teams.
"It's a neutral position for both teams," Colon said. "It's a fast track, we've got speed guys, they've got speed guys. We've just got to execute."
The Bills will travel from snowy Buffalo to Detroit Friday night and practice, and the Jets will have a walk through Saturday and Sunday. Ryan said there will be some conditioning work for the players to keep them fresh for the Monday night game.
"You know that the league never wanted to move the game, so obviously the conditions have to be incredible," Ryan said.
Running back
Bilal Powell
noted that the situation was unusual, and balanced being glad to play indoors with the seriousness of what the Buffalo community is going through.
"Playing indoors around this time is always a plus," Powell said. "But that's a disaster up there, that's chaos up there. Pray that they get (to Detroit) safely."
Colon said he was glad the league didn't try to move the game to Tuesday on a short Thanksgiving week with Miami coming up. You need time to prepare for the next opponent -- and heal.
"Especially for recovery purposes," Colon said.
The game will be broadcast by CBS and available on DirecTV's Sunday ticket package on channel 706. The NFL is still considering options for ticket sales and distribution.
"No excuses, here we come," Ryan said.
November, 21, 2014
Nov 21
2:42
PM ET
ESPN.com news services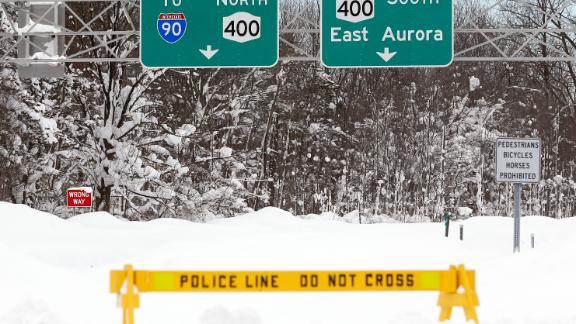 ALLEN PARK, Mich. -- After days of cabin fever, the Buffalo Bills were finally able to practice.
Then they changed clothes at portable lockers in a hallway -- a makeshift setup that underscored just how different this road trip will be.
The Bills arrived in the Detroit area Friday and held practice that night at the Lions' headquarters in Allen Park. The team's schedule has been in flux because of a lake-effect storm that dumped more than 5 feet of snow on the Buffalo region since Monday. This weekend's game against the New York Jets was moved from Buffalo to Detroit and will be played Monday night at 7 p.m. ET.
"It felt really good. Being laid up in the house for a while is not fun," tight end Scott Chandler said. "It was good to get to just focus on football for a few hours, and not have to worry about anything else."
Chandler needed a snowmobile ride to leave his neighborhood, and he said some of his teammates did, too.
"A local guy, lives around the corner from a lot of us, and they were able to flag him down at a gas station, and he was willing to come help us out. They were trying to plow the road, but it wasn't going to get done fast enough,'' Chandler said. "He was able to come get us and just take us around the corner to where we could get in a car and get to the stadium."
"This team has bonded more than any team I've seen," one team source told ESPN NFL Insider Adam Schefter. "They've really worked together to do this."
November, 21, 2014
Nov 21
1:37
PM ET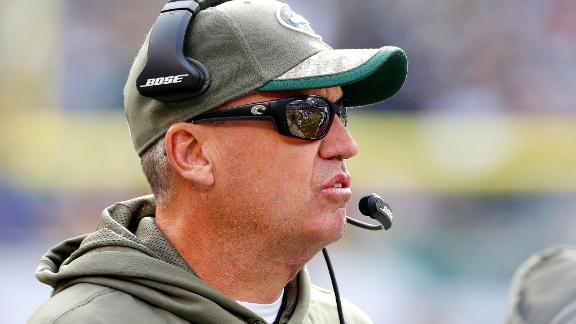 When:
7 p.m. ET Monday.
Where:
Ford Field, Detroit.
TV:
CBS.
It's Monday night football in Motown.
After several feet of snow were dumped on the Buffalo area this week, the snowed-in
Buffalo Bills
(5-5) will dig out Friday and shift their operation to Michigan in advance of Monday's rescheduled game against the
New York Jets
(2-8).
While the Jets are looking for back-to-back wins for the first time this season, the Bills are desperate for a victory after dropping their past two games. ESPN Bills reporter Mike Rodak and ESPN Jets reporter Rich Cimini break it all down:
Rodak:
How has this affected the Jets' preparation? What has been their reaction to all of this?
Cimini:
This has been a normal week for the Jets. Cynics might say there's no such thing, but you get my drift. They practiced outdoors on Wednesday and Thursday, thinking the game would be at Ralph Wilson Stadium. On Friday, they practiced in the field house, knowing, of course, the game will be indoors at Ford Field. With the extended week, the plan is to have two "Saturday" practices -- one Saturday, one Sunday. A Saturday practice is a light workout, basically a walk-through. Rex Ryan says he wants to keep the players' legs fresh. I don't know why that would be a concern, considering they're coming off the bye week.
I guess the obvious question is, how has the storm affected the Bills' preparation?
Rodak:
It's been a week unlike any other for the Bills. Most coaches were able to make it to the facility at some point Monday night or Tuesday, and have slept there since. Players, on the other hand, have been stuck at home. Team president Russ Brandon estimated that 85 percent of players live in the towns south of Buffalo, the area hit hardest by the storm. They've been able to receive film and game plans on their iPads from the coaching staff, but that obviously isn't the same as being at practice and seeing the scout team's looks on the field. Getting to Detroit for some players will be a challenge; wide receiver
Chris Hogan
tweeted Friday morning that he had to walk to the stadium. However many players the Bills are able to round up, they'll hold a practice Friday evening and perhaps another over the weekend. That will put them on somewhat of a normal schedule heading into Monday night's game.
Does moving this game favor the Jets? Do you anticipate that they'll tweak the game plan?
Cimini:
When
Chris Johnson
found out Detroit was a possible site for the game, he called over to
Michael Vick
in the locker room, excitedly telling him they could be playing indoors. Makes sense, right? Fast guys want to play on a fast track, especially indoors.
I absolutely believe this works in the Jets' favor. Not only do the Bills lose their home-field advantage, but now they have to defend Vick in a climate-controlled environment. Vick doesn't like bad conditions. I remember one day in training camp, when he had a brutal practice in rainy, windy and unseasonably cool conditions. I'm sure he's thrilled to be going to Ford Field. Yes, they could tweak the game plan. Why not? I would think they'd try to force-feed the ball to
Percy Harvin
, who has the speed to cause problems for the Bills' defense.
Are the Bills upset the league put this game indoors?
Rodak:
I think the Bills are just happy that they're able to play this game, period. Of the three sites that ESPN's Adam Schefter reported were in play Thursday, two of them -- Washington and Pittsburgh -- had natural grass fields. So the feeling here is that the Bills are happy this game is being played on an artificial, indoor surface where field conditions won't be a factor. This is the second time the Bills played in Ford Field this season; the last was a Week 5 win over the Lions.
Sammy Watkins
caught seven passes for 87 yards in that game, a reflection of how the faster surface could benefit the Bills' passing game.
What's the outlook for the Jets the rest of this season? Was last week's win over the Steelers a fluke or are there encouraging signs that they could turn things around?
Cimini:
I'd say it was a mix -- some encouraging signs and some stuff I'd characterize as lucky. Offensively, the Jets are taking baby steps. They're three games into the Harvin experiment and, while I wouldn't call him a game-changing player, he has brought balance to the passing game, forcing opponents to respect both sides of the field. Vick, too, has helped. Unlike
Geno Smith
, Vick isn't a turnover machine -- two straight games without committing one. He's a steadying presence, if not a prolific passer. Vick and Harvin are reasons the offense has hope. Defensively, I'm not sure how they managed to slow down
Ben Roethlisberger
and
Antonio Brown
. I mean, their cornerbacks were
Marcus Williams
and
Phillip Adams
and they received an out-of-nowhere, career game from
Jaiquawn Jarrett
. I don't think the secondary will be able to sustain it for the remainder of the season; it's just not good enough.
So, what happened to the Bills' offense?
Rodak:
There are unconfirmed reports that it fled to the Caribbean to avoid the impending snow in Buffalo.
The Bills haven't scored a touchdown in 21 consecutive drives, dating back to the first possession of their loss to the
Kansas City Chiefs
in Week 9. As Doug Marrone astutely pointed out earlier this week, the Bills' "main problem is scoring." That's broad, obviously, but the offense hasn't been able to do too much right the past two weeks, and to a lesser extent, since the beginning of the season. With
Fred Jackson
and
C.J. Spiller
both injured, the Bills haven't been able to get much going with
Bryce Brown
and
Anthony Dixon
. That duo combined for zero yards on five carries in the second half of last Thursday's loss. Meanwhile,
Kyle Orton
's Total QBR is sinking lower and lower. His 38.7 QBR is ahead of only one quarterback who still has his starting job, and that's
Blake Bortles
(25.6).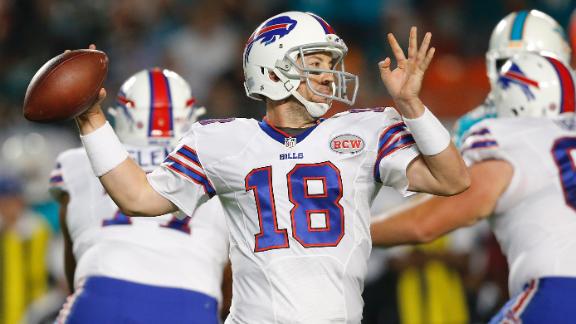 November, 21, 2014
Nov 21
12:10
PM ET
FLORHAM PARK, N.J. -- With the Bills game moved to Monday night in Detroit, the Jets held their Friday inside the field house at the team's Florham Park facility. There's no need to brave the colder temperatures outside when the game will be held inside a dome.
All Jets starters were present and appeared to practice with their groups. Up to this point in the week, the only active player who hadn't practiced fully with the team was S
Jaiquawn Jarrett
, who is now starting over rookie
Calvin Pryor
.
Practice was pretty routine, with the exception of musical choices. The Jets were treated to "Electric Avenue," for whatever that's worth.
November, 21, 2014
Nov 21
11:55
AM ET
Yes, you'll be able to watch Monday night's
New York Jets
-
Buffalo Bills
game from Detroit's Ford Field. Here's how:
For those in the New York market, the game will be shown on WCBS. It also will be aired on CBS in the following upstate markets -- Buffalo, Syracuse, Rochester, Albany, Elmira, Binghamton, Watertown and Erie.
Now, here's the answer to the oft-asked question from readers and Twitter followers:
If you're not in one of the aforementioned markets, subscribers can watch the game on NFL Sunday Ticket on DirecTV, according to the league.
Kickoff is 7 p.m. Spero Dedes and Solomon Wilcots of CBS Sports will call the action.
The game, originally scheduled for 1 p.m. Sunday at Ralph Wilson Stadium in Orchard Park, New York, was changed due to severe weather.
November, 20, 2014
Nov 20
9:05
PM ET
ESPN.com news services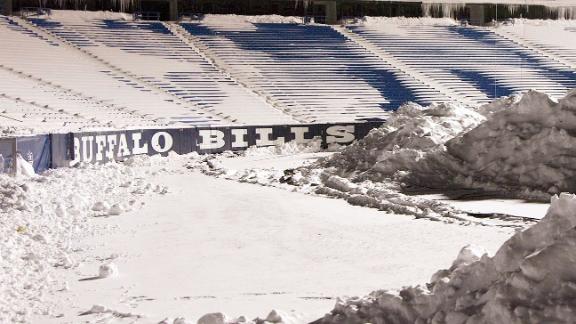 The NFL has moved the New York Jets-Buffalo Bills game to 7 p.m. ET on Monday at Ford Field in Detroit.
The game previously was scheduled for Sunday afternoon in Buffalo, but the NFL announced earlier Thursday that it would be moved as another storm brought the area's paralyzing three-day snowfall total to at least 6 feet.
"Public safety resources in western New York must be fully available to deal with the recovery from the storm," the NFL said in a statement.
Initially, the Bills hoped to clear Ralph Wilson Stadium in time for Sunday's 1 p.m. scheduled kickoff, offering $10 per hour and free game tickets to fans who could help shovel out the stadium.
"It is not practical to play a game in Orchard Park in the condition that our community is in," Bills president Russ Brandon said earlier Thursday, before the NFL announced the site change. "It really wasn't an option to try to play the game at any point Sunday, Monday or even potentially Tuesday based on what the forecast is."
Detroit was one of three possible alternate locations, along with Pittsburgh and Washington, D.C., sources said. The Lions play at New England on Sunday. It's 256 miles from Buffalo to Detroit.
"We are pleased to be hosting the Bills and Jets for their game Monday night," Lions president Tom Lewand said. "While our thoughts are with the people of the Buffalo area during this difficult time, our team at Ford Field will do everything we can to be good hosts to their team this weekend."
November, 20, 2014
Nov 20
9:00
PM ET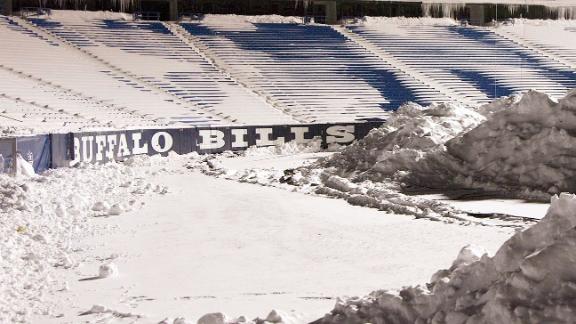 FLORHAM PARK, N.J. -- Some quick thoughts on the NFL's announcement that the
New York Jets
-
Buffalo Bills
game will be 7 p.m. Monday at Ford Field in Detroit:
1.
Obviously, the neutral site benefits the Jets from a fan perspective, as the Bills will lose their home-field advantage, so the Jets catch a break in that respect. They had lost two straight at Ralph Wilson Stadium, and I don't think anyone on the team will experience withdrawal symptoms. Orchard Park isn't fun place for visiting teams, especially in the cold-weather months.
2.
Moving indoors shouldn't be a significant advantage for either team, although I have to imagine the Bills aren't thrilled about having to defend
Michael Vick
on a fast track. Otherwise, we're not talking about prolific passing offenses that will light it up indoors. The Jets are ranked 32nd in passing offense, the Bills 20th.
3.
The Jets are 4-1 in domed stadiums under Rex Ryan.
4.
There's a built-in local angle for Detroit fans: Jets offensive coordinator Marty Mornhinweg and Bills defensive coordinator Jim Schwartz are former Lions coaches. The atmosphere will be thick with nostalgia. (Kidding.)
5.
The schedule works in the Jets' favor because they'll have a full week to rest and prepare for the next game, a Monday night affair against the
Miami Dolphins
. The Bills will have six days to get ready (and shovel snow) for a home date against the
Cleveland Browns
.