September, 17, 2014
Sep 17
1:21
PM ET
[+] Enlarge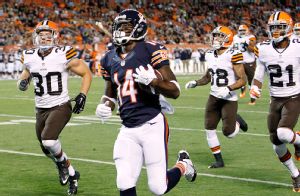 Ron Schwane-USA TODAY SportsSantonio Holmes has fit in nicely with the Bears after being cut by the Jets.
New York Jets coach Rex Ryan on Wednesday disputed the notion that Santonio Holmes was a divisive player in the locker room during his tenure there.
"No, that is totally untrue," Ryan said in a conference call with the Chicago media. "That was one of the biggest ... that's a joke. He wasn't that way at all."
Holmes spent four seasons with the Jets (2010-13) before signing in August with the Chicago Bears as a replacement for Marquess Wilson, who suffered a fractured clavicle during training camp. With the Jets, Holmes caught 146 passes for 2,168 yards and 16 touchdowns, but he came under fire toward the latter portion of his tenure after signing a five-year contract coming out of the NFL lockout in 2011 worth $45 million.
One New York Daily News report, citing anonymous sources back in January 2012, quoted a player saying Holmes is "a cancer. It's like dealing with a 10-year-old."
September, 17, 2014
Sep 17
10:00
AM ET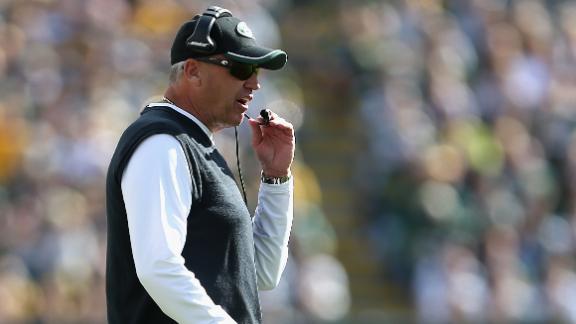 ESPN
New York Jets
reporter Rich Cimini says that from penalties to a costly ejection to the timeout fiasco, Rex Ryan's team has been an undisciplined bunch through two games.
September, 17, 2014
Sep 17
6:00
AM ET
This is the second leg of the NFC North tour.
The
New York Jets
(1-1) return home to face the
Chicago Bears
on "Monday Night Football," an interesting matchup between teams that experienced very different Sundays. A few hours after the Jets lost to the
Green Bay Packers
by blowing a 21-3 lead, the Bears rallied from a 17-0 deficit to stun the
San Francisco 49ers
on the road, 28-20. It was the Bears' largest come-from-behind win since 2006, when they beat the
Arizona Cardinals
and Dennis Green delivered his infamous "They-are-who-we-thought-they-were" rant.
A closer look at the Bears:
Record
: 1-1
Head coach
: Marc Trestman (9-9)
Offensive coordinator
: Aaron Kromer
Defensive coordinator:
Mel Tucker
THREE PLAYERS TO KNOW, OFFENSE
Santonio Holmes, wide receiver
: He was one of the most polarizing players in Jets history, a clutch player who turned into a headache after scoring a huge contract extension. It'll be interesting to gauge the crowd reaction at MetLife Stadium. Holmes provided many memorable moments from 2010 to 2014, but his production declined as the injuries piled up. The Jets finally rid themselves of him last offseason, probably forming a Conga line in the hallways of One Jets Drive to celebrate his departure. (By the way, he still counts $2.5 million on their cap, more than any receiver not named
Eric Decker
.) Holmes was unemployed until Aug. 16, when he signed a one-year deal with the Bears. Their base offense includes three receivers, so he's basically a starter. In fact, he played 73 percent of the snaps against the 49ers. He has only four catches for 41 yards, but he has a flair for the dramatic and would like nothing more than to burn his old team on a prime-time stage.
Jay Cutler, quarterback:
He's always been known as a diva, but Cutler showed a lot of heart in San Francisco. Late in the second quarter, he took a vicious helmet to the chest by
Quinton Dial
. Cutler shook it off and, without two starting offensive linemen and with no help from the running game, he rallied the Bears to a signature victory. He has one of the best arms in the league, capable of throwing a strawberry through a battleship, as Rex Ryan likes to say. In Trestman's offense, however, he's a dink and dunk passer. In fact, 19 of his 34 passes against the 49ers traveled 5 yards or less in the air, according to ESPN Stats & Information. He was 16-for-19 on those passes, including three of his four touchdown passes. He doesn't hold the ball as long as he used to, resulting in fewer sacks.
Brandon Marshall, wide receiver:
Like Cutler, he delivered a gutty performance Sunday night. Playing on a sore right ankle -- he was a question mark until the pregame warm-ups -- Marshall played one of the best games of his career. He made three touchdown catches, including a one-handed grab while twisting and falling backward in the end zone. He's one of the top receivers in the sport. He played the entire game at less than 100 percent, lacking his usual explosiveness and appearing tentative on cuts. He's averaging only 9.2 yards per catch, in part, because he can't get deep. His partner,
Alshon Jeffery
(hamstring), also is hurting. Maybe the Jets' beleaguered cornerbacks are catching the Bears at the right time.
THREE PLAYERS TO KNOW, DEFENSE
Jared Allen, defensive end
: Desperate to improve their front seven, the Bears signed Allen to a four-year, $32 million contract, including $15.5 million guaranteed. It's a lot of money for a 32-year-old pass-rusher, but like we said, the Bears were hurting up front. Interestingly, the Jets showed interest in Allen during free agency. So far, he hasn't done much at all. Playing right end in their 4-3 front, he has no sacks and only four tackles -- and we're talking about an every-down player. He played 93 percent of the defensive snaps against the 49ers. One thing you know you'll get from Allen is a honest day's work. He has one of the all-time great motors, one of the reasons why he has 128.5 career sacks.
Lance Briggs, linebacker
: He's another playing on the downside. Briggs created a firestorm recently when he took a day off from practice to attend the opening of his new restaurant in California. The former Pro Bowl player sought permission from Trestman, and received it, but he admittedly didn't tell his coach why he needed the day off. It was the Monday before the opener and, six days later, Briggs & Co. allowed 193 rushing yards in a home loss to the
Buffalo Bills
. He fessed up to blowing a gap responsibility on a 47-yard run, sparking criticism from fans and media -- well deserved. Right now, the Bears' run defense stinks, yielding 5.4 yards per carry. They've struggled against the read-option, which could create chances for the Jets.
Kyle Fuller, cornerback:
The Jets were linked to Fuller in pre-draft speculation, but he never made it to the 18th pick. The Bears snatched him with the 14th pick, and it looks like they hit a home run. The former Virginia Tech standout was one of the stars of the comeback, intercepting two
Colin Kaepernick
passes in the fourth quarter -- both of which set up touchdowns. In a sense, the torch was passed.
Charles Tillman
, one of the Bears' all-time greats, suffered a season-ending pectoral injury in the game -- perhaps career ending. Fuller was deemed the heir apparent to Tillman, but the grooming plan has been accelerated. Fuller plays like a veteran, an instinctive player with terrific ball skills.
September, 16, 2014
Sep 16
4:40
PM ET
One last look at the
New York Jets
'
31-24 loss
to the
Green Bay Packers
:

Ryan
Rex needs Rx for mistakes
: The major takeaway from the game is this: Rex Ryan needs to get his house in order. The
timeout fiasco
has overshadowed a number of other inexcusable blunders, including: Three wasted timeouts because of communication issues; a penalty for 12 men on the field that nullifed an interception (heck, there were two plays in which they had only 10 on the field);
Muhammad Wilkerson
's ejection for fighting; and, of course,
Sheldon Richardson
's ill-fated timeout from the sideline.
Right now, the Jets are an undisciplined football team (18 penalties in two games), and that falls on the coach. Ryan isn't a taskmaster, we all know that. His players like his easygoing style and they play hard for him, but there has to be a happy medium. A team with middling talent can't overcome these type of unforced errors. It's unbecoming, and it's a recipe for a losing season.
Oops:
Speaking of penalties, I'd like to throw a flag on myself. On Monday, I recognized rookie safety
Calvin Pryor
for not making any major mistakes in the game. Upon reviewing the tape, I noticed at least three significant errors -- plays in which he reacted late and took bad angles. That was the knock on him in the draft.
Pryor
It showed up late in the second quarter, toward the end of the Packers' 97-yard touchdown drive. Cornerback
Antonio Allen
surrendered a 24-yard completion to
Davante Adams
, but he was expecting inside help from Pryor, whose misplay allowed Adams to gain a chunk of yards after the catch. On
Jordy Nelson
's 80-yard touchdown catch in the third quarter, Pryor -- in the deep middle -- was late on the scene after
Dee Milliner
was toasted. Pryor took a poor angle and missed the tackle at the Jets' 41, springing Nelson for the play that changed the game. Pryor also was late on a 33-yarder to Nelson, with Milliner in coverage.
Basically, Pryor is playing out of position. He made his mark as a "box" safety for Louisville, highlighting his hard-hitting style, but he has been playing mostly away from the line of scrimmage with the Jets.
Jordy TD postscript:
A funny thing (well, not funny) happened on Nelson's touchdown. The other cornerback,
Darrin Walls
, blitzed from
Aaron Rodgers
' backside and came within a split-second of hitting him before the throw. Ryan rarely blitzes his corners, but this was an unusual case because the Packers didn't have a receiver on Walls' side of the field. This is a game of split seconds, all right.
No sign of 'prevent':
Ryan took some heat for getting conservative with his defensive calls on the Packers' 97-yard drive at the end of the half, but nothing could be further from the truth. He sent four or more rushers on nine of the 10 pass plays, including a seven-man rush (a 14-yard completion) and a six-man rush (
Randall Cobb
's 6-yard touchdown catch). Cobb beat nickelback
Kyle Wilson
, who was on an island with no safety help.
Jason Babin
's roughing-the-passer penalty was huge.
Discount triple-check:
Rodgers took a lot of grief for avoiding
Seattle Seahawks
All-Pro corner
Richard Sherman
in the season opener, not throwing at all in his direction. Against the Jets, Rodgers spread the ball evenly, picking on all three corners. An unofficial breakdown on how they fared:
Milliner -- Seven targets/five completions, 136 yards, one touchdown.
Allen -- Nine targets/four completions, 58 yards (plus a 27-yard penalty for pass interference).
Walls -- Seven targets/four completions, 49 yards.
Smith
Positives from Geno:
Geno Smith
cooled off after the first three drives, but there were some encouraging moments. His best play was the 29-yard touchdown pass to
Eric Decker
, who faked
Sam Shields
with a nifty slant-and-go.
Clay Matthews
came free on a delayed stunt and blasted Smith just as he released the pass. He didn't flinch at all. On his 12-yard flip pass to
Bilal Powell
, Smith -- under duress -- kept his eyes focused downfield, never looking at the pass rush. That's an important trait for a young quarterback.
Smith took the blame on the interception, saying he should've thrown it a split second sooner, but I don't fault him for that. Left guard
Brian Winters
missed his block, giving Smith no time to step into the throw. Also,
Zach Sudfeld
could've done a better job of playing the ball. In that situation, with the ball hanging in the air, the receiver has to become like a defensive back and try to knock it down.
Winters chill:
Winters had a tough game. Aside from the missed block on the interception, he allowed a sack and missed a block that resulted in a 6-yard loss on a run by
Chris Johnson
.
Odds and ends:
How did the Jets blow an 18-point lead? Well, they got away from the running game. While building the 21-3 lead, they called 18 running plays and 10 pass plays. From that point on, it was 16 rushes and 26 passes. Yes, the Packers did a surprisingly good job of defending the run, but I think Marty Mornhinweg got caught up in the Packers' quick, pitch-and-catch style, trying to keep pace with Rodgers. Mornhinweg said he didn't trust Smith on the ill-fated timeout, but he sure trusted him to throw a lot in the second half. ... When linebacker
Quinton Coples
lined up wide on one play to jam Nelson at the line, the Packers responded by calling a run against the Jets' light box. Smart cookie, that Rodgers. ... Coples (one sack, four QB hits) had one of his better games, exploiting fill-in right tackle
Derek Sherrod
.
September, 16, 2014
Sep 16
12:15
PM ET
Some blunders, such as the Butt Fumble, just happen without warning and without reason. The main characters in that drama were
Mark Sanchez
and Brandon Moore's butt. Sunday's timeout fiasco for the
New York Jets
included 10 seconds of build up and involved four principals: offensive coordinator Marty Mornhinweg,
Sheldon Richardson
,
Geno Smith
and Rex Ryan.
Here's a nearly second-by-second breakdown of what went wrong (and why) on the fourth-and-4 play from the
Green Bay Packers
' 36-yard line with a little more than five minutes to play, which resulted in the touchdown that wasn't:
[+] Enlarge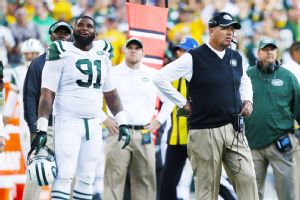 AP Photo/Mike RoemerSheldon Richardson (left), Rex Ryan and Marty Mornhinweg (far right) each deserve part of the blame for the New York Jets' timeout fiasco Sunday.
5:14 (13 seconds on play clock):
Bilal Powell
, lined up to the right of Smith in shotgun, raises his arms, confused. He's not sure if he's in the proper position.
5:12 (11 seconds):
Following Smith's command, Powell moves to the quarterback's left.
5:10 (9 seconds):
A cat-and-mouse game develops. Green Bay safety
Morgan Burnett
, seeing Powell's shift, walks up to the line of scrimmage and positions himself outside right tackle
Breno Giacomini
. Burnett is in blitz position, staring at an empty backfield on that side of the formation. The Packers have seven at the line of scrimmage, showing heavy blitz. Mornhinweg recognizes the situation and starts walking toward Ryan while trying to speak to him on the headset. Ryan can't hear him because he's on the defensive channel.
5:08 (7 seconds):
Unable to speak to Ryan, Mornhinweg tries to get Ryan's attention by gesturing for a timeout, frantically. He makes the "timeout" gesture no fewer than nine times. Line judge Byron Boston briefly turns his head to his left, noticing Mornhinweg's antics. Boston ignores Mornhinweg, fully aware of the rule that only a head coach can call a timeout from the sideline, with one exception: The line judge, instructed not to turn his back to the field when the snap is imminent, can award a timeout if he believes the command comes from the head coach.
5:07 (6 seconds):
Smith sees the shift in the Packers' defense and calmly points to Powell, instructing him to shift again. And so Powell does, flipping back to the right side of the quarterback.
5:06 (5 seconds):
Mornhinweg, managing to keep his eyes on the field as he's gesturing, notices Smith has corrected the formation issue. Immediately, Mornhinweg changes his mind, motioning to call off the timeout. He extends both arms like a baseball umpire on a "safe" play. Ryan, standing six yards away from Mornhinweg at the Packers' 37, apparently sees none of this. His eyes are focused on the field. Simultaneously, Richardson -- only one yard to Ryan's right -- steps forward toward Boston.
5:05 (4 seconds):
Richardson, only a few inches from Boston's right ear, leans in and calls the timeout.
5:04 (3 seconds):
The ball is snapped, a split-second
before
Boston blows his whistle and raises his arms to kill the play. A frame-by-frame review shows the shotgun snap is halfway to Smith when the play is blown dead. Technically, the play should've counted -- a 36-yard touchdown pass to
Jeremy Kerley
. As it turns out, it's only a four-man rush by the Packers. Powell runs a pass route to the right sideline, drawing Burnett in coverage. What will never be known, however, is whether the Packers slacked off, knowing the play didn't count. Judging by the reaction, some players -- including safety
Ha Ha Clinton-Dix
in the end zone -- knew there was no play.
"You know what? It really doesn't matter now," Ryan said Monday.
THE BLAME GAME
1. Richardson
-- To his credit, he stepped up after the game, taking full responsibility. Obviously, he meant well, but he has to know that players play and coaches coach. The rule book states that only the head coach can call a timeout from the sideline.
2. Mornhinweg
-- He panicked with nine seconds left on the play clock. He should've trusted Smith to get it fixed on the field, which he acknowledged Monday.
3. Ryan
-- He's the head coach, so the buck stops with him. If there's a communication breakdown on the sideline, the ultimate blame falls on the head coach. Judging from the replay, Ryan had no idea who called the timeout. After the game, he provided no clarity. It was reminiscent of the
Santonio Holmes
debacle in the final game of the 2012 season, when Ryan admitted he didn't know what was going on.
4. The Jets --
By not making Mornhinweg available after the game, the team hung Richardson out to dry for 24 hours, letting him absorb the heat. That's bad form.
September, 16, 2014
Sep 16
8:00
AM ET
A review of the snap counts from the
New York Jets
' loss to the
Green Bay Packers
:
OFFENSE (71 snaps)
Quarterback
--
Geno Smith
71,
Michael Vick
2.
Running back
--
Chris Ivory
27,
Chris Johnson
27,
Bilal Powell
17,
Tommy Bohanon
13,
Sheldon Richardson
1.
Wide receiver
--
David Nelson
61,
Jeremy Kerley
45,
Eric Decker
44,
Greg Salas
21.
Tight end
--
Jeff Cumberland
67,
Jace Amaro
22,
Zach Sudfeld
7.
Offensive line
-- D'Brickashaw Ferguson 71,
Brian Winters
67,
Nick Mangold
71,
Willie Colon
71,
Breno Giacomini
71,
Oday Aboushi
4.
Offensive analysis:
The Jets stayed with their "11" personnel for most of the game, meaning 1 RB/1TE/3 WR. Presumably, the objective was to spread the field and run against the Packers' nickel personnel. It worked for a quarter. ... Decker (hamstring) sat for most of the fourth quarter, which explains Salas' increased workload. ... Amazing stat on Johnson: In the first six years of his career, he played less than 50 pecent of the snaps in only two games. It already has happened twice this year. ... Surprised they didn't use Amaro more often; it would've been a good matchup against the Packers' so-so safeties. ... Aboushi played! He played! He saw the first game action of his career, replacing Winter (dislocated pinky) temporarily. ... Richardson got one snap as a fullback in a goal-line play. ... For those keeping score at home, Vick has played five snaps in two games. Result of those plays: A minus-10 net.
DEFENSE (71 snaps)
Line
-- Richardson 57,
Muhammad Wilkerson
52,
Damon Harrison
36,
Leger Douzable
34,
Kenrick Ellis
10.
Linebacker
--
Demario Davis
71,
David Harris
71,
Calvin Pace
65,
Quinton Coples
50,
Jason Babin
21,
Trevor Reilly
5.
Secondary
--
Dawan Landry
71,
Calvin Pryor
67,
Antonio Allen
57,
Darrin Walls
44,
Dee Milliner
40,
Kyle Wilson
23,
Jaiquawn Jarrett
5, Ellis Lanskter 1.
Defensive analysis
: The Jets played base personnel against the Packers' three-receiver package in certain situations, which explains Wilson's low snap count and Harrison's higher-than-usual number. Wilson is the nickel back, Harrison doesn't play in the nickel. ... Allen, Walls and Milliner formed a rotation at cornerback. Rex Ryan wanted to keep them fresh because the Packers are known for running a high volume of plays. ... Wilkerson missed the final 21 minutes of the game because of his ejection. It meant a lot of work for Douzable; the 34 snaps represented his high as a Jet.
September, 15, 2014
Sep 15
10:20
PM ET
By
Mike Mazzeo
| ESPNNewYork.com
FLORHAM PARK, N.J. --
Geno Smith
could've been a hero. Should've been a hero. Wasn't a hero.
Smith played pretty darn well in the
New York Jets
' Sunday night loss against the
Green Bay Packers
, completing 16 of his 32 passes for 176 yards, one touchdown and one interception. He also ran seven times for 26 yards and a score.
But then there was that whole timeout fiasco, which certainly put a damper on both his and his team's performance.
[+] Enlarge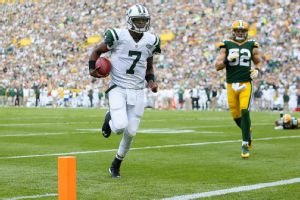 Christian Petersen/Getty ImagesGeno Smith rushed for a touchdown and threw one against the Packers.
Facing 4th-and-4 from the Green Bay 36, Smith threw a perfect touchdown pass to
Jeremy Kerley
. Only problem was, the play was blown dead.
Marty Mornhinweg and
Sheldon Richardson
have both
accepted blame
.
But was Smith also a culprit in this whole thing?
Bilal Powell
eventually ended up on the right side of his quarterback in the shotgun formation. But did Powell start in the wrong spot or did Smith put him there? Those questions are still left unanswered.
What did eventually happen is that Powell got in the right place, and Smith certainly looked calm during an extremely high-pressure situation. Then he executed the play to perfection.
"It didn't count," Smith said Monday. "That's all I can say about that."
Through the first two weeks of the season, the 23-year-old has completed 65 percent of his passes.
It certainly looks as though he's made some strides from his rookie campaign.
Still, there is work to be done.
According to ESPN Stats & Information, on Smith's first three drives he went 8-for-10 for 89 yards and a touchdown. But on his final nine drives, Smith went 8-for-22 for 87 yards and a pick. In the second half, the Jets ran 15 times for 37 yards after compiling 109 yards and 22 runs and a TD in the first half.
"We always want to be balanced," Smith said. "We felt like we could've ran the ball a little better. As I said, execution could've been better, but we don't want to talk about what we could've done. I think with the players that we were calling, we had good plays in and I just think we need to do a better job as players."
Smith pointed out that he spread the ball out to nine different receivers. But his tight ends were targeted a combined four times.
"Every guy had his shot," he said. "I've got to do a better job of getting the guys involved and we just have to do a better job overall."
In the fourth quarter, the offense stalled with No. 1 wideout
Eric Decker
sidelined due to a hamstring injury. Could Smith be relying too much on the $36 million target? The two are certainly developing a nice rapport. Decker had four catches for 63 yards and a touchdown.
"We've got viable weapons," Smith said. "We've got guys who can go out there and make plays.
David Nelson
made a clutch catch on fourth down. I think Jeremy Kerley did a phenomenal job stepping up when Decker went down and we've got
Greg Salas
who can step in and make plays for us as well. So, we've just got to do a better job at finishing games and we had an opportunity to go in on the road and win the game, but we didn't."
Smith's final pass to Kerley fell incomplete in the end zone, leaving the Jets with a 31-24 loss.
"I was under duress and just put it up," he said. "I could've done something better with the ball."
The Jets held a 21-9 lead when Smith was picked off by
Tramon Williams
on a pass intended for
Zach Sudfeld
.
Brian Winters
got beat by
Mike Daniels
, who hit Smith as he threw.
The play changed the game. Its outcome may have been different had Smith's game-tying TD counted.
"The defender was there, but Zach had room for me to get the pass to him. I took the hit. Like I said, I've got to get the ball out faster and feel that pressure and not do that in that situation because obviously, it turned the game for us," Smith said.
September, 15, 2014
Sep 15
9:49
PM ET
FLORHAM PARK, N.J. -- The NFL is investigating a domestic violence incident involving New York Jets rookie Quincy Enunwa, a practice squad wide receiver. Enunwa was charged with simple assault on Sept. 4. According to the complaint, Enunwa pulled a woman off a bed at a hotel near the Jets training facility, injuring her head and finger.
Enunwa has pled not guilty to the charge.
The Jets are allowing Enunwa to practice with the team while the case moves through the legal system. Some teams have chosen to deactivate players who have pending cases -- for example the Panthers deactivated Greg Hardy last Sunday after the details of his domestic violence case became more fully known.
Because Enunwa is not on the regular-season roster, he isn't on the field during a game. On Monday, Rex Ryan said he has not considered taking him out of practices.
"I'm just getting through this game so I haven't thought about anything like that," Ryan said.
Enunwa was at his locker a day after the Jets lost 31-24 to the Packers at Lambeau Field. He declined to answer any questions about the pending case.
"No, you can go ask one of them," Enumwa said, gesturing to the team's public relations staff members.
Enunwa's arrest came after the NFL announced a new policy in domestic violence cases, which would mean a six-game suspension for a first violation, and a lifetime ban for the second, with the ability for a player to apply for reinstatement after a year.
Ryan cautioned against rushing to judgment in pending cases.
"I mean it has no, whether it's here or society or whatever, obviously (domestic violence) has no place in society," Ryan said. "But again until you know facts of all situations I think you can pass judgment too early on a number of things including domestic violence."
September, 15, 2014
Sep 15
6:59
PM ET
FLORHAM PARK, N.J. --
Eric Decker
's hamstring injury is a concern, but
New York Jets
coach Rex Ryan expressed optimism that the wide receiver could be back on the field for next Monday night's game against the
Chicago Bears
.
"We don't know right now, we'll see," Ryan said. "Hopefully he'll be ready to roll on Monday."
Decker had four catches for 63 yards and a touchdown Sunday at Green Bay, but was unable to play in a crucial -- and scoreless -- fourth quarter. Decker dealt with a hamstring injury during training camp. Jets quarterback
Geno Smith
said the team had other options if Decker -- the Jets' No. 1 wide receiver -- isn't in the game.
"We've got viable weapons," Smith said. "We've got guys who can go out there and make plays.
David Nelson
made a clutch catch on fourth down. I think
Jeremy Kerley
did a phenomenal job at stepping up when Decker went down and we've got
Greg Salas
who can step in and make plays for us as well. So, we've just got to do a better job at finishing games and we had an opportunity to go in on the road and win the game, but we didn't."
Brian Winters
, the Jets' starting left guard, missed a few plays with a dislocated pinkie finger, Ryan said.
September, 15, 2014
Sep 15
4:33
PM ET
By
Mike Mazzeo
| ESPN.com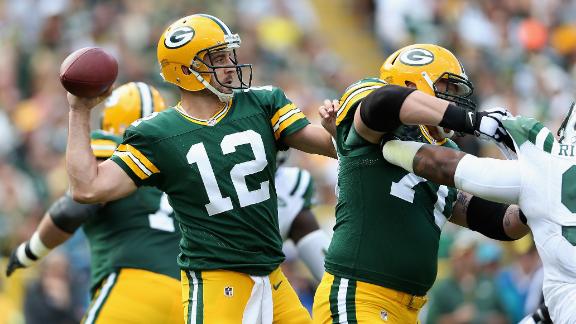 FLORHAM PARK, N.J. -- New York Jets offensive coordinator Marty Mornhinweg expressed regret and accepted blame for a fourth-quarter timeout being called, negating what should have been the game-tying touchdown against the Green Bay Packers on Sunday.
With about five minutes remaining and the Jets trailing 31-24 and facing fourth-and-4 at the Packers' 36-yard-line, Mornhinweg, who liked the play he called, noticed that the offense's formation was "aligned improperly."
A video replay appears to show that running back Bilal Powell was lined up on the left side of quarterback Geno Smith instead of the right side. Smith calmly motioned to Powell to switch sides, which the running back did, but it proved to be too late.
The play clock was winding down, and Mornhinweg began moving toward coach Rex Ryan on the sideline trying to get his attention. But Ryan's headset, Mornhinweg said, was on the defensive channel. The Jets had one timeout left, and Mornhinweg wanted to get the play right.
Defensive end Sheldon Richardson, noticing that Mornhinweg wanted a timeout, yelled into the ear of the official standing along the Jets' sideline. The timeout was granted, but only a couple of players on the field knew.
Smith threw a perfect touchdown pass to receiver Jeremy Kerley, but the play was blown dead. The Jets wound up picking up a first down but failed to reach the end zone and turned the ball over on downs.
September, 15, 2014
Sep 15
4:00
PM ET
GREEN BAY, Wis. -- A weekly look at what the
New York Jets
must fix:
Unfortunately for the Jets, there is no quick fix, especially with their upcoming schedule.
After surrendering 346 passing yards to
Aaron Rodgers
and the
Green Bay Packers
, the Jets face the
Chicago Bears
at home -- and that spells potential trouble. The Bears have the type of personnel that causes problems for the Jets, which is to say they have a capable quarterback,
Jay Cutler
, and two explosive receivers,
Brandon Marshall
and
Alshon Jeffery
.
The Jets are struggling on the back end of their defense -- specifically cornerback. Against the Packers, their goal was to limit the vertical attack, forcing Rodgers to dink and dunk. As it turned out, Rodgers completed 6 of 10 passes for 173 yards and a touchdown on throws longer than 10 yards, according to ESPN Stats & Information. Much of the damage was done by
Jordy Nelson
, who finished with a career-high 209 yards -- the most by a receiver against the Jets in the Rex Ryan era.
With
Dee Milliner
(ankle) still not 100 percent, the Jets used a three-man cornerback rotation, with Milliner,
Antonio Allen
and
Darrin Walls
. There were technique errors throughout the game, not to mention blown assignments, infuriating Ryan. The coach took responsibility, saying he has to do a better job of communicating. Truth is, this is a personnel issue.
The Jets dropped the ball in the offseason, failing to shore up the position after releasing
Antonio Cromartie
. It got worse with injuries and the release of Dimitri Patterson, a bad free-agent signing. Ryan can scheme up clever blitz packages, but that's not a panacea. This will be a season-long problem.