August, 29, 2014
Aug 29
12:20
AM ET
PHILADELPHIA --
Michael Vick
's homecoming was short, but sweet.
Vick
Vick served as the
New York Jets
' lone captain for their preseason finale against the
Philadelphia Eagles
. He then started the game at quarterback, but was removed after just one play.
Following a first-down handoff to
Daryl Richardson
, Jets coach Rex Ryan called a timeout and sent third-string QB
Matt Simms
onto the field. Vick was handed a visor to replace his helmet, and when the fans in half-full Lincoln Financial Field gave him a hearty cheer as he left the field, Vick doffed the visor in thanks.
"It was great," Vick said. "It was very warm. It was what I expected and I'm glad it turned out that way. It goes to show that the things that you did do were greatly appreciated."
Vick spent the past five seasons with the Eagles before signing with the Jets as a free agent this past offseason. Ryan said it was his decision to send Vick out there, and then pull him after just one play.
"It was something that, obviously I know what Mike thinks about his time in Philadelphia, the people in Philadelphia and obviously I know how Philadelphia thought of Mike -- the city of Philly and the Eagle fans," Ryan said. "So I just thought it was an appropriate thing to do, kind of send him off that way."
Vick said he was surprised by the quick hook, and that he was prepared to play at least a quarter.
"As a competitor, you always want to play," Vick said. "My mindset was to go in to play, but it was abruptly brought to an end. It was [Ryan's] decision. I wasn't going to argue that."
The game was also a reunion of sorts for ex-Jets quarterback
Mark Sanchez
, now the backup to
Nick Foles
with the Eagles. Sanchez's up-and-down five-year tenure with the Jets ended last season, which he spent on injured reserve after suffering a shoulder injury in a preseason game against the
New York Giants
.
Ryan was criticized by many for sending Sanchez into that game against the Giants behind a backup offensive line. But Ryan and Sanchez embraced on the field before Thursday's game.
"It was good," Ryan said. "I know he's had a real nice, strong preseason. So that's great to see. I wish nothing but the best for him. He's an outstanding young man and I really mean it. I hope he does well."
August, 28, 2014
Aug 28
11:55
PM ET
PHILADELPHIA --
Stephen Hill
's disappointing preseason is over. Now we wait to find out if he still has a job.
Hill played most of the first half in the
New York Jets
' 37-7 loss to the
Philadelphia Eagles
. But he was targeted just twice, with one reception for 13 yards and one dropped pass.
Hill
The former second-round pick finished the preseason with just three catches for 42 yards, but sounded confident he will survive the Jets' final cuts and make the 53-man roster come Saturday.
"Yeah, I don't know why I shouldn't?" Hill said, smiling.
There are reasons to think otherwise, beyond his lack of production in recent weeks. Hill has been a big disappointment overall with the Jets, with just 45 catches for 594 yards in his first two regular seasons combined.
Coach Rex Ryan held out practically all his starters in Thursday's preseason finale, and even many of his backups. But Hill was out there, making it obvious his roster spot is far from a given.
When asked if Hill helped or hurt himself by his performance against the Eagles, Ryan sidestepped the question.
"All the talk of Stephen Hill or whatever -- we gotta really look at this tape, and we'll see if we have any[thing] one way or the other," Ryan said. "I just think overall it was a poor performance. I can't tell you really who jumped out."
Immediately after making that statement, however, Ryan complimented fellow wideout
Saalim Hakim
about his special teams play, leading you to believe Hakim -- who's also listed as the Jets' No. 1 kick returner -- will make the team.
Eric Decker,
Jeremy Kerley
and
David Nelson
, who sat out the game, are locks. And rookie fourth-round pick
Jalen Saunders
-- the team's primary punt returner, who also had four catches for 26 yards against the Eagles -- is likely to make the roster as well.
That probably leaves one more wide receiver spot available, for either Hill or
Greg Salas
. And Salas has outplayed Hill this summer. He played the same amount as Hill on Thursday, and although he had one drop as well, he also had a nice over-the-head grab for an eight-yard gain. Salas finished the preseason with five catches for 61 yards and one touchdown.
Hill said he's been given no indication by the coaching staff, as to his job status. To his credit, he did not seem put off by being asked to play Thursday, while so many of his teammates watched from the sideline.
"It's football, I love football," Hill said. "I just want to stay on the field as much as I can."
Unfortunately for him, he may be done playing football -- at least for the Jets. We'll find out for sure soon enough.
August, 28, 2014
Aug 28
10:05
PM ET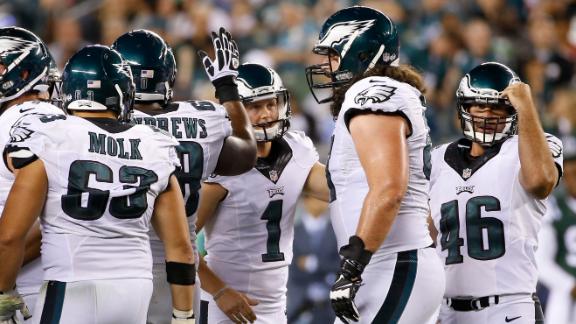 PHILADELPHIA -- The
New York Jets
held out almost all of their starters, and even many of their backups, in their fourth and final preseason game Thursday at Lincoln Financial Field. The Jets lost to the
Philadelphia Eagles
,
37-7
, in what essentially served as a final audition for the last few spots on the teams' 53-man rosters. (The Eagles sat their starters and backup quarterback
Mark Sanchez
, the former Jet, as well.)
A few takeaways from the game regarding the Jets:
August, 28, 2014
Aug 28
10:00
PM ET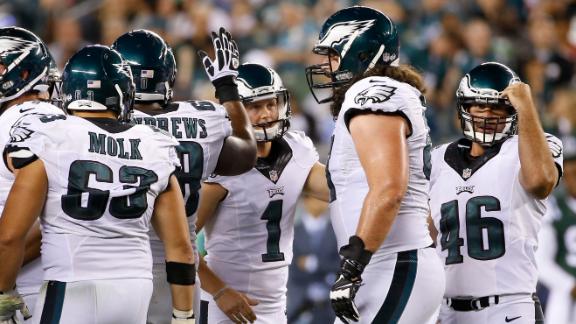 PHILADELPHIA -- If you blinked, you missed Michael Vick's return to Lincoln Financial Field. But then, this was not a game for the household names on either team.
Vick played exactly one snap for the
New York Jets
. Neither
Mark Sanchez
nor
Nick Foles
played even that much. This was about the guys on the bottom of the roster competing one last time, and that's how the Eagles' 37-7 victory played out.
Quarterback
Matt Barkley
got a long look, with mixed results. Barkley threw an interception in the end zone, although it appeared wide receiver
Damaris Johnson
stopped his route. Barkley threw four interceptions and zero touchdowns in his emergency duty last season.
Barkley also had an odd moment in the second quarter. He rolled to his right and jumped, but he didn't throw the ball. After landing (and no, he wasn't called for traveling), Barkley overthrew
Will Murphy
in the end zone.
But Barkley looked sharp on a 43-yard touchdown pass that caught
Arrelious Benn
in stride. And his back-shoulder throw to
Jeff Maehl
was good for a 32-yard gain in the second quarter. Barkley later overthrew a wide open
Quron Pratt
in the second quarter.
Barkley looked most in command on a 15-play, 80-yard touchdown drive in the second half. Barkley finished the drive with a 7-yard touchdown run. He dropped back to pass, but the whole right side of the field was wide open and Barkley took advantage. It was his last play of the game.
Some other observations:
Cody Parkey, acquired in a trade last week with the Colts, made a 54-yard field goal late in the first half and hit a 53-yarder in the third quarter. Incumbent kicker Alex Henery's career-long kick was 51 yards. Henery missed a 31-yarder last week against the Steelers. Parkey also made a 25-yarder on the last play of the first half.
Damaris Johnson is a pretty good running back for a wide receiver. Johnson got some carries during the preseason and broke one for a 46-yard touchdown in the fourth quarter. Johnson took the handoff from G.J. Kinne, started to his left and then cut back to his right. Johnson's speed might be enough to keep him on the roster.
It wasn't planned, but Matt Tobin's night lasted just a couple plays longer than Vick's. The Eagles' offensive lineman -- their main backup at both guard and tackle -- injured his left ankle on the Eagles' third play from scrimmage. Tobin did not return to the game, although X-rays on the ankle were negative. Kevin Graf replaced him at left guard.
Chris Polk, who was iffy with a hamstring injury, did not play. Polk missed all four preseason games. He will have to hope the coaches have fond memories of his play last season. He was not helped by the performance of the backs who did play. With LeSean McCoy and Darren Sproles healthy scratches, Matthew Tucker and Henry Josey ran the ball very effectively. So did Kenjon Barner, who left in the second quarter with an ankle injury. Tucker left with an injury to his left shoulder.
It was unorthodox, but the Eagles got quite a punt off in the second quarter. With the ball at the Eagles 12, Donnie Jones punted from his own goal line. The punt travel nearly 60 yards in the air. Linebacker Bryan Braman arrived at the Jets' return man at about the same instant as the ball. With assistance from Emmanuel Acho, they tackled the returner for a 9-yard loss. Throw in a penalty on the Jets and New York started the next drive at its own 15 -- a 73-yard swing.
Benn celebrated his 43-yard touchdown catch in the first quarter by leaping into the stands behind the end zone. Benn played in Tampa Bay, not Green Bay, before coming to Philadelphia, but his modified Lambeau Leap looked pretty authentic. Benn's finest moment -- a leaping catch between two defenders in the back of the end zone -- didn't count. He came down out of bounds.
Two Eagles draft picks got burned on the same Jets touchdown. Cornerback Jaylen Watkins was covering wide receiver Clyde Gates in the third quarter, and safety Ed Reynolds was in the middle of the field. As Tajh Boyd's pass rifted down, Reynolds seemed to have a bead on it, but the ball went through his hands and Gates was able to catch it as he crossed the goal line.
Chris Maragos had the ball in his hands twice. Both near fumbles were ruled incomplete passes, however.
Curious moment in the second quarter: The Eagles had a fourth-and-1 deep in Jets territory. Chip Kelly decided to go for it, but a keeper by Barkley fell short. With few opportunities to compare Parkey and Henery, it seemed strange Kelly didn't try a field goal. Then again, any attempt within 30 yards isn't going to tell you much, anyway.
August, 28, 2014
Aug 28
12:00
PM ET
The
New York Jets
(2-1) face the
Philadelphia Eagles
(1-2) on Thursday night at Lincoln Financial Field, in the final preseason game for both teams. Kickoff is scheduled for 7 p.m.
1. A sort of homecoming:
Michael Vick
will start at quarterback for the Jets, against the team he played for the past five seasons. It'll be interesting to see how he is received by the fans in Philadelphia. The Jets are sitting all their starters, and even Vick won't play for long. Ex-Jets starter
Mark Sanchez
is now the backup to
Nick Foles
in Philly, but Eagles coach Chip Kelly isn't planning to use either of his top two QBs in this game. Nevertheless, it'll be an opportunity for Sanchez and his former teammates and coaches to reconnect on the field before and after the game.
2. Last chance?
One Jet who will play is wide receiver
Stephen Hill
, and his job appears to be on the line. The former second-round draft pick, a major disappointment in his first two years with the team, has just two catches for 29 yards in three preseason games. Fellow wideouts
Eric Decker
,
Jeremy Kerley
and
David Nelson
are locks to make the final roster, and coach Rex Ryan talked up
Greg Salas
and
Saalim Hakim
on Tuesday, and fourth-round pick
Jalen Saunders
is currently tabbed as the team's No. 1 punt returner. Hill better make some plays Thursday, or else his Jets career could be over.
3. Around the corner:
The Jets' lack of talent and depth at cornerback has been the biggest topic of conversation regarding the team during the preseason, and it could get ugly against the Eagles.
Dee Milliner
(ankle) is still out, and
Dimitri Patterson
has been suspended for the rest of the preseason. Third-round pick
Dexter McDougle
(knee) is out for the season, and converted safety
Antonio Allen
(concussion) is still out as well.
Darrin Walls
sat out practice Tuesday and will not play against the Eagles, and Ryan is holding nickel back
Kyle Wilson
out of this game, too. That leaves you with
Ellis Lankster
and
LeQuan Lewis
as your likely starters, with
Johnny Patrick
,
Brandon Dixon
and
Jeremy Reeves
as your reserves. Yikes.
August, 28, 2014
Aug 28
10:05
AM ET
ESPN.com news services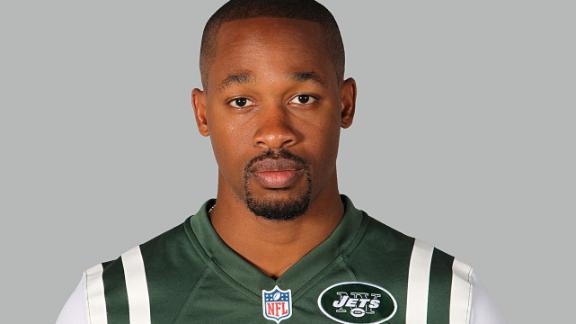 New York Jets cornerback Dimitri Patterson, who was suspended for the remainder of the preseason after allegedly going AWOL last weekend for 48 hours, said Thursday that the team's claims are "completely false."
"As it relates to my whereabouts and me missing for 48 hours without being seen or heard from me or my representative [that] is completely false," Patterson said in a text to ESPN's Josina Anderson. "My agent reached out to the Jets organization multiple times several hours prior to Friday night's game. My commitment to the Jets organization and to my teammates has never been an issue and never will be an issue.
"As it relates to the rumors about my frustration in regards to the depth chart [that] is totally and completely false. In nine years I have never had control over the depth chart."
The Jets did not responded to a request for comment, and coach Rex Ryan declined to address the situation after the Jets' 37-7 preseason loss to the Eagles, saying, "We'll address that at the appropriate time."
The suspension, as well as additional discipline from the team, was levied by the Jets for what they termed an "unexcused" absence, which irked the organization and some teammates. The mystery started Friday night, when Patterson didn't show for the Jets' game against the New York Giants at MetLife Stadium. Team officials tried frantically to locate him, not knowing until the next day -- through his agent -- that he was safe and unharmed.
August, 28, 2014
Aug 28
8:35
AM ET
New York Jets
wide receiver
Jalen Saunders
had to be physically restrained by three police officers after experiencing a seizure in his car two weeks ago,
NJ.com reported
.
"Subject suffered a medical event ... and needed to be restrained for his safety," the officers wrote in their use-of-force reports, according to documents obtained by NJ.com.
Saunders was involved in a one-car accident on Aug. 15, and was hospitalized for two days afterward, but
returned to full practice Monday
.
The rookie fourth-round draft pick out of Oklahoma, in addition to playing wide receiver, is also currently listed as the Jets' No. 1 punt returner on the team's depth chart.
Saunders had one catch for 1 yard, and two punt returns for 11 yards, in the preseason opener against the
Indianapolis Colts
, but missed the following two games.
He is expected to play extensively in the Jets' final preseason game, Thursday night in Philadelphia against the Eagles.
August, 27, 2014
Aug 27
2:30
PM ET
In a span of 12 days in October, the Jets face San Diego (away), Denver and New England (away) --
Philip Rivers
,
Peyton Manning
and
Tom Brady
, respectively. For the Jets and their suspect secondary, it will be the Missiles of October. It would be an extraordinary accomplishment if they could win two out of three in that stretch of the
schedule
. If they can get through the Patriots with the 4-3 record or better, they'd be in great shape for a second-half run. On the flip side, the Jets' season could be blown up by Halloween if they fall apart against the Rivers-Manning-Brady troika.
Complete Jets season preview
.
August, 27, 2014
Aug 27
2:20
PM ET
By
Mike Mazzeo
| ESPNNewYork.com
FLORHAM PARK, N.J. --
New York Jets
quarterbacks coach David Lee offered high praise of
Matt Simms
on Tuesday.
"Matt Simms has improved as much as any guy I think I can ever remember coaching," Lee said. "Early on, he threw so hard, our backs couldn't catch it. There was no touch. He developed some touch, and developed more touch. Right now, he is accurate."
[+] Enlarge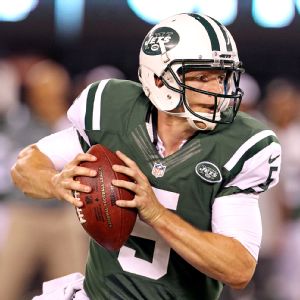 Adam Hunger/USA TODAY SportsMatt Simms is 22-for-32 for 202 yards and a TD pass this preseason.
Simms is expected to receive heavy playing time in Thursday night's preseason finale in Philadelphia. With starter
Geno Smith
and veteran backup
Michael Vick
on the roster, it's unknown if the Jets will decide to carry three quarterbacks during the season. But based on how Lee views Simms, it wouldn't be that much of a surprise if they did.
Simms, 25, finished 9-for-14 for 106 yards and one touchdown in last Friday night's loss to the
New York Giants
.
"That was as good as I've ever seen him play," Lee said. "He played great. ... He has really improved and you can see it. His accuracy, that's what you see, and the ball coming out faster, he knows where he is going faster, and I love Matt Simms. He is special."
Simms -- whose father, Phil, quarterbacked the Giants to the title in Super Bowl XXI -- signed with the Jets as an undrafted free agent in 2012. Last season, he served as Smith's backup.
Simms will be relegated to third string this season -- assuming he makes the final roster -- but Lee and the Jets clearly like where he's heading as far as his development is concerned.
August, 27, 2014
Aug 27
12:09
PM ET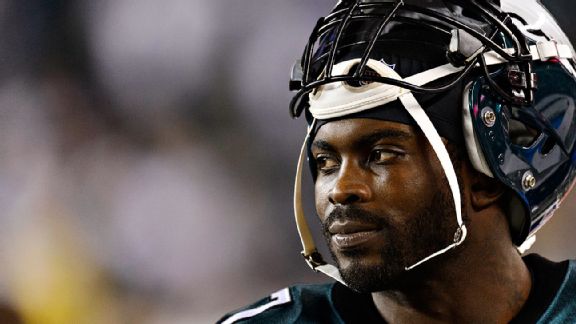 Howard Smith/USA TODAY SportsThe proudest moment of Michael Vick's career didn't come on a football field.
FLORHAM PARK, N.J. -- Michael Vick was talking about his greatest achievement as an NFL quarterback, and it had nothing to do with the time he beat Brett Favre in a playoff game at Lambeau Field. This was about saving a rookie coach's team and a wide receiver's career in the early hours of training camp, and it was all right there in black and white.
Vick was sitting on a bench inside the New York Jets' practice facility two days before his return to Philadelphia for Thursday night's cameo preseason start, and he was recalling the moment he first heard last summer that something was up. He was walking from a meeting back to the Eagles' locker room when a teammate asked if he had seen the video that was starting to go viral on the Web, the sights and sounds of a man fueled by anger and alcohol, Riley Cooper saying what he said about that African-American security guard at that Kenny Chesney concert.
"And when I'd seen it I didn't believe it," Vick told ESPNNewYork.com. "I couldn't even see him fixing his face to say that because I'd known him for three years."
August, 27, 2014
Aug 27
6:00
AM ET
By
Mike Mazzeo
| ESPNNewYork.com
FLORHAM PARK, N.J. --
New York Jets
coach Rex Ryan said Tuesday that wide receiver/kick returner/gunner
Saalim Hakim
has "a leg up" on other candidates vying for a spot on the 53-man roster because of his ability to play special teams.
Hakim, 24, appreciated what Ryan said -- but he knows that nothing is guaranteed. The Jets play their preseason finale Thursday night in Philadelphia, and the final roster cuts will be made over the weekend. The competition at wide receiver is especially tight.
"I still have to go out there and prove myself," Hakim said Tuesday. "I still have to go out there, compete and show them what I can do not only at my position, but at other positions as well. ... I'm here to do what they want me to do, and whatever they tell me to do, I'm going to do it. I'm going to go out there and give it my all."
[+] Enlarge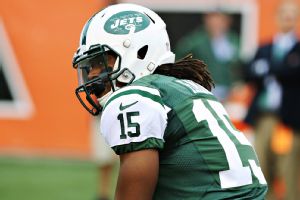 Al Pereira/Getty ImagesSaalim Hakim enters the final preseason game as the Jets' primary kick returner.
Hakim also intrigues the Jets because of his blazing speed. At his pro day in March 2012, he ran the 40-yard dash in 4.23 seconds.
Speed runs in Hakim's family. His older brother, Az-Zahir Hakim, 13 years Saalim's senior, played parts of nine seasons in the NFL as a receiver and returner, earning a Super Bowl ring as a member of the
St. Louis Rams
.
"Growing up I watched him, and I've always wanted to be a football player, too," Saalim Hakim said of his brother. "I always said I wanted to be better than he was. He taught me a lot of things in the offseason about being a receiver and playing special teams and things like that. He helped me with a lot of things, and I just want to try to use them on the field."
Hakim didn't take the traditional path to the NFL. He didn't start playing football until his senior year in high school, when he moved from Atlanta to Las Vegas. Hakim's high school, Palo Verde, ran the double-wing offense, so he had to play running back. It wasn't until he arrived at Palomar College (San Marcos, California) that he became a wide receiver.
"The only route I knew how to run was a go-route," Hakim said. "But next thing you know, I started learning other routes, too. I was learning a lot."
Hakim played two years at Palomar, catching three passes in Year 1 and 28 in Year 2. He then went to Tarleton State, a Division II school in Texas, where he had 18 catches in 2010.
In 2011, Hakim signed with the Las Vegas Locomotives of the UFL. A year later, he was wowing scouts across the NFL with his speedy 40-time. Eighteen teams called, he said.
"My cellphone was blowing up," he said. "I was like, OK, damn."
Hakim inked a rookie free-agent deal with the
Dallas Cowboys
, but his time there was short-lived. He dislocated his finger doing a special-teams drill in the rain. Shortly thereafter, he was released.
"We were tackling a dummy onto [what was like a bed]," Hakim said. "Everybody was slipping and sliding really hard. The veterans all did it slow, but the coaches were screaming at us, saying, 'We don't care about the rain. You better hit this thing.' I went to go hit the dummy and [I dislocated my finger]. They popped it back in, but I missed two weeks. I didn't get to prove myself."
Hakim had short stints with the Rams and
New Orleans Saints
before signing on with the Jets as a member of the practice squad in October 2013. He played three games for New York last season.
Despite being relatively new to football, Hakim said he's become more comfortable being a wide receiver since becoming a Jet.
"They've taught me a lot," he said. "All the Jets coaches have really helped me."
August, 26, 2014
Aug 26
10:00
PM ET
By
Mike Mazzeo
| ESPNNewYork.com
FLORHAM PARK, N.J. --
New York Jets
quarterback
Geno Smith
said Tuesday he has already been watching film of the
Oakland Raiders
in anticipation of their Week 1 matchup on Sept. 7.
Smith went so far as to say the film sessions have been "pretty extensive."
"They've got new players," Smith said. "Pretty much they've got the same defensive coordinator [Jason Tarver], so there will be some similar things from last year. And there will be some differences, but the key thing is finding out exactly what's changed and what's different and then being able to go out and execute."
[+] Enlarge
Ron Antonelli/Getty ImagesGeno Smith walks into Year 2 a confident quarterback under Rex Ryan.
In New York's 37-27 victory against Oakland last season, Smith went 16-for-25 for 219 yards, one touchdown and one interception. He also ran five times for 52 yards -- including a long of 32 -- and a score.
Smith, 23, said he's interested to see how much he's gotten better with the regular season about to get underway, noting he "feels a difference" in Year 2.
Quarterbacks coach David Lee is impressed with Smith's development.
"He has command of the offense, which he didn't [have] a year ago," Lee said. "He [was] coming in learning it. I've never coached a rookie quarterback. I've coached rookie quarterbacks, but not to start the season and go 16 games. Well, this guy misses two-and-half, three games of preseason. So, we come in there with he and Matt [Simms] as one and two against Tampa Bay [in Week 1], we're holding our breathe. We've got two rookies here fixing to do this whole thing for 16 weeks, and I thought it was a little bit overwhelming, which is why he was so up and down through probably the first two-thirds of the season and then he settled [down].
"[The] more he played, the more confidence he got. And now he just even walks in the building with more confidence, more command. He's not cocky, he's a humble kid, but boy, he's a confident quarterback right now at this point in time."
Asked about his confidence, Smith said, "Just gaining more confidence in my teammates and the players around me has allowed me to gain more confidence in myself. Also, understanding the offense has helped as well."
Despite his belief that Smith has improved his ball security, footwork and accuracy, Lee sees areas where his signal-caller can improve.
"Just tighten up everything, a little bit better, scramble, keeping my eyes down field a little bit longer. If I'm going to run, pump it, pump it twice, take off and run," Lee said. " Just putting those little things together, and we'll be ready to go when the games start, but we're not quite ready right now at quarterback."
August, 26, 2014
Aug 26
9:00
PM ET
FLORHAM PARK, N.J. -- There was a report last week that suggested some of the
New York Jets
' coaches were disappointed that
Michael Vick
didn't push harder for the starting job. The man who coaches the quarterbacks, David Lee, presented an entirely different picture.
Vick
"Michael Vick has been great, he's been a great addition," Lee told reporters Tuesday, his first interview since June. "He has come in here and done exactly what we asked him to do. He has pushed Geno (Smith). He's been a tremendous competitor. The guy will compete and he's been great in the classroom. Doesn't talk a lot, but when he does, I listen. We all listen.
"I'm just shocked at what a team guy he's been from the start," Lee also said. "You put him on the field and he's a competing machine. His eyes change and he wants to go. He wants to put it in the end zone every time he gets the ball."
Lee doesn't talk to the media that often. When he does, he always provides keen insights and strong opinions. A sampling:
On Smith's inconsistent rookie year: "I think it was a little bit overwhelming, which is why he was so up and down the first two-thirds of the season. He settled down and played with confidence. Now he's even walking around the building with more confidence. He's not cocky -- he's a humble kid -- but he's a confident quarterback at this point in time."
Lee said Smith's three most improved areas are ball security, footwork and accuracy. He said Smith's footwork is "almost immaculate." Now, he said, the objective is to make sure Smith stays consistent with his footwork and trusts his reads.
Lee believes Smith is doing a better job with his eyes. Example: Throwing a 'go' route in shotgun, the quarterback needs to take a three-step drop and hitch, glancing at the free safety on the first step and indentifying the target on the third step. Smith can do that now. "Before," Lee said, "his eyes were everywhere."
Lee described Smith's improvement this way: Better eyes lead to better footwork, which leads to better accuracy.
On Smith's relationship with Vick: "He's been great for Geno. They get along really well. They trust each other. Mike has been dead honest. I hear those comments and he's done nothing but enhance Geno's chances of being a better professional quarterback."
Lee praised third-string Matt Simms: "Matt has improved as much as any guy I can remember coaching. ... The other night was as good as I've seen him play." Based on that evaluation, it sounds like Simms has secured a roster spot.