New York Jets:

Super Bowl
February, 2, 2014
Feb 2
2:50
PM ET
EAST RUTHERFORD, N.J. -- Pre-game thoughts from Super Bowl XLVIII:
Okay, I was only half-right on my pre-playoff Super Bowl prediction. I had the
Denver Broncos
and
San Francisco 49ers
making it to MetLife Stadium. In the interest of consistency, I'm going to ride the Broncos over the Seahawks. Forecast: Broncos 28, Seahawks 20.
A few thoughts:
1.
Peyton Manning
is the best player in the game, and when the best player happens to be a brainiac, all-time great at the quarterback position, it's hard to ignore. Manning hasn't been sacked in the postseason, and I don't think the Seahawks' four-man rush will generate a lot of pressure. If the Seahawks send five or six, Manning will find the soft spot in their coverage.
2. The Seahawks play a fairly simple defensive scheme. They don't try to confuse opponents with exotic looks; Pete Carroll doesn't trick it up because he has the utmost confidence in his players to thrive in their man-to-man scheme. So, basically, it'll be
mano y mano
-- the Broncos' wide receivers and tight ends versus the Seahawks' cornerbacks and safeties. It's a fascinating matchup because the Broncos are prolific with YAC (yards after catch) and the Seahawks' -- sound tacklers -- lead the league in limiting YAC.
3. I'm curious to see how the Seahawks use cornerback
Richard Sherman
. During the season, he lined up to the offense's right on 98 percent of the snaps, according to ESPN Stats & Information. Everyone assumes he'll be covering
Demaryius Thomas
the entire game. If he does, it'll take him out of his comfort zone because Thomas lines up 55 percent of the time on the left. The scouting reports also say Manning is more efficient when he throws to his left. I suspect Manning will be throwing to where Sherman isn't.
4. Manning will be involved an intriguing chess match with the Seahawks' defensive. I suspect the Seahawks, keying in on history's most prolific passing attack, will use a seven-man box, daring Manning to run. Manning will recognize this, obviously, and check into running plays. That's why I see
Knowshon Moreno
having a big game.
5. In contrast, I think the Broncos have to play an eight-man box against
Marshawn Lynch
& Co. He's the kingpin of the Seattle offense. I don't think the Broncos' run defense gets enough credit. They allowed only 3.7 yards per carry on runs between the tackles, which bodes well for their chances of stopping Lynch. They have to put the game in
Russell Wilson
's hands. I like Wilson, but he's gone six straight starts with a QBR under 50. The wild card is wide receiver
Percy Harvin
. If the Seahawks can get him involved, maybe with a gadget play or two, it could really crease the Denver defense.
6. In the end, there's the destiny factor. This is Manning's year. He dominated the regular season, and I think a Super Bowl championship is meant to be.
January, 29, 2014
Jan 29
7:30
PM ET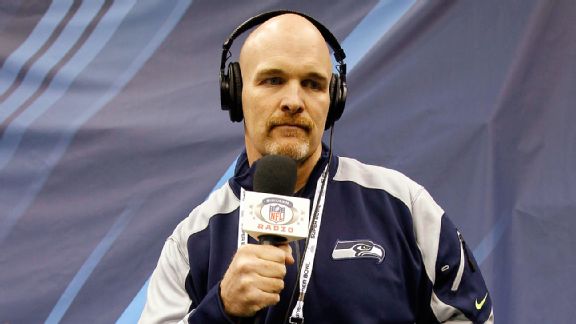 Adam Hunger/USA TODAY SportsSeahawks defensive coordinator Dan Quinn has been in demand.
JERSEY CITY, N.J. -- Dan Quinn is a Jersey Guy. He grew up in a five-bedroom colonial in Morristown, listening to Bon Jovi and rooting for the
New York Giants
of Parcells and Taylor and Carson. He lived for the Jersey Shore, long before it was a TV show, and he dreamed of one day of coming home to coach football.
Quinn did it for two years, in 2007 and 2008, coaching the defensive line for Eric Mangini's
New York Jets
. You never know, maybe there will be more green in his future, because if Rex Ryan disappoints in 2014 and gets fired, Quinn will be high on general manager John Idzik's list of replacement candidates.
But that's crystal ball talk, especially this week, with Quinn back home for Super Bowl XLVIII. He's the defensive coordinator of the
Seattle Seahawks
, and his job is to figure out what so many others have tried (and failed) to do this season: Make
Denver Broncos
star
Peyton Manning
play like a mortal quarterback.
Quinn, 43, isn't coming into this with decades of been-there, done-that experience, that's for sure, but he has worked for several respected coaches in a relatively short amount of time. Pete Carroll. Nick Saban. Steve Mariucci. And the late Joe Gardi, the former Hofstra coach who made his bones as a Jets defensive assistant during the heyday of the New York Sack Exchange.
"It was one of the most awesome places to come up as a young coach," Quinn said of his five years at Hofstra (1996-2000), which produced NFL players
Wayne Chrebet
,
Willie Colon
,
Lance Schulters
and
Marques Colston
before the university's suits decided to shut down the football program.
After jobs with the
San Francisco 49ers
and
Miami Dolphins
, Quinn ended up back on the Hofstra campus, except it was to work for the Jets, who trained at the Long Island school before moving to Florham Park, N.J., in 2008. He saw a lot in a short amount of time with the Jets, experiencing one of the most talked-about years in team history.
[+] Enlarge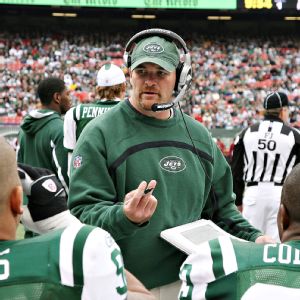 Al Pereira/Getty ImagesQuinn, who spent two seasons coaching the Jets' defensive line, is no stranger to working in East Rutherford, N.J., site of Sunday's Super Bowl.
Brett Favre
, 2008.
Quinn said the quarterbacks had a small basketball hoop in their meeting room and that, during breaks, Favre organized games. He described the future Hall of Famer as ultra competitive.
"He was one of the most fun guys to be around," Quinn said, smiling. "He had a great energy about him in terms of the way he conducted himself."
Unfortunately for the Jets, Favre's arm gave out, the team collapsed in the home stretch, it missed the playoffs, and Mangini was fired.
In came Ryan, who cleared out almost the entire coaching staff, including Quinn. But there was something different about Quinn's departure. People remember how a variety of staffers, from the video department to the grounds crew, showed up to say goodbye -- a reflection of his popularity.
Quinn went to Seattle, where he was introduced to Idzik, then a Seahawks executive. Quinn stayed for two years and returned this season, with a two-year stint as the University of Florida defensive coordinator sandwiched in between. He was Carroll's immediate choice to replace Gus Bradley, who left to become the
Jacksonville Jaguars
' coach.
Under Quinn, the Seahawks improved, going from No. 4 to No. 1 in total defense. Obviously, he inherited a tremendous amount of talent, but there's something to be said for not messing up a good thing. In some ways, he made it better, especially against the pass.
"He represents our mentality and our approach really well, that's why we were so excited to get him back," Carroll said. "He's everything beyond what I thought he'd be. He was able to not just capture [our philosophy], but accent it, doing it in his fashion."
Quinn has worked for polar opposites in Carroll and Mangini. Carroll is laid back, the epitome of California cool. Mangini is rigid and uptight, a micromanager. But Quinn liked his time with Mangini, praising his organizational skills and saying "there was an upper level of thinking with Eric."
Carroll has a Mr. Nice Guy reputation, but he challenges his assistants in the meeting room, seeing how they respond in hypothetical game situations. Of course, there's a soft edge.
"There are a lot of different ways to do the job," Quinn said.
Quinn has drawn attention around the league. During the Seahawks' playoff bye, he interviewed for the
Cleveland Browns
' head-coach vacancy. He might have landed the job, but he was penalized by the Seahawks' success. The Browns didn't want to wait for Quinn, so they hired Mike Pettine.
"No complaints on my end," said Quinn, who will be a hot candidate next year.
What's to complain about? He's preparing for a Super Bowl in East Rutherford, N.J., where he spent part of his youth cheering for his champions. If he wins Sunday, he'll walk among them.
February, 12, 2013
2/12/13
1:38
PM ET
The NFL, preparing for the possibility of bad weather hitting the New York/New Jersey region on Super Bowl XLVIII game day, is exploring playing the game on a Saturday or delaying it for several days, according to a published report.
Click here
for the full news story.
February, 3, 2013
2/03/13
5:00
AM ET
Looking at the Jets and the NFL in our expanded, Super Bowl edition:
1. Tim-sanity
: Since the season ended, we've come to learn that the relationship between Tony Sparano and
Tim Tebow
was strained, and that Sparano's lack of faith in Tebow was a big reason why he didn't play much, according to sources. This raises a larger issue: Where was Rex Ryan in this? Ryan gave autonomy to Sparano, just as he did with Brian Schottenheimer, but he's the head coach and he should decide playing time. Ryan's expertise is defense -- we get it -- but he'll never be a complete head coach until he takes control of the entire team.
Former special-teams coach Mike Westhoff discussed this topic the other day on ESPN New York 98.7 FM, offering a candid (what else?) evaluation of Ryan in this area. "Maybe he has to be more forceful in getting his philosophy across," Westhoff said. "If he doesn't feel someone is doing it a particular way, he'd better step in there and say, 'This is what we have to do.' You can't keep going through coordinators."
It's an excellent point. Ryan has tried in recent years to become more involved in the offense, but he has to do more than show his face in meetings. He needs to take charge and do it his way; time is running out.
2. The shadow of Revis
: You're a disgruntled Jets fan, preparing to watch the 44th consecutive Super Bowl that doesn't include your favorite team. That's no fun, so you're wondering how Ravens-49ers can impact the Jets. Here's how: If the 49ers lose the game and their secondary gets torched by
Joe Flacco
, it will create a groundswell of sentiment for them to trade for CB
Darrelle Revis
. He'd be the proverbial missing piece.
The 49ers are an aggressive team with the ammunition to pull off that kind of trade. They have a bargaining chip in backup QB
Alex Smith
, who, despite what owner Jed York said the other way, is done in San Francisco. They will try to trade him before April, when his $7.5 million salary becomes guaranteed. If they can't, they'll release him. The Jets surely would consider dealing Revis for Smith and a first-round pick (31st or 32nd). Unless they're willing to go heavy on QB salaries in 2013 -- remember, they're into
Mark Sanchez
for $8.25 million -- the Jets probably have to restructure Smith's contract. He has two years left on his deal. Keep this in mind if Flacco gets hot.
2a. Core of the Revis issue:
Unless new GM John Idzik has a different philosophy than the previous administration, the Jets won't be willing to satisfy Revis' demand to become the highest-paid defensive player in the NFL. Their stance, shared by many teams, is that cornerbacks aren't worth as much as pass rushers. They'll make him the highest-paid corner (he's already close to it at $11.5 million per year), but it's hard to imagine them going into the $16 million-a-year neighborhood -- unless Idzik revamps the organization's value system.
3. Caponomics
: Much has been said and written about the Jets' salary-cap plight. But are the problems really that bad? This year will be a struggle, no doubt, but they have only $5 million in guaranteed money committed to the 2014 cap, according to a source. That's when the Sanchez and
Santonio Holmes
guarantees will be off the books.
4. Mike-crophone Tannenbaum
: Former GM Mike Tannenbaum spent the week in New Orleans, doing interview after interview on radio row. Clearly, he's angling for a job in the media. He gave scripted answers to all the tough questions, but there was a moment of candor in an interview with a Boston radio station. The hosts grilled about him the highly criticized Sanchez contract extension. "That's one of the reasons why I'm sitting here today," Tannenbaum cracked.
4a. Brad on the brain
: I'm tired of hearing Tannenbaum drop
Brad Smith
's name every time he's asked about Tebow. The reason for the trade, he explains, is they wanted a replacement for Smith in the Wildcat. Wait a minute, when did Brad Smith become
Emmitt Smith
? In his final season with the Jets (2010), Smith carried the ball a grand total of 38 times. So what Tannenbaum is saying is, he was willing to live with the Tebow circus just to replace 38 carries. That's not what you call sound risk-reward management.
4b. Mad Mike
: Tannenbaum also spent a lot of time defending the cap situation. In three weeks, he said, the entire world will see his space-clearing plan unfold. Plan? The Jets will clear $30 million by releasing
Calvin Pace
,
Bart Scott
,
Eric Smith
and
Jason Smith
. That would put them about $10 million under the cap, but then what? With less than 40 veterans under contract, they'd still be in a tight situation.
5. LT speaks (again):
I know people are tired of hearing
LaDainian Tomlinson
take shots at his former team -- he's become the new Joe Namath -- but the man doesn't sugar-coat his opinions. On ESPN New York 98.7 FM, he was asked if Sanchez can snap out of his funk and become a winning QB again. Tomlinson: "Can he do it? Man, I don't think so."
6. Deer, Ray -- go away
: Ravens LB
Ray Lewis
is an iconic player, but his act is wearing thin. Has there ever been such a legendary team leader so absorbed with himself? He's such a contradiction. Lewis has the rare ability to galvanize a team, yet he morphs into the ultimate "me" guy with his pregame "Squirrel" dance. He seemed to relish the attention from AntlerGate -- his reported use of a deer-antler spray that naturally produces a banned substance connected to HGH. Lewis denied the report. Forget Pinnochio; if Lewis' nose turns red and it starts glowing, we'll know if he's lying about the deer-antler stuff.
7. Hatched from the Parcells nest:
The man behind the 49ers' success is GM Trent Baalke, who began his career as a Jets scout. He was about to give up on his football dream when he received a call from former Jets personnel man Dick Haley, who interviewed him and offered him a job. Baalke worked three years with the Jets (1998-2000), catching the eye of then-coach Bill Parcells, who was selected Saturday night to the Pro Football Hall of Fame.
One thing about Parcells: He surrounded himself with talented people. Three members of scouting/personnel went on to become GMs and six assistant coaches became head coaches in the NFL and/or college.
8. Jet setters
: Only eight players in Super Bowl XLVII have previous Super Bowl experience, and two of them are former Jets -- Ravens S
James Ihedigbo
and 49ers C
Jonathan Goodwin
(Saints).
9. Super Bowl on TV
: Interesting nugget from "Sports on Television," a wonderfully informative book written by former ESPN producer and current Syracuse professor Dennis Deninger: Only 36 percent of American homes watched Jets-Colts in Super Bowl III -- the lowest-rated Super Bowl in history. Two days before the game, NFL commissioner Pete Rozelle, concerned the Super Bowl would lose its appeal because of the perceived disparity between the AFL and NFL, announced the league was considering a new postseason structure that would allow two NFL teams to meet in the Super Bowl. It was yet another insult directed toward the Jets and the AFL. Everything changed, of course, after Joe Namath got through with the Colts.
10. Enjoying the holiday
: For the first time in 24 years, I'm not covering the Super Bowl. I intend to find out why America is so fascinated with Super Bowl Sunday. Pass the chicken wings, please.
January, 29, 2013
1/29/13
3:26
PM ET
Super Bowl XLVIII is barely one year away.

The big game will be played on Feb. 2, 2014, at MetLife Stadium in East Rutherford, N.J.

In the week leading up to kickoff, several events will be held in the New York/New Jersey area. Let's take a look:

• Super Bowl Boulevard, the sports and entertainment hub of Super Bowl week, will stretch from 44th Street -- in the middle of Times Square -- down Broadway to 34th Street from Jan. 29-Feb. 1. It will be a free festival open to fans from around the world.

Thanks to an assortment of interactive activities, fans can throw a touchdown, catch a pass or kick a field goal. Fans also will be able to see the Lombardi Trophy on display, attend nightly concerts, take part in football clinics and competitions, obtain autographs from players and visit NFL-themed exhibits.

• The Super Bowl Media Center will be held at the Sheraton Hotel in midtown. More than 5,000 media will be credentialed for the event.

• The Friday Night Party and the annual NFL Honors awards show will take place in New York on Jan. 31.

• The NFL will work out of its league headquarters on Park Avenue.

• In New Jersey, there will be a series of activities. Media Day will be held at Prudential Center in Newark on Jan. 28. The NFL's Tailgate Party will be held at the Grandstand at the Meadowlands Racetrack in the final hours before kickoff.

• Both teams will stay at hotels in New Jersey. The NFC team will practice at the Giants' facility in East Rutherford, while the AFC team will practice at the Jets' facility in Florham Park.