MIAMI -- Cornerback Antonio Cromartie, asked if the New York Jets gave full effort in Sunday's season-ending 19-17 loss to the Miami Dolphins, took a thinly veiled swat at the offense.
"Maybe on one side of the ball," Cromartie said.
As the leader of that offense, Jets quarterback Mark Sanchez has to take that as an insult. But, in reality, Sanchez took it from all sides on Sunday.
His $45 million receiver, Santonio Holmes, quit on the team in the fourth quarter. Offensive lineman Matt Slauson said there was "commotion" in the huddle, which led to five false-start penalties in the first half.
Even running back LaDainian Tomlinson, who was mostly supportive of Sanchez in his postgame comments, said the third-year quarterback tends to get "down on himself" when mistakes happen.
"He's a prideful person," Tomlinson said. "You just have to constantly remind him, 'Hey bud, it happens. Let's keep going.'"
Whether Sanchez keeps going with the Jets is open to question.
"I've told you guys, I think he's the long-term solution," Jets coach Rex Ryan said. "I don't think there is any doubt."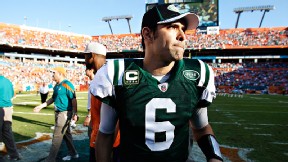 AP Photo/Lynne Sladky
Antonio Cromartie's words and Santonio Holmes' actions didn't reflect well on Mark Sanchez.Then again, what else is Ryan going to say? And didn't Ryan support Cromartie after last season ended, just months before the team chased free-agent corner Nnamdi Asomugha?
If Colts quarterback Peyton Manning becomes available this offseason, the rumors that he lands in New York will be escalated -- similar to the way the Jets acquired another aging passer -- Brett Favre -- in 2008.
Such speculation comes after Sanchez faced a myriad of issues this season. In addition to eight fumbles lost, he threw 18 interceptions, up significantly from the 13 picks he suffered last season. Seven of those picks were in the last three games, all losses, and he also took 11 sacks during that span.
In fact, Sanchez was sacked a career-high 39 times this season, including twice on Sunday. The sacks are a reflection of an offensive line that struggled, especially at tackle. The receivers can be blamed for not getting open enough, and the running backs and tight ends often failed in pass protection as well.
But there is also Sanchez's responsibility in not being decisive enough at times, leading to "coverage sacks," as was the case on Sunday.
To be fair, Sanchez passed for 26 touchdowns this season and ran for six, setting a franchise record for combined TDs by a quarterback.
Sanchez said he does not lack for self-belief going forward.
"I'm confident we can win," Sanchez said. "You can always work on fundamentals, your footwork and reinforce the good things we did. … It's just the consistency part that's got to get better."
Ryan admitted that Sunday "wasn't [Sanchez's] best outing."
That's an understatement considering that two of the interceptions were by defensive lineman Randy Starks on passes that probably traveled a combined total of about 5 yards.
The third pick -- by Marvin Mitchell, listed as a third-string linebacker on the Dolphins' depth chart -- came on a short pass intended for running back Shonn Greene.
"I think I may have thrown it behind Shonn a little bit," Sanchez said. "To get intercepted three times on check downs is frustrating, and it's pretty rare."
The picks weren't just rare, they were costly. All three led to field goals, including a 58-yarder by Dan Carpenter to end the first half.
The third one was the most crucial as it came with 3:10 left in the game and the Jets trailing, 16-10. The Jets had a third-and-6 from the Dolphins' 10, and a touchdown would have given New York the lead and perhaps a victory.
Those three "drives" by the Dolphins netted 0, 3 and 9 yards, which explains the frustration expressed by Cromartie.
Sanchez, for his part, said all the right things after the game. He declined any attempts to get him to talk about Holmes, other than to say he will talk to him after the season just like he will speak to "a bunch of guys."
Sanchez said he believes the Jets have the players currently on the roster good enough to win a title.
But there is a likelihood that some of those players -- and offensive coaches--– will not be back next year. The speculation line probably starts with receiver Plaxico Burress, tackle Wayne Hunter and Tomlinson, among others.
"We'll work individually," Sanchez said of what's next, "and we'll get better as a team when we get back together."