Inside the New York Jets' indoor field house in Florham Park, N.J., there were more than 200 credentialed media types in attendance, many standing to the side since the 80 chairs assembled were all pretty much taken.
Behind the seats were two rows lined with more than 30 cameras. Behind those lenses were even more television cameras for live reports. And outside the field house were 14 television trucks ready to relay live feeds.
A scene like this is typical at a Jets playoff game, but this enormous media gathering was simply to mark the beginning of the Tim Tebow era.
"It's an honor for all of you to show up to hear me say a few words today," said Tebow, who repeatedly talked about how blessed and thrilled he was to be a Jet. "I honestly don't feel like [the media attention is] going to be a distraction because I honestly won't pay too much attention to it. And I mean the reason we're doing this today is because I have bosses, too, so I can blame it on them because they made me do it."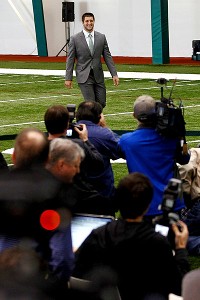 Jeff Zelevansky/Getty Images
The cameras were trained on Tim Tebow as he approached the podium on Monday.
Tebow said that with a chuckle, but he did say more than once that the news conference was not his idea. Still, the Jets' newest celebrated acquisition pretty much said all the right things in his introduction to New York.
With news outlets as big as CNN and FOX News and some coming from as far as Jacksonville among the mostly local media contingent, Tebow fielded a wide array of questions pertaining to everything from his relationship with Mark Sanchez to his faith to winning over potentially skeptical teammates.
It was the type of news conference usually reserved for a franchise quarterback. And the Jets' newest backup quarterback answered each question with a humble and positive reply.
He said he feels no pressure being in New York and in the spotlight.
"None, actually," Tebow said. "I don't really feel too much pressure. I'm just enjoying this opportunity for how exciting it is. I'm excited to be a Jet. I'm sure there will be some pressure leading up to it, but I've always enjoyed pressure and before every time I get up to give a speech, or practice, or play a game, I'm always a little nervous but it excites me."
"I think I play better when I have more on the line, and that's something I've always tried to thrive on," he added.
Tebow's news conference began a little later than the scheduled noon start time. And even before he walked onto the indoor field toward the news conference area, a wall of photographers formed behind a rope ready to capture every step Tebow took toward the podium.
The quarterback opened up by thanking the Denver Broncos and the Jets. The first question he fielded was about whether he actually chose the Jets over the Jaguars, as John Elway had said. Tebow said Broncos coach John Fox kept him abreast of everything that was going on and he felt more comfortable with the Jets because of his relationship with some of the coaches.
He also tried to defuse any possibility of a quarterback controversy creating a division between himself and Sanchez. Tebow said the two have a good relationship and will support one another.
"I think the exciting thing is that me and Mark have a great relationship," he said. "We have had a good relationship for the past three years. We've been friends, we've texted back and forth, we've talked already, and we're gonna have a great relationship and a great working relationship, and I think we'll have a lot of fun together."
There were also plenty of questions about his faith.
"Well, obviously I'm someone that's very outspoken of my faith, and I've never been ashamed of it," Tebow said. "Anytime I get the opportunity, I thank my Lord and savior Jesus Christ because that is the most important thing to me. But I don't think all the attention is just because of my faith. Sometimes it adds to it."
"I'm pretty sure I'm not the first athlete that's gone on a knee and prayed, but somehow it's known as 'Tebowing' and I'm not sure I know why," he continued. "It probably has a little to do with the hype, but I think it's not all a bad thing."
And certainly the Jets don't think the Tebow move was a bad thing, either. Judging by the turnout for Monday's news conference, Tebow-mania is just getting started here.