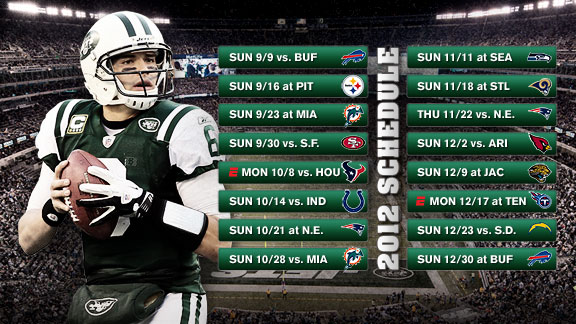 ESPN.com illustration
The NFL released its full schedule of games Tuesday night. For the Jets, it begins and ends with the Bills. Take a look:
Strength of schedule: 20th in difficulty (based on opponents' 2011 results: 126-130, .492 winning percentage). Taking it a step further, the Jets' road schedule is tied for the seventh easiest.
For openers: The Jets' fans won't have to wait long to see Tim Tebow, as they open at home against the Bills in a 1 p.m. start. What could be better than opening against a team they've dominated in recent years? The Jets can unveil their Tebow-run Wildcat against the player who ran their Wildcat until 2010, Brad Smith, now a Bills' receiver.
Under the lights: The Jets have four prime-time games, down one from last season. All things considered, that's not bad in terms of exposure. How many teams get that much love a year after finishing 8-8? Three of the prime-time games are at MetLife Stadium: The Texans (Oct. 8, Monday night), Patriots (Nov. 22, Thanksgiving) and the Chargers (Dec. 23, Sunday night). The Jets will also visit the Titans on Dec. 17, a Monday night. Let's face it, the Jets will be must-see TV.
Toughest stretch: The Jets lucked out here because there are no brutal stretches in the schedule. The toughest period comes early, when they face the Steelers, 49ers and Texans in a four-game span -- all 2011 playoff teams. That qualifies as a "bunch," considering the Jets have a total of only five games versus 2011 playoff teams. There's another tough turnaround later in the season, when they return from St. Louis and have only three days to prepare for the Patriots on Thanksgiving night. Later on, they have three road games in four weeks, but the opponents aren't too formidable.
Can't-miss game: Every Jets-Patriots game is a can't-miss, but put the two bitter rivals in prime time on Turkey Day ... well, you're talking about something special.
The 2012 Schedule
9/9 -- Sunday -- Buffalo, 1 p.m., CBS
9/16 -- Sunday -- at Pittsburgh, 4:15 p.m., CBS
9/23 -- Sunday -- at Miami, 1 p.m., CBS
9/30 -- Sunday -- San Francisco, 1 p.m., FOX
10/8 -- Monday -- Houston, 8:30 p.m., ESPN
10/14 -- Sunday -- Indianapolis, 1 p.m., CBS
10/21 -- Sunday -- at New England, 4:15 p.m., CBS
10/28 -- Sunday -- Miami, 1 p.m., CBS
11/4 -- Bye
11/11 -- Sunday -- at Seattle, 4:05 p.m., CBS
11/18 -- Sunday -- at St. Louis, 1 p.m., CBS
11/22 -- Thursday -- New England, 8:20 p.m., NBC
12/2 -- Sunday -- Arizona, 1 p.m.*, FOX*
12/9 -- Sunday -- at Jacksonville, 1 p.m.*, CBS*
12/17 -- Monday -- at Tennessee, 8:30 p.m., ESPN
12/23 -- Sunday -- San Diego, 8:20 p.m.*, NBC*
12/30 -- Sunday -- at Buffalo, 1 p.m.*, CBS*
* Flex scheduling