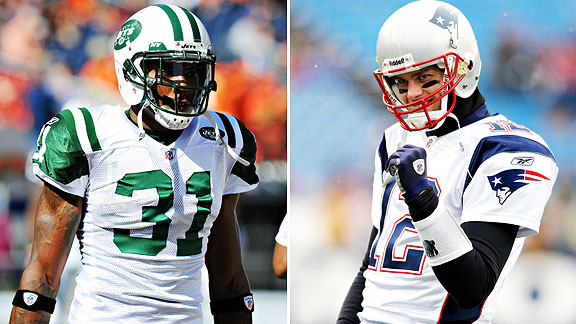 US Presswire
FOXBOROUGH, Mass. -- Jets head coach Rex Ryan held a conference call with New England reporters this morning, and the first question was what his reaction was to cornerback Antonio Cromartie's remarks about Tom Brady.
Ryan said he was unfamiliar with them, and asked media members to fill him in.
"First off, in this country, you're allowed to have opinions, and all that kind of stuff," he responded when told of the remarks. "Obviously, as an organization, we respect Tom Brady, there is no question about it. But hey, is there dislike between us and Brady, and Brady against the Jets? Of course there is.
"Am I going to punish Cromartie for saying something, or whatever? No. I know one thing, we respect New England, but we don't fear them. A comment like that, it's just the fact they're the enemy as we look at them this week."
Ryan was then asked if he felt those remarks crossed the line from fun trash talk to something else.
"Realistically, I'm sure that's basically what it was, just a comment that he made," Ryan said. "Trust me, they're saying a lot worse about me and others here, maybe it just wasn't printed."
A reporter then asked Ryan if he felt players followed his lead and that he incites such remarks. Ryan laughed.
"Yeah, of course," he said. "Maybe they do follow my lead in the fact that in that we can say what's on our mind or whatever. I don't say 'Whatever we do, don't say this, or don't say that.' We're a transparent organization. We let our guys speak and don't try to tell them what to say or what not to say."
Ryan was then asked if there was a risk in making such remarks, because it could make the Jets look bad if they don't win.
"We're going to be watching somebody else play, so it really doesn't matter. You either win or you don't. In this league, if you don't win, it's over. Your season's over," he said. "To think that a comment here or there is going to incite them to play at a greater level or something like that, I don't believe that's true. ... It doesn't matter what would come out of New England's locker room or anybody else's locker room, because you can't be more motivated than we are, and you can't be more motivated than New England is."