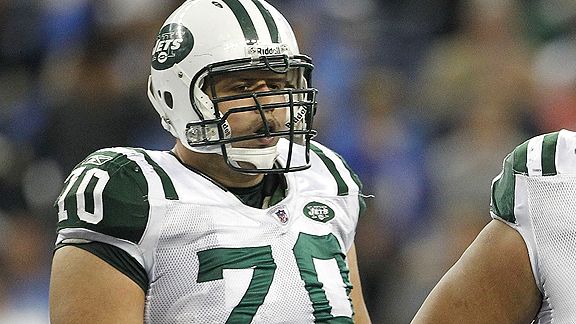 Leon Halip/Getty Images
Jets defensive end Mike DeVito isn't outspoken like some of his teammates, but he's still an important contributor for Gang Green.
EAST RUTHERFORD, N.J. -- In a game won or lost in the trenches, Rex Ryan is glad he has Mike DeVito on his side. The Jets' defensive end won't get the postgame interview, he won't talk smack or act out, but he brings it on field as much as any of his louder teammates.
"He's been huge for us this year," Ryan said. "Really stepped his game up. He was a backup rotational guy. This year he knew he was coming in to be the starter and he's been outstanding for us."
The 6-foot-3, 305-pound DeVito will be a pivotal player against the Steelers. This is a game that will be won or lost on the front line, with the spoils going to the players who can win the struggle for position and leverage to create or destroy gaps.
"He's a monster, he's strong as can be," said tight end Dustin Keller. "Maybe the strongest guy on the team, I'm not sure, but he's a load."
DeVito has been a Jets fan all his life. Born in Rockland County just north of New York City, across the Tappan Zee Bridge. His family of Jets fans moved north to Cape Cod -- Patriots country -- when he was a kid, and that's part of why the win last week was so special.
"It's so great to have gotten that win," DeVito said. "That 45-3 loss, my family had to hear it, everybody at home had to hear it the second I went home I was going to have to here it. Now I can go home, be humble, I don't have to say anything but the second someone says something to me, I've got the perfect response. You guys went home we kept playing. We've had to hear it my whole life being a Jets fan.
"Now shoe's on the other foot and I'm playing on the team," DeVito said.
DeVito said it will be tough to be happy if they can't get to the Super Bowl, DeVito likened it to New England's 18-0 season. Without the Super Bowl win, it won't be as legendary.
DeVito hopes to do his part, and his teammates are counting on him.
"It's huge," Keller said. "Games like this you always say the more physical teams going to win and a guy like him banging around, there's not too many guys who are going to get the best of him."
But if the Jets do win this weekend, DeVito suggests that Jets fans will have to find something else to be tortured by.
"I guess the traffic in New York," said DeVito with a laugh. "That's what brings me misery."