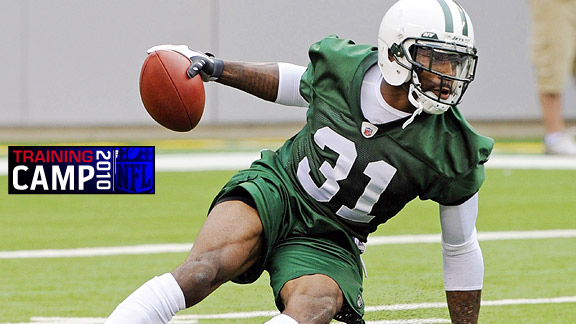 AP Photo/Bill Kostroun
The Jets acquired Antonio Cromartie from the Chargers in a March trade.
Part VIII of our position-by-position preview for training camp.
Unit: Secondary
Depth Chart: (CBs) Darrelle Revis, Antonio Cromartie, Kyle Wilson, Dwight Lowery, Drew Coleman, Marquice Cole, Bo Smith, Brian Jackson, (S) Jim Leonhard, Brodney Pool, Eric Smith, James Ihedigbo, Donovan Warren.
On the Bubble: Coleman, Cole, Smith, Jackson, Warren.
Player to Watch: Cromartie. If they get the Cromartie from 2007, when he picked off 10 passes for the San Diego Chargers, this will go down as one of Mike Tannenbaum's best trades. But his play has slipped in recent years due to a hip injury, a change in scheme and a lack of focus, all reasons why the Chargers unloaded him.
Wild Card: Pool. The former Cleveland Brown, who replaces Kerry Rhodes, will compete with Eric Smith for a starting job at safety. Pool is productive when healthy, but head issues (reports say concussions, he says migraines) factored into the Browns' decision to cut bait.
Analysis: The Jets owned the NFL's No. 1 pass defense, so what do they do in the offseason? Replace three of the top five. Antonio Cromartie, Brodney Pool and rookie nickel back Kyle Wilson are in, Lito Sheppard, Kerry Rhodes and Donald Strickland are out. On paper, this is a better and deeper group than last season, especially if Cromartie approaches his old form. The two top holdovers are Darrelle Revis and Jim Leonhard.
The big story will be off the field, as Revis' contract continues to make headlines. Revis is threatening a holdout and may not show up for camp if he doesn't get a new deal. Wilson, too, could be a late arrival; he's still unsigned and first-round picks are signing at a glacial pace. That would create opportunities for other younger players. Dwight Lowery (could get a look at safety), Drew Coleman and Marquice Cole are the leading candidates for the fourth and fifth corner spots.
Pool has the edge over Eric Smith at safety, but Smith still will see time on defense. James Ihedigbo is a good situational player. UDFA Donovan Warren, a rookie from Michigan, attempts to make the transition to safety from cornerback.