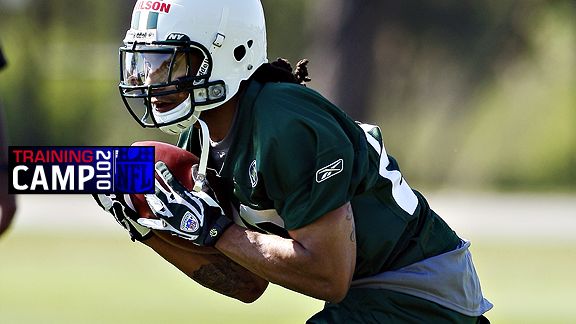 AP Photo/Mel Evans
First-round pick Kyle Wilson is an infusion of excitement as a punt returner.
This wraps up our nine-part, position-by-position preview. It's almost 'go' time. In fact, rookies, quarterbacks and injured players are due to report Thursday to Florham Park, N.J., with the entire team scheduled to gather Sunday in Cortland for the start of training camp. The New York Jets have 80 players on the roster, meaning they will need to clear a spot once No. 1 pick Kyle Wilson signs his contract, which should be any day.
Unit: Special Teams
Depth Chart: (PK) Nick Folk, (P) Steve Weatherford, T.J. Conley, (KR) Brad Smith, David Clowney, Aundrae Allison, Joe McKnight, Antonio Cromartie, (PR) Kyle Wilson, Jerricho Cotchery, Jim Leonhard, McKnight, (LS) Tanner Purdum.
On the Bubble: Folk, Weatherford, Conley, Allison, Purdum.
Player to Watch: Folk. At times, you may have to cover your eyes while watching him. He's a former Pro Bowl kicker who got in a bad way last season and was fired by the Dallas Cowboys. The Jets, who refused to pay Jay Feely, are trying to resurrect Folk's career.
Wild Card: Wilson. He could be the Jets' most dynamic punt returner since Santana Moss, circa 2002. We saw Wilson's sure hands in minicamp, and we've seen his moves on tape from Boise State. Now we'll see if he can put it all together in the NFL.
Analysis: The big story will be Nick Folk, who failed to erase the questions about him with an inconsistent offseason. His leg is plenty strong enough, but he's erratic on field goals. If he misses in a pre-season game, the "Dump Folk" sentiment will intensify. No doubt, the front office will be monitoring kicking battles throughout the league (Neil Rackers-Kris Brown in Houston) to see if any veterans shake free.
P Steve Weatherford has flown under the radar, but he didn't exactly tear it up last season (26th in net average). Unlike Folk, Weatherford has competition in camp, free agent T.J. Conley, who failed to make the Jets' roster last season when the job was wide open. The coaches like Conley's leg talent, but he needs seasoning. In reality, the regular-season punter might not be here yet.
There's plenty of depth at kickoff and punt returner, especially the latter. Maybe the most intriguing candidate for the kickoff job is rookie Joe McKnight, who dabbled with that in college. He's explosive in the open field. Longtime long snapper James Dearth is gone, meaning there will be a new snapper for the first time since 2000. Tanner Purdum gets first crack at the job. He has no game experience, but the coaches think he has the makings of a real good one.
In the spring, Rex Ryan indicated that he might use regulars on the coverage and blocking units. That's why we saw LB Bart Scott one day on the punt-coverage team. It's risky, and it bears watching.