Tom Szczerbowski/Getty Images
Mark Sanchez was full speed ahead after a shaky first half.ORCHARD PARK, N.Y. -- Mark Sanchez's best play during the first half against the Buffalo Bills on Sunday afternoon was him taking a knee to end it.
The Jets quarterback had single-handedly destroyed a 15-play opening drive by throwing an ill-advised interception in the end zone -- his first in the red zone and third in the end zone this season.
"It kind of got away from me a little bit," said Sanchez, whose throw to tight end Dustin Keller sailed high and into the waiting arms of Buffalo safety Jairus Byrd.
"That's the worst part," he added of the miscues deep in enemy territory. "That's the worst play to have it. I think it's just the way things have gone, those things need to be eliminated."
Week 9: Jets 27, Bills 11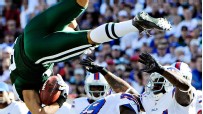 Gang Green beat Buffalo in an AFC East showdown. Jets Center » Blog »
Then, right before the second quarter ended, Sanchez mishandled a perfect snap out of the shotgun from center Nick Mangold, which ended in another turnover.
"It was just a crappy catch, bad catch," Sanchez said. "Shouldn't have happened. Stupid."
But just like he did two weeks ago after a gaffe-riddled first half against San Diego, Sanchez redeemed himself in the second half.
The 24-year-old signal-caller connected with wideout Santonio Holmes on an 8-yard scoring strike, capping off a 17-point third-quarter outburst, and the Jets went on to pummel the Bills, 27-11, to earn their first road victory of the season and improve to 5-3 overall at the halfway point.
"We know he's still a young quarterback, and we have to play well as a team for him to be successful," linebacker Bart Scott said. "If the quarterback plays well, he gets all the credit, and if he doesn't, he gets the blame. It just comes with the job."
So does the burden of being one of the most high-profile athletes at one of the most important positions in all of sports in the city of New York.
"Guys know that I can battle and that I can play through adversity," said Sanchez, who connected with seven different targets on Sunday. "It's obviously frustrating because you let those guys down, that's the worst part of it for me. I'm not worried about making bad throws or bad reads. I can get those right. I know I can fix that."
In total, Sanchez completed 20 of 28 passes -- a season-high 71.4 percent completion rate -- for 230 yards, one TD and one INT while finishing with a passer rating of 92.9, the fourth time this season he's had a passer rating of 90 or greater. For the season, Sanchez has connected on 61.6 percent of his pass attempts, while throwing for five TDs and two INTs during Gang Green's recent three-game winning streak.
During the second half Sunday, the Jets scored on four consecutive drives.
"I thought we were hot," Sanchez said. "We got hot there for a while. The run game set up the pass game."
Take a look at this note from our friends at ESPN Stats & Information: The Jets were able to pound the ball early and often on the ground and opened up the game with three straight run plays to set the tone for the day. The play-action game opened up as a result for Sanchez, who completed 11 of 12 passes for 129 yards and his only touchdown of the day when using the play fake. The 12 play-action attempts by Sanchez matched his career-high in a game, when he also completed 11 of 12 passes against the Bears in Week 16 last season.
"I'm not worried if we run it or throw it a lot, as long as we're winning," Sanchez said. "We were pretty efficient in the passing game [Sunday]."