New York Jets:

2013 Week 5 NYJ at ATL
October, 8, 2013
Oct 8
3:30
AM ET
ATLANTA -- The
New York Jets
didn't say, "We told you so." Well, they kind of did.
In the aftermath of Monday night's stunning,
30-28
last-second win over the
Atlanta Falcons
, Rex Ryan and a couple of players continued to play the no-respect card. This was an impressive road win, so, yeah, they were entitled to do some yapping.

Ryan
Ryan was asked if this win will change the perception of the Jets (3-2), who moved to within one game of the first-place
New England Patriots
.
"Outsiders are going to say what they're going to say, and they have," he said. "They've already spoken. They picked us 32nd in the league, OK? It doesn't matter. We just care about ourselves and we care about Jets fans."
He was referring, of course, to ESPN's Week 1 power poll, which ranked them 32nd.
"For whatever reason, everybody wants to crack jokes on us," linebacker
Calvin Pace
said. "The Jets are not going to this, the Jets not going to do that. No matter, man. It fuels us."
Guard
Willie Colon
agreed with Ryan, saying the Jets' 3-2 start won't change anything from the outside.
"We have to be consistent," he said. "We've got to put good games on tape consistently. Our tape is our résumé. If we can put games on tape that show we're legit, maybe it'll change. Right now, people are like, 'Keep winning and talk to us later.' We've got that chip on our shoulder."
October, 8, 2013
Oct 8
2:44
AM ET
.
ATLANTA -- Instead of micromanaging
Geno Smith
by making him wear a color-coded wrist band,
New York Jets
coach Rex Ryan came to his football senses and actually challenged his rookie quarterback to take the opposite approach Monday night.
"Let 'er rip and play with no conscience," Smith said of his coach's edict.
Smith played out of his mind, all right.
Eight days after the ugliest four-turnover performance you will ever see, Smith delivered a possible turning-point game for him and the Jets, rallying them to a dramatic, last-second upset of the
Atlanta Falcons
,
30-28
, at the Georgia Dome.
[+] Enlarge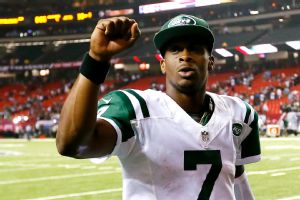 Kevin C. Cox/Getty ImagesGeno Smith left the Georgia Dome with his third victory in five games as a starter.
Smith was terrific for the first 58 minutes, and he was even better in the final two, directing a seven-play, 55-yard scoring drive to set up
Nick Folk
's 43-yard field goal as time expired. Smith was flawless on the final drive, completing four passes to three different receivers and calling an audible -- an audible! -- on the third-down play before Folk did his thing.
If Folk had missed, it still would've been a silver-lining night for the Jets (3-2), simply because of Smith's dramatic improvement. Sure, it would've hurt, but the initial pain would've faded, replaced by the big picture -- Smith's positive strides.
That they won the game, too, beating a team that fancied itself as a Super Bowl contender, was the ultimate double-delight for the Jets, who moved to within one game of the first-place
New England Patriots
in the AFC East.
"We showed that we can be great," said defensive end
Muhammad Wilkerson
, who was just that against the Falcons (1-4).
Team success aside, this showed Smith's potential. He's not a turnover machine, after all. After 11 giveaways in the first four games, he played a clean game on a national stage.
No turnovers.
Let's repeat that: no turnovers.
"I thought he did an outstanding job for us throughout the entire game," Ryan said.
This was the kind of game the Jets envisioned when they chose Smith in the second round. That he kept his cool on the road, with ear-splitting noise, showed plenty of moxie. For a change, everybody isn't talking about his strong arm and his physical gifts. Everybody's talking about his calm under pressure.
"He's wise beyond his years," running back
Mike Goodson
said.
Smith didn't put up "wow" numbers, mostly because Marty Mornhinweg featured the running game, but the former West Virginia star capitalized on his chances. He completed 16 of 20 passes for 199 yards, three touchdowns and a 147.7 passer rating. And he did it without injured wide receiver
Santonio Holmes
and with a couple of newcomers, Goodson and wide receiver
David Nelson
.
More importantly, he did it in crunch time.
Thanks to a fourth-quarter defensive collapse, the Jets fell behind 28-27. Smith got the ball on the 20-yard line with 1:54 on the clock. There wasn't a rah-rah speech in the huddle.
"There was no Disney pep talk," guard
Willie Colon
said. "No time for that. Good offenses get it done and that's what we did."
Smith hit
Stephen Hill
for a 12-yard gain,
Jeremy Kerley
for 13 more and Hill for another 9. Smith scrambled for 8 yards and got out of bounds, stopping the clock with 37 seconds left. After a
Bilal Powell
run, Smith hit
Clyde Gates
for 3 yards.
Now it was third-and-3 from Falcons' 31, on the fringe of field-goal range. Mornhinweg sent in a pass play and put Smith in shotgun. The kid looked at the Falcons' defense and changed the play to a run, moving behind center for the snap.
"That takes [guts]," Colon said of Smith's play change.
It almost blew up, but Powell shed a tackler in the backfield and ran for 6 yards. In came Folk, who is money with the game on the line. Smith loved the moment.
"Always calm, since I was a kid," he said, describing his emotions on the final drive. "To be in that situation, to take my team down and get a field goal or touchdown. … It's great to come away with a victory."
After last week's debacle against the
Tennessee Titans
, Smith said he "needed to change my mentality," explaining he couldn't afford to be uptight. He would've been that way if Ryan had gone through with the ridiculous idea of slapping a remedial wrist band on him, a la
Mark Sanchez
, circa 2009.
Smith heeded Ryan's words -- let 'er rip. It's a fine line, playing aggressively but not recklessly, which Smith had been doing. In Tennessee, he struggled to complete two passes in a row, let alone an entire drive with no margin for error.
"He's a rookie and we made him look like a 10-year vet," Falcons safety
William Moore
said.
It's amazing how quickly things can change in the NFL. A week ago, a crestfallen Smith apologized to defensive teammates for all his mistakes. On this night, they were raving about him. Ryan didn't gush too much, preferring to keep it about the team.
"The key word is 'fearless,'" he said. "I challenged our team the night before to play that way, and that's exactly how we played."
Starting at quarterback -- for a change.
October, 8, 2013
Oct 8
2:33
AM ET
ATLANTA -- With the game on the line,
Nick Folk
is money.
Folk kicked the 43-yard field goal as time expired, lifting the
New York Jets
to a 30-28 comeback win over the
Atlanta Falcons
Monday night at the Georgia Dome. It was his sixth game-winning kick since 2010 with the Jets, including a 48-yard winner in the season-opening win over the
Tampa Bay Buccaneers
.
Not bad for a guy who has to fight for his job every training camp.
"It felt good," he said of his latest "Folk Hero" moment. "It went down the middle. I hit it pretty good. I hit it pretty solid."
Folk noted that Week 5 Monday night games have been "pretty good to me over the years." In 2010, he made five field goals in a 29-20 win over the
Minnesota Vikings
.
Each year, the team signes a veteran challenger. This year, it was
Billy Cundiff
and, later,
Dan Carpenter
. Folk sent them both packing. Who could argue with the results? So far, he's 11-for-11 in field goals, including makes from 22 and 36 yards Monday night before the game winner.
"I feel like I've been hitting the ball pretty well for a while now," he said. "Going back to last year, I think -- you take away my three block kicks or you add them in as makes ... you put those in, I'm a 90-percent guy last year."
October, 8, 2013
Oct 8
2:20
AM ET
By
Matt Winkeljohn | Special to ESPNNewYork.com
ATLANTA -- In a game decided by
Nick Folk
's 43-yard-field goal as time expired, the Jets beat the Falcons
30-28
Monday night because they got huge assists from their defense. And perhaps, no play mattered more than one easily forgotten.
Muhammad Wilkerson
had himself a night with seven combined tackles, including two for a loss. But the big defensive end's sack and strip of Falcons quarterback
Matt Ryan
late in the third quarter proved pivotal.
[+] Enlarge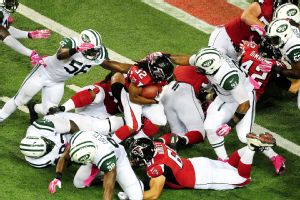 Scott Cunningham/Getty ImagesThe Jets' defense stuffed the Falcons before halftime to keep momentum and a 17-7 lead.
That was the game's only turnover, and it led to the second of Folk's three field goals to put the Jets ahead 20-14 with 39 seconds left in the third. Without that,
Geno Smith
and the offense would've had to find the end zone at the end to win.
Talk about a team effort.
"We feel great," Wilkerson said. "We won collectively."
The Jets' defense, despite facing 70 plays on a night when the Jets ran just 46, stood especially stout at the end of the first half in holding the Falcons scoreless on six snaps inside New York's 12-yard line.
Trailing 17-7, Atlanta took over with 7:19 left in the first half, burned every second of it and didn't score a point when coach Mike Smith passed on a field-goal try from the 1-yard line on the final play.
On first-and-goal from the 4, tackle
Sheldon Richardson
dropped Falcons back
Jason Snelling
for a 1-yard loss. After an Atlanta timeout, Ryan's pass to
Harry Douglas
deflected off the receiver's hands.
Then, a short pass to wide receiver
Julio Jones
netted four yards and left fourth-and-goal at the 1 as safety
Dawan Landry
stopped him short of the goal line.
With seven seconds left, Smith called timeout. Ultimately, the Atlanta coach decided to go for it.
"I knew that they were going to do it. I could just feel it by the mentality of the game," said linebacker
DeMario Davis
. "They were right there on the 1-yard line. I don't know what they were thinking, but they went for it and we were able to rise to the challenge."
Smith explained his decision: "We felt like we needed to score a touchdown in that situation ... In hindsight, it is probably not the way we wanted it to work out."
Ryan's fourth-down pass sailed past tight end
Tony Gonzalez
, but pass interference was called and the Falcons got a new set of downs from the 1 with one second left.
Jacquizz Rodgers
took the ensuing handoff and was stuffed for no gain and the Falcons were without three points that sure would have come in handy at game's end.
"We bowed up and stopped them like we're supposed to," said Wilkerson, who helped pressure Ryan into a few quick throws. "They felt they could score, and we knew that we were going to hold them. We did our job and stopped them. That's a credit to the coaches for putting together a great game plan."
The Falcons moved the ball better in the second half, scoring 21 points and gaining 227 of their 363 yards, but the Jets' stand at the end of the first half mattered more.
Even when Atlanta took a 28-27 lead on Ryan's 3-yard pass to tight end
Levine Toilolo
with 1:54 left in the game, Wilkerson didn't lose faith. He believed in Geno Smith, and the offense.
"I felt like I do all the time when the offense gets the ball, like they were going to drive down the field and get some points," said the 6-foot-4, 315-pounder. "Collectively, as a team, we play together. It's 'Monday Night Football,' prime time ... We showed that we can be great.
"This team has a lot of heart. Rex [Ryan] always tells us to stick together, keep fighting. Believe in your brother next to you, and we did that tonight."
October, 8, 2013
Oct 8
1:05
AM ET
ATLANTA -- Observed in the locker room after the
New York Jets
' 30-28
victory
over the
Atlanta Falcons
:
Smith
Rex's speech
: Describing the emotion of the win, Rex Ryan said "the key word is 'fearless.'" In fact, that was the theme of Ryan's speech to the team Sunday night at the hotel. Several players mentioned Ryan's speech, saying it was a source of inspiration. Said guard
Willie Colon
: "Rex gave a hell of a speech. It woke us all up. ... Basically, it was, 'Be fearless, let it loose, don't be uptight.'"
Colon noted how pundits had predicted the struggling Falcons would right their season by beating the Jets, adding that Ryan's response to that was, "Damn with that, we have just as much of a right to be on this stage as they do."
Even-keeled Geno
: One thing you have to like about
Geno Smith
: He doesn't get too high or too low -- at least not publicly. The rookie quarterback acknowledged it was a childhood dream to pull out a game in the final seconds, but there was no self-congratulations. He deflected the praise to his teammates, commending his receivers, blockers and runners. And he also dropped a few compliments for offensive coordinator Marty Mornhinweg, who called a marvelous game.
Quiet Kellen
: It's not often a player in the winning locker room declines to comment, but tight end
Kellen Winslow
opted for that approach. "It wouldn't be a good choice," he said, muzzling himself instead of saying something inflammatory. Clearly, he was upset about something. Smith shed some light, noting that Winslow was "frustrated" throughout the game. In fact, Winslow, who entered the game with a team-high 16 receptions, was targeted only once. It was a big one, though, a one-yard touchdown catch in the fourth quarter. Winslow's status was iffy before the game, as he was listed as questionable due to chronic pain in his knee.
October, 7, 2013
Oct 7
11:52
PM ET
ATLANTA -- A few thoughts on the
New York Jets
' 30-28
win
over the
Atlanta Falcons
at the Georgia Dome:

What it means
: The Jets (3-2), rebounding from an awul performance last week, moved into a second-place tie with the
Miami Dolphins
-- only one game behind the
New England Patriots
in the AFC East. They scored on their first three drives for the first time since 2008 and finished it off in dramatic fashion, as rookie quarterback
Geno Smith
led a game-winning, field-goal drive in the final two minutes.
Nick Folk
kicked the winner from 43 yards as time expired. This was a huge upset, one of Rex Ryan's biggest wins in a long time. They blew a 13-point lead in the fourth quarter, but rallied behind their rookie.
Stock Watch
: Smith has arrived. After 11 turnovers in four games, Smith was flawless (no turnovers) and showed his cool in the final 1:54, completing four passes to set up Folk. This was the performance the Jets had been awaiting, absolute poise in a hostile environment. Smith completed 16 of 20 for 199 yards, throwing three touchdowns. This in no way resembled the rattled kid who stunk it up last week. Ladies and gentlemen, the Jets found their quarterback.
Night of the Tight End:
The Falcons'
Tony Gonzalez
, a future Hall of Famer, was virtually unstoppable -- 10 catches for 97 yards.
Jeff Cumberland
and
Kellen Winslow
are not going to Canton, but they came up huge for the Jets. Cumberland and Winslow each scored a touchdown, compensating for a banged-up receiving corps. Cumberland (three catches for 79 yards) killed the Falcons with deep seams in the first half. Winslow, who almost did not play because of chronic knee pain, was targeted only once, but it was a one-yard touchdown reception on a play-action bootleg. Winslow did a toe-tap to keep both feet in the end zone, a wily veteran delivering a clutch play in the fourth quarter.
America, meet Mo
: Folks in New York know all about defensive end
Muhammad Wilkerson
; now the entire country does, too. Wilkerson, exploiting a suspect offensive line, staged a dominating performance. The Falcons, with a new starter at left tackle, could not block Wilkerson, who created the Jets' first takeaway since Week 1 -- a strip sack in the third quarter that set up a field goal. He felt he deserved Pro Bowl recognition last season. He may have earned a trip to Hawaii on the Monday night stage, spearheading a defensive effort that included a goal-line stand at the end of the first half.
Defensive wrinkle:
Ryan changed his approach, using more two-high safety looks than usual. That's not a staple of the Ryan playbook, but he took the conservative approach on the back end with the hope of eliminating big plays. It worked, as the Jets held wide receiver
Julio Jones
to eight catches for 99 yards, but they got gashed underneath by
Matt Ryan
who completed 36 of 45 passes with 319 yards.
What's ahead
: The Jets return home to face the
Pittsburgh Steelers
(0-4), who are coming off a bye week.
October, 7, 2013
Oct 7
10:08
PM ET
ATLANTA -- A few thoughts on the first half:
1. Who kidnapped Geno Smith?:
The
New York Jets
' rookie quarterback was fantastic, completing 8 of 9 passes for 134 yards and two touchdowns. That, by the way, is a perfect passer rating -- 158.3. What happened to the turnover-prone guy from the first four games? Smith picked apart a vulnerable
Atlanta Falcons
defense with some great play calling by Marty Mornhinweg. He hit tight end
Jeff Cumberland
three times for 79 yards and a touchdown. Cumberland was the best tight end on the field, including the future Hall of Famer,
Tony Gonzalez
.
2. New looks on offense
: Mornhinweg broke out some new formations, including a three-back pistol set. He ran some Wildcat and he utilized
Mike Goodson
, who made his Jets debut and contributed with a 26-yard run out of the Wildcat. For a change, Mornhinweg didn't put it all on Smith's shoulders, using the running game to set up play-action. The Jets scored on their first three drives for the first time since 2008, the year of
Brett Favre
.
3. Goal-line stand
: The Jets closed the half with all the momentum, stuffing the frustrated Falcons with a remakable goal-line stand. Despite two defensive penalties, they kept the Falcons out of the end zone on four plays inside the 5, including a run-stuff from the 1 with one second left. The Jets were so fired up that they sprinted to the locker room. The Falcons, with their season slipping away, heard boos from the crowd. Save for one bad drive, it was a terrific half by the Jets' defense, which dominated the line of scrimmage.
October, 7, 2013
Oct 7
6:16
PM ET
ATLANTA -- Tight end
Kellen Winslow
, who listed as questionable after missing significant practice time due to a chronic knee condition, is active for the
New York Jets
Monday night against the
Atlanta Falcons
.
Recently signed wide receiver
David Nelson
, who did not arrive until last week, also is active. Without
Santonio Holmes
(hamstring), the Jets' receiving corps is
Stephen Hill
,
Jeremy Kerley
,
Clyde Gates
, Nelson and
Michael Campbell
, who was promoted last Saturday from the practice squad. Gates, too, was questionable with a knee injury.
Rookie wide receiver
Ryan Spadola
, who was cut last Saturday amid a flurry of roster moves, cleared waivers at 4 p.m. ET Monday, according to a league source. He's a free agent and could wind up returning to the Jets.
Aside from Holmes, the Jets' inactives are QB
Brady Quinn
, CB
Dee Milliner
, G Will Campbell, OT
Oday Aboushi
, OT
Ben Ijalana
and TE
Zach Sudfeld
.
For the Falcons, the news is that CB
Asante Samuel
is active after missing time with a thigh injury. The Falcons' inactives are RB
Steven Jackson
, LB
Akeem Dent
, LT
Sam Baker
, S
Kemal Ishmael
, S
Zeke Motta
, G
Harland Gunn
and TE
Chase Coffman
.