New York Jets:

2013 Week 9 NO at NYJ
November, 3, 2013
11/03/13
9:58
PM ET
EAST RUTHERFORD, N.J. – The NFL lives by the principle, "On any given Sunday." Not the
New York Jets
. For them, it's, "Every other Sunday."
Every other Sunday, the Jets are an elite football team. They're 5-0 in odd weeks, having defeated a couple of the best teams in the league. They did it Sunday, beating up the
New Orleans Saints
, 26-20, at MetLife Stadium.
Everybody knows how the Jets play in even-numbered weeks -- they stink -- but it's time to recognize the reality of the situation: They're a legitimate playoff contender.
The standings say so. The calendar says so. And their schedule says so. At 5-4, the Jets have a ... good ... chance .. to .. make ... the ... playoffs.
You have to say it slowly to believe it, but there's no denying it anymore. The Jets are starting to think it, too.
"Most definitely," rookie defensive tackle
Sheldon Richardson
said. "If we stay consistent like this, we'll be a tough team to deal with. We have spurts where we show we're a playoff team."
A few lockers away from Richardson stood linebacker
Calvin Pace
, the oldest player on the team not named
David Garrard
. Pace, 32, isn't one for hyperbole, so his words carry more weight than Richardson's. Pace, too, believes this team has a realistic chance to do what no one thought possible in the preseason, when the Jets were 32nd in the Week 1 ESPN.com Power Rankings.
"We're a little inconsistent, but obviously we can beat anybody," Pace said. "We just have to put today's effort into the rest of the season and carry us into playing in the postseason. If we bring our A-game, we're hard to beat."
The brought their A-game only seven days after an F performance in Cincinnati. The revived defense, shredded by
Andy Dalton
the previous week, limited the high-powered Saints to only two field goals in the second half.
Drew Brees
got his yards (382) and threw a couple of touchdowns, but he was rattled at times, throwing two interceptions and taking two sacks and several hits.
[+] Enlarge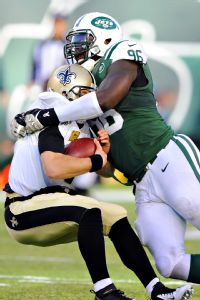 Robert Deutsch/USA TODAY SportsThe Jets' Muhammad Wilkerson is looking to build off of his 10 1/2-sack season in 2013.
The Jets played superb defense and amassed 198 yards on the ground, led by
Chris Ivory
's season-high 139. It's the formula that worked in 2009, and it can work again for the Jets, who turned
Geno Smith
into a Sanchez-ian game manager. Smith completed only eight passes, eight stinking passes. It was
Mark Sanchez
, circa 2009.
The defense is capable of carrying the team over the final seven games -- because it's good, and because the Jets don't face any top-15 offenses the rest of the way. They're done with the Drew Brees/Tom Brady portion of the schedule, meaning they should be able to camouflage the holes in their secondary.
"We think we're an elite team. That's how we're thinking," Richardson said. "We just have to stay consistent on both sides of the ball."
That has eluded them, as they've yet to compile a winning streak. They're on the Geno-coaster -- up and down, up and down. If the Jets ever win two straight, they'll be calling themselves a dynasty. But you know what? In the watered-down AFC, where five teams appear playoff locks, the Jets are ahead of the pack for the sixth slot, the second wild-card berth.
Almost every team deals with inconsistency. If the Jets can manage theirs better than the other teams, they can slide into the playoffs. Any team that can beat the
New England Patriots
and the Saints in back-to-back home games can't be dismissed.
"Yeah, but that's up to us," Pace said of the playoff possibility. "If we go out and play 60-minute ballgames, yeah, we can go to the playoffs. If we come out like the Bad Jets, obviously we won't make it."
There's something about this team you have to admire: It's resilient. On Sunday, the Jets' four top receivers were players who arrived after opening day --
Greg Salas
,
Zach Sudfeld
,
Josh Cribbs
and
David Nelson
. How many fantasy teams do you think
they're
on?
"We know we're not going to be the
Kansas City Chiefs
to the public, meaning we might not have a lot of well-known guys," tackle
Austin Howard
said. "But we have guys who can make plays. We have depth."
On Sunday, they turned to Ivory, whom Rex Ryan aptly described as a "punch-you-in-the-face type of back." The Saints (6-2) left with a few black eyes. Because he's relatively fresh, only 92 carries, Ivory will be a big factor down the stretch. His downhill running style will prove beneficial as the weather gets colder. He could be the '09 version of
Shonn Greene
, a late-season spark.
Ryan didn't want to be drawn into any playoff talk, noting, "Clearly, we have to fix a lot of things. But, hey, I know one thing: We've got a group that's willing."
And a group that's maddening. A week ago, the team's erratic personality wanted to make Ryan scream. On Sunday, he joked about it as he enters the Week 10 bye. Referring to the win-one, lose-one track record, Ryan cracked, "We're going to lose to the bye week, there's no question in my mind."
November, 3, 2013
11/03/13
9:10
PM ET
EAST RUTHERFORD, N.J. --
Santonio Holmes
,
Jeff Cumberland
and
Kellen Winslow
didn't play, and
Jeremy Kerley
left in the second quarter with a potentially serious elbow injury. It left
Geno Smith
with a bunch of no-name guys:
Greg Salas
.
Zach Sudfeld
.
David Nelson
. Throw in part-time wide receiver
Josh Cribbs
, and you're talking about four guys who weren't on the
New York Jets
' roster at the start of the season.
[+] Enlarge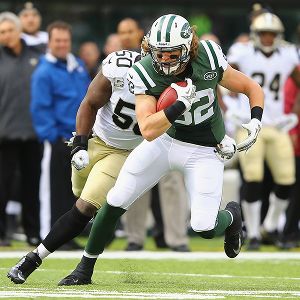 Al Bello/Getty ImagesZach Sudfeld caught two passes for 46 yards.
That's what you call a patchwork receiving corps. Those four players combined for seven of the Jets' nine receptions in the 26-20 upset of the
New Orleans Saints
Sunday at MetLife Stadium.
"I've seen veteran quarterbacks struggle with new faces and new pieces," Nelson said. "The fact that we have a rookie quarterback, four new guys lined up at the line of scrimmage and he's okay with it ... it says everything about who he is and what he can become."
Smith (8-for-19, 115 yards) struggled, but he didn't commit any turnovers and he was sacked only twice. He didn't win the game, but he didn't lose it, either. Still, it was impressive that the Jets were able to function with so many new parts. Salas, who made his Jets debut, became their 29th offensive player to see the field this season.
Rex Ryan credited offensive coordinator Marty Mornhinweg.
"I think it's clear that he should be the offensive assistant coach of the year," Ryan said, inventing an award. "That's obvious. The job that he and his staff have done is tremendous. They've found ways. He's not looking for excuses. 'Well, we don't have this, we don't have Holmes, we don't have this guy, we don't have Cumberland.' He just finds a way. Not one time did he ever flinch -- ever -- and we run the ball for 198 yards on 36 carries."
The Anonymous Four contributed in a variety of ways. Salas made a 44-yard reception. Sudfeld caught two passes for 46 yards. Cribbs caught two passes and, working out of the Wildcat, threw a 25-yard pass. Nelson caught a 19-yard pass.
The Jets signed Salas off the
Philadelphia Eagles
' practice squad. Sudfeld arrived on waivers from the
New England Patriots
. Cribbs and Nelson were unemployed.
"When you have guys come off the street, like myself, you have a lot to prove," Cribbs said. "When you have hungry guys that want to play, that's what you call playing like a Jet."
November, 3, 2013
11/03/13
8:39
PM ET
EAST RUTHERFORD, N.J. --
Drew Brees
was clearly uncomfortable with the
New York Jets
' defense Sunday. During the first quarter, the Saints' offense used up all three timeouts and was called for two delay-of-game penalties. One penalty came directly after a timeout. More telling, the veteran quarterback threw two interceptions and at least two more balls that were ripe for the picking.
"I look to the start of the game," Brees said. "We had to use a timeout early, the delay of game, the lack of tempo and rhythm. It just took a little while."
[+] Enlarge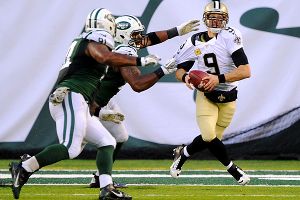 Robert Deutsch/USA TODAY SportsThe Jets sacked Drew Brees twice and kept him under pressure all day.
It actually never really arrived. The Jets decisively won the game
26-20
, and on the Saints' last drive -- a two-minute drill that would have won the game, and the type of moment Brees excels at mastering -- the defense clamped down.
"The guy's sick, he makes great throws," Jets coach Rex Ryan said. "I will say this, was I confident in our guys? Absolutely, absolutely I was confident in our guys to get it done. But a little nervous? Yes."
The Jets' defense pushed Brees back to a fourth down at the Saints' 10-yard line. On that last-ditch attempt, Jets linebacker
Quinton Coples
got to the quarterback.
"We knew he was having trouble seeing over the line," defensive lineman
Sheldon Richardson
said. "It showed. It seemed like the first couple of series he was looking over the offensive line. Then [
Muhammad Wilkerson
], Q, those guys just kept getting back there. I got back there a few times, but we all put our work in today."
Coples also got to Brees on another big fourth down play, an end-around attempt with 7:54 left in the fourth quarter.
"I was thinking he was going to put it away and throw the ball," Coples said. "But when he handed it off my eyes just got big because I knew I was going to run right through him."
To be fair, the Saints lost leading running back
Darren Sproles
on the first offensive series of the game to a concussion. It put a wrench into the team's game plan.
But the Jets took advantage after a poor showing the week before in Cincinnati.
DeMario Davis
and
Antonio Cromartie
got interceptions, and the Jets converted both those takeaways into points. Wilkerson and
Calvin Pace
were each credited with a sack.
"We knew we had to bounce back from last week," Wilkerson said. "Ready to get going for this game."
November, 3, 2013
11/03/13
7:45
PM ET
EAST RUTHERFORD, N.J. -- Rex Ryan still owns the bragging rights in the Ryan family.
And if you didn't know, all you had to do was show up for his opening remarks at his postgame news conference following the
New York Jets
'
26-20 victory
against the
New Orleans Saints
on Sunday at MetLife Stadium.
"I beat my brother again," Rex said with a laugh, referring to his twin, Saints defensive coordinator Rob Ryan.
As the Jets' head coach, Rex has gotten the best of his brother three times, during Rob's stints as defensive coordinator of the
Cleveland Browns
(2010),
Dallas Cowboys
(2011) and Saints.
[+] Enlarge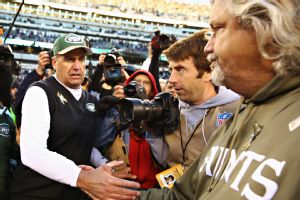 Al Bello/Getty ImagesRex Ryan, left, improved to 3-0 as Jets coach against twin brother Rob Ryan.
Including Rex's time as the
Baltimore Ravens
' defensive coordinator, he's 5-0 against his brother in the NFL, and he's 7-3 including their time as college coaches. Rob last defeated Rex in 1998, when he was the defensive coordinator at Oklahoma State and Rex was the defensive coordinator for Oklahoma.
Leading up to Sunday, Rex playfully took a jab at his brother by posting on the back of the team's injury report the famous photo of his brother's discouraged reaction to New England's last-second victory against the Saints last month. There was also a photo of Rex next to the one of Rob, and "Sorry about that Jets" and "I wish I could look as good as my twin" were written on the back of the injury report.
Rex did compliment his brother, though, by saying Rob and Kansas City defensive coordinator Bob Sutton have done the two best jobs of any defensive coordinators in football this year. The Saints -- who didn't make Rob Ryan available to speak after the loss -- gave up the most yards in NFL history last season but entered Sunday's game ranked 12th in yards allowed.
Before the game, Rex and Rob posed for photographs on the sideline, including some with their father, former NFL coach Buddy Ryan. Following the Jets' victory, the brothers embraced in a big hug on the field, and Rex mentioned the triumph over his brother to his team in the postgame meeting.
Statistically, Rob's unit allowed 69 fewer yards Sunday (338 to 407), but the Jets' defense won where it matters the most: the scoreboard. The Jets also had two key interceptions, while the Saints couldn't coerce any out of turnover-prone
Geno Smith
.
While Rex was glad to best his brother once again, he acknowledged there's a bittersweet taste after a triumph over Rob.
"At the end of the day, you realize that your brother just took a loss," Rex said. "That's the tough thing. I pull for them every single week except one. I've mentioned it before -- I always look at their score. There's not one [other] game I can tell you how it went today, but if the Saints were playing, I'd have known."
November, 3, 2013
11/03/13
7:35
PM ET
EAST RUTHERFORD, N.J. -- All week,
Chris Ivory
's new
New York Jets
teammates could sense that he was more intense than usual. The Jets running back, acquired this offseason after three years with New Orleans, is a naturally quiet guy, but that's just on the surface.
"You could tell this was different, that it wasn't just another regular season game for him," wide receiver
David Nelson
said. "He's not very talkative, but you could see the way he was running, the way he was paying attention. I'm not saying he doesn't always pay attention, but you could see the look in his eyes."
Maybe that's why Jets coach Rex Ryan named Ivory a captain for the game, and picked him as the last man out of the tunnel. And once he ran out, Ivory just kept running. Later, he couldn't help but crack a smile when asked about his performance -- 139 rushing yards on 18 carries and a touchdown -- in New York's
26-20 victory
against the
New Orleans Saints
.
"It's my old team," Ivory said, and he smiled in a way that conveyed some pride. "I'm not satisfied. I'm happy but I don't think you can ever get too satisfied with your performance. Hopefully we can continue to do that and make the playoffs."
The Jets can consider the playoffs a possibility now that they are 5-4 heading into their bye week. The Jets tend to do well when the running game is humming, and that started during the second offensive series against the Saints when Ivory reeled off a 27- yard run.
"I know it meant a lot to him," kick returner
Josh Cribbs
said, "because he's making them kick themselves in the butt like 'Aw, look at him he's running all over us.' Everybody wants to do good against their old team."
Ivory nearly equaled his career high of 158 yards with the Saints against Tampa Bay in 2010. But there weren't a lot of games like that. Ivory was in a logjam of four running backs in a passing offense in New Orleans. Ultimately, New York may have been a good landing spot. The Jets were willing to pay him, and Ivory signed a three-year, $6 million contract in April.
"We know if he's healthy, this young man has the ability to be a punch-you-in-the-face type of back," Ryan said.
And his health has been the knock on Ivory, who came into training camp with a hamstring injury and has other injuries along the way. But he seems to have gotten beyond that. After the game, Ivory got a chance to shake hands with his old teammates.
"It was all love after," Ivory said. "We had a tight bond over there. Over there three years, you're going to have a pretty good bond. Definitely had a lot of congratulations going on."
And he spoke to his old coach, Sean Payton.
"He congratulated me and told me I handled everything well," Ivory said. "It was good."
And perhaps that closes a chapter for Ivory, who has an opportunity to be more productive alongside
Bilal Powell
with the Jets. Clearly, Ivory is looking forward and his performance might have been a reminder to his old team, but it puts his new team in a good spot heading into the bye.
"It's huge, but at the same time, he's a Jet now," Colon said. "It doesn't matter what (the Saints) feel like, it's what we do. And he stood up for us in a major way."
November, 3, 2013
11/03/13
7:20
PM ET
EAST RUTHERFORD, N.J. -- The
New York Jets
didn't need much from
Geno Smith
to win Sunday.
Smith completed just 8 of 19 passes for 115 yards and rushed for one touchdown in the Jets' 26-20 win over the Saints. While he avoided throwing an interception for just the second time this season, his 115 passing yards were his fewest of the year. The 19 pass attempts were also a season low for the rookie.
"I think I did a pretty good job today of managing situations. Not trying to force the ball, knowing when to tuck the ball and run, knowing when to get the ball out of my hands versus the pressure look, or even throw it away," Smith said. "I think not having so many negative plays and negative yardage, I think that's something that really helped us today because many times we were able to flip field position with punts and it helped our defense out going up against a really good offense."
[+] Enlarge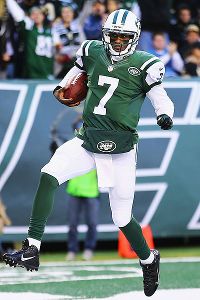 Al Bello/Getty ImagesJets rookie QB Geno Smith, who scored his third TD run, threw for just 115 yards on 8-for-19 passing.
The Saints entered Sunday's game porous against the run as they were ranked 20th, but they were stout against the pass as they were ranked ninth. Not surprisingly, the Jets favored a methodical, ground-and-pound plan Sunday, taking the ball out of their rookie's hands.
Smith started slow, completing just 2 of 6 passes for six yards in the first quarter, and never got on track. His longest play was a 44-yard screen pass to
Greg Salas
at the beginning of the third quarter, but Salas did almost all of the work to turn that play into a big gain. According to ESPN Stats & Information, Smith's eight completions traveled a total of seven yards downfield.
The rookie's best stretch of play came after the two-minute warning in the first half with the Jets ahead 14-13. Smith completed passes of 13 yards and 21 yards to Salas and
Zach Sudfeld
, and capped the drive with a three-yard touchdown run to put the Jets ahead, 20-14. On his touchdown run, Smith used a nice shake move to elude
Cameron Jordan
. It was his third rushing touchdown of the season.
"It was designed," Smith said. "I think it was one of those plays going into the half that really elevated us because not only did we get some points but we gained some momentum."
In the fourth quarter, with the game on the line, Smith threw just two passes, both of which fell incomplete. Both attempts came on third down, with the Jets giving Smith the chance to extend their drives and keep
Drew Brees
off the field, but Smith wasn't able to make the plays.
"I think our running game was working for us all game and we lean on our offensive line, especially in those situations. You want to run the ball and you want to make those guys stop you," Smith said of the conservative calls. "Looking back on it I think it was the right play call because of just the way we were running the ball all game."
Despite his up-and-down play this season, Smith has the Jets at 5-4 heading into their bye week, and in prime position for a playoff spot. He has simple plans for the upcoming week off.
"Studying," Smith said. "Studying."
November, 3, 2013
11/03/13
7:00
PM ET
EAST RUTHERFORD, N.J. -- A few observations from the locker room after the New York Jets' 26-20
win
over the
New Orleans Saints
:

Ryan
Sibling rivalry
: Rex Ryan couldn't resist. As soon as he arrived at the interview podium, the Jets' coach cracked, "All right, I beat my brother again." He sure did. Since taking over the Jets in 2009, Rex is 3-0 against his twin brother, Rob, who has worked as the defensive coordinator for the
Cleveland Browns
,
Dallas Cowboys
and Saints. In their lifetime series, dating back to their days as college assistants, Rex holds a 7-3 lead in the Ryan Bowl series. He joked about it in his postgame address to the team, according to players, telling them he's still "undefeated" against his brother. The entire Ryan clan attended the game, including their dad, Buddy, and older brother, Jim. Buddy was waiting outside the Jets' locker room when Rex emerged, smiling.
Speak softly, but ... :
Running back
Chris Ivory
drew the biggest crowd of reporters in the locker room, which is ironic because he usually has very little to say. He ran for 139 yards and a touchdown against his former team, but he didn't crow about it, that's for sure. He barely spoke above a whisper, forcing reporters to crane their necks, trying to get a better listen. His teammates did a lot of talking on his behalf, all of them saying he was highly motivated to beat his old team. "You could see it in his eyes," WR
David Nelson
said. Ryan added, "When he's healthy, he's a punch-you-in-the-face kind of back."
Injury list
: WR
Jeremy Kerley
left in the second quarter with a potentially serious elbow injury. Ryan didn't provide an update. If he's out for an extended period, it would be a blow to the offense. Kerley leads the team with 28 receptions and 347 receiving yards. The good news for the receiving corps is that
Santonio Holmes
, who has missed five games with a hamstring injury, could be ready to return after the bye week. S
Antonio Allen
(possible concussion), LB
Garrett McIntyre
(knee) and LB
Calvin Pace
(undisclosed) also suffered injuries. The bye comes at a good time.
November, 3, 2013
11/03/13
4:13
PM ET
EAST RUTHERFORD, N.J. -- A few thoughts on the
New York Jets
'
26-20 victory
over the
New Orleans Saints
:

What it means:
The Jets (5-4) stamped themselves as one of the NFL's biggest surprises, staging a monster upset one week after a 40-point loss to the
Cincinnati Bengals
. How can you explain this team? They're 5-0 in odd weeks, ranging from sensational to awful on a week-to-week basis. Now it can be said: They're a legitimate wild-card contender. Why not? In the watered-down AFC, anything is possible. As for the Ryan Bowl, Rex won for the third straight time, handing his twin brother Rob, the Saints' defensive coordinator, another bitter defeat.
Stock watch:
Statistically, it was a dog-ugly game for
Geno Smith
(8-for-19, 115 yards), but the rookie quarterback learned a valuable lesson about game management. On this day, the Jets needed him to do one thing -- protect the ball -- and he did that. He had no turnovers for only the second time in nine games. He got away with a couple of bad throws, but it was no harm, no foul. Coordinator Marty Mornhinweg got too conservative late in the game, and it nearly cost them.
The ex-Saint goes marching:
Jets running back
Chris Ivory
, traded by the Saints last offseason for a fourth-round pick, delivered a loud statement to his old team. Facing the Saints' vulnerable run defense (4.8 yards per carry before Sunday), Ivory rushed for 139 yards and a touchdown on 18 attempts. He's known as a tenacious downhill runner, but he flashed impressive speed on the edge, breaking three long runs. Clearly, he's faster than people realize. The Jets attacked the Saints with a creative running scheme that featured read-option plays and the Wildcat, including a pass completion by
Josh Cribbs
out of the Wildcat.
Welcome back, defense:
After a horrible outing last week, the Jets responded with perhaps their best defensive effort of the season. They sacked
Drew Brees
only twice, but they generated consistent pressure on him and intercepted him twice -- one by linebacker
DeMario Davis
and another by cornerback
Antonio Cromartie
, who allowed a big play and a touchdown. It helped that wide receiver
Marques Colston
(knee) didn't play, and running back
Darren Sproles
(concussion) left in the first quarter. Injuries notwithstanding, it was impressive defense.
The castoffs:
The Jets played without their top receiver (
Santonio Holmes
) and their top two tight ends (
Jeff Cumberland
and
Kellen Winslow
), and they lost wide receiver
Jeremy Kerley
(elbow) in the second quarter, leaving a patchwork group of targets.
Greg Salas
.
Zach Sudfeld
.
David Nelson
. Cribbs. Who are these guys? Not one of them began the season on the Jets' roster, yet they managed to combine for seven catches for 128 yards.
What's ahead
: The Jets get a bye in Week 10.
November, 3, 2013
11/03/13
2:59
PM ET
EAST RUTHERFORD, N.J. -- One quarterback has thrown two interceptions, but it wasn't
Geno Smith
. The
New York Jets
' rookie quarterback ran the ball in with 37 second left in the first half, giving the Jets a 20-14 lead against the visiting
New Orleans Saints
and veteran quarterback
Drew Brees
.

A few of the main points:
Ivory breaks through:
Chris Ivory
wasn't happy with how the Saints used him last season, and the running back had the kind of half that justifies that feeling. Ivory scored the first touchdown for the Jets with 2:39 left in the half, and had 93 yards on 10 carries. Ivory looks like he tried to spike the ball afterwards, but just ended up hitting the wall behind the end zone. But he'd already made his statement.
Stopping Graham:
The Jets haven't been able to handle 6-foot-7, 265-pound tight end
Jimmy Graham
. He dragged Jets safety
Jaiquawn Jarrett
into the end zone with him the first time he scored, and beat
Antonio Cromartie
off the line for his second touchdown catch. The Jets used every defensive back they have and a few linebackers to try to contain Graham, who has 72 yards on 4 catches in addition to the touchdowns.
Missing pieces:
Two missing players are likely affecting their team's bottom line on offense. Jets receiver
Jeremy Kerley
left the game with an elbow injury, and the Jets announced he wouldn't return. Saints running back
Darren Sproles
was also taken out of the game with a concussion.
As a result, both teams looked lopsided on offense. The Saints lost Sproles in the first series, and had just 15 rushing yards at the half with 245 yards total offense. The Jets lost Kerley about midway through the half, and weren't quite as off-balance, with 126 rushing to 95 passing yards. Interestingly, Jets receiver
Stephen Hill
hasn't been a factor even with Kerley out.
November, 3, 2013
11/03/13
2:50
PM ET
EAST RUTHERFORD, N.J. -- Wide receiver
Jeremy Kerley
, the
New York Jets
' leading receiver at the start of the day, injured his left elbow in the second quarter Sunday and didn't return to the game against the
New Orleans Saints
.

Kerley
Kerley was hurt while blocking for running back
Bilal Powell
on the third play of the quarter. He was in obvious pain and was taken immediately to the locker room.
Already missing
Santonio Holmes
, who missed his fifth straight game with a hamstring injury, it left the Jets with a patchwork receiving corps --
Stephen Hill
,
David Nelson
,
Josh Cribbs
and
Greg Salas
. Hill is the only one that was on the team at the start of the season.
The Jets also played without their top two tight ends,
Jeff Cumberland
(concussion) and
Kellen Winslow
(suspended).