New York Jets:

2014 NFL owners meetings
March, 27, 2014
3/27/14
11:30
AM ET
After two days at the NFL owners' meetings at a swanky resort hotel in Orlando (picture a lot of palm trees, giant fountains and stretch limos), I offer a few thoughts and observations:
1. Woody likes DeSean
: Even though the
New York Jets
tried to downplay Woody Johnson's surprisingly candid remarks about the team's interest in
DeSean Jackson
, I came away with the sense that the owner is very intrigued by the
Philadelphia Eagles
' wide receiver. Behind the scenes, Johnson spoke highly of Jackson, who reportedly is on the trading block. Could this be Johnson's new Tebow crush?
2. Broken record
: I think "sustainable success" has replaced "competition" as John Idzik's new mantra. Heard it more than a few times during interviews and casual conversations. My impression is that fans already are tired of it.
3. Geno vs. Mike:
I find it interesting that, unlike a year ago, team officials were reluctant to use the phrase "open competition" to describe the current quarterback situation with
Geno Smith
and
Michael Vick
. You heard a lot of, "Geno will be hard to beat out" and "Mike will help Geno." Two fascinating dynamics here: The organization (mainly Idzik) wants Smith to be the opening-day starter. Most football people would agree that Vick, if healthy, is a better quarterback than Smith. It should make for a compelling summer.
4. The Idzik 12
: The organization was holding out hope for a third-round compensatory pick, but it was delighted to receive a fourth rounder and three sixth-round choices. With 12 draft choices, the Jets were downright giddy, imagining the possibilities on May 8-10.
5. Corner concern:
Rex Ryan downplayed his concern with the current state of the cornerback position, insisting he can make it work. Give the man an Oscar; you bet he's worried about the position. I found it interesting that, amid all the damage control,
Kyle Wilson
's name rarely came up. That may not be a good omen for Wilson, a former first-round pick.
6. Bargain shopping
: Now that the first wave of free agency is over, look for the Jets to jump into the secondary market -- meaning short-term contracts for second- and third-tier players.
7. Goodbye, Sanchize
: Ryan seemed genuinely disappointed that things didn't work out with
Mark Sanchez
. Sanchez was Ryan's first draft pick, back in 2009, and there was a time when it seemed like a no-brainer that he'd be the starting quarterback for at least a decade.
8. Loss of an icon
: Owners and league officials often give scripted answers to questions from the media, but there was a genuine outpouring of emotion when it was announced that
Buffalo Bills
owner Ralph Wilson had died at the age of 95. Eagles owner Jeffrey Lurie, in an interview with the Buffalo News, teared up as he spoke about Wilson.
March, 26, 2014
3/26/14
2:30
PM ET
ORLANDO, Fla. --
Mark Sanchez
needed to get away from New York. At the same time, he didn't want to leave.
So says
Seattle Seahawks
coach Pete Carroll, who coached Sanchez at USC.
"It's time for Mark to get going again and get off to a new start," Carroll said Wednesday at the NFL owners meetings.
Sanchez is expected to re-boot his career with the
Philadelphia Eagles
, as ESPN Senior NFL analyst Chris Mortensen has reported. That move likely will occur in the coming days, as long as Sanchez's surgically repaired throwing shoulder checks out medically.
Carroll said it's a bittersweet time for Sanchez, who badly wanted to continue his career with the
New York Jets
, who released him last week after five seasons.
"It's difficult because he really wanted that to happen [in New York] and he did everything he could to help the team as much as possible," Carroll said. "So there's frustration for Mark, I would think -- I
know
. But I think he's ready for the next challenge."
Sanchez has regressed since 2010, but he's still a starting-caliber quarterback, according to his old coach.
"I can't imagine him not being a starter," Carroll said.
That won't happen with the Eagles, who have anointed
Nick Foles
as their starter. But Chip Kelly told reporters that he's always looking to bolster his depth chart. He also has the unproven
Matt Barkley
, another USC alum.
"There are a lot of positive qualities about [Sanchez]," Kelly said.
March, 26, 2014
3/26/14
1:26
PM ET
ORLANDO, Fla. --
Michael Vick
generated plenty of buzz Wednesday at the NFL owners' meetings -- positive buzz.
Philadelphia Eagles
coach Chip Kelly, addressing reporters at the NFC coaches' breakfast, said the 33-year-old quarterback still has the physical skills to be a winning quarterback. Later, NFL commissioner Roger Goodell commended Vick for changing his life in the aftermath of the dog-fighting scandal.
Vick
Vick signed a one-year contract last week with the
New York Jets
, who say he will compete with
Geno Smith
for the starting job.
"I still think he's got a lot of football left in him," said Kelly, who coached Vick last season. "He's got tremendous arm skill. I don't know too many guys in the league that have the arm that Mike does. There's still days in practice in December when he rips a couple and you're just like, 'Whoa.' He can throw the football. He still has the ability."
Vick was Kelly's choice last season as the Eagles' Week 1 starter, but he got hurt and eventually lost his job to
Nick Foles
, who played brilliantly. That's the biggest question about Vick, his ability to stay healthy. He takes chances outside the pocket, trying to utilize his once-remarkable speed.
"He's probably not as fast as when he first came into the league," Kelly said. "But when he first came into the league, he was the fastest guy to ever play the position. A slower version of Michael is a lot faster than maybe every other quarterback in the league, with the exception of one or two."
Before signing Vick, who spent nearly two years in a federal prison for his involvement in a dog-fighting ring, New York Jets owner Woody Johnson consulted with Goodell. The commissioner has developed a rapport over the years with Vick, whom he reinstated in 2009.
"I think Michael is a young man who made a tragic mistake," Goodell told a news conference at the conclusions of the meetings. "He paid a very heavy price for it, but I've seen him in everything he's done exceed expectations. He has worked very hard to be a positive force in a lot of different areas, and that's something I admire about him.
"When we went through the process of reviewing [his return to the NFL], whether he had demonstrated he would do things the right way and be a positive force, he has. I'm proud of the work that he's done."
March, 25, 2014
3/25/14
8:00
PM ET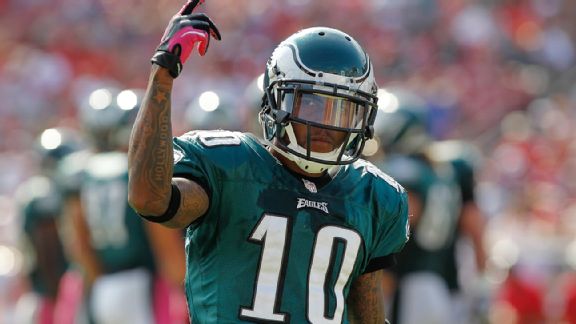 Kim Klement/USA TODAY Sports
ORLANDO, Fla. -- Imagine this scenario:
It's Week 3, and
Geno Smith
is struggling at quarterback. The
New York Jets
' revamped passing attack isn't clicking, and the inevitable clamor for
Michael Vick
is getting louder. Moody wide receiver
DeSean Jackson
isn't happy because he's not getting enough balls, and he goes public with his preference for Vick, a close friend from their years with the
Philadelphia Eagles
.
Match, meet Kerosene.
KA-BOOM!
As they mull the possibility of pursuing Jackson, whom the Eagles reportedly are willing to trade, the Jets need to take a hard look at the big picture, studying the potential impact on team chemistry. He comes with a "buyer beware" label because he can be a pain in the rear end. The Jets already have a potentially volatile quarterback situation, and the last thing they need is a devisive influence threatening to blow up a locker room that finally is healed after the dysfunction of 2011.
[+] Enlarge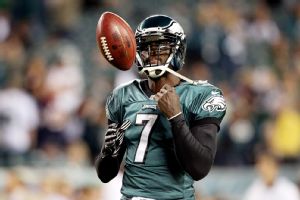 Alex Trautwig/Getty ImagesNew Jets quarterback Michael Vick has a history with DeSean Jackson.
The Jets should stay away from Jackson. Far away.
When the Jets signed Vick last week, the popular theory was that his presence would lead to a reunion with Jackson -- especially if he's released, allowing him to sign with any team. In a different time, in a different place, yeah, you'd want a Vick-Jackson tandem. But the Jets aren't ready to abandon Smith; actually, they'd love for him to be their opening day starter, elevating his game as Vick -- the seasoned mentor -- watches with pride.
It's a delicate dynamic, one that won't succeed unless all parties are all-in. Vick says he's willing to help Smith's development, but let's not be naive: He wants to start. He made that clear Tuesday, telling SportsNet New York: "I feel like I'm a legitimate starting quarterback in this league." It's a complicated arrangement, but complicated can work. It won't work if the No. 1 receiver forms an alliance with Vick -- a potential danger floated by more than one league insider Tuesday at the NFL meetings.
Yes, the Jets have interest in Jackson, as owner Woody Johnson told the world, but the interest might not be as great as everyone thinks. General manager John Idzik is trying to create a positive, winning culture, and Jackson doesn't seem like his kind of player. Idzik wouldn't respond directly to questions about Jackson, but speaking in general terms, he acknowledged there's inherent risk when acquiring a player with character issues.
"It's not easy," he said. "We're in the human business. You lean on people who have had exposure to those guys."
In this case, that would be offensive coordinator Marty Mornhinweg, who coached Jackson for four years in Philadelphia. Mornhinweg knows all about Jackson -- how he acts in the classroom, how he accepts criticism, how he responds to teammates. Even if Mornhinweg gives his blessing, it still would be a gamble.
[+] Enlarge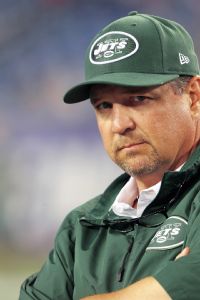 Al Pereira/New York Jets/Getty ImagesMarty Mornhinweg coached DeSean Jackson for four years in Philadelphia.
The Jets just rid themselves of a diva,
Santonio Holmes
, who gave
Mark Sanchez
plenty of agita over the years. Desperate for a receiver in 2010, they surrendered a fifth-round pick for Holmes. It was a short-term steal, but they got suckered, giving Holmes a five-year, $45 million contract in 2011. Idzik wasn't around for that decision, or the locker-room turmoil that ensued, but he's heard the stories.
Do the Jets really want to go there again?
Jackson is a terrific talent, but he has a reputation for being a petulant, me-first player. He argued with a coach on the sideline last season. He was benched for a game in 2011 for missing a meeting. He staged a training-camp holdout in 2011. He complained about his contract after last season, knowing he still had three years and $30 million remaining on his deal. Sounds like
Darrelle Revis
.
So now the Eagles are looking to move him. Ask yourself this: Why would Chip Kelly want to unload a 27-year-old receiver coming off a 1,300-yard season? Could it be a personality clash with Kelly? Maybe, but Jackson also had problems under Andy Reid.
Desperation causes smart teams to do dumb things. The Jets aren't as desperate after signing
Eric Decker
, but they're still in the very needy category. Jackson would thrill, but he'd eventually become a headache.
Vick doesn't think so, saying Jackson would benefit from a change of scenery.
"I think sometimes it takes a change in your life to understand really what needs to happen, and the course that needs to be set," he told SNY. "Maybe it's time for a change for DeSean to help him understand the maturation process of his young NFL life and his personal life."
Maybe Vick could mentor Jackson, just like he's hoping to aid Smith. But what happens in a year, when his contract expires and he's gone? The Jets would have Jackson, but not his better half.
The smart play would be to address the wide receiver need through the draft. Scouts are calling this the best receiver draft in history, and the Jets own 12 picks. Idzik wants to build through the draft. Every GM says that, but there aren't many that have the willpower to resist the temptation of a quick fix with an ugly downside.
March, 25, 2014
3/25/14
3:05
PM ET
ORLANDO, Fla. -- The
New York Jets
are taking a calculated risk by placing
Michael Vick
in a quarterback competition with
Geno Smith
. Some believe Vick's presence could be a hindrance to Smith's development.
"To the contrary, I think it helps Geno," general manager John Idzik said Tuesday at the NFL owners meetings, commenting for the first time on Vick. "Mike brings a wealth of experience, both on the field in the NFL, and off the field, he's been through a lot. He's grown as a player. He's grown as a person. That helps not only Geno, but we have a relatively young locker room. It'll help our guys."
Smith
Vick
The Jets did a lot of research into Vick's background -- specifically, his sordid involvement in a dogfighting ring, which led to nearly two years in a federal prison. Owner Woody Johnson reached out to commissioner Roger Goodell, who has developed a relationship with Vick over the years, and
Philadelphia Eagles
owner Jeffrey Lurie. The Jets are satisfied he'll be a good fit in the locker room.
Idzik touched on a few other topics:
• Criticized for his relatively slow pace in free agency, Idzik defended his philosophy, reiterating that he's building for the long term. Johnson made it clear Sunday that he's tired of being patient, that he wants to win now. So which is it?
"I wouldn't mistake deliberate for lack of activity or patience," Idzik said. "We want to win now. We want to win tomorrow. We want to win the next day. We want something sustainable. We don't want something that's short-lived."
• As expected, Idzik wouldn't comment directly on Eagles wide receiver
DeSean Jackson
. Speaking in general, he said he's not opposed to having two big-money players at wide receiver. The Jets already have
Eric Decker
, who received a five-year, $36.25 million contract. Idzik said a number of factors go into a decision like that -- i.e. age, future cap costs, depth at the position, etc.
• Idzik said they weren't blindsided by cornerback
Antonio Cromartie
's decision to sign with the
Arizona Cardinals
. He said "we had open lines of communication with Antonio right through to the end," but he wouldn't say they declined to match the deal he received from the Cards -- one year, $3.5 million.
• The Jets have a gaping hole at cornerback and the top free agents are gone. This is a problem. Idzik insisted he has it under control.
"I know the flashier signings, if you will, may have happened," he said. "But there are a lot of possibilities going forward -- at the receiver position as well. That may be street free agents, that may be a trade, a waiver claim or the draft. It's not done yet."
March, 25, 2014
3/25/14
1:30
PM ET
ORLANDO, Fla. -- A few leftovers from Rex Ryan's 60-minute sitdown with reporters at the NFL owners' meetings:
Ware
1. Hot for Ware:
The
New York Jets
' coach didn't deny his interest in former
Dallas Cowboys
pass-rusher
DeMarcus Ware
, who ended up signing a three-year, $30 million contract with the
Denver Broncos
. Ryan lobbied for Ware upon his release from the Cowboys, according to ESPN NFL Insider Adam Schefter.
"Any outstanding player, you're going to have an interest in," Ryan said, responding to a question about Ware. "Whether that's attainable or not might be a different story. You definitely entertain any option that can help your football team."
2. Cornerback spin:
Ryan continued to blow sunshine on the current state of the cornerback position, insisting he's happy with
Dee Milliner
,
Darrin Walls
,
Kyle Wilson
, et al. But he acknowledged, "Would I prefer having shutdown corners and all that? I absolutely would, because it does give you more flexibility in what you do. But if that's not the case, I'm not going to beat my head into the wall. Throughout my career, I've had some great corners, some not-so-good corners. In our system, we're able to make adjusmtents."
3. The Darrelle dance:
The coach sidestepped questions on whether he pushed to re-sign Revis. Translation: He did. Ryan said he doesn't think about Revis anymore. "He's the enemy now," Ryan said.
Revis
4. Byrd man:
Ryan talked about former
Buffalo Bills
safety
Jairus Byrd
, and how he'll be an ideal fit in his brother's defense with the
New Orleans Saints
. Asked why the Jets didn't pursue Byrd, Ryan said, "Nine million a year is a lot for a safety."
5. Safety dance:
Ryan didn't rule out the possibility of re-signing
Ed Reed
, but it sounds like a fallback option for the Jets. Ryan said he's OK with
Dawan Landry
,
Antonio Allen
and
Jaiquawn Jarrett
. He also mentioned
Rontez Miles
, who spent last season on the practice squad, as a potential factor.
6. Quote of the day:
Trying to pump up
Geno Smith
, Ryan insisted that his second-year quarterback faced tremendous adversity last season. "Yeah, he had that little drop-off, but quite honestly, Johnny Unitas would've had a drop-off," he said. "We had a lot of injuries. No excuses, but that's reality."
A little drop-off? In one stretch, Smith went five straight games without a touchdown pass. That's the Grand Canyon.
March, 25, 2014
3/25/14
1:00
PM ET
ORLANDO, Fla. -- So now that
Mark Sanchez
is an ex-Jet, the question on everybody's mind (OK, not everybody) is: What does Rex Ryan do with the infamous Sanchez tattoo on his upper-right arm?
[+] Enlarge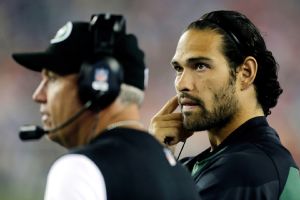 AP Photo/Charles KrupaThe ultimate goal eluded Rex Ryan and Mark Sanchez with the Jets.
Ryan responded with a sheepish look Tuesday morning when the question was posed to him during a sitdown with reporters at the NFL owners meetings.
"Guys, the tattoo is still there," he said, rolling up his sleeve to provide a partial peek. "I'm not going to say anything about the Sanchez tattoo. It was my tattoo and it's still my tattoo."
For those not familiar with Ryan's celebrated body art, the tattoo is an image of his wife wearing a Sanchez jersey. The tattoo was done back in the good old days, when Sanchez still was the Jets' franchise-type quarterback, but it didn't become a news item until January 2013, when he was photographed by a paparazzi on vacation in the Bahamas.
"I may alter it, who knows?" Ryan said. "I'm going to put 75 on it, to honor Winston Hill. That's the idea. That's what I'm going to do."
The Jets made the long-anticipated move last Friday, cutting ties with Sanchez after five seasons. Ryan claimed "there was always the possibility that Mark could've come back to our team," but I'm not buying that one. I think he was a goner, no matter what.
Ryan said it was difficult to release his former starter -- this from someone who once vowed that Sanchez would be his quarterback for as long as he coached the team. Ryan still believes Sanchez can be a starter in the league. It won't happen right away because he's expected to sign with the
Philadelphia Eagles
, where he'd serve as a backup to
Nick Foles
.
"I hope he ends up in a good situation for him," said Ryan, commeting for the first time since Sanchez's release. "I hope it all works out for him. He's a tremendous young man. I have a lot of admiration for him. Obviously, I want him to do extremely well. With that being said, I don't want him in our division."
Ryan turned a bit nostalgic.
"I don't know if we were only rookie head coach and rookie quarterback to go to back-to-back championship games or not, but we're certainly on a small list," he said. "I think that's a pretty good accomplishment. He played a lot of good football. Unfortunately, people remember one play. Mark played well for us. We had some success, albeit not what we wanted -- ultimate success but we did have some success."
March, 25, 2014
3/25/14
12:05
PM ET
ORLANDO, Fla. -- Unlike owner Woody Johnson, Rex Ryan wasn't about to use the 'D' word -- DeSean, as in
Philadelphia Eagles
wide receiver
DeSean Jackson
. Ryan wanted to avoid any questions about tampering, so he wouldn't talk about the possibility of acquiring Jackson.

Jackson
"Mr. Johnson is the owner, so he can do what he wants, but I'm not going to talk about anybody else on somebody else's roster," Ryan said Tuesday at the owners' meetings.
Johnson confirmed interest in Jackson, but the level of interest remains to be seen. The Jets aren't keen on the idea of trading for Jackson, but their interest could grow if he's released. Even then, there's no guarantee that he'd a must-have.
Ryan did say this much: He expects the Jets to add another wide receiver in the offseason.
"I don't think we're done in that area," he said. "We've got a lot of draft picks and it's a deep draft class at that position. It's safe to say, I bet you anything, we end up making another move for a receiver somewhere along the line, if I'm a betting man. It might not be the moves you want us to make, but how many picks to do we have? Twelve? I bet we take a shot."
Right now, the Jets' top receivers are
Eric Decker
and slot man
Jeremy Kerley
. They still have a need for a true No. 1 receiver. For depth, they have
Stephen Hill
and
David Nelson
. The Jets have expressed interest in former Raider
Jacoby Ford
, a low-level free agent. They're also looking at the possibility of adding a veteran running back. There's some interest in
Maurice Jones-Drew
, but his current asking price is beyond what the Jets are willing to pay.
March, 24, 2014
3/24/14
3:30
PM ET
ORLANDO, Fla. -- Offensive lineman
Vladimir Ducasse
, one of the biggest draft mistakes of the Mike Tannenbaum administration, is officially a goner.
Ducasse, an unrestricted free agent, signed a one-year contract Monday with the
Minnesota Vikings
, according to a league source. The
Cincinnati Bengals
showed interest, as did the
New York Jets
, but Ducasse wanted a fresh start.
Ducasse was the Jets' second-round draft pick in 2010. He was an unpolished player with a small-school background, but the Jets envisioned the former UMass standout as a versatile talent who could start at tackle or guard. He played 50 games in four seasons, but started only five. He started the first four games at left guard last season before losing his job to rookie
Brian Winters
.
The Jets tried Ducasse at both guard spots and right tackle over the years, but he couldn't crack the lineup until last year's short-lived stint. He played in 2012, rotating with starting left guard
Matt Slauson
-- a controversial arrangement. Then-line coach Dave DeGuglielmo made it clear his preference was Slauson, suggesting the front office was forcing the coaching staff to play Ducasse.
Tannenbaum, the former general manager, was fiercely loyal to Ducasse. At one point late in the 2012 season, Tannenbaum said, "I think Vlad is going to have a great career."
This much we know: It won't be with the Jets.
March, 23, 2014
3/23/14
10:00
PM ET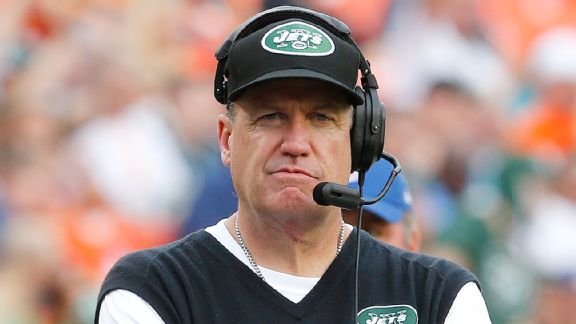 Joel Auerbach/Getty ImagesJets ownership expects Rex Ryan to improve on last season's 8-8 record.
If Rex Ryan didn't feel playoffs-or-bust pressure for 2014, he does now.
New York Jets
owner Woody Johnson, who only 10 months ago pleaded for "patience" from the fans, unwittingly turned up the heat on his coach Sunday at the NFL meetings in Orlando, saying it's a win-now mentality.
"I'm not going to use the word 'patient' anymore," Johnson told reporters. "We want to do it now."
For older Jets fans, Johnson's candid remarks may stir memories of the late Leon Hess, in 1995, growling, "I'm 80 years old. I want results now." He made those comments at Rich Kotite's introductory news conference. Hess had to wait a few years for those results, and they didn't happen until Bill Parcells came to town.
Ryan doesn't have that much time. If he misses the playoffs for a fourth consecutive year, it would be difficult to see him keeping his job. Yes, he received a contract extension after a better-than-expected season, but all that did was give him an extra year of security, with guaranteed salaries through 2015.
Clearly, Johnson expects better than 8-8 this season, and he has a right to feel that way. Patience was the way to go last season because it was the first year of John Idzik's rebuilding project. He tore the roster apart, handing Ryan a five- or six-win roster. Ryan squeezed out eight wins, a terrific coaching job. But now his boss has become impatient with being patient, revealing a greater sense of urgency than his top football man, Idzik.
Idzik keeps talking about building a team that has sustainable success, avoiding quick fixes and working from a long-term plan. Now there's a mixed message, with Johnson suggesting the league is so parity-driven that championships should always be the goal. It's a departure from last May, when he implored the fans, "Yes, be patient. Be patient and trust that we're doing the right thing for your team."
Demonstrating his win-now approach, Johnson confirmed the team's interest in
Philadelphia Eagles
wide receiver
DeSean Jackson
, who reportedly is on the trading block. It was stunning because of tampering rules -- team officials aren't supposed to comment on opposing players -- and because of the Jets' secretive ways.
[+] Enlarge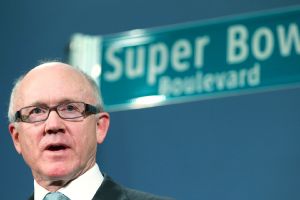 Mario Tama/Getty ImagesWoody Johnson expects the New York Jets to have a winning season in 2014.
I say, "Good for him." Finally, a straight answer from a Jets official.
That Johnson went public tells me the Jets are
very
interested in Jackson. He said they'd rather not surrender a draft pick -- meaning Jackson would be more attractive if he gets released -- but that could mean they're not willing to give up the exact pick the Eagles are demanding. It's called posturing.
Jackson doesn't seem like an Idzik kind of guy, with his enormous contract and his diva behavior. But Jackson would give the Jets a much-improved offense. With Jackson and
Eric Decker
, you're talking about a legit receiving corps. Johnson loves offense. Most owners do. It puts rear ends in the seats.
Meanwhile, Ryan must be thinking, "How 'bout a cornerback?" He has the right to be concerned about the giant hole in his defense. If the owner is making this a win-now season, the least he could do is give his defensive-minded coach a couple of proven corners. Right now, they have
Dee Milliner
and a lot of questions. You could argue that Milliner is a question, too.
The Jets have acquired three new players in free agency, all on offense -- Decker, quarterback
Michael Vick
and right tackle
Breno Giacomini
. The defense is worse than it was at the end of last season. The Jets still have the draft, and still have time to plug holes. But the expectations are higher than 2013. They got even higher Sunday, when Johnson opened his mouth.
"Look at the difference between last year and this year," Johnson said. "The team can turn very fast in the NFL. You saw Seattle. I've seen a lot of teams that came from the bottom ... that weren't doing that well, to winning Super Bowls. So, it's there. I think we're trying to put ourselves in position to accomplish those objectives."