New York Jets:

2014 NFL Round 6 Rapid Reaction
May, 10, 2014
May 10
6:07
PM ET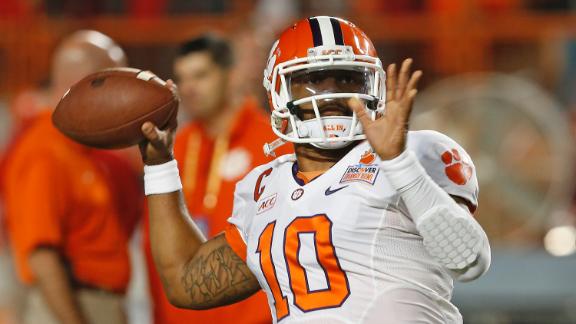 FLORHAM PARK, N.J. --
The pick
:
Tajh Boyd
, quarterback, Clemson
My take:
The Jets' interest in Boyd was one of the worst-kept secrets in the draft. They did extensive work on Boyd, starting at the Senior Bowl. It also didn't hurt that Rex Ryan's son, Seth, is a wide receiver at Clemson. Obviously, they had inside intel on Boyd, one of the most accomplished quarterbacks in the draft. He was a three-year starter on one of the biggest stages in college football, throwing at least 30 touchdowns in all three seasons. He's a winner (37-8 as a starter) and a good leader, but there are major questions. He's short (a shade under 6-foot-1) and his throwing mechanics are inconsistent, including a low release point. He's not as efficient inside the pocket as you'd like, but he passed for more than 11,000 yards in college. So why not? This made this selection with a compensatory choice.
Four's a crowd
: This probably isn't a happy day in the
Matt Simms
household. After making nice strides last season as a developmental quarterback, Simms will now have to battle Boyd for the No. 3 job, behind
Geno Smith
and
Michael Vick
. The Boyd pick was so John Idzik; he preaches competition and he subscribes to the theory that you can't have too many quarterbacks. Boyd doesn't have No. 1 potential, according to scouts, but if he takes to David Lee's coaching, he could emerge as a competent backup in the future.
May, 10, 2014
May 10
5:51
PM ET
FLORHAM PARK, N.J. --
The pick:
IK Enemkpali, defensive end, Louisiana Tech
My take:
This is a fascinating pick on a number of levels. Enemkpali (pronounced: IN-em-PALL-ee) is an undersized defensive end at 6-foot-1, 261 pounds -- not an ideal scheme fit in Rex Ryan's 3-4 base defense. Another undersized defensive end --
Michael Sam
, the co-SEC Defensive Player of the Year -- still was on the board when the Jets made this selection with a compensatory choice in the sixth round.
Enemkpali wasn't terribly productive in college (17.5 sacks in four years) and he didn't run well at the scouting combine (5.01 seconds in the 40). Evidently, the Jets liked something about him.
Situational player:
Enemkpali is a 'tweener -- too small to be an every-down lineman in the Jets' base front and not fast enough to be an outside linebacker. He will be a situational pass-rusher, and there's nothing wrong with that as long as the player produces in that role. Obviously, he will have to earn a role on special teams as well. It's not usual for a team to take a developmental player this late in the draft, but they usually gamble with a player who has exceptional size-speed numbers that will allow him to make the jump. Enemkpali has neither.
May, 10, 2014
May 10
5:32
PM ET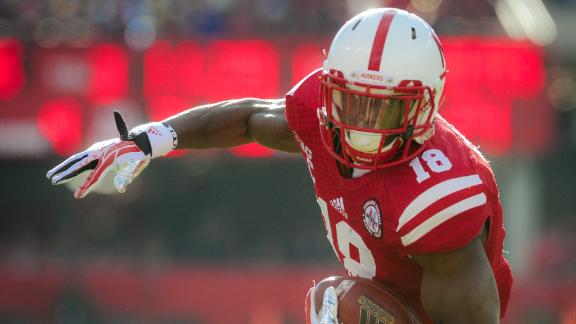 FLORHAM PARK, N.J. --
The pick
:
Quincy Enunwa
, wide receiver, Nebraska
My take:
This makes three wide receivers on the third day of the draft. Enunwa (pronounced: uh-NOON-wuh) has terrific size at 6-foot-2, 225 pounds, ideal for a West Coast offense. He's solidly built and has long arms (32¾ inches). His production in college was modest, although he scored 12 touchdowns last season. That includes a 99-yarder against Georgia. He set career highs with 51 receptions and 753 yards, finishing his career with only 115 catches. Enunwa ran the 40 in the mid-4.4s at his pro day. Like most of the Jets' picks, he's known for strong character. He was a 2013 team captain and a leader in the community.
Sending a message:
You can bet there are uneasy feelings in the homes of
Clyde Gates
,
David Nelson
,
Greg Salas
and maybe even
Stephen Hill
-- the veteran receivers not named
Eric Decker
and
Jeremy Kerley
on the Jets' roster. By drafting three wideouts, the front office has sent a clear message. This hardly comes as a surprise. At the league meetings in March, Rex Ryan all but guaranteed they'd select multiple receivers.
May, 10, 2014
May 10
4:53
PM ET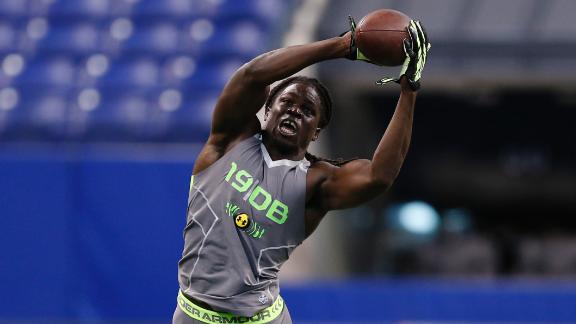 FLORHAM PARK, N.J. --
The pick
:
Brandon Dixon
, cornerback, Northwest Missouri State
My take:
The
New York Jets
doubled down on their cornerback need, selecting the unheralded Dixon with the first of four picks in the sixth round. He will join third-round selection
Dex McDougle
as the Jets attempt to rebuild the cornerback position in the post-Cromartie/Revis era.
Dixon attracted attention at the scouting combine, where he ran the 40 in 4.41 seconds -- fifth-fastest among cornerbacks. There's no doubt about his vertical speed, but he has tight hips and struggles against sharp-breaking routes. He described himself as a press-man corner who likes to be aggressive at the line of scrimmage.
At 5-11½, 203 pounds, Dixon has good size for the position. He began his career at Joliet Junior college before transferring to Division II Northwest Missouri State, where he made 36 tackles and one interception last season. He posted better numbers in 2012 -- five interceptions. He requires extra reps to process information, according to Scouts Inc. Clearly, he'll have to carve a niche on special teams.
Best player available?
The Jets are like most teams in that they preach the best-available-player philosophy, but isn't it curious how the BAP has married with their biggest needs? They've drafted two cornerbacks and two wide receivers. Of course, when you enter the draft with 12 selections, you can afford to stockpile at specific positions. Currently, the Jets have 12 corners on the roster. John Idzik is smling. Maybe you've heard, he loves competition.