New York Jets:

Bill Parcells
February, 12, 2014
Feb 12
3:45
PM ET
My first reaction to the Derek Jeter announcement?
He's right; it's time to go.
Jeter has been around so long that -- pardon the crossover into football -- he came up with the New York Yankees when Rich Kotite was the coach of the
New York Jets
, 1995. Try to wrap your brain around that. In the Jets' history book, that's known as the Dark Ages.
I'm not a Yankees fan, but how can you not respect Jeter? Every professional sports franchise longs to have a Jeter. During the Jets' acrimonious contract talks with
Darrelle Revis
, the cornerback's camp tried to push the notion that the Jets needed to lock up Revis because he was their Jeter -- a homegrown star. Obviously, the Jets didn't see Revis that way. At the same time, Revis' behavior wasn't very Jeter-like, as he made it all about the money.
As for the real Jeter, you just hope he can stay healthy through his farewell season. As former Jet and current ESPN analyst Damien Woody tweeted, "Father Time is undefeated." I also remember what Bill Parcells used to say: When you start talking about retirement, you've already retired.
January, 28, 2014
Jan 28
7:30
PM ET
Cue the dream sequence.
NEWARK, N.J. -- Peyton Manning arrives at the Prudential Center for Super Bowl XLVIII media day, sharing a few laughs with his coach, Rex Ryan, as he walks to his designated interview podium. Manning, wearing a white and green-trimmed No. 18 New York Jets jersey, appears totally at home.

Because he is.

Manning is only 30 minutes from the Jets facility in Florham Park -- a.k.a. Peyton's Place, where he hopes to add a third Lombardi Trophy to the showcase. Coincidentally, the Jets' team hotel is the Manning Tower in Jersey City -- a breathtaking high rise on the Hudson that he co-owns with his not-so-silent partner and close friend, Donald Trump. Manning, as you might know, inhabits the entire 18th floor.

"I'm excited to be in another Super Bowl, representing the New York Jets," Manning begins.
* * *
Well, it could've happened.
[+] Enlarge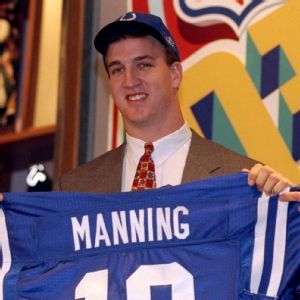 Ezra C. Shaw/AllsportWhat would have happened if Peyton Manning was holding a Jets jersey instead of this Colts one?
In the winter of 1997, Manning ostensibly snubbed the Jets by deciding to stay in school for another year. The Jets owned the No. 1 overall pick, and Bill Parcells, new on the job, could've started one of the most daunting rebuilding projects in NFL history by drafting Manning and making him the centerpiece.
After much consideration, Manning decided he'd rather remain a Tennessee Vol than a Parcells volunteer.
In the tortured history of the Jets, it remains one of the most haunting what-if questions: What if Manning had turned pro in '97? By staying true to his school, he altered the landscape of the league.
Parcells, in an interview this week with ESPNNewYork.com, said he didn't try to convince Manning to leave school because of a "strong mandate" by the league, which didn't want teams attempting to influence underclassmen.
"I kind of laugh when people say I should've talked him into it," Parcells said. "I wasn't capable of doing that."
Why didn't he attempt to recruit Manning through his father, Archie? Parcells paused.
"I think they had a pretty good idea of what would've happened if they came out," Parcells said.
The Hall of Fame coach hasn't revealed too much over the years about that chapter -- some believe he would've traded the pick to accumulate extra draft choices -- but he strongly hinted he would've selected Manning.
"Obviously, we had an interest in a quarterback, so, had he been available, I'm certain he would've been very, very strongly in the mix," said Parcells, claiming he always had a "gut feeling" that Manning would stay at Tennessee.
But Manning kept people guessing, which fueled hope among Jets fans, many of whom already were tired of Neil O'Donnell after one season. On the morning of his announcement, the local paper in Knoxville, Tenn., ran a front-page headline that said its favorite son was prepared to jump to the NFL.
A poker-faced Manning added to the drama in his news conference, speaking of Tennessee in the past tense as he made his opening remarks. After about a minute, he cracked a smile and declared his intention to stay. The room exploded with applause. There were mini-eruptions across the campus, which stopped to watch the announcement on closed-circuit TV. Remember, this was long before Twitter.
At the same time, Manning crushed Jets Nation.
"There are times when good fortune strikes, and there are times when it doesn't," said Parcells, who eventually traded the pick and selected linebacker
James Farrior
at No. 8 overall.
Not surprisingly, Manning has always taken the high road, claiming that Parcells' arrival in New York that winter actually complicated the decision for him.
"Parcells shook things up for me a little, but when he was hired there, it made this decision a lot tougher, knowing he was there." Manning said at the time. "I had no negative thoughts about the Jets whatsoever."
Manning went No. 1 overall in 1998, and things have worked out quite nicely for him. If he beats the
Seattle Seahawks
for this second Super Bowl title, he will fuel debate on whether he's the greatest quarterback in history.
Parcells is an admirer, for sure, but he wasn't ready to anoint Manning back in the day. Asked if he knew Manning would be special, the old coach showed his gruff side.
"I'm not too quick to judge guys," he said. "The guy picked right behind him [
Ryan Leaf
], somebody thought he was going to be special, too."
The football business is inexact, and it's difficult to predict how players would fare in different situations, but let's be real: Manning would've been huge in the New York market.
"I think he would've had a long, long run there," said agent Leigh Steinberg, who once represented the biggest quarterback stars in the sport. "He would've been very dominant in New York, probably the biggest football personality in that city since Joe Namath."
The Jets have been searching for the next Namath for 40 years. Two years ago, they made another pass at Manning, but it was a brief flirtation. It lasted as long as a belch.
When the
Indianapolis Colts
released Manning in March 2012, then-general manager Mike Tannenbaum placed a call to Manning's agent, Tom Condon.
"It was a quick, cursory call," recalled Tannenbaum, performing due diligence. "We had a young quarterback [
Mark Sanchez
] we felt good about, but when a player like Peyton Manning becomes available, you have to check it out. I had a very good sense right away that he knew what he wanted to do."
In other words, Manning wanted no part of the Jets.
Again.
Later that day, the Jets announced they had signed Sanchez to a contract extension, an affirmation that backfired.
This week, Manning is practicing at the Jets' facility as the
Denver Broncos
prepare for Sunday's game at MetLife Stadium.
Some blows never stop stinging.
July, 30, 2013
7/30/13
1:41
PM ET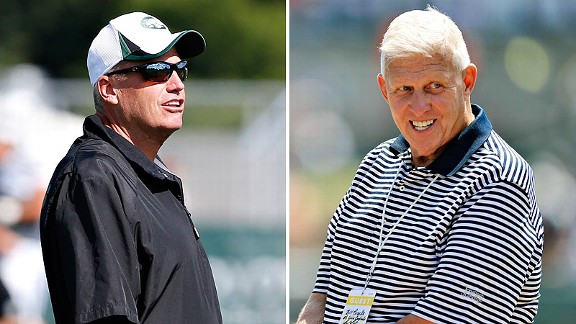 USA TODAY SportsRex Ryan got to know Bill Parcells when Rex interviewed for the Dolphins' head-coaching job.
CORTLAND, N.Y. -- One of the most influential figures in Jets history, Bill Parcells, will be inducted Saturday into the Pro Football Hall of Fame. The current coach, Rex Ryan, considers Parcells a mentor.
Ryan got to know Parcells in 2008 when Ryan interviewed for the Dolphins' head-coaching vacancy. Parcells, running the organization, ended up hiring Tony Sparano. But the Dolphins' boss made an impression on Ryan, who had a hunch Sparano would get the job but took the interview to be able to meet with Parcells.
"Let's just put it this way: I gained way more out of it than he did," Ryan said. "He got nothing from me, and I got a ton from him. He was amazing. He talked about setting up a team. He talked about the bottom of your roster. He even talked about the developmental team and a whole lot of things that I've used. I don't know how long the interview was, but I took so much from it.
"He's kind of a mentor, and I wish I spent more time with him, but what an impressive guy. Obviously, you know what you get with him, the type of team he had. He's tough, but he was consistent. He's just a great football coach. Obviously, very deserving of going into the Hall of Fame."
In 2009, Ryan told me he called Parcells during the season, seeking advice during one of the Jets' slumps. Ryan said Parcells' response was: "Rex, you have to be more of a head coach." Heeding Parcells' wisdom, Ryan started to get more involved in the offense that season. Now, four years later, Ryan is going the opposite way. He's back to being the de facto defensive coordinator, leaving the offense to Marty Mornhinweg.
File that advice under: "What's good for one coach ..."
July, 17, 2013
7/17/13
2:40
PM ET
Bill Parcells won two Super Bowls and an AFC championship in his legendary career, but he believes his best coaching performance occurred in an 8-8 season -- 1999, his final year as the Jets' coach.
[+] Enlarge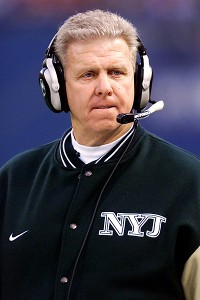 Mike Albans/NY Daily News Archive/Getty ImagesBill Parcells coached the Jets for three seasons (1997-99).
The Jets, who entered the season with Super Bowl aspirations, lost QB
Vinny Testaverde
in the opener and began 1-6, looking utterly hopeless. Somehow, behind a neophyte named
Ray Lucas
, they rallied and nearly made the playoffs.
"That was one of my better coaching jobs," Parcells said Wednesday on a national conference call to discuss his upcoming Hall of Fame induction. "Holding that team together to accomplish that, I think probably was one of the better things. That wasn't any monumental success or anything, but I think most coaches will tell you, when you start 1-6, it's tough to maintain the things you need to be successful."
It was a masterful job by Parcells. Unfortunately, he "retired" the day after the season, moving into a GM-type role for a season as Al Groh coached the team.
Parcells suspects he'll get emotional during his Hall of Fame weekend, Aug. 2-4, saying he never thought about the possibility of making it to Canton until about 10 years ago. His presenter is ex-Giant George Martin, and Parcells expects many of his former coaches and players to be there. (He isn't sure if
Lawrence Taylor
will attend.)
Parcells spent four years with the Jets, including three as the coach, but there's no doubt he bleeds blue, as his greatest success occurred with the Giants. He said his fondest memory is the 1990 NFC Championship Game, when they stunned the two-time defending champion 49ers on the road.
"There were so many great players playing in that game," he said. "That's what makes it memorable. As a matter of fact, the referee, Jerry Markbreit, told me of all games he ever officiated, that was the greatest he ever officiated. That kind of stuck with me, that an official would feel that way as well."
February, 2, 2013
2/02/13
7:41
PM ET


Bill Parcells, who coached the Jets from 1997 to 1999 and served as their general manager in 2000, was selected Saturday night to the Pro Football Hall of Fame. Reaction immediately started pouring in from his former teams. As of 7:30 p.m., the Jets still hadn't acknowledged it with so much as a tweet.

Update (8:58 p.m.): Woody Johnson, Jets owner:

"Bill Parcells infused new life into this franchise on many levels. From acquiring players like Curtis Martin to bringing back a winning culture, we will always be grateful to Bill for his contributions to the New York Jets. On behalf of the entire organization, I congratulate Bill on his selection to the Pro Football Hall of Fame."

John Mara, Giants president and CEO:

"I'm very happy for Bill. This is long overdue. He's one of the best coaches in NFL history. He turned our franchise around. We went through a long period in the 1960s and '70s when we were a laughingstock. When Bill took over in 1983 he survived a very difficult first year, but then turned us into a perennial playoff contender and won two Super Bowls for us. He coached three other teams and everywhere he went, he had great success. I'm very happy that he will be enshrined in the Pro Football Hall of Fame."

Robert Kraft, Patriots chairman and CEO:

"Congratulations to Coach Parcells on his election into the Pro Football Hall of Fame. It is well deserved. As a Patriots fan, I will always appreciate the credibility he brought to our franchise as a two-time Super Bowl champion. We had never had a head coach with those credentials. I am very happy for Bill and look forward to his enshrinement ceremonies."

Bill Belichick, Patriots coach:

"Bill Parcells has been thought of as one of the all-time greats for a long time, so it is with great pride that we can officially refer to him as a Hall of Famer. He deserves all the recognition he is getting and for his career to be celebrated in Canton forever."

Jeff Ireland, Dolphins general manager:

"I want to congratulate Bill on being selected to the NFLs highest honor -- the Hall of Fame. His contributions to the game and to people in the game are countless. Having worked with him, I saw first-hand the philosophy and culture he espoused that made him so successful, and like so many others before me, I continue to use many of those principles to build a winning team. I learned a great deal from him and it has been a true pleasure working alongside such an iconic and legendary man."

Keyshawn Johnson, former Jets and Cowboys wide receiver/ESPN analyst:

"I am so proud to have played for Bill Parcells. He is a true teacher of men. You always knew where you stood with him, and I trusted him as much as any coach I ever played for … at any level. I was ecstatic to have the opportunity to play for him because he helped shape my career in so many ways. I congratulate him on this Pro Football Hall of Fame honor, which he is so deserving."
February, 1, 2013
2/01/13
11:21
AM ET


There's a distinct New York flavor to this year's Hall-of-Fame voting. Former Jets and Giants coach Bill Parcells is a finalist for the second straight year and former Giants DE Michael Strahan is a finalist in his first year of eligibility.

There are 15 modern-era finalists; a maximum of five can be inducted. The Class of 2013 will be announced Saturday at 5:30 p.m. on the NFL Network.

Here's a rundown of the Fab 15:

Larry Allen, G, Cowboys -- NFL all-decade team for the 1990s and 2000s.

Jerome Bettis, RB, Steelers -- Sixth all-time leading rusher.

Tim Brown, WR, Raiders -- Fifth all-time in receptions and yards.

Cris Carter, WR, Vikings -- All-decade team, 1990s.

Ed DeBartolo, owner, 49ers -- Presided over five Super Bowl championships.

Kevin Greene, LB, Steelers -- Third-most sacks in history.

Charles Haley, LB, Cowboys/49ers -- Only player to win five Super Bowls.

Art Modell, owner, Browns/Ravens -- Owned team for 43 years, influential in league circles.

Jonathan Ogden, T, Ravens -- Selected to 11 Pro Bowls.

Bill Parcells, coach -- Only coach to take four different teams to the playoffs -- Giants, Patriots, Jets and Cowboys.

Andre Reed, WR, Bills -- Named to seven Pro Bowls.

Warren Sapp, DT, Bucs -- All-decade in 1990s and 2000s.

Will Shields, G, Chiefs -- Named to 12 Pro Bowls.

Michael Strahan, DE, Giants -- Single-season record for sacks -- 22.5.

Aeneas Williams, CB, Cards -- Eight Pro Bowls.

Cimini's top five: Allen, Carter, Odgen, Parcells, Strahan.

Two senior nominees also are eligible -- Curley Culp, DT, Chiefs and Don Robinson, LB, Packers.
February, 4, 2012
2/04/12
6:32
PM ET
INDIANAPOLIS -- For 11 seasons as a player,
Curtis Martin
never sought the spotlight. On Saturday night, it finally found him -- and he didn't mind one bit.
Martin, the quiet, dignified and tough running back who helped legitimize the New York Jets in the late 1990s, was elected to the Pro Football Hall of Fame in his second year of eligibility. He joined
Joe Namath, Don Maynard
and coach
Weeb Ewbank
as the only Hall of Famers who carved their legacy with the Jets.
It could've been a New York-New York party, but former Giants and Jets coach
Bill Parcells
-- a two-time Super Bowl champion -- wasn't among the five modern-era inductees. The others were
Dermontti Dawson, Chris Doleman, Cortez Kennedy
and
Willie Roaf
.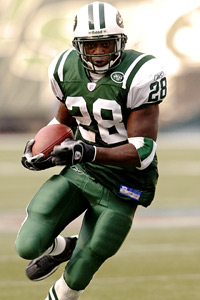 Al Pereira/Getty ImagesCurtis Martin rushed for 14,101 yards, gaining 4.0 yards per carry.
Jack Butler
, a Steelers cornerback from the 1950s, was also elected.
Martin, who last played in 2005, became the 29th modern-era running back elected to the Hall. He's the fourth-leading rusher in NFL history, with 14,101 yards.
This caps a remarkable football journey for Martin, 38, who didn't play organized ball until his senior year at Taylor Allderdice High School in Pittsburgh. He scored on a long run the first time he touched the ball, and he never slowed down, going from Pitt to the New England Patriots to the Jets.
Martin was the embodiment of consistency and durability. He wasn't the biggest or the fastest runner, he didn't make many highlight-film plays and he rarely drew attention to himself with silly touchdown dances. But he showed up every Sunday and performed at the highest level for a decade.
He cracked the 1,000-yard mark as a rookie with the Patriots, and he kept churning them out, all the way to 10 in a row. The only other player to rush for at least 1,000 yards in each of his first 10 seasons is
Barry Sanders
, a Hall of Famer.
Martin's signature season came in 2004, when he claimed the league rushing title with a career-high 1,697 yards. He was 31, the oldest player to win a rushing crown, delivering his best at a time when most backs are either retired or barely hanging on.
He probably could've kept going, too, but Martin suffered a knee injury early in the 2005 season. He played through the pain -- he once said it felt like chards of glass inside his knee -- but he finally broke down late in the year, ending his streak of 119 consecutive starts. He never played again.
Martin was always concerned with team, not self -- and that will be his greatest legacy. He made a stunning gesture during a slump in 2003, saying he'd gladly take a seat on the bench if the coaches felt it would help the team. How many superstars would do that? The coaches stuck with him, and he still ended up with 1,308 yards.
His humility was -- and still is -- legendary around the Jets. Martin once said he liked to pick up used towels off the locker-room floor once a week because it kept him humble. To honor him, the Jets named their team MVP award after him.
It's rare for a non-quarterback to impact a franchise, but Martin did just that -- two franchises, actually. After three seasons with the Patriots, he followed Parcells to the Jets, signing a clever and complicated offer sheet that made it almost impossible for the Patriots to retain him.
Parcells' heist intensified the acrimony between the two bitter rivals, yet Martin somehow remained above the enmity. It wasn't your typical athlete-franchise divorce, as Martin has maintained a strong relationship with Patriots owner
Robert Kraft
. Truth is, you'd be hard-pressed to find a negative comment about Martin from anyone -- former teammate, opponent, anyone.
With Martin and Parcells in New York, the Jets took control of their rivalry with the Patriots, reaching the AFC Championship Game in their first season reunited, 1998. It came only two years after their 1-15 debacle. The Patriots sagged until
Bill Belichick
and
Tom Brady
started winning championships in 2001.
Perhaps the best snapshot of Martin occurred on a practice field, with no crowd and no teammates around. This was in July 2004, before training camp opened. Former general manager
Terry Bradway
looked out his window, and saw a solitary figure -- Martin -- walking through his plays, over and over.
A simple, yet telling moment from a Hall of Fame career.