New York Jets:

Bob Sutton
September, 22, 2013
9/22/13
6:00
AM ET
Some quick thoughts and observations on the Jets as we head into Week 3:
1. Arms race:
The perception that
Geno Smith
was the Jets' slam-dunk quarterback preference going into the 2013 draft isn't accurate. Smith and
EJ Manuel
, whom they face Sunday at MetLife Stadium, were "very close" on the Jets' draft board, according to former scout Joe Bommarito. "We had both guys up there high," he said.
Bommarito declined to divulge anything more specific than that, except to say both quarterbacks were grouped together on the same line on their board, meaning they probably had similar grades. If Smith hadn't been available in the second round, Bommarito said, they would've happily picked Manuel at No. 39 overall. Manuel took a pre-draft visit to the Jets' facility and felt the coaches liked him enough to take him.
As it turned out, the Jets passed twice on both quarterbacks (with the ninth and 13th picks). By the time they got to 39, Manuel was long gone, picked 16th by the Bills.
Bommarito's take on the two rookies: Smith has the stronger arm, Manuel gets the edge in accuracy. So far, you'd have to give the early lead to Manuel, who has made fewer mistakes than Smith. But we'll learn more about Manuel by the way he handles his first road game.
[+] Enlarge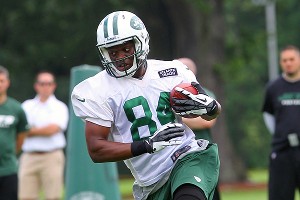 Ed Mulholland/USA TODAY SportsA former Jets scout said that the team considers WR Stephen Hill, a 2012 second-round draft choice, a "four-year project."
2. The Hill Project:
Bommarito, whose contract wasn't renewed after the draft, spent a dozen years as a Jets scout. One draft pick that caused a considerable amount of angst among fans (and some in the organization) was WR
Stephen Hill
, whose inconsistency is maddening. Bommarito is a Hill fan, but he acknowledged, "One minute, you're excited about the guy. Other times, you're like, 'Oh, really?' He's a four-year project. You have to be patient with him." He was alluding to Hill's limited background in the passing game. But four years? That's a lot of waiting in the NFL, especially for a second-round draft pick in 2012.
For more Jets-related insights from Bommarito, check him out on Twitter. His handle is @AskTheScout.
3. Rex's coaching tree
: Both Rex Ryan and Bills defensive coordinator Mike Pettine insist everything is cool between them, and that there was no falling out at the end of last season. Ryan told me he wants Pettine to succeed in his new gig. Another former Ryan assistant, Chiefs defensive coordinator Bob Sutton, is off to a great start. Before Thursday night, the Jets and Chiefs were ranked first and second in total defense, respectively, among AFC teams.
"I'm proud of Bob Sutton, too," Ryan said. "Somehow, maybe I helped a little bit. I'm proud to have a little bit of a coaching tree."
4. Nate (Can) Hackett:
Speaking of coaching trees, what's better than a father-son deal? Bills offensive coordinator Nate Hackett is the son of former Jets OC Paul Hackett, who served under Herm Edwards from 2001-04. Hackett, a Bill Walsh disciple, was a lightning rod for criticism. He got beat up pretty badly in this town, so much so that he resigned under pressure after the Jets' playoff run in Jan. 2005. The tabloids cranked out plenty of "Paul Can't Hack-it" headlines.
His son, 33, the second-youngest coordinator in the NFL, is a rising star in the business. Bills coach Doug Marrone, the offensive line coach on that same Edwards staff, hired Nate at Syracuse. That's where they developed the up-tempo offense they're using in Buffalo, and it happened almost by accident. About two weeks before the 2012 opener, the Syracuse offense was getting dominated by the defense in practice. They needed to shake it up, so Marrone and Hackett junked their old offensive system and developed a hurry-up attack on the fly. That's what you call a true hurry-up.
5. The big trade
: Jets OT
Ben Ijalana
, a former second-round pick of the Colts, was "excited," but not surprised his old team made the blockbuster trade for RB
Trent Richardson
. Ijalana said, "This is now for the Colts. There's no later. They have Lombardi aspirations. It's no secret. They talk about it all the time."
It's great to have an aggressive organization, but I think this was a panic move by the Colts, who surrendered a first-round pick to the Browns. Richardson gives them a legitimate running back to help QB
Andrew Luck
, but he won't be a game changer behind that offensive line. Luck is only a second-year player, so the window of opportunity will be open for many years. Like I said, they panicked.
6. Impact on the Jets:
The Colts/Browns trade could affect the Jets in 2014. Clearly, the Browns are in the market for a franchise quarterback, and now they have two first-round picks to wheel and deal their way to the top passer in the '14 draft, presumably Teddy Bridgewater of Louisville. The Browns own five picks in the first three rounds, plenty of ammunition to make trades. If the Jets don't like what they see from Geno Smith and want to draft another quarterback, it'll be really hard to move ahead of the Browns.
Then again, after trading their best player, the Browns could up with the No. 1 pick without having to trade up.
7. Rex and Marty Show:
Mark my words, you'll be hearing the phrase "run-pass ratio" a lot throughout the season. The chatter already has started. Ryan is saying all the right things, claiming he's all-in with Marty Mornhinweg's pass-heavy approach, but this bears watching. Ryan is a defensive-minded coach and defensive-minded coaches have "ball control" in their DNA, especially when there's a rookie quarterback involved. Under Mornhinweg, they're running the ball in only 37 percent of the plays. In 2009,
Mark Sanchez
's rookie year, they ran 59 percent of the time.
8. Class of '13
: GM John Idzik is getting a lot of bang out of his first draft, at least in terms of playing time. Smith and FB
Tommy Bohanon
have played in 100 percent and 43 percent of the offensive snaps, respectively. For DT
Sheldon Richardson
and CB
Dee Milliner
, it's 90 percent and 78 percent of the defensive snaps, respectively. Milliner, benched at halftime last week, will be part of a rotation against the Bills.
9. The Iron Man
: LT
D'Brickashaw Ferguson
has started every game in his career (114) and has missed only one play. There have been 7,330 offensive plays since his rookie year, 2006, according to ProFootballReference.com
10. Keeping up with Mr. T
: Former GM Mike Tannenbaum is off to a fast start in the agent business, having signed at least 20 new clients from the coaching and media ranks. Sports Business Journal
catches up with Tannenbaum
to see how he's enjoying his new gig.
January, 11, 2013
1/11/13
7:34
PM ET
It's official. The
Kansas City Chiefs
announced they have hired Jets linebackers coach Bob Sutton to be the team's defensive coordinator.
It also means that the Jets officially have another slot to fill in the coaching ranks. The limos should be pulling up regularly at the team's Florham Park training facility as the interviews continue.
January, 11, 2013
1/11/13
1:59
PM ET
[+] Enlarge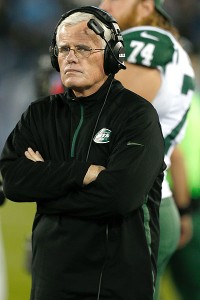 AP Photo/Scott BoehmBob Sutton
The Jets granted permission for the
Kansas City Chiefs
to interview linebackers coach Bob Sutton, according to a league source.
Sutton will be the Chiefs' next defensive coordinator under new coach Andy Reid, according to several reports. The move is not yet official.
Sutton was with the Jets for 13 years, including two years as defensive coordinator under then-coach Eric Mangini. Sutton coached at West Point before that.
The Jets are in the market for a number of positions, including defensive coordinator, offensive coordinator and general manager. Defensive backs coach Dennis Thurman is the widely believed to be the top candidate for the defensive coordinator position.
Coach Rex Ryan's brother Rob was just fired from his defensive coordinator position with Dallas, and outsiders speculate he could be considered for one of the available spots.
August, 3, 2010
8/03/10
2:20
PM ET
It didn't take long for things to get chippy. Wayne Hunter got a few too many late hits from Kenwin Cummings and it was on. Pretty soon, Jets offensive coordinator Brian Schottenheimer and defensive assistant Bob Sutton were firing R rated words around.
"It's going to happen in camp sooner or later," said Hunter, "for us it happened sooner."
He added that Cummings is a friend of his off the field, and he should have expected something knowing how competitive the backup linebacker can be. The backup tackle said he got the last word on the field, blocking Cummings on a blitz to finish in a tie.
This kind of back and forth makes Rex Ryan smile. After practice, the Jets coach noted that he was happy with the intensity level of today's morning practice at Jets training camp in Cortland as opposed to Monday when everyone was relatively cordial. He even joked that he'd go through the league to request a fine for the cursing.
"There was a little competitive spirit out there, and it got a little sensitive, I thought. That's always great to see. You love watching it when coaches go at it and all that jazz."
The day offered a few dramatic plays to get the fans into it as well. David Clowney, a wide receiver who had his share of drops and misses, had a 30 yard catch from quarterback Mark Sanchez and would have run it in for a touchdown in a game situation. Clowney got a hug from Jerricho Cotchery as he jogged back upfield with the ball.
Marcus Henry had a nice one-handed catch from Kellen Clemens, who was very limited in practice after reporting with a calf injury. TE Jeff Cumberland got a hold of a ball over safety Emanual Cook — who also got a piece but Cumberland came down with it. In the press conference Ryan said he needed to do a better job of blocking.
Matthew Mulligan had some nice catches, two with Brunell and another with O'Connell. Brunell looked rusty, and would've been sacked three times in the scrimmage drills. He also threw away a few balls under pressure.
DE Vernon Gholston got reps with the first team defense, and Lowery knocked down a pass from Sanchez intended for Cotchery. Calvin Pace grabbed a ball popped up by Braylon Edwards, and Antonio Cromartie had a leaping pick on a ball intended for Clowney. Kris Jenkins (hamstring) didn't practice for a second day.
Damien Woody said that the practice was good, and several players mentioned feeling sore after roughly five hours of practice on Monday. This afternoon is a special teams practice, so the veterans should get some rest.
"The first day, that's probably the best you're going to feel all year," Woody said.
As far as Darrelle Revis' holdout, veteran Bart Scott said it's hard to miss him on the field right now because so much of the time is devoted to learning plays with newer parts.
"In games when guys catch a pass it counts," Scott said. "Out here we just coach a guy up for what he did wrong and get better."
More coaching up at 4:20 when special teams practice starts.