New York Jets:

Brett Favre
May, 2, 2014
May 2
1:00
PM ET
Former players, one representing each team, will announce the second-round picks next Friday night at the NFL draft. The
New York Jets
are enlisting a former first-round choice, quarterback
Chad Pennington
.
Pennington has been more involved in team-related activities over the past couple of years, and that's good to see. As you know, he was unceremoniously dumped a few weeks before the 2008 season, when the Jets developed a crush on
Brett Favre
. A lot of players would've held a grudge, but Pennington has let it go. He remains one of the most popular former players in recent history.
Interesting note on Pennington: He's 37 years old, only a year younger than Favre when he was traded to the Jets.
January, 18, 2014
Jan 18
11:00
AM ET
Geno Smith
has to understand that being the starting quarterback of an NFL franchise -- especially in New York -- isn't just a 16-weeks-per-year job. It's 24/7, 365 days a year, particularly now that the world is filled with amateur reporters and photographers. Social media have changed the playing field for professional athletes. The Jets' quarterbacks, of all people, should know this better than most, considering past incidents involving Brett Favre and
Mark Sanchez
.
There are conflicting stories of what actually happened
Friday at Los Angeles International Airport
. Depending whom you believe, Smith was either the victim of a quick-tempered flight attendant on a power trip or the instigator of a dispute triggered by his refusal to stop yapping on his cell phone while sitting on a Virgin America flight ready to take off for his home in Fort Lauderdale, Fla.
[+] Enlarge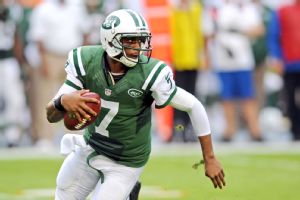 Steve Mitchell/USA TODAY SportsGeno Smith is finding out that playing quarterback for the Jets is a year-round gig.
Either way, Smith created a bad headline for the Jets, the second bad headline of the day. First it was
Kellen Winslow
and his
alleged parking lot escapades
, a 2-month-old story that broke Friday morning, then it was their quarterback in an altercation on a plane. It's particularly embarrassing for a franchise trying hard to shed its image as the NFL's big-top circus.
This much we know: Smith wasn't arrested and airport police didn't file a report, according to the public information officer at LAX. This suggests the incident wasn't serious. At the same time, there was the TMZ video of Smith leaving the airport by himself, getting picked up by a car service. He sure looked like a player ejected from the game, sent to the showers. If the dispute was no big deal, why didn't he stick around to get booked on another Virgin America flight? Maybe it's because the airline sent him away, refusing to rebook him. That's what happened, according to reports.
Smith's alleged behavior doesn't jibe with the player we saw during the season, a seemingly mature rookie who acted professionally in dealing with the media three times a week. Because he played so poorly at times, his media sessions were more like interrogations than interviews, but he rarely flinched, almost always managing to stay on his talking points. No doubt, he was coached up by the team's public relations staff, but you always wanted to believe he was just being himself.
Well, it's the offseason now, and the players are scattered across the country, interacting in the real world without the constant aid of a PR official. It's Smith's job -- and the job of every player -- to represent his employer in a positive manner. You want your quarterback to be the CEO of the franchise. Even if he can't play like
Peyton Manning
, you at least want your quarterback to act like him. That's the model. You'd rather have your quarterback making TV commercials than making news for the wrong reasons.
Smith isn't having the greatest offseason. A woman, saying she had an affair with him, posted a photo that she alleged to be of Smith's private parts. Naturally, it fueled comparisons to Favre and Sanchez, both of whom ended up on the Internet in -- shall we say? -- unflattering situations.
Look, Smith is young, only 23, so he's bound to make mistakes. Maybe he'll respond to these experiences the way he responded to adversity during the season. He found a way to get better. He has to understand that we don't stop keeping score when the last game ends.
December, 5, 2013
12/05/13
12:45
PM ET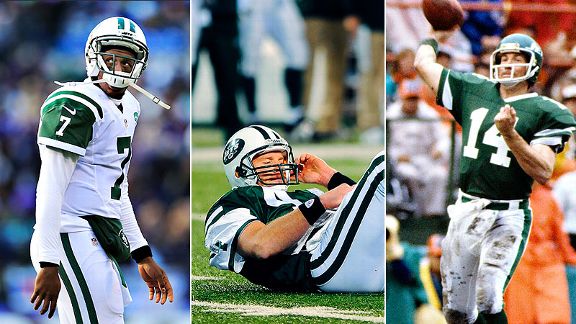 Getty Images, USA Today SportsFrom Geno to Favre to Todd, ESPN New York ranks the 10 most frustrating Jets QBs of all time.
Geno Smith
is having a historically bad run. So we put together a list of the Top 10 Jets Quarterback disappointments of all time.
Here's the list:
Photo Gallery
Were we on the money, off base? Let us know what you think in the comments section.
December, 1, 2013
12/01/13
5:00
AM ET
Thoughts and observations on the
New York Jets
:
1. Woe-ffense
: The common alibi for the lack of skill-position talent on offense is to blame Rex Ryan's defensive-minded influence in the draft room. While it's true the Jets have picked defensive players in each of the past four first rounds, they can't be accused of ignoring the offense. In the five drafts of the Ryan era, they've used 13 of 28 picks (46 percent) on skill-position players -- by far the highest percentage among AFC East teams. The next-closest team is the
Miami Dolphins
(13 of 40 picks, 33 percent).
The problem for the Jets isn't quantity, it's quality. Not one of those 13 picks is a productive starter for the team. WR
Jeremy Kerley
and RB
Bilal Powell
are the best of the bunch, but they're complementary players best suited for part-time roles. Obviously, the Jets can improve the success ratio by investing a first-round pick in an offensive player -- and they probably will next spring -- but smart-drafting teams are able to find impact running backs and wide receivers in the middle rounds. The Jets have failed to do that.
2. Costly miss
: The pick that hurts the most is WR
Stephen Hill
, chosen in the second round (No. 43 overall) in 2012. It cost the Jets a fifth-rounder as well, because that was the price for trading up. Why trade up? The scouting department was high on Hill. How high? This might surprise you: The Jets gave Hill a mid-first-round grade.
3. A forever drought
: The last Jets draft pick at a skill position to make the Pro Bowl was WR
Santana Moss
(2001 draft), but he was selected as a member of the
Washington Redskins
. The same could be said of WR
Laveranues Coles
(2000) and WR
Keyshawn Johnson
(1996), who made it while playing for the Redskins and
Tampa Bay Buccaneers
, respectively. The last player drafted by the Jets to make the Pro Bowl in a Jets uniform was FB
Richie Anderson
(1993), a Pro Bowler in 2000. That was a scary long time ago. RB
Thomas Jones
and QB
Brett Favre
made it in 2008, but they were drafted by other teams.
4. Slamming on the brakes
: Coaches talk about the rookie wall. Well, it seems like Powell has hit the veteran wall. One of the Jets' biggest surprises in the first month, Powell hasn't rushed for more than 41 yards in seven straight games. He doesn't have the same elusiveness as he did in September, which could be traced to training camp. Because of injuries to other backs, he was overworked in camp. Ryan expressed concern about it, and now it seems like all those reps have caught up to Powell.
5. Been there, done that
: At a community event the other day, QB
Mark Sanchez
said of rookie
Geno Smith
, "I've totally experienced what he's going through" -- probably more than he realizes. Sanchez's statistics in his first 11 career starts were eerily similar to those of Smith. Check it out: As a rookie, Sanchez posted a 5-6 record, with a 53.5 percent completion rate, 6.9 yards per attempt and 17 interceptions. Smith has a 5-6 record, a 55.2 percent completion mark, 7.0 yards per attempt and 18 interceptions. It must be déjà vu for Ryan.
6. More bad Geno
: At the risk of piling on, Smith is suffering through one of the worst statistical seasons in recent memory. He already has had three games in which his QBR was lower than 5.0 (on a scale of 100). Since 2006, when ESPN started compiling the QBR stat, only four quarterbacks have done that. The other three are
Rex Grossman
(
Chicago Bears
, 2006), Sanchez (2009 and 2012) and
Blaine Gabbert
(
Jacksonville Jaguars
, 2013). Like I said, it's déjà vu for Ryan.
7. A long (country) road from West Virginia
: On Friday, Ryan spoke of the challenges Smith has faced this season -- learning to play under center and trying to master the rhythm of five- and seven-step drops in an NFL offense. I'm sorry, but that's not what Ryan was selling at the start of the season. He downplayed those factors, insisting Smith was ready. Clearly, he wasn't. Ryan finally admitted what many have known since the outset.
8. The quarterback option
: If Ryan thought
David Garrard
was the answer, he'd already be in there. Ditto,
Matt Simms
. It's not like Smith has given the coaching staff a bunch of reasons to stick with him. He has gone 120 straight attempts without a touchdown pass, going 0-for-November.
9. Made of iron and brick:
New York is home to two of the most durable players in the league. LT
D'Brickashaw Ferguson
has started 123 consecutive games. The only non-kickers with a longer streak are Redskins LB
London Fletcher
(210) and
New York Giants
QB
Eli Manning
(146).
10. Expect the unexpected
: Weird and memorable things tend to happen whenever the Jets and Miami Dolphins play at this time of the year. In 2010, there was the Sal Alosi game. In 1994, there was the infamous Fake Spike. What will happen this time? Maybe it'll be something totally off the hook ... like, maybe, an outburst by the Jets' offense.
October, 9, 2010
10/09/10
4:16
PM ET
The NFL will look into the allegations that QB Brett Favre made unwanted and persistent advances to several Jets employees while he played for the team. The ESPN story is here.
The most problematic part of it for the Jets so far is the Deadspin report that a member of the PR staff facilitated the introduction of Favre and game day host Jenn Sterger. If that were the case, the organization would have knowingly enabled Favre's allegedly inappropriate behavior.
Yesterday I spoke independently with several within the organization about this, and a spokesperson later confirmed on the record what they all said; that the team looked into it and found that part of the report to be false.
The Jets say their staff member played no part in helping Favre reach Sterger.
If the allegations are true, and now there are allegedly two massage therapists for the team who have told Deadspin that they also received unwanted advances, there could possibly be consequences for Favre under the NFL's personal conduct policy.
Today NFL spokesperson Greg Aiello said the league was continuing to review the matter, but had no additional information about whether the league would visit the Jets and interview staff members about the allegations.
October, 9, 2010
10/09/10
10:34
AM ET
In 1997, Jason Taylor had just been drafted by Miami. He faced Brett Favre in the first preseason game of his career, and it was a moment he'll never forget.
"It was right after Brett signed his contract to be the highest paid player in the NFL," Taylor said. "It was my first sack, even though it didn't count it was a preseason sack, I was obviously very fired up about that."
He might have fewer opportunities to get another sack on the QB, who will turn 41 on Sunday. Taylor had been starting at linebacker due to Calvin Pace's absence. Pace broke his foot in a preseason game but will return this week.
"I'm sure I'll play less," Taylor said. "He's the starter at those position so he'll get back in the rotation and I'll go back to working with (Bryan Thomas) and Calvin in the rotation. I'm glad he's back and healthy. He's looking good."
In the years since he joined the league, Taylor has watched plenty of film on Favre and has gotten to know his tendencies. He knows what Favre's strengths are, and said he is a bit more durable than your average player.
"No quarterback likes to get hit," Taylor said. "...Brett's been around long enough he will stand there and take a hit."
Taylor said that Favre is an unusually effective quarterback because he can throw angles that other QBs wouldn't even attempt. The way he can hit a receiver throwing across his body, Taylor said there are no dead areas of the field, every part has to be defended.
"Playing against a guy like Brett is pretty stressful because you know the guys going to make every throw on the field," Taylor said.
As to whether Favre has lost a step to age, or if he would be less impressive because of the tendinitis in his elbow that has limited Favre in Vikings practice.
"Trust me he has tendonitis in more places than his elbows," Taylor said.
Taylor will have to endure a commemoration of the Jets win over Miami 10 years ago, dubbed the Monday Night Miracle, this Monday at the New Meadowlands. He said the game always seems to be on replay when he turns on the television late at night.
"It was a Monday Night Miracle up here and a nightmare in Miami," Taylor said.
But to his credit, Taylor said that he'd still rather watch a replay of the painful game than an episode of "Jersey Shore."
October, 6, 2010
10/06/10
6:55
PM ET
When LaDainian Tomlinson was looking to leave San Diego, he whittled his considerations down to considerations: the Jets and the Vikings.
And as the Jets running back worked through the positives of each program, he spoke with Vikings quarterback Brett Favre. Favre didn't trash his old team in New York, instead the former Jet said both programs had good front offices. Now, fresh off being named the AFC offensive player of the week, Tomlinson and the Jets will face the team he might have called home.
"Physically from a couple of years ago, at this time I was still battling some injuries that I had, so physically I feel great now," said Tomlinson, drafted by the Chargers in 2001. "I don't have anything going on. I'm practicing at full speed and so I'm doing great."
On Wednesday after practice, he revisited the time he was making the choice between the two programs.
He felt like in Minnesota he would ultimately be a replacement for Chester Taylor. In NY, they showed him a stack of newspaper articles claiming he was washed up, asking how could the two work together to rewrite the script. Knowing Jets offensive coordinator Brian Schottenheimer from his days in San Diego, made him feel comfortable.
But Tomlinson ultimately chose New York after talking to his wife, LaTorsha, who said she had no interest in a Minnesota winter.
"My wife had a lot to do with it I'm going to be honest with you," Tomlinson said. "'I don't want to go to Minnesota,' OK, Honey."
Whatever the deciding factor, Jets coach Rex Ryan is glad Tomlinson is here. He had the veteran back speak to the offense, and he had such a good message — drawing on the wisdom of Vince Lombardi himself — that Ryan had him go down the hall and talk to the defense too.
"He's just a great teammate," Ryan said. "I know one thing, he's lifted not just the offense, but the defense as well. He's one of those rare players who has that kind of gift."
So far this season he has 341 yards on 56 carries and three touchdowns. He's about halfway to last year's total rushing yardage of 730 yards on 223 carries with the Chargers, and has upended the idea that he'd be the No. 2 option behind Shonn Greene.
"You get to a point when you've been in the league for a number of years, mentally you can start to be drained," Tomlinson said. "I'm at the point where this has refreshed me being here and so mentally I feel great."
So far, it looks like the Jets got a steal with Tomlinson and he has used the team to revitalize his career.
"It was time I needed a new challenge," Tomlinson said.
April, 20, 2010
4/20/10
7:35
PM ET
The Jets schedule has come out.
Week 1: Ravens at Jets
Week 2: Patriots at Jets
Week 3: Jets at Dolphins
Week 4: Jets at Bills
Week 5: Vikings at Jets
Week 6: Jets at Broncos
Week 7: Bye
Week 8: Packers at Jets
Week 9: Jets at Lions
Week 10: Jets at Browns
Week 11: Texans at Jets
Week 12: Bengals at Jets
Week 13: Jets at Pats
Week 14: Dolphins at Jets
Week 15: Jets at Steelers
Week 16: Jets at Bears
Week 17: Bills at Jets
No, the Jets don't open with the Dolphins. Despite the anticipation of matching up against
Jason Taylor's
former team, complete with showtime wide receiver
Brandon Marshall
, that matchup will be in Miami on week 3 and again on Dec. 12 when the Jets host the Dolphins.
The NFL has given the Jets a worthy opponent in Week 1, when the Ravens will be the first opponent for the Jets at the New Meadowlands Stadium on Monday night on ESPN. Rex Ryan's former team will offer plenty of storylines, and a competitive game.
The Jets could face their old quarterback
Brett Favre
when the Vikings come to New York on Oct. 11, for another Monday night game. Favre has yet to reveal whether or not he plans to come back yet. In another matchup of familiar faces, the Jets are in Cleveland on Nov. 14, Eric Mangini's new home and where Ryan's brother is the defensive coordinator.
As for weather, the Jets won't get a break from the cold late in the season. The visit to the Dolphins takes place on Sept. 26 and the last four games are, in order, hosting the Dolphins, traveling to Pittsburgh and Chicago, and closing the regular season when the Bills visit.
I pick the wins and losses
. Keep in mind this is my first stab at this and I'm no
Nostradamus
.