New York Jets:

Brian Cushing
March, 30, 2013
3/30/13
8:00
AM ET
One play will forever link
Matt Slauson
and
Brian Cushing
.
When the Jets hosted the Texans on Oct. 8, 2012, Slauson, now an ex-Jet after signing with Chicago on Friday, delivered a cut block to Cushing. The hit knocked the Texans linebacker out of the game, and ultimately sidelined him for the year with a torn ACL. The hit would spur debate about its legality.
[+] Enlarge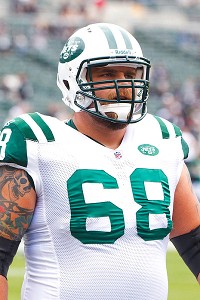 Jason O. Watson/US PresswireMatt Slauson
Five months later, that play still sticks with Slauson.
"I think about it all the time. It was just unfortunate the way it happened, Brian getting hurt. I didn't want it to happen. I was just trying to do whatever I could to win," Slauson said, according to the Chicago Sun-Times. "And unfortunately, it worked out very badly. It was a frowned upon block. But I think about it all the time, and I'm really sorry the guy got hurt for it."
In the aftermath of the block, Slauson defended his hit, saying he and his coaches believed it was legal. Houston defensive coordinator Wade Phillips called the hit "unnecessary," and the league ultimately fined Slauson $10,000 for an illegal peel-back block.
Slauson told the Sun-Times he attempted to reach out to Cushing -- he got the linebacker's number from Cushing's college teammate and current Jets quarterback
Mark Sanchez
-- but the two couldn't connect.
"I tried," Slauson said. "But it didn't work out. I wanted to let him know that I was really sorry. I heard he's a great guy, and I wish him all the best, and I'm sure I'm going to be seeing [him] on the field again."
Slauson started 48 of 51 career games with the Jets, including every game the past three seasons. He took a pay cut prior to last season and was rotated with
Vladimir Ducasse
during the campaign. The Jets originally drafted Slauson in the sixth round of the 2009 draft.
"The Jets were in contention, but they couldn't match what the Bears were offering," Slauson told ESPNNewYork.com's Rich Cimini. "The Jets weren't offering any long-term security."
October, 10, 2012
10/10/12
6:55
PM ET
FLORHAM PARK, N.J. -- Jets left guard
Matt Slauson
believes he delivered a legal cut block on Houston linebacker
Brian Cushing
during Monday night's loss to the Texans. Cushing, Houston's leading tackler, suffered a torn ACL on the play and will miss the remainder of the season.
The legality of the hit has been debated as there's been discussion about whether Slauson clipped or used a clean cut block on Cushing. No flag was thrown on the play.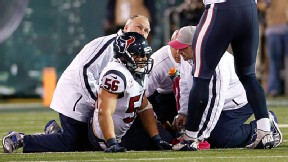 Andrew Mills/The Star-Ledger/US PresswireBrian Cushing tore his ACL on the play.
"Every coach I've ever had has taught to cut on the backside of an outside zone play," Slauson said Wednesday. "I don't know why this is a big deal. I feel bad that Cushing got hurt, that wasn't my intent at all, but I got to do my job."
In the second quarter of Monday's 23-17 loss, the Jets used their wildcat package and ran with
Bilal Powell
. Slauson attempts to block Cushing but runs by him, and later takes him off his feet with a cut block as Cushing tries to pursue the ball.
Slauson said he has been told by his coaches that it was a clean block and said he would be surprised if the league decided to fine him for it. The league can still penalize Slauson although no flag was thrown.
"I wasn't trying to hurt him obviously," Slauson said. "I must have just caught him by surprise. Unfortunately things like that happen."
Jets Head coach Rex Ryan also said it was a legal block and added that his team doesn't cut very often. He explained that some teams, like Houston, use cut blocks on lots of their runs and it's a technique that is taught. He expressed sympathy for Cushing, as well as the NFL.
"With us, clearly, it was a thing that was unintentional and I feel terrible for Brian and for the league," Ryan said. "The league loses when you lose a player like that."
After Cushing's injury, discussion arose about the block as well as measures put in place to defend defensive players. Ryan commended the league for improvements it has made in that regard, such as eliminating high-low blocks on defensive linemen.
Packers linebacker
Clay Matthews
tweeted about the NFL having a double standard when it comes to protecting defensive lineman on below the waist blocks, and said the league needs to do a better job protecting players on both sides of the ball. Cushing's father, Brian, echoed similar sentiments to USA Today.
Slauson said he hadn't heard about the backlash with regards to his play, but didn't speak on it.
He said: "I have no reaction to it."
October, 9, 2012
10/09/12
9:01
PM ET
Matt Slauson
might not want to take a trip to Houston anytime soon. The Jets' guard is taking a lot of heat for his cut-block on Texans LB
Brian Cushing
, which resulted in a torn ACL for the team's defensive MVP. The Texans confirmed the knee injury Tuesday, meaning Cushing is lost for the season -- a devastating blow.
It happened in the second quarter of the Texans' 23-17 win Monday night at MetLife Stadium. On a run off right tackle, Slauson dived at Cushing's lower legs from behind. No penalty flag was thrown, but it appears that Slauson made an illegal block because of where it occurred.
The Houston Chronicle
did a comprehensive breakdown of the play and the rules, determining it was illegal because it came outside the "clipping zone."
Rex Ryan, speaking Tuesday on his weekly spot on 98.7 ESPN New York, said at first that he didn't remember the play after watching the tape. Then he added, "I would never question our guys as far as trying to injure someone or try and do something not in the confinement of the rules."
Ryan said he "would definitely question" the criticism that Slauson is receiving, adding, "I never saw anything specifically; I was just watching our game tape. I'll say this: We got rolled up a few times in our game, and sometimes in this game you have to be fortunate to avoid some injury. I don't know what happened in Brian's case. Obviously he's a tremendous football player and I hate to see any player suffer a serious injury."
The Jets lost NT
Kenrick Ellis
to a sprained MCL in the fourth quarter on a similar, but not identical play. RG
Ben Jones
, pulling to his left, used a cut-block technique on Ellis. But Jones hit Ellis in the thigh area, not as the knees, and he blocked him from the side, not from behind. It's hard to imagine it was retribution for the Cushing hit.