New York Jets:

Curtis Martin
March, 15, 2014
Mar 15
7:00
PM ET
Sixteen years before
Darrelle Revis
, there was Curtis Martin.
The Hall of Fame running back was the first high-profile player to switch sides in the
New York Jets
-
New England Patriots
rivalry, so he knows all about the passion and vitriol of The Border War. Martin remembers hearing more cheers than boos when he returned to Foxborough for the first time, but he doesn't expect New Yorkers to be as gracious when Revis returns to MetLife Stadium.
His advice to Revis: Buckle up.
[+] Enlarge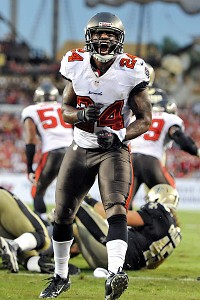 AP Photo/Brian BlancoNew Patriots CB Darrelle Revis won't be receiving a warm welcome when he faces the Jets in New York.
"The game has changed, the fanfare has changed," Martin told ESPNNewYork.com. "I expect it to be a little more hostile, not as welcoming. [He laughed.] I think he should wear his helmet when he comes out of the tunnel."
Revis didn't go from the Jets to Patriots – there was a quick stop with the
Tampa Bay Buccaneers
–- but the fans won't remember his one year in Pewter purgatory when they see him in Patriots colors. Martin can empathize with the anguish of Jets fans.
"I totally understand the feeling," Martin said. "It just makes it that much tougher to beat those guys."
Martin said his initial reaction to Revis signing with the Patriots was, "Wow." He still considers Revis the best cornerback in the league, and he called it a brilliant move by the Patriots. Martin, an avid chess player, used a chess analogy to describe the impact Revis will have with the AFC East champions.
"The Patriots already have that strong piece in
Tom Brady
. He's like the queen, that very powerful person," Martin said. "Putting Darrelle Revis up there is like having an extra queen in the game. That's a powerful move for the Patriots."
The Jets were criticized for not showing interest in Revis, especially since they released
Antonio Cromartie
. They have a gaping hole at cornerback, yet they didn't respond to an inquiry by Revis' agent.
Martin said he didn't expect the Jets to pursue a Revis reunion, seeing as how they already jettisoned him once. Asked if he
wanted
them to make a play for Revis, he gave a yes-and-no answer.
"You put Darrelle on any team, and you've definitely made your team more powerful," he said. "I would always like to see the Jets with the best players, so, yeah, of course. That being said, there was a reason why he was let go, so I wouldn't necessarily expect them to do that."
Some considered Martin a traitor in 1998, when he signed a six-year, $36 million offer sheet with the Jets. The Patriots had an opportunity to match, but they declined because the contract was structured in such a way that it could've blown up their salary cap. After three terrific years in New England, he bolted for the Jets.
"Initially, when I first came out of the tunnel, I heard some people say, 'Traitor,' but for the most part, people were cheering for me," said Martin, recalling his first trip back to New England. "I thought that was pretty incredible. It showed their appreciation for what I was there. It actually made me feel good."
It would be an upset if Revis gets the same treatment.
February, 13, 2014
Feb 13
3:30
PM ET
Piggybacking on LeBron James, who sparked a Mount Rushmore debate this week for the NBA, I decided to conduct an informal Twitter survey to determine the
New York Jets
' Mount Rushmore -- the four most iconic figures in franchise history.
A total of 126 votes were cast. The non-serious votes weren't counted; otherwise, Rich Kotite and
Vernon Gholston
would appear on our tally sheet. Without further delay ... the Jets' version of Mount Rushmore:
Joe Namath -- 120 votes
Curtis Martin
-- 114
Joe Klecko -- 90
Don Maynard -- 46
In my opinion, the fans got it right. I would've voted for the same four players. To me, Namath, Martin and Maynard are no-brainers -- they're Hall of Famers. Namath is Namath (what more can you say?) and Martin was the Jets' version of Derek Jeter from 1998 to 2004. I'm surprised Maynard didn't receive more votes because he was a dominant receiver in the Namath era. In fact, he averaged more than 20 yards per reception in 1967 and 1968, pretty impressive in an era where the cornerbacks were allowed to mug the receivers. He was an all-time great. Klecko, who made the Pro Bowl at three different defensive-line positions in the 1980s, makes it because he owns the unofficial title of Best Jet Not in the Hall of Fame. It's a shame he doesn't garner more consideration.
Aside from Klecko,
Wayne Chrebet
is the most beloved non-Hall of Famer in team history. He's a Jersey guy, the ultimate underdog story. Sadly, his career was cut short by concussions. I wouldn't be surprised at all if Chrebet is inducted into the team's Ring of Honor in the fall. He finished fifth with 33 votes, ahead of Mark Gastineau (23) and
Darrelle Revis
(10), who undoubtedly would've received a lot more love if it weren't for his messy divorce.
Others receiving votes: Weeb Ewbank 9, Wesley Walker 7, Freeman McNeil 5, Al Toon 4, Rex Ryan 4, Matt Snell 3,
Nick Mangold
3, Winston Hill 2,
Chad Pennington
2 and Dennis Byrd 2. Nine others received one vote apiece.
January, 27, 2014
Jan 27
7:15
PM ET
Curtis Martin
always has been an admirer of
Peyton Manning
. Two years ago, the Hall of Famer wanted to see the New York Jets pursue Manning as a free agent. On Sunday, Martin believes Manning will be the difference in Super Bowl XLVIII.
"I think the advantage comes with Peyton Manning, his mind and his understanding of the game," Martin said Monday during an appearance on ESPN's "Mike & Mike" radio show. "He can go out there and it's like playing chess. He's like a good football chess player. I would give the advantage to Peyton and to the Broncos just simply because of (his) wisdom and knowledge, just because of Peyton's football IQ."
Another edge for the
Denver Broncos
, according to Martin, is Super Bowl experience. No one on the
Seattle Seahawks
has played in a Super Bowl. Martin played in only one, for the 1996
New England Patriots
, and he lost to the
Green Bay Packers
. He said the Patriots' lack of experience that year was costly.
"We were so pumped up, it was almost as though we were too hyped for ourselves," Martin said. "It took us a while to settle down. By then, Green Bay had already jumped out on top of us. I do think there are nerves and excitement, and the entire week leading up to the Super Bowl does have an effect on the players. Everyone wants to say it's just another game, but it's bigger than a game."
January, 19, 2014
Jan 19
5:00
AM ET
Championship notes (hopefully) for a championship Sunday:
1. Knock, knock. Who's there? Bill. Bill Belichick
: The
New England Patriots
' coach is one win away from his sixth Super Bowl and a full week of access to the
New York Jets
' facility in Florham Park, N.J. The prospect of the SpyGate kingpin roaming the halls has to be unnerving for Jets fans -- and maybe the organization, too.

The AFC team in Super Bowl XLVIII will practice at the Jets' facility, the NFC team at the Giants' place. That's the set-up. The trepidation is understandable, considering Belichick once got into a heap of trouble for illegally videotaping the Jets' signals during a game, but I wouldn't get too concerned. The facility will remain fairly secure. According to the league:
Coaches don't share coaches' offices. So, no, Belichick wouldn't have the chance to put his feet up on Rex Ryan's desk.
Teams usually hold meetings at their hotel, where meeting space is set up by the league. Both teams are staying in Jersey City.
Teams usually eat at the team hotel, so they won't get to sample the impressive fare at the Jets' cafeteria.
Equipment is loaded into the locker room and kept there for the duration. Depending on the type of practice, the players will get dressed in the locker room. You can bet the Jets' staff will inspect it beforehand, removing any type of intelligence (i.e. game plans or iPads) left behind from the season.
Most host teams will have their staff off during the times the Super Bowl participant is at the facility, so there's no chance for the staff to see the AFC team's staff or players. Too bad; a Ryan-Tom Brady encounter at the water cooler would've been priceless.
The visiting team will be protected from potential espionage as well. Windows of any office with a view of the practice field will be taped over.
Chances are, Belichick, whose disdain for his former team is well documented, would feel more uncomfortable than his hosts. In the field house, he'd practice beneath giant murals of members of the Jets' Ring of Honor, including the one that got away from the Patriots -- Curtis Martin. Around the building, he'd see "Play Like a Jet" references on the walls, probably making him queasy. In short, it's probably the last place in the world he'd want to prepare for a Super Bowl.
2. Thoughts on the Rex-tension
: Before Ryan finalized his contract extension, there were some people who thought he'd take a chance and coach out his current deal, becoming a free agent in 2015. That's tough to do, of course. When someone puts $4 million on the table, it's hard to walk away. He reportedly is due to make $3.3 million in 2014 (under his previous contract) and, from what I understand, he'll get a small raise for 2015 -- figuring close to $4 million guaranteed. Some people say he didn't get as much security as he coveted -- 2016 is a quasi-option year -- but I think he did OK for a coach who has missed the playoffs for three straight years.
3. Bottom line on Rex
: Because it's technically a "multi-year" extension, the contract will create the perception that Ryan is safe beyond 2014. Yeah, it might quiet some of the speculation, but here's the reality: He's back to where he was before the 2013 season. As someone who knows Ryan told me, "If he bombs, he's gone."
4. Merit raises:
RB
Bilal Powell
and WR
Jeremy Kerley
, heading into the final year of their rookie contracts, each received a $744,000 bump for 2014, thanks to salary escalators, according to overthecap.com. It brings their salary up to $1.389 million in '14. To earn an escalator, a player (drafted in Rounds 3 through 7) must play in at least 35 percent of the snaps in two of his first three seasons or 35 percent of the total snaps over the three-year period.
5. The Simms spotlight:
Backup QB
Matt Simms
has a link to two of the "Final Four" quarterbacks -- and, no, I'm not referring to the fact that his famous dad will be broadcasting the Patriots-Broncos AFC championship. In 2010, Simms attended the Manning passing academy in Louisiana, hosted by
Peyton Manning
, Eli and their father, Archie. It's a four-day event for high school and college quarterbacks. One of Simms' fellow campers was
Colin Kaepernick
. In a skills competition, Simms finished second, ahead of Kaepernick and some kid named
Andrew Luck
. Yeah, Simms always could sling it, and now he's starting to mature as a player. The Jets recognize it, signing him before the season ended to a one-year, $495,000 contract (the second-year minimum).
By the way, Taylor Potts of Texas Tech (who?) beat out Simms in the skills competition.
6. Not 'The Man':
After Friday's incident, I guess
Geno Smith
shouldn't expect to land one of those cool headphones commercials, a la Kaepernick.
7. So long, Sammy
: Waiting in line at a restaurant the other night, a Jets fan asked me, "Can we get
Sammy Watkins
?" The draft still is more than three months away, but fans already have developed an affinity for Clemson's stud wide receiver, who would address a huge need for the Jets. Could Watkins fall to 18th? No way. An NFC scout, whose team picks in the top 15, said Watkins wouldn't get past them.
"He ain't gonna be there," said the scout, speaking on the condition of anonymity. "Tell John Idzik, unless he trades up, he won't get him. He's a great kid, he works hard and he has some of the quickest hands you'll ever see. This kid has an unbelievable talent. He can fly and he has courage."
8. If not Watkins, then ...:
There will be other wide receiver options for the Jets at 18.
Marqise Lee
(USC) could be there. A longtime scout told me, "I like him. Big-play ability. I could see the Jets taking two receivers in this draft and signing one in free agency."
Kelvin Benjamin
(Florida State) is a rising talent. Said the NFC scout: "He's got first-round talent. Before this year, every time I saw him, he was dropping easy ones, but he's matured and improved. He's running routes better and it seems like he's finally figured it out."
9. Dreaming of Johnny Football
: Unless
Johnny Manziel
pulls an embarrassing stunt before the draft (thrown off a plane?), he won't fall to the Jets at 18. Some mock drafts project him going No. 1 overall to the
Houston Texans
. Our NFC scout said of Manziel, "He has unbelievable instincts. He's got eyes in the back of his head. He can run and throw and win games. But he's kind of small. He looks like a peanut. Durability could be a big issue, but that [kid] can play." It would be a major upset if he lasts beyond the top 8.
10. Losing games and viewers
: TV ratings are soaring for the NFL, but the Jets are one of 10 teams whose local ratings have declined for two straight years, according to the Sports Business Daily. Their two-year drop is 19 percent, the second highest in the league. Only the
Oakland Raiders
(22 percent) suffered a bigger fall off. By the way, the
New York Giants
weren't far behind at minus-15 percent.
January, 9, 2014
Jan 9
3:00
PM ET
Remember when the
New York Jets
were known as the most dysfunctional team in the NFL? That unofficial title now belongs to the
Miami Dolphins
-- the South Beach circus.

Mangini
Turns out the
Richie Incognito
-
Jonathan Martin
bullying scandal was only the start of the Dolphins' woes. These days, they're making news with a fractured front office that makes the Christie administration look like the honor society. It might be safer to swim with sharks than to work for the Dolphins. Then again, it's kind of the same thing.
"A lot of politics," a person familiar with the situation told me.
General manager Jeff Ireland, who failed to make the playoffs in any of his six seasons, agreed to part ways with the team this week after losing a power struggle with coach Joe Philbin, according to reports in South Florida and elsewhere. Funny thing is, there's a greenish tint to the entire mess -- meaning links to the Jets.
One of the biggest sharks in the Miami tank apparently is Dawn Aponte, the executive vice president of football administration -- a former underling of ex-Jets general manager Mike Tannenbaum. Aponte
reportedly
stabbed Ireland in the back, formed an alliance with Philbin and worked her way into the inner circle of owner Stephen Ross.
Ross, a super wealthy businessman who lives in New York, has a curious affinity for former Jets. He recently named Jets Hall of Famer Curtis Martin to his "Bully Board" -- an advistory committee that was formed in the aftermath of the Incognito-Martin controversy. In addition, one of Ross' most trusted advisors is Matt Higgins, former team president of the Jets.
You can't make this stuff up.
Dolphins team reporter James Walker does a nice job of outlining the Dolphins-Jets parallels
on his blog.
It's a must-read.
So now the Dolphins are looking for a new general manager, and the names being reported in the South Florida media include Tannenbaum and former Jets coach Eric Mangini, currently an offensive consultant for the
San Francisco 49ers
. Once upon a time, Tannenbaum rose to power in the Jets' organization when he convinced owner Woody Johnson to hire Mangini away from Bill Belichick. The Tannenbaum-Mangini alliance ruled the Jets for three years. When Mangini was fired, and hired by the
Cleveland Browns
, he brought along an up-and-coming star in the front office.
Aponte.
This would be a great reality show, wouldn't it?
November, 16, 2013
11/16/13
8:00
AM ET
Our weekly Q & A is with Hall of Fame running back Curtis Martin, who was in the news recently. He accepted an invitation by
Miami Dolphins
owner Stephen Ross to serve on an advisory committee to review the Dolphins' conduct policies and make recommendations in the aftermath of the
Richie Incognito
-
Jonathan Martin
bullying scandal:
How does a former Jets great end up on a Dolphins committee?
Martin
: It doesn't have anything to do with it being the Miami Dolphins; this is a universal problem. It's this situation. You know all about the turmoil it has caused. Stephen wanted to pick out individuals he trusted, people like (former Dolphins)
Jason Taylor
and
Dan Marino
. I'm more of an outside point of view.
You don't see anything weird about it?
[+] Enlarge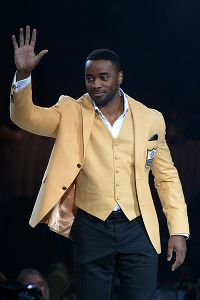 Kirby Lee/USA TODAY SportsCurtis Martin is going to serve on an advisory committee to review the Dolphins' conduct policies in the aftermath of the Jonathan Martin-Richie Incognito situation.
Martin:
No. At the end of the day, the NFL is part of my family now. It wouldn't matter what team it was. This is something I wanted to do. It's a very important issue.
In all the years you played, did you ever witness this type of bullying?
Martin:
No, I've never seen anything like it, personally. I'll be really interested to see the final facts. In a situation like this, you have to get all the facts and make a judgment. When I was playing, there's no way I'd be aware of a situation like this and not address it. I take this issue very seriously. I hear a lot of people saying a lot of things. People say [the Dolphins] had to know it was going on, but that's not necessarily true. Really, I'd rather wait until we have all the facts before I say anything more about it.
How did you get to know Stephen Ross?
Martin
: We've had some interactions in the past. I definitely have a lot of respect for him. From his words, I think he appreciates the way I think about things.
When you retired in 2007, you said you were close to becoming involved in the ownership of an NFL team A short time later, Ross purchased the Dolphins. Were you talking to him about becoming a part owner of the Dolphins?
Martin:
When I was freshly retired and looking to buy into team, he was one of the guys generous enough to give me good advice. I was seeking out the expertise and experience from different owners. I wanted to talk to some owners who had been around a long time, and I wanted to talk to new owners.
Let's talk about the Jets. Are you surprised they're doing so well?
Martin
: I don't necessarily feel surprised about it. I always like to see how things play out. I'm glad they're doing well. Say what you want, but 5-4 is encouraging. There's a lot of potential there. Geno [Smith] is growing and growing.
What do you think their record would be if Mark Sanchez still were the quarterback?
Martin:
That's a real guess. To be honest, if I knew, I'd say. Sanchez has had pretty decent years, but I like Geno's talent. He's versatile. He has escapability, along with a pretty good arm. Once this kid totally understands the game … I equate it to chess. When I started to learn to play chess, I made some good moves, but I didn't have a sense of the whole board. It's the same thing with playing quarterback. You have to know where everybody is on the field. That will come in time. Geno will be very dangerous as he develops that quality.
You're also a member of the Super Bowl XLVIII committee. How's that going?
Martin:
It's been a learning experience. I always thought the teams just showed up at the game, there was more traffic and that was all there was to the Super Bowl. But it's so much more than that. You have to work with the lighting on the field, transportation, sponsorships. What if it snows? It's really a huge, huge task to put on a Super Bowl. Woody Johnson wanted me to sit in on the committee, on hehalf of the Jets, and I consider it a tremendous honor. This is going to be one of the biggest, best Super Bowls ever.
November, 20, 2012
11/20/12
12:29
PM ET
FLORHAM PARK, N.J. -- Hall of Famer
Curtis Martin
would like to see more
Tim Tebow
"Personally, maybe, because he's there and I believe in giving guys an opportunity," the former Jets great said Tuesday morning on the NFL Network. "It's not for me to question the head coach's decision. The way things work out, if Mark (Sanchez) isn't playing well and things don't go well, Tebow will be in there eventually."
Tebow's role has been debated since Week 1. He has played in only 65 offensive snaps, only 10.2 percent of the Jets' total plays. Asked if the Jets are getting enough out of Tebow's various skills, Martin said:
"It's important for a head coach to have faith in his starting quarterback. When (Rex Ryan) feels Mark has taken the team as far as he can take the team, he will make that change. Until then, we will continue to see
Mark Sanchez
."
July, 31, 2012
7/31/12
6:29
PM ET


The Jets will kick off the regular season with Curtis Martin Day on Sept. 9, when they will retire his No. 28 jersey. Defensive end Dennis Byrd's No. 90 jersey will be retired Oct. 28.

Martin, a running back from 1995 to 2005, will be inducted the Pro Football Hall of Fame on Saturday. Martin was drafted by the Patriots, became a Jet in 1997 and retired in New York.

Byrd was drafted by the Jets in 1989. He suffered a career-ending spinal-cord injury in 1992; he underwent extensive physical therapy and regained the ability to walk. The Jets have brought him in to speak to current players on several occasions.

February, 4, 2012
2/04/12
6:32
PM ET
INDIANAPOLIS -- For 11 seasons as a player,
Curtis Martin
never sought the spotlight. On Saturday night, it finally found him -- and he didn't mind one bit.
Martin, the quiet, dignified and tough running back who helped legitimize the New York Jets in the late 1990s, was elected to the Pro Football Hall of Fame in his second year of eligibility. He joined
Joe Namath, Don Maynard
and coach
Weeb Ewbank
as the only Hall of Famers who carved their legacy with the Jets.
It could've been a New York-New York party, but former Giants and Jets coach
Bill Parcells
-- a two-time Super Bowl champion -- wasn't among the five modern-era inductees. The others were
Dermontti Dawson, Chris Doleman, Cortez Kennedy
and
Willie Roaf
.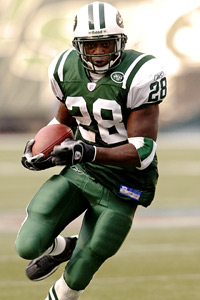 Al Pereira/Getty ImagesCurtis Martin rushed for 14,101 yards, gaining 4.0 yards per carry.
Jack Butler
, a Steelers cornerback from the 1950s, was also elected.
Martin, who last played in 2005, became the 29th modern-era running back elected to the Hall. He's the fourth-leading rusher in NFL history, with 14,101 yards.
This caps a remarkable football journey for Martin, 38, who didn't play organized ball until his senior year at Taylor Allderdice High School in Pittsburgh. He scored on a long run the first time he touched the ball, and he never slowed down, going from Pitt to the New England Patriots to the Jets.
Martin was the embodiment of consistency and durability. He wasn't the biggest or the fastest runner, he didn't make many highlight-film plays and he rarely drew attention to himself with silly touchdown dances. But he showed up every Sunday and performed at the highest level for a decade.
He cracked the 1,000-yard mark as a rookie with the Patriots, and he kept churning them out, all the way to 10 in a row. The only other player to rush for at least 1,000 yards in each of his first 10 seasons is
Barry Sanders
, a Hall of Famer.
Martin's signature season came in 2004, when he claimed the league rushing title with a career-high 1,697 yards. He was 31, the oldest player to win a rushing crown, delivering his best at a time when most backs are either retired or barely hanging on.
He probably could've kept going, too, but Martin suffered a knee injury early in the 2005 season. He played through the pain -- he once said it felt like chards of glass inside his knee -- but he finally broke down late in the year, ending his streak of 119 consecutive starts. He never played again.
Martin was always concerned with team, not self -- and that will be his greatest legacy. He made a stunning gesture during a slump in 2003, saying he'd gladly take a seat on the bench if the coaches felt it would help the team. How many superstars would do that? The coaches stuck with him, and he still ended up with 1,308 yards.
His humility was -- and still is -- legendary around the Jets. Martin once said he liked to pick up used towels off the locker-room floor once a week because it kept him humble. To honor him, the Jets named their team MVP award after him.
It's rare for a non-quarterback to impact a franchise, but Martin did just that -- two franchises, actually. After three seasons with the Patriots, he followed Parcells to the Jets, signing a clever and complicated offer sheet that made it almost impossible for the Patriots to retain him.
Parcells' heist intensified the acrimony between the two bitter rivals, yet Martin somehow remained above the enmity. It wasn't your typical athlete-franchise divorce, as Martin has maintained a strong relationship with Patriots owner
Robert Kraft
. Truth is, you'd be hard-pressed to find a negative comment about Martin from anyone -- former teammate, opponent, anyone.
With Martin and Parcells in New York, the Jets took control of their rivalry with the Patriots, reaching the AFC Championship Game in their first season reunited, 1998. It came only two years after their 1-15 debacle. The Patriots sagged until
Bill Belichick
and
Tom Brady
started winning championships in 2001.
Perhaps the best snapshot of Martin occurred on a practice field, with no crowd and no teammates around. This was in July 2004, before training camp opened. Former general manager
Terry Bradway
looked out his window, and saw a solitary figure -- Martin -- walking through his plays, over and over.
A simple, yet telling moment from a Hall of Fame career.
August, 8, 2011
8/08/11
4:05
PM ET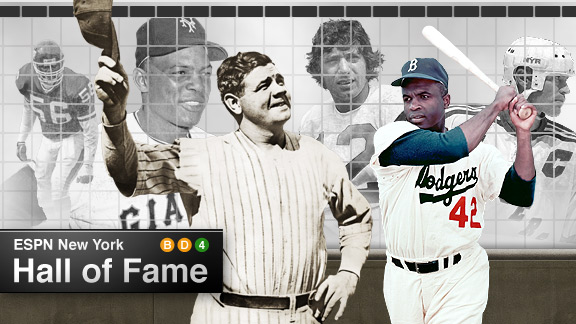 ESPN.com illustration
Vote: Pick the ESPN New York Hall of Fame class »
In honor of ESPN New York's inaugural
Hall of Fame ballot
, here's my top five Jets:
1. Joe Namath, quarterback:
More than 40 years after leading the Jets to their only Super Bowl, Namath remains the franchise's most recognizable figure. His career stats weren't exceptional (more interceptions than touchdowns), partly because of injuries, but experts say he was one of the best pure passers ever. The stunning win over the Colts in Super Bowl III was one of the most significant games in history. Namath guaranteed a victory, creating his legend. There have been many Namath wannabes over the years, but there's only one Broadway Joe. He was inducted into the Pro Football Hall of Fame in 1985.
Darryl Norenberg/US Presswire
Joe Namath is among the New York Hall of Fame finalists:
Top 20

•
Hall of Fame video

2. Don Maynard, wide receiver:
If you're talking about dominating at one position, Maynard could be the best player in team history. He recorded at least 50 catches and 1,000 yards in five seasons (remember, they played 14 games in those days), once averaging 100 yards per game. He was named to the AFL's all-time team and was inducted into the Hall of Fame in 1987. Maynard played in two of the most important games in history: the 1958 NFL Championship Game (as a member of the Giants) and Super Bowl III.
3. Curtis Martin, running back:
The fourth-leading rusher in NFL history was a Hall of Fame finalist in his first year of eligibility, which bodes well for his chances of reaching Canton in 2012. Martin was the heart and soul of the Jets from 1998 to 2005, capped by the NFL rushing title in 2004. Never known as a flashy runner, Martin's trademark was his toughness and consistency. He rushed for at least 1,000 yards in each of his first 10 seasons, the first three with the Patriots. It's no accident that the Jets-Patriots rivalry tilted the Jets' way when Martin changed teams.
4. Joe Klecko, defensive tackle:
Few will argue that Klecko is the greatest defensive player in Jets history. He made the Pro Bowl at three different defensive-line positions -- nose tackle, tackle and end. He's best remembered as a member of the vaunted "New York Sack Exchange," the front four that terrorized quarterbacks in the early 1980s. He once recorded 20.5 sacks in a season -- before sacks became an official NFL stat -- ridiculous for an interior lineman. Klecko, Namath and Maynard are the only players in franchise history to have their numbers retired.
5. Winston Hill, offensive tackle.
He's perhaps the most underappreciated player in Jets history. Hill played left tackle from 1963 to 1976, protecting Namath's blind side and dominating as a run-blocker. Hill was a four-time AFL all-star and was named four times to the Pro Bowl. He was known for his toughness, once starting 174 consecutive games. Only four players in team history have appeared in more games than Hill, who, curiously, never has been nominated for the Hall of Fame.
February, 5, 2011
2/05/11
11:34
AM ET
Whether or not Curtis Martin is elected Saturday to the Pro Football Hall of Fame, this day should be a celebration of the man's life and career. In 22 years of covering the New York Jets, I can say he's the most unique individual I've encountered.

I've written thousands and thousands of words about Martin the player and the person. His philanthropic spirit is unparalleled. Believe me, I've seen it. In 2004, I went to his hometown, Pittsburgh, to interview people from his past.

His mother, Rochella, owns a clothing boutique, and I spent about an hour in the store, talking to her for the story. While I was there, a couple of people came off the street and spoke to Rochella in hushed tones. Each time, she wrote something on a piece of paper. I asked her about it, and she said those were people -- strangers -- wanting to know if Curtis could give them money. One guy couldn't pay his rent and was on the verge of being evicted; there were stories like that.

Rochella told me she compiled a list and presented it to Curtis, and he decided whom to pay. She said he actually gave money to about half the people who came into her store. One time, Martin paid for the funeral of a youngster who was gunned down on the street; his family couldn't afford a proper funeral.

There are dozens, maybe hundreds of these stories, most of which we'll never know. Another anecdote just came to mind: Martin used to play with a $2 bill in his sock, given to him by his slain grandmother. Another favorite came from an interview with Martin in November 2007, when we discussed his first year in retirement and his dream of becoming an NFL owner.

Here's an excerpt from my story, which appeared in the New York Daily News:

Before announcing his retirement, he approached the mayor's office about getting involved in the city's fight against homelessness.

It wasn't a public relations ploy. Martin visits shelters and walks the streets, interacting with the homeless. After his first meeting with Robert Hess, the commissioner of the Department of Homeless Services, he bumped into a homeless woman named Rhonda outside City Hall. Martin gave her $20 and they talked.

About 30 minutes later, Martin summoned Hess to the street, asking, "What can we do for her?"

They spent an hour trying to convince her to enter a nearby shelter.

"You can read people pretty quickly in this business," Hess says. "You can figure out which ones want to give lip service and which ones are serious. Curtis is very serious."

Rhonda declined the invitation to the shelter, but she agreed to accompany the well-dressed man to a nearby Duane Reade store, where Martin bought her $60 in groceries and hygiene products.

"I wish I could re-pay you," she told him. "I'll give you a kiss on the cheek."

Martin leaned over. She gently kissed him.

He filled her cart, she filled his heart.

These moments are his new touchdowns.