New York Jets:

Damien Woody
September, 29, 2013
9/29/13
6:00
AM ET
Week 4 notes on the
New York Jets
:
1. Green with envy
: The Giants won their last two Super Bowls, in large part, because of a franchise quarterback and a dominant defensive line. Clearly, that defensive line is eroding before our eyes. For a change, the best D-line in town belongs to the Jets, whose front three/four is emerging as a premier unit. I'm not saying they'll be playing a home game next February, but it's hard not to be optimistic about the early returns.
[+] Enlarge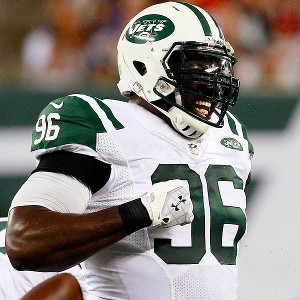 William Perlman/The Star-Ledger/USA TODAY SportsWith the likes of Muhammad Wilkerson, the Jets have one of the better defensive lines in the NFL.
"They've got one of the best defensive lines in the NFL," said ESPN analyst Damien Woody, a former Jet. "You don't think the Giants would trade for the Jets' defensive line? The Giants would kill for the Jets' defensive line right now."
The Jets' front should be good because they picked a lineman in each of the past three first rounds --
Muhammad Wilkerson
(2011),
Quinton Coples
(2012) and
Sheldon Richardson
(2013). Because of salary-cap restrictions, it's rare for a team to invest that much into one position group. Finances eventually could cause the break up of the group, so enjoy it while you can.
Damon Harrison
, undrafted in 2012, is the low-cost guy of the bunch.
You probably won't see another eight-sack performance anytime soon, but the front's ability to generate pressure seems to have affected Rex Ryan's play calling. This season was supposed to mark the return of Blitzing Rex, but check out the numbers: The Jets have used five or more rushers on only 34.9 percent of the pass plays, the league average, according to ESPN Stats & Information.
2. Naming rights
: It's premature to bestow a nickname on the defensive line, but Twitter follower @travisppisani raises an interesting quirk: The line is led by the three "sons" -- WilkerSON, HarriSON and RichardSON. I'll take that a step further. How 'bout "My Three Sons" as a potential nickname? I guess Ryan would be Fred MacMurray, right? I haven't figured out how to get Coples in there, but give me time. That linebacker/line hybrid position is a challenge.
3. Premature celebration
: Richardson said he's motivated by people who questioned his ability to play the run. He's doing well, and not shy about sharing his feelings.
"I've been playing the run most definitely exceptionally well," he said. "I made sure I'm sound in that because of my knocks coming into the NFL, which I didn't understand."
Based on overall performance, Richardson is the seventh-rated 3-4 end in the league, according to ProFootballFocus. His grade would be higher if he tackled
Fred Jackson
last Sunday instead of celebration before the whistle -- "a rookie mistake," he said. "Won't happen again." By the way, the man he replaced, Mike Devito (
Kansas City Chiefs
), is fourth in the ratings.
4. The Buc stops in 2014
: Unless rookie QB
Mike Glennon
is some sort of savior, the
Tampa Bay Buccaneers
(0-3) appear headed to a top-10 draft pick -- or maybe higher. Naturally, the Jets will be second-guessed for not demanding the Bucs' 2014 first-round pick in the
Darrelle Revis
trade.
Before the trade, there were reports saying the Bucs were offering the '14 choice, not their '13 first rounder -- and the Jets were balking. It would be a second-guess on my part if I criticized the outcome because I wrote at the time that the smart play would be take the immediate and known quantity -- the Bucs' No.1 this year (13th overall). They did, using it to select Richardson, who looks like the real deal.
Remember, the Jets will get the Bucs' third rounder as part of the deal, meaning they will have at least three picks in the top 70 if the Bucs continue to tank.
5. Bay Watch
: A divorce between the Bucs and demoted QB
Josh Freeman
seems inevitable. Who could've imagined that
Mark Sanchez
and Freeman -- the second and third-drafted quarterbacks in 2009, respectively -- would be on the outs after five years? They both showed real positive strides in 2010. Of the 11 quarterbacks drafted in '09, only one still has a starting job -- the
Detroit Lions
'
Matthew Stafford
, chosen No. 1 overall.
Freeman will be a free agent after the season. Sanchez is signed through 2016, but likely will be traded or released.
6. Nick the Quick
: The Jets return to the scene of their 2012 lowpoint -- Nashville, where they committed five turnovers and were eliminated from playoff contention last Week 15 with a 14-10 loss to the
Tennessee Titans
. I asked C
Nick Mangold
what he remembered most about that night, and he replied without hesitation: "I short-armed that snap at the end." They had a chance to pull out a victory in the final minute, but Sanchez failed to handle a low, but catchable shotgun snap from Mangold. The Titans recovered.
Mangold has appeared in roughly 7,000 plays in his career and, by his count, he has botched only three snaps -- one in 2006 (
Chad Pennington
at quarterback), last December in Nashville and last week (a premature snap to
Geno Smith
).
"You don't forget them," he said. "I know all of them, biblically."
7. Evil twins:
The Jets should be wary of Titans CB
Jason McCourty
. He and his twin brother,
New England Patriots
S
Devin McCourty
, have turned into Jets killers over the last two seasons.
In Week 2, Devin recovered a fumble and returned it 44 yards. In two meetings last season, Devin scored on a 104-yard kickoff return and, in the Butt Fumble Game, he forced a fumble on a kickoff return -- and the fumble was returned for a touchdown. Jason upheld the family tradition by recording two interceptions in last December's game in Nashville.
The McCourty brothers grew up in Nyack, N.Y., and both attended Rutgers. Maybe this is some sort of payback after being ignored in the '09 draft by one of their local teams.
8. Perspective, please
: The
Buffalo Bills
are a dangerous team in one respect, and one respect only: The Jets usually play so well against the Bills that it creates a false sense of confidence about the team, internally and externally. It happened early last season, and it could be happening now, coming off last week's win. The same people who predicted a 4-12 season are now talking about playoff possibilities. It's a long season, folks. Relax.
9. Johnny on the spot
: One thing I've noticed about GM John Idzik: He likes to be near the action -- or maybe I should say the "competition." It was apparent in training camp, where he was on the practice field, lurking near positional drills. In last Sunday's win, he was on the Jets' sideline in the fourth quarter, behind the bench. In fact, there was a TV shot of him, congratulating
Santonio Holmes
after his game-winning touchdown. I'd like to say Idzik is a Jerry Jones wannabe, but that wouldn't be accurate. Idzik isn't exactly a spotlight guy.
10. The wild, wild East:
Things are moving pretty fast in the AFC East -- literally. The Bills average one play every 29.3 seconds (first in the NFL), followed by the New England Patriots (36.9, seventh),
Miami Dolphins
(37.2, ninth) and Jets (37.7, 11th), according to ESPN Stats. Who knew?
August, 23, 2012
8/23/12
7:23
PM ET
FLORHAM PARK, N.J. -- There was action before, during and after practice on Thursday here at the Atlantic Health Jets Training Center.
Before practice, coach Rex Ryan revealed that
Wayne Hunter
has
lost his starting job at right tackle
in favor of
Austin Howard
.
After practice,
Santonio Holmes
declared himself
fit to play Sunday night
against the
Carolina Panthers
.
In between, the Jets worked out for 2½ hours Thursday afternoon in front of a few hundred fans as training camp winds to a close. They got to see Howard take all the reps with the first unit, and Holmes get a few live reps as well -- wearing a red no-contact jersey -- as he continues to recover from a rib injury.

In terms of other practice observations:
INJURY REPORT:
RB
Joe McKnight
, who missed Wednesday's practice with shin splints, was back on the field, but limited. S
LaRon Landry
was also limited for precautionary reasons. ... TE
Jeff Cumberland
, WR
Patrick Turner
, WR
Chaz Schilens
, DT
Sione Pouha
, CB
Ellis Lankster
and LB
Ricky Sapp
did not practice.
GROUND AND POUND:
The Jets worked extensively on their running game Thursday. Gang Green averaged just 1.8 yards per carry in Saturday night's preseason loss to the Giants, gaining 58 yards on 32 totes.
OPPOSITE SIDES:
The first-team offense and first-team defense rarely matched up against each other Thursday. The Jets were likely preparing for Sunday night's game against the Panthers, having the first-stringers face scout teams.
THE HIGHLIGHT?
Mark Sanchez
completed a beautiful pass over the middle to
Royce Pollard
on one of the few plays when both the first-team offense and first-team defense matched up against each other, in 11-on-11 drills. Pollard went high to reel in the ball, in between safeties
Yeremiah Bell
and
Josh Bush
. Sanchez was fired up after the play.
On the day, Sanchez completed four of seven passes against the first-team defense.
Tim Tebow
went 2-for-3 against them, with a sack.
In 7-on-7 drills, LB
David Harris
dropped a gimme interception thrown by Tebow. But he made up for it with a nice pick on a pass thrown by
Greg McElroy
. Rookie LB
Demario Davis
also had an interception late in practice, in 11-on-11 drills.
THE KICKING GAME:
Nick Folk
nailed all three of his field goal attempts at the end of practice, including one from 53 yards away.
Josh Brown
also connected from 53 yards, but missed a shorter attempt.
REMEMBER ME?
Former Jets offensive tackle
Damien Woody
, now an ESPN analyst, visited practice on Thursday, along with his two sons. Kind of ironic, considering this was the day the Jets made a switch at Woody's former position.
December, 30, 2010
12/30/10
12:37
PM ET
Jets quarterback Mark Sanchez did some light throwing and worked on foot drills during the portion of practice open to the Media Thursday afternoon. It appeared as if it was a normal practice day for Sanchez (right shoulder), who will most likely play Sunday, but it is not known yet to what extend (if any).

In other news, the three Jets who did not practice yesterday: DE Shaun Ellis (back); S James Ihedigbo (knee/ankle) and RT Damien Woody (knee) were not seen during the open portion. CB Antonio Cromartie (groin), DT Sione Pouha (back), DT Trevor Pryce (hip) and CB Darrelle Revis (hamstring) were all out on the field.

More information will be available later when the full practice report is revealed.
December, 24, 2010
12/24/10
4:41
PM ET
Friday's official practice report:

NEW YORK JETS

OUT
DL Trevor Pryce (limited participation) (hip)
T Damien Woody (did not participate) (knee)

DOUBTFUL
S Eric Smith (limited participation) (concussion)

QUESTIONABLE
S James Ihedigbo (limited participation) (knee/ankle)

PROBABLE
CB Drew Coleman (full participation) (groin)
CB Antonio Cromartie (full participation) (groin)
WR Santonio Holmes (full participation) (turf toe)
C Nick Mangold (full participation) (shoulder)
CB Darrelle Revis (limited participation) (hamstring)
QB Mark Sanchez (limited participation) (right shoulder)
WR Brad Smith (full participation) (hand)

CHICAGO BEARS

PROBABLE
WR Earl Bennett (full participation) (ankle)
LB Pisa Tinoisamoa (full participation) (knee)

December, 24, 2010
12/24/10
4:31
PM ET
There is one Chicago Bear that Jets head coach Rex Ryan just can't stop raving about.

His name? Julius Peppers.

As if Peppers really needs any introduction.

The ninth-year pro, a five-time pro bowler, is currently in the running to capture his first Defensive Player of the Year Award.

"He's a guy that causes production," Ryan said Friday. "He's obviously a really productive player. But not only that, he also causes it for others because he forces it really well. He's really that kind of player."

Playing alongside Peppers on the Bears' defensive line has certainly allowed Israel Idonije to make plays. The seventh-year defensive tackle has emerged seemingly out of nowhere and is currently tied with Peppers for the team-lead with eight sacks.

"I'm not familiar with him," said Jets' left tackle D'Brickashaw Ferguson, who will already have his hands full trying to block Peppers. "But I know that defense is something special [the Bears are currently third in the league in points against (17.3 per game)]. They're doing great things, and as an offensive unit I'm sure that we'll figure out what we need to do to win."

As obvious as it seems, the Jets are going to have to protect quarterback Mark Sanchez and his sore shoulder from feeling the wrath of Peppers. New York's offensive line allowed its second-year signal caller to be sacked just once against the Pittsburgh Steelers' vaunted defense last week.

"I played against him last year," Ferguson said. "He's a great player and I'm sure it will be a great battle. He's a very talented athlete. He can do things that can cause tackles a lot of trouble in this league. It should be a great game."

"I just need to execute and pay attention to the little details and have fun out there."

Ryan realizes that the Bears can and probably will move Peppers all over their 4-3 defensive alignment as Chicago looks to exploit weaknesses in the Jets' offensive line. But the onus to stop him isn't going to fall squarely on the shoulders of Ferguson or right tackle Wayne Hunter, filling in for the injured Damien Woody. It's going to have to be a team effort.

"Well, it's not just Wayne matched up on him or D'Brick," Ryan said. "It's gonna be a lot of people. But I'm confident. Of course, I also realize that this guy is the best there is. Hopefully we can do a good job on minimizing him."

Ryan also pointed out the impact Peppers makes against the pass with two interceptions and nine passes defended.

"He's another guy, you can't throw over him," Ryan said. "That's what's so underrated about him. You can try to throw intermediate passes over him ... Well, maybe you can or maybe you can't. The guy's wingspan is incredible. His height, wingspan. It's just incredible how many plays he makes. He'll bat it down and then he'll catch it. There's very few Julius Peppers' walking the face of this earth."
December, 17, 2010
12/17/10
12:19
PM ET
It was beyond cold on the outdoor turf field at the Jets Florham Park practice facility, but Rob Turner still practiced in shorts. That's just how he does it, but the offensive lineman did make a concession to the weather and wore long sleeves.
As for attendance, CB Darrelle Revis was dressed and participating for the portion that we were allowed to watch. He was limited on Thursday with a hamstring injury. RT Damien Woody (knee), S Eric Smith (head) and DE Trevor Pryce were out.
November, 25, 2010
11/25/10
7:08
PM ET
The inactives are out and Damien Woody isn't listed. That means the right tackle with the MCL sprain will be an option today against the Bengals. Woody has not been practicing and was listed as questionable in the final injury report. He was injured during the Texans game last Sunday.
Woody was on the field warming up with the offensive line two hours before the game. He was able to do the high knee walking drill.
For the Bengals, QB Carson Palmer isn't on the inactives list. The former USC QB spent some time talking with Mark Sanchez on the 40 yard line as members of the teams warmed up a few hours before the game.
Jets inactives: CB Marquice Cole, TE Jeff Cumberland, WR Jerricho Cotchery, DT Marcus Dixon, LB Jamaal Westerman, CB Dwight Lowery, Kellen Clemens (3rd QB), and DL Matt Kroul.
The Bengals inactives are CB Brandon Ghee, CB Johnathan Joseph, S Roy Williams, CB Rico Murray, C Reggie Stephens, OT Kirk Chambers, DE Antwan Odom, Dan LeFevour (third QB)
November, 19, 2010
11/19/10
2:04
PM ET
Here's the Jets official injury report for Sunday's game vs. Houston.

OUT
WR Jerricho Cotchery (Groin)--Did not practice
DB Dwight Lowery (Concussion)--Did not practice
DB Marquice Cole (Hamstring)--Did not practice

PROBABLE
LB David Harris (Calf)--Limited in practice (New addition)
WR Brad Smith (Back)--Limited in practice (New addition)
C Nick Mangold (shoulder)--Full practice
LB Josh Mauga (Hamstring)--Full practice
LB Calvin Pace (Foot)--Full practice
DB Darrell Revis (Hamstring)--Full practice
QB Mark Sanchez (Calf)--Full practice
OL Damien Woody (Ankle)--Full practice
August, 3, 2010
8/03/10
2:20
PM ET
It didn't take long for things to get chippy. Wayne Hunter got a few too many late hits from Kenwin Cummings and it was on. Pretty soon, Jets offensive coordinator Brian Schottenheimer and defensive assistant Bob Sutton were firing R rated words around.
"It's going to happen in camp sooner or later," said Hunter, "for us it happened sooner."
He added that Cummings is a friend of his off the field, and he should have expected something knowing how competitive the backup linebacker can be. The backup tackle said he got the last word on the field, blocking Cummings on a blitz to finish in a tie.
This kind of back and forth makes Rex Ryan smile. After practice, the Jets coach noted that he was happy with the intensity level of today's morning practice at Jets training camp in Cortland as opposed to Monday when everyone was relatively cordial. He even joked that he'd go through the league to request a fine for the cursing.
"There was a little competitive spirit out there, and it got a little sensitive, I thought. That's always great to see. You love watching it when coaches go at it and all that jazz."
The day offered a few dramatic plays to get the fans into it as well. David Clowney, a wide receiver who had his share of drops and misses, had a 30 yard catch from quarterback Mark Sanchez and would have run it in for a touchdown in a game situation. Clowney got a hug from Jerricho Cotchery as he jogged back upfield with the ball.
Marcus Henry had a nice one-handed catch from Kellen Clemens, who was very limited in practice after reporting with a calf injury. TE Jeff Cumberland got a hold of a ball over safety Emanual Cook — who also got a piece but Cumberland came down with it. In the press conference Ryan said he needed to do a better job of blocking.
Matthew Mulligan had some nice catches, two with Brunell and another with O'Connell. Brunell looked rusty, and would've been sacked three times in the scrimmage drills. He also threw away a few balls under pressure.
DE Vernon Gholston got reps with the first team defense, and Lowery knocked down a pass from Sanchez intended for Cotchery. Calvin Pace grabbed a ball popped up by Braylon Edwards, and Antonio Cromartie had a leaping pick on a ball intended for Clowney. Kris Jenkins (hamstring) didn't practice for a second day.
Damien Woody said that the practice was good, and several players mentioned feeling sore after roughly five hours of practice on Monday. This afternoon is a special teams practice, so the veterans should get some rest.
"The first day, that's probably the best you're going to feel all year," Woody said.
As far as Darrelle Revis' holdout, veteran Bart Scott said it's hard to miss him on the field right now because so much of the time is devoted to learning plays with newer parts.
"In games when guys catch a pass it counts," Scott said. "Out here we just coach a guy up for what he did wrong and get better."
More coaching up at 4:20 when special teams practice starts.