July, 22, 2014
Jul 22
5:00
AM ET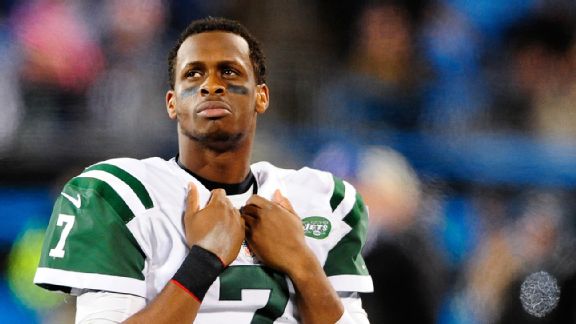 Grant Halverson/Getty ImagesGeno Smith expects "big things" from himself in 2014, and the Jets will need that to be successful.
Geno Smith
heard
Michael Vick
's name more than a few times last season in the
New York Jets
' offensive meeting room. Occasionally, offensive coordinator Marty Mornhinweg used Vick as an example when explaining to his quarterbacks how he wanted a particular play to be run.
The name-dropping was understandable. After all, there was history between Mornhinweg and Vick. Smith soaked it up, taking copious notes as he navigated a winding rookie season.
This season, the real Vick, not the ghost, will be sitting alongside Smith in the meeting room. That can be a good thing -- Smith can learn straight from the source -- or a bad thing if he becomes unnerved by Vick's presence. If Smith is bothered by the situation, he's not letting on. He sounds like a proven veteran, not a second-year quarterback who endured one of the worst statistical seasons in recent times.
"I don't want to make any statements or put anything out there, but once the season comes, I mean, I expect big things," Smith told ESPN.com in a recent interview. "I believe fully in myself. I have the utmost confidence in myself. I know I have the ability to play in this league."
There are doubters, to be sure, but Smith's conviction was steeled by his encouraging finish last season. His teammates and coaches saw it in the offseason, with the decisiveness he showed in the huddle in spring practices and the self-confidence he demonstrated in the locker room. That was one of the biggest takeaways from the offseason: the New Geno.
It
has
to be a new Geno if the Jets hope to snap their three-year playoff drought. Right now, the Jets have eight-win talent, but that modest number jumps to double digits if Smith improves as much as they believe he can.
[+] Enlarge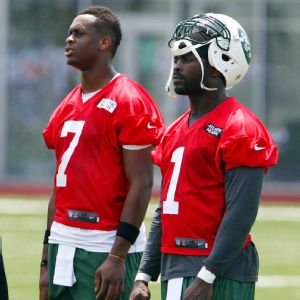 Noah K. Murray/USA TODAY SportsWill Michael Vick's presence be a good thing or a bad thing for Geno Smith?
"We're not playing yet -- we're not in the stadium yet, people aren't in the stands -- but Geno is a strongly improved player at this point," quarterbacks coach David Lee said.
Thousands of words will be written and spoken this summer about
Eric Decker
and
Chris Johnson
, the Jets' marquee additions, but 2014 is all about Smith, whom the Jets expect to be their season-opening starter.
They say he's stronger and faster. As part of his offseason regimen, Smith trained with a speed parachute, proudly texting photos of himself to Lee.
They say his footwork now comes naturally. A year ago, he was so unfamiliar with the Jets' offense that he counted steps in his head.
They say his command of Mornhinweg's system has improved to the point where he's self-sufficient. As a rookie, Smith leaned heavily on center
Nick Mangold
, who did more hand-holding than a lovestruck teenager.
"It's gotten away from me telling him exactly what to do," Mangold said. "Now it's more of a two-way discussion."
They say Smith is more of a leader than last year. Let's be clear: He's not a fiery, in-your-face kind of quarterback, but there are indications that he wants to make it his team.
In March, when he learned of the Decker signing on ESPN's Bottom Line, Smith immediately texted general manager John Idzik, asking for Decker's number. He reached out to his newest receiver, welcoming him to the team, discussing places to live in New Jersey and asking Decker about his favorite pass routes.
Smith tried to do that with every newcomer, even draft picks, taking ownership in the team. A year ago, he kept to himself, trying to fit in.
"I didn't want to come in as that guy who thinks he knows it all," Smith said. "I feel like I had to earn my stripes, and I feel like I've done that to a certain extent.
"But I'm still learning, still growing. I still listen to the vets, but it's a different level of leadership from me. Last year, I was a vocal guy when I needed to be, but it wasn't as much as I'm going to show this year."
Smith threw 21 interceptions, and that was a source of frustration for coaches and players alike, but they maintained their support because they respected his work ethic and mental toughness. No matter how bad it got, he refused to fold.
"He went through everything a rookie quarterback could go through," guard
Willie Colon
said. "Now he's like, 'All right, it's time for me to step up.' He's embracing the challenge. We all know Geno is feisty. He's strong-minded. He has the ability to fight. We believe in him."
[+] Enlarge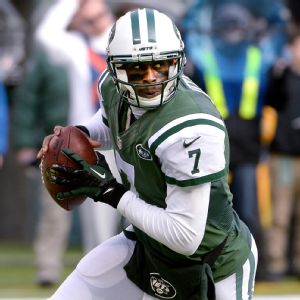 Robert Deutsch/USA TODAY SportsAs a rookie, Geno Smith passed for 3,046 yards with 12 touchdowns and 21 interceptions.
Former Jets quarterback Brady Quinn, a member of the team for the first half of the season, marveled at Smith's resilience. He pointed to the early-season win over the
Atlanta Falcons
, when Smith rallied the Jets in the final two minutes on a Monday night stage -- one week after an absolute stinker against the
Tennessee Titans
.
"Every time Geno felt challenged, whether it was in the press or by anyone else, he usually responded and played a great game," Quinn said. "I think he had five come-from-behind wins. Those are powerful statements."
Quinn came away impressed with Smith, who he believes has "a ton of arm talent." Unfortunately, there wasn't much talent around that arm, resulting in one of the worst offenses in the league. That should change with Johnson in the backfield and Decker on the perimeter.
It's all there for Smith in Year 2, but there still are plenty of critics. In a recent ESPN.com poll of 25 personnel executives and coaches, he was rated the worst starting quarterback in the league.
Do the Jets know something that no one else does? Maybe they do. Mornhinweg and Lee are widely respected offensive minds, so their opinions carry weight. Their jobs, along with that of Rex Ryan, could be riding on Smith. If he backslides or fails to show improvement, it'll be a costly setback for the organization.
Smith's biggest challenge is reading defenses, according to people who have studied him on tape. He was a one-read quarterback at West Virginia, so it was a difficult transition to Mornhinweg's version of the West Coast offense, which is predicated on multiple reads and exact timing.
There were long stretches last season in which Smith showed questionable instincts for the position, making poor decision after poor decision. The Jets expect that to get better with experience.
The new variable for Smith is the Vick factor. This is a different ballgame for Smith, who didn't have to worry last season about losing his job. Even though Vick claims he will embrace the mentor role, he's a direct threat to Smith. One or two bad games, and the masses will be screaming for a change.
You could certainly argue that Vick, 34, is better than Smith and deserves a fair shot at the starting job, but the powers-that-be have decided to stack the competition in Smith's favor, making it his job to lose. They won't hand it to him. He'll have to earn it, staving off a player he grew up admiring. It's a fascinating dynamic, especially with the Mornhinweg factor. Smith is battling his role model for a role.
"I don't feel any pressure at all," Smith said. "Maybe, in the outside world, people might think that way. If I do hit a rough patch, I fully expect Mike to pick me up. If it was the other way around, I'd do the same for him because that's the way we are. We're friends and we're teammates."
They're close. Soon, we'll find out if it's too close for comfort.
June, 18, 2014
Jun 18
6:40
PM ET
FLORHAM PARK, N.J. -- The
New York Jets
might as well come out and say, "We expect
Geno Smith
to be our opening-day quarterback." They won't, of course, because that is not how it's done in Idzik World. But offensive coordinator Marty Mornhinweg came close Wednesday, saying his plan is to give Smith 70 to 75 percent of the first-team reps in training camp.
Smith
Michael Vick
will get the other 25 to 30 percent of the reps, meaning he won't have much of a chance to outplay Smith. Not that we needed more evidence, but Mornhinweg's plan confirms that it's not an open competition. Mornhinweg cautioned that the plan could change, but he made it quite clear his job is to get Smith ready for Sept. 7 against the
Oakland Raiders
. He has been consistent with that message since March.
"Look, here's my job: It's my responsibility -- my duty, really ... I've got to continue to progress the young quarterback that's got 16 games under his belt -- that
has
to happen," Mornhinweg said. "And then, at the same time, we just have to get Michael Vick playing at the high level that he played at in the past, within this system. So he needs some reps."
Therein lies the challenge. In the old days, when there were two-a-days, this wouldn't have been a problem. Now, in the current NFL, reps are at a premium in training camp. In case you're wondering, Smith and
Mark Sanchez
worked on a 50-50 split last summer, when it was a true open competition.
General manager John Idzik, addressing reporters for the first time since the draft, spoke in generalities regarding the quarterback situation. He said, "It's competitive." Asked about Vick's recent claims that it's not an open competition, Idzik said, "It may be read different ways, but we're all on the same page."
Meanwhile, the Jets are tickled by Smith's progress.
"We're still going to have ups and downs," Mornhinweg said, "but I suspect Geno will play at a high level more consistently."
Quarterbacks coach David Lee said Smith is stronger and faster than a year ago. During the winter, Lee said he received texts from Smith, photos of him running up and down hills in Florida with a parachute attached to his back. (Wait, there are hills in Florida?) Lee said Smith is making quicker decisions with the ball, adding, "The ball is coming out of his hands so much faster than it has been in the past."
May, 7, 2014
May 7
4:45
PM ET
Until they have a legitimate franchise quarterback, the
New York Jets
will always be subject to draft rumors. Hey, that's life in the big city. They also have a general manager who refuses to rule out any possibilities, fueling speculation.

Garoppolo
Romo
With
Geno Smith
and
Michael Vick
on the roster, the Jets don't figure to be looking for a quarterback in the first or second rounds, but the rumblings persist. For instance: They have expressed considerable interest in former Eastern Illinois star
Jimmy Garoppolo
, whom many project as a second-round pick. Garoppolo said Wednesday that he has met with Jets quarterbacks coach David Lee on three occasions -- the scouting combine, his pro day and a recent visit to the Jets' facility.
Garoppolo, speaking at a pre-draft event in Lower Manhattan, said Lee told him his release reminds of a certain
Dallas Cowboys
quarterback --
Tony Romo
, another Eastern Illinois product whom Lee coached in Dallas. Garoppolo said he enjoyed his meeting time with the Jets.
"I thought the coaches in general were very personable, very blue-collar, getting-down-to-work type of guys," he said. "I like that about them. It fits my personality."
Frankly, I think the Jets are simply performing due diligence with Garoppolo and the other top quarterbacks. It would be an upset if they draft one before the fourth round, although they might have to hit the pause button if
Blake Bortles
somehow falls to 18. Garoppolo believes their interest is legitimate.
"There's a method to their madness," he said. "They're one of those teams that brought me in for a reason. Whatever the Jets' reason may be ... maybe they're hoping I fall. Hopefully, I don't, but they have a reason for what they did."
Garoppolo's most vivid takeaway from his visit to the Jets' facility is a bit unusual -- the 200-year-old oak tree that stands between two practice fields.
"I know it's kind of a random thought, but I was curious about it," he said. "Coach (Rex) Ryan told me the owner's mother wanted to keep it there."
December, 23, 2013
12/23/13
5:35
PM ET
FLORHAM PARK, N.J. -- As a rookie quarterback in the NFL, each week is a learning experience for
Geno Smith
.
With each opponent he faces, Smith sees new defenses and blitz packages, and has to adapt to the unique situations each game presents. Sometimes, Smith has excelled, like he did in Sunday's 24-13 win over the Browns, while there have been plenty of games where he's hurt the Jets with this play.
[+] Enlarge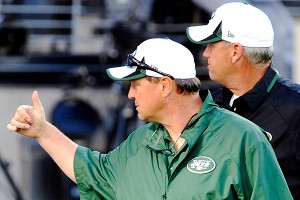 AP Photo/Bill KostrounMarty Mornhinweg
Through each step of the process, Smith has offensive coordinator Marty Mornhinweg and quarterbacks coach David Lee by his side, aiding him through the expected ups and downs of a rookie season. As the coaches' futures with the organization are up in the air, as head coach Rex Ryan could be dismissed at season's end, Smith said Monday that coaching consistency would help him grow.
"I know as long as David Lee is my coach and Marty is my coach, they won't allow me to take any breaks or take any shortcuts and that's kind of been the way that I've been learning all season," Smith said on a conference call. "Having coaches such as Marty and coach Lee, it really allows me to stay in that moment and just continue to grind and continue to grow as a rookie."
If the Jets choose to part ways with head coach Rex Ryan, as this will mark the third straight year without the postseason, the new coach would bring in his own staff. There are cases where assistant coaches survive after a head coach gets dismissed, but Mornhinweg and Lee have only been with the team for one season.
The duo had the tough task this season of guiding Smith to a level of play where he could lead the team to the playoffs, and in the process, potentially save the coaches' jobs. Smith started well, leading the Jets to a 5-4 record entering the bye, but his play deteriorated after a strong first month.
After the Jets improved to 3-2 with a last-second win over Atlanta, Smith threw just one touchdown in his next seven games. The Jets went 2-5 in that stretch, including three straight losses out of the break to Buffalo, Baltimore and Miami. Had the Jets won one of those games, particularly against Baltimore or Miami, they'd still be in the playoff hunt.
Since that rough stretch, which included a benching in the loss to Miami, Smith has improved and played like he did early in the season. His decisions have been better, and Mornhinweg has allowed Smith more freedom to run with the ball if the opportunity arises. Smith has a quarterback rating of 83.5 in these last three games, and the Jets are 2-1.
Ryan, who would not address his future Monday, said coaching consistency helps. He praised Mornhinweg and Lee for their work.
"Are those outstanding teachers? Absolutely. I think David Lee is probably as fine a quarterbacks coach as I've been around and Marty certainly is a guy that can develop quarterbacks and has developed quarterbacks throughout the years," Ryan said. "Both those guys are great coaches."
November, 13, 2013
11/13/13
9:50
PM ET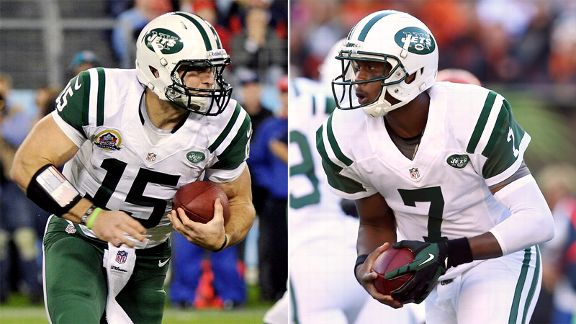 Getty ImagesThe Jets' offense has featured the Wildcat and zone-read elements, without the Tim Tebow circus.
FLORHAM PARK, N.J. -- One year after the over-hyped and ill-fated
Tim Tebow
experiment, the
New York Jets
finally have it figured out. They've successfully incorporated the Wildcat and zone-read elements into their offense.
It's amazing what you can accomplish when you have the right person calling the plays and the right people executing them -- strange and radical concepts, indeed.
The surprising Jets (5-4) are in the playoff hunt, in part, because they've kept defenses off-balance with their change-of-pace rushing attack. Ironically, they've managed to do it in relative anonymity, sans the crush of national media. Without Tebow, it's almost as if nobody cares.
A year ago, Rex Ryan was questioned about Tebow and the Wildcat on a daily basis. That he made it through the season without losing his cool (or turning sideways) was a tribute to his patience. This year, the topic rarely comes up even though they're using the zone-read and Wildcat twice as often as in 2012.
[+] Enlarge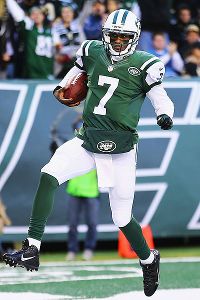 Al Bello/Getty ImagesGeno Smith has scored three rushing touchdowns this season.
Twice!
And more effectively.
Not only have the wrinkles sparked the offense, but they've helped
Geno Smith
through a difficult stretch of season. His most accomplished pass-catchers,
Santonio Holmes
and
Kellen Winslow
, were gone for a month, prompting the coaches to install more designed running plays for the rookie quarterback. He's no
Colin Kaepernick
, but Smith is a capable runner. He's the Jets' most mobile quarterback since
Ray Lucas
, circa 1999.
"I never said I was a pocket passer," Smith said Wednesday. "I'm effective from the pocket, but I can run as well. That's kind of the point I've been trying to push all along, that I'm not a quarterback you can put in a box. I do it all and I try to perfect every single thing, even running the ball."
Smith, displaying unwavering confidence for someone who has thrown 13 interceptions, described himself as a player with "a tremendous skill set. I think I can be one of the better quarterbacks in this league, but it's going to take time and effort."
Lately, he has been better with his legs than his arm. In the Jets' last game, their upset of the
New Orleans Saints
, he scored on a 3-yard run -- a designed play off a zone-read. For the season, Smith has rushed 11 times for 48 yards on zone-read plays, according to ESPN Stats & Information.
As a team, the Jets have run 46 zone-read plays and another 23 out of the Wildcat. The combined production is 30 yards per game. (Keep in mind that some zone-read plays can come out of the Wildcat.) In 2012, the respective season totals were 40 and 19, averaging a total of 18 yards per game.
Last season wouldn't have been so bad if the Jets didn't shamelessly promote Tebow and his potential impact, but they sold it with more passion than a used-car salesman. On the rare occasions when they used Tebow, it usually was a dive play into the line. They fattened him up and tried to turn him into Larry Csonka. The whole thing was a sham, perpetrated by an organization desperate for attention.
Now they run it with creativity and precision, along with proper use of personnel. Running backs
Bilal Powell
and
Chris Ivory
also have been used on zone-read plays; in fact, Ivory is averaging 7.4 yards per carry, second only to
Oakland Raiders
quarterback
Terrelle Pryor
(8.2) on such plays, per ESPN Stats & Information.
The Jets have melded quarterbacks coach David Lee's Wildcat and zone-read concepts into Marty Mornhinweg's offense, becoming what they were supposed to be last season.
"They do a lot of unique things," said former Jets safety
Jim Leonhard
, who will face his old team Sunday as a member of the
Buffalo Bills
. "They do a lot to make you think. That's nothing new. They've done it all year, and we definitely have to stay on top of our adjustments."
Smith's mobility adds a different dimension to the offense. He already has scored a team-high three touchdowns (two designed rushes and one scramble), meaning he already has reached the end zone three more times than Tebow, who never got a chance to do any Tebowing.
Coaches and teammates, namely backup quarterback
David Garrard
, have encouraged Smith to run more often. He wasn't a big runner at West Virginia, so this is a transition. He already has rushed for 172 yards, well past
Mark Sanchez
's career high.
"We've been running the ball well, and we've been doing a pretty good job on the read plays," Smith said. "We've tried to stick with the things we're good at, and that's one of them."
It's funny, but Smith was chided for his touchdown run against the Saints. Based on the way it was defended, he should've handed the ball to Ivory. The result was six points, but he still heard the criticism.
"Coach Lee," Smith said, "is a hard coach."
November, 6, 2013
11/06/13
5:00
PM ET
In the beginning,
Geno Smith
clashed with his quarterbacks coach, David Lee, an old-school disciplinarian.
[+] Enlarge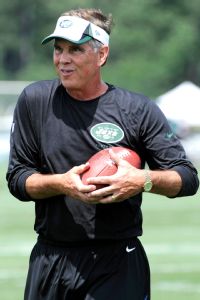 AP Photo/Bill KostrounJets QB coach David Lee has become a fan of Geno Smith's approach.
"We butted heads early, just like any guy coming in," Lee said Monday. "He was late for a meeting and I went nuts on him, and he had to learn, 'You're not late ever, for anything.' "
Lee is good for Smith because of his buttoned-down style -- and he also happens to be a well-regarded technician. Truth be told, the entire organization is developing Smith with a different approach than it did with
Mark Sanchez
in 2009. There's no coddling.
For instance:
There was concern about Smith's ability to play hurt, so when he sprained an ankle in the preseason, he wasn't allowed to take any days off. It probably slowed the recovery, but the coaches wanted to teach him a lesson.
Even though Smith is entrenched as the starter after winning the job by default, he hasn't received a long-term commitment. Technically, he's week to week. We all know it's a matter of semantics, but the braintrust feels it's important, if only symbolically, to withhold a coronation. In '09, Sanchez was handed the starting job after an abbreviated competition/charade and never felt threatened, probably not until he was benched late last season. The Jets want to make sure Smith doesn't grow up with a sense of entitlement.
In '09, Sanchez was largely insulated from the media. There was little interaction beyond the league requirement. He was granted veteran status, designated as one of the two players required to speak only once during the week. That chafed some veteran teammates. Smith is a twice-a-week guy, and he's almost always willing to go above and beyond.
Smith displays more maturity as a rookie than Sanchez did in his first few years. It's hard to imagine Smith chomping on a hot dog while sitting on the bench during a game, as Sanchez did in '09. Unlike Sanchez, a highly emotional player, Smith is even-keeled. He's such a flatliner that some teams perceived him as aloof during pre-draft interviews, which may have contributed to his slide.
"He is the calmest guy," Lee said. "I mean, he goes out in pregame warmups, he's calm. We come in, beat New England, he's just as calm as can be. I just wanted to slap him, and say, 'Hey, we won.' He's really calm, and that's a great trait to have as a quarterback with the pressure that's on all these games."
Of course, outward demeanor can be overrated. Before he won a Super Bowl,
Eli Manning
was deemed too stoic. Now he's Cool Hand Luke because he has a couple of Super Bowl rings. It's all about winning. Smith is 5-4 as a starter; Sanchez started 4-5 as a rookie, finishing in the AFC Championship Game. We'll see how it goes for Smith, but the early signs -- at least from an intangible standpoint -- are encouraging.
"I've always been the same person," he said. "I've always had this demeanor, and I don't think it will change ever. I don't know what it is about me. I just think it's in my mental makeup and really in my genetics to be this way."
Smith has a good teacher in Lee, who doesn't own kid gloves. He's a no-nonsense coach and won't hold back on criticism, feelings be damned.
"I'm just dead honest with him and pour out my heart, and I want him to be the same way with me," Lee said. "And I think it's why we've got a great relationship today, because we're both really honest with each other."
August, 12, 2013
8/12/13
8:15
PM ET
CORTLAND, N.Y. -- Observations from the press box:
1. Holmes wrecker
: When
Santonio Holmes
suffered a season-ending LisFranc foot injury last season in Week 4, the Jets said he'd "make a full recovery and be ready to roll for next year." Uh, not so fast. On Monday, Holmes uttered these ominous words: "Right now, I can't run." If this were a 300-pound lineman, it wouldn't be cause for alarm. But a wide receiver who makes his living with stops and starts and sudden change of direction? It's a concern. Forget about opening day. The Jets need to start bracing for the likelihood their No. 1 receiver won't be back for some time.
2. No Mountaineer love:
You won't hear Rex Ryan humming "Country Roads" anytime soon. Ryan, responding to a Pittsburgh-based newspaper article in which
Geno Smith
's former teammates questioned the leadership on last year's team, fired a salvo at the West Virginia football program. Ryan said he's glad he didn't send his college-age son, Seth, to West Virginia. Memo to Rex: If you're ever driving through that region of the country, you may want to avoid West Virginia. You won't be a popular guy on those country roads.
3. Aggressive O
: The Jets don't have a ton of offensive talent, but you know what? They might be fun to watch. The minds of OC Marty Mornhinweg and QBs coach David Lee will keep things interesting. Mornhinweg runs the West Coast offense, but he likes to take more shots downfield than most of his West Coast brethren -- evidenced in Monday's practice. Lee brings the Wildcat and read-option elements into the offense, which should spice up the running game. And there could be some Pistol, too. If nothing else, it'll give the opposition a lot to think about.
July, 31, 2013
7/31/13
7:26
PM ET
CORTLAND, N.Y. -- Observations from the press box:
1. Game on
: I don't know if
Geno Smith
is the real deal -- too early to say -- but I know this: This is a real competition. If
Mark Sanchez
doesn't get his act together, he'll be an $8.25 million backup.
2. Watch your words:
Braylon Edwards
was considerably less forthcoming with his opinions on the quarterback competition than he was on Day 1. You remember that, don't you? Edwards made headlines by comparing Smith to
Russell Wilson
, adding that Sanchez could be in trouble if he makes the same mistakes he has in the past. Evidently, the Thought Police got to Edwards, who noted that he could get in trouble for saying too much. I appreciate Edwards' candor. I think his opinions matter because he's been around the league for a decade. His watered-down comments tell us the higher-ups are trying to manage a potentially explosive QB situation.
3. Ah, so this is an offense
: Maybe it's just me, but the offensive operation looks a whole lot more organized than last year. The drills run smoothly and there are fewer mistakes in practice than last year, as far as I can tell. I think the Marty Mornhinweg-David Lee combination will help a lot; they're proven coaches. Does that mean the offense will finish better than 30th, last year's embarrassing ranking? Impossible to tell at this point, but at least it'll have a plan.
June, 12, 2013
6/12/13
8:48
PM ET
FLORHAM PARK, N.J. -- David Lee calls it "The Sanchez Drill." The quarterback carries the ball through a gauntlet of six or seven people, all of them swinging foam bats in an attempt to dislodge the ball. The idea is to promote ball security, forcing the quarterback to use two hands.
[+] Enlarge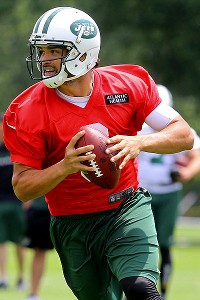 Ed Mulholland/USA TODAY SportsDavid Lee wants to see Mark Sanchez keep both of his hands on the ball.
"He doesn't like [the name of the drill]," Lee said, referring to
Mark Sanchez
.
Lee created the name because, well, Sanchez fumbles a lot -- 24 over the past two seasons, including the infamous Butt Fumble. After all these years in football, college and pro, Sanchez still has a tendency to hold the ball with one hand in the pocket. Lee is on a mission to correct that.
"It's been so hard for him to keep his left hand on the football," Lee said Wednesday, addressing reporters for the first time since he was hired in January. "[Tuesday], for the first time, he had three situations where he kept two hands on the ball. That's after nine OTA practices and minicamp. It's something he doesn't do naturally. ... Rex [Ryan] told me when he hired me, 'If you can get him to hold on to the ball, we'll get a whole lot better in a hurry.'"
Sanchez laughed off The Sanchez Drill.
"[Coach] Lee threw me under the bus there," he joked, saying the drill is like a "Hack-a-Shaq."
Unlike many coaches, Lee doesn't pull any punches. He offered a rather blunt assessment of Sanchez.
"Fifty-two turnovers in two years is not conducive to winning in our league," he said. "Mark can win in this league. He has proven that. He's played for championships. I'm blatantly honest, brutally truthful at times. I told him, 'Hey, the best thing you can do to help our football team -- the No.1 thing -- is take care of the ball."
June, 12, 2013
6/12/13
7:15
PM ET
FLORHAM PARK, N.J. -- The most valuable piece of advice
Matt Simms
ever got from his dad?
"Don't throw it to the other team."
[+] Enlarge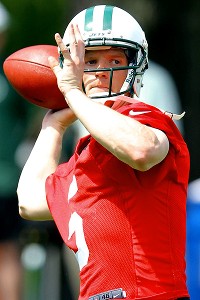 Brad Penner/USA TODAY SportsMatt Simms, said Jets QB coach David Lee, has "a cannon for an arm" -- but has a lot of work to do on his accuracy.
It means a little bit more when you know his dad is Giants legend
Phil Simms
. But pedigree or no pedigree, Matt got a bump Wednesday from new Jets quarterback coach David Lee. This is the second offseason Simms has been with the team, and this year he is third behind
Mark Sanchez
and
Geno Smith
as they compete for the starting spot.
"Matt Simms, you guys see it," Lee said. "The guy's got a cannon for an arm. He's got the best arm of the four, he's just so inconsistent with his accuracy. If his accuracy was better, he'd be thicker in the hunt."
Told about the comments, Simms said the first part was a nice compliment, especially given the caliber of all four quarterbacks, including
Greg McElroy
. As for the accuracy, he's working on it.
"It's tough to evaluate right now with the limited amount of reps," Simms said, "but [you've] just got to go out there every day and improve at the little things."
Simms likes working with Lee, who he said is completely honest. "Tells you the truth no matter what, even if it hurts."
Last season, after he was cut on the last possible day, Simms helped by coaching quarterbacks at nearby Bergen Catholic High School. It kept him in the game until he could get his second stint here with the Jets. Given the playing and the coaching and his family tree, does Simms see his future in football, even if it's not at quarterback?
"Yeah, that's definitely been one of a few options that I've gone through in my head," Simms said. "But I don't want to think about that stuff too much right now because as soon as you start thinking ahead, it's over. So I've just got to focus on right now and hanging here and doing my best with this coaching staff and improving as a football player."
January, 20, 2013
1/20/13
7:13
PM ET
[+] Enlarge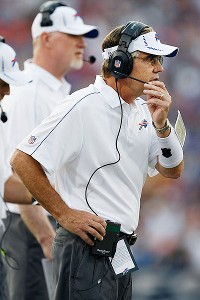 AP Photo/Scott BoehmDavid Lee
Rex Ryan has filled a vital position on his coaching staff, hiring former Bills quarterbacks coach David Lee for the same position, ESPN's Chris Mortensen reported Sunday night.
Lee replaces Matt Cavanaugh, whose contract wasn't renewed after the season.
In a span of three days, the Jets have made two important additions to the staff: Lee and offensive coordinator Marty Mornhinweg, who's expected to install a West Coast offense.
Lee is a curious choice because he's not from the "West Coast" coaching tree, but he's a favorite of Ryan. In fact, Ryan tried to hire Lee last season, hoping to reunite him with coordinator Tony Sparano. Lee and Sparano worked together in Miami, where they introduced the Wildcat to the NFL. The Jets could've used Lee's expertise with
Tim Tebow
.
Lee is making a tour of the AFC East, having spent one season with the Bills and three with the Dolphins. In 2011, he was the coordinator for Ole Miss. Lee has eight seasons of NFL experience.
September, 5, 2012
9/05/12
2:04
PM ET
It's not easy to prepare for something you haven't seen.
That's the situation the Bills are facing as they get ready to battle the Jets and try to defend against a Wildcat formation the team did not showcase in the preseason.
"It's tough because you really haven't seen it up to this point with the preseason and being that you are facing them the first game, you kind of don't know what to expect," Bills defensive end
Mario Williams
said on a conference call Wednesday. "They could do anything. It's one of those things you just kind of have to get your feet wet in a certain area, or multiple areas, and then come out and try to adjust to it and see what's going on and see what they are trying to do and how they attack you."
While the Bills have seen how other teams have used the Wildcat, such as the Miami teams coached by new Jets offensive coordinator Tony Sparano and even the Jets in years past, they don't know how the Jets plan to use their package with their current personnel.
Tim Tebow
gives the team a dual threat at quarterback to run the Wildcat.
Buffalo coach Chan Gailey said his team has to pay attention to it, knowing the success Tebow had with it in Denver, and is thankful his team has extra time to prepare. He's picked the brains of ex-Jet
Brad Smith
and quarterbacks coach David Lee, who used to be the quarterbacks coach for Miami when Sparano was a Dolphin.
"I think he has a fairly good idea of what Tony wants to do and what he likes to do and believes in but there will be some new wrinkles as well," Gailey said of Lee. "So you're trying to cover all your bases and trying to make sure you have your base concepts down defensively because you're going to see something you haven't seen."
While the Wildcat will be a new package for the Jets to utilize, Gailey added that there are also questions about what the Jets offense will be with a new coordinator.
Mark Sanchez
, who had a shaky preseason, will be running a new system with new responsibilities that may be different from what the Bills have seen from him in the past.
"He's definitely being a vocal leader and he's trying to get the team in the right direction," Williams said of Sanchez. "Any time you have a competitor like that you know you have to be careful because at any given moment he can come out and play lights out and come out and be that guy that can lead them to touchdowns and lead them down the field. You have to go out there and be on top of your game to try to contain him."
And if Tebow decides to throw? Williams believes his defense can track him down.
"That's the plan," Williams said. "We wouldn't be on the field if we didn't."