New York Jets:

DeSean Jackson
April, 2, 2014
4/02/14
10:30
AM ET
DeSean Jackson
is poised to
sign a three-year, $24 million contract Wednesday
with the
Washington Redskins
, and you know what that means: More criticism for John Idzik, who apparently didn't reach out to Jackson's agents. You can almost predict the narrative: The Redskins buy a Cadillac, the Jets get stuck with a Ford --
Jacoby Ford
, a fast, but unproductive, injury-prone receiver, whom
they signed Tuesday to a one-year contract
.
In this case, Idzik made the right move by sitting out the Jackson sweepstakes. Yes, there was some internal interest, but when it came down to making the final call, Idzik wisely took a pass.
The price was exhorbitant ($16 million guaranteed), and there's no way they were going to pay that much after giving
Eric Decker
a $15 million guarantee. Money aside, there were character questions, with concerns about how he'd fit in the locker room. The Jets have a potentially volatile quarterback situation involving
Geno Smith
and
Michael Vick
, one of Jackson's best friends, and the last thing they needed was Jackson taking Vick's side and stirring controversy.
The Redskins get a terrific talent, no doubt, but it should be noted that Jackson didn't produced what could be termed a monster year until he hooked up last season with Chip Kelly. He played a career-high 942 snaps in the
Philadelphia Eagles
' up-tempo offense, affording him more opportunities than usual.
The draft is loaded with receivers, so the Jets should be able to find a cost-effective version of Jackson -- not immediately, but a player who can develop over time. In case you haven't noticed, Idzik is taking his time with just about everything.
March, 30, 2014
3/30/14
5:00
AM ET
Thoughts and observations on the
New York Jets
:
1. Penny pinchers
: For those not happy with John Idzik's conservative approach to free agency... well, you may not want to read this. It will raise your ire to a new level.
[+] Enlarge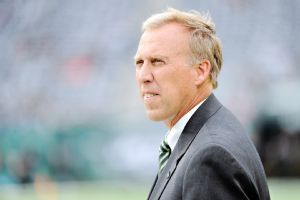 AP Photo/Bill KostrounJets GM John Idzik has a new style this offseason: less spending, more scouting.
Right now, the Jets have the lowest cash payroll in the NFL -- $86.1 million, according to overthecap.com. We're not talking cap dollars, we're talking actual cash spending for 2014. They're $50 million under the top-spending team, the
Baltimore Ravens
. The paltry number makes the Jets seem like the New York Mets of the NFL.
In 14 months, Idzik has systematically dumped many of the highest salaries. Their once-top-heavy cap has thinned to the point where only three players have cap charges of at least $7 million --
D'Brickashaw Ferguson
($11.7 million),
Nick Mangold
($7.2 million) and
David Harris
($7 million). It's telling that the fourth- and fifth-highest cap numbers belong to players no longer on the roster --
Antonio Cromartie
($5.5 million) and
Mark Sanchez
($4.8 million).
The Jets flirted with several big-name free agents (
Jared Allen
,
DeMarcus Ware
,
Dominique Rodgers-Cromartie
), but missed out, in part, because they failed to show them the money. (Pardon the Jerry Maguire-ism.) What conclusions can be drawn? Either the Jets are cheap or Idzik is budgeting for the future. It's probably more of the latter. Know this: Starting this year, teams are required to spend at least 89 percent of the cap in cash over a four-year period. It looks like the Jets will have some catching up to do in future years.
2. DeSean update
: Unless they pull a 180, the Jets won't be a factor in the
DeSean Jackson
sweepstakes -- a smart move. He's not a fit for them. They held internal discussions on Jackson, with offensive coordinator Marty Mornhinweg giving his blessing. Mornhinweg, who coached him with the
Philadelphia Eagles
, told people in the organization that Jackson -- known for his bad-boy reputation -- wouldn't be a problem in the locker room. That apparently wasn't enough to sway Idzik, who reportedly hadn't reached out to Jackson's agent as of Saturday. Jackson is scheduled to visit Monday with the
Washington Redskins
. The
Oakland Raiders
might be interested as well.
3. On the road again
: Idzik has popped up at a number of the high-profile pro days, most recently the
Johnny Manziel
extravaganza at Texas A&M. He's taking more scouting trips than he did last offseason, when he was new on the job and felt obligated to work from the office as he familiarized himself with the operation and the staff.
4. For Pete's sake
: I caught up with
Seattle Seahawks
coach Pete Carroll at the league meetings and asked for a scouting report on right tackle
Breno Giacomini
, who left the Super Bowl champions to sign with the Jets. Carroll: "Great competitor. Really fierce. A really smart player. Tough. Great finisher. Physical. He's legit. We hated losing Breno. We would've liked to (have kept him), but we couldn't do it. We had no intention of wanting to lose him, but he's one of the guys we had to transition out of the organization. He's worth it (for the Jets). He got paid well and he deserves it."
Translation: We liked him, but not at four years, $18 million.
5. Cro is for the birds
: With All-Pro cornerback
Patrick Peterson
locking down one side of the field,
Arizona Cardinals
coach Bruce Arians expects opponents to attack former Jet Antonio Cromartie -- and he's just fine with that.
"I love the fact that there's going to be a lot of balls thrown at him, because I didn't throw that many when I was playing against him," Arians said at the league meetings, expressing confidence in Cromartie's coverage ability.
He'll rue that statement if Cromartie doesn't cover better than he did last season.
6. Sleeper with speed
: It was overshadowed by the Jackson news and the Sanchez signing, but the Jets picked up an interesting player Friday -- cornerback
Jeremy Reeves
. After a four-year career at Iowa State, where he intercepted five passes (two returned for touchdowns), Reeves was eligible for the 2013 draft. But he tore a pectoral muscle, missed his pro day, wasn't drafted and wasn't signed by anyone. After working out on his own for a year, he participated in Iowa State's pro day last week and burned the 40 in 4.29 seconds, according to school officials.
He's only 5-7, 167 pounds (picture
Darren Sproles
at corner), but that kind of speed -- even if not totally accurate -- turns heads. The Jets have a good feel for Reeves because Jeff Bauer, the director of college scouting, is an Iowa State alum, plugged into the Iowa scene.
7. Flying with the Eagles:
Former Jets quarterback Mark Sanchez (it feels weird typing that) made a good point in his introductory news conference in Philadelphia: He believes he could thrive in Chip Kelly's up-tempo offense because of past success in the hurry-up. Sanchez was at his best in two-minute situations, when he didn't have to read the entire field and was required to make quick decisions. So maybe there's hope for him in Philly. On the other hand, his career record against NFC teams isn't sterling -- 10 touchdown passes, 21 interceptions.
8. Reality star
:
Eric Decker
's reality show -- "Eric and Jessie: Game On" -- kicks off its second season Sunday night. (Jessie is his wife, a country-music singer, in case you didn't know.) I asked Rex Ryan if he's worried the show could become a distraction for his new wide receiver. He laughed, but his answer was no. Ryan said the show never came up in conversation with Decker prior to him signing.
9. More teams, wealthier coaches
: Ryan is in favor of expanding the playoff field. "Absolutely," he said. "When you look at the fact that bonuses are probably tied into it, absolutely." He laughed, but he wasn't joking. In his new contract extension, Ryan can trigger incentive bonuses for 2016 with playoff wins.
10. Changing times:
The Jets have 12 draft picks. In Ryan's first three seasons (2009 to 2011), with Mike Tannenbaum as the GM, they had a total of 13.
March, 27, 2014
3/27/14
11:30
AM ET
After two days at the NFL owners' meetings at a swanky resort hotel in Orlando (picture a lot of palm trees, giant fountains and stretch limos), I offer a few thoughts and observations:
1. Woody likes DeSean
: Even though the
New York Jets
tried to downplay Woody Johnson's surprisingly candid remarks about the team's interest in
DeSean Jackson
, I came away with the sense that the owner is very intrigued by the
Philadelphia Eagles
' wide receiver. Behind the scenes, Johnson spoke highly of Jackson, who reportedly is on the trading block. Could this be Johnson's new Tebow crush?
2. Broken record
: I think "sustainable success" has replaced "competition" as John Idzik's new mantra. Heard it more than a few times during interviews and casual conversations. My impression is that fans already are tired of it.
3. Geno vs. Mike:
I find it interesting that, unlike a year ago, team officials were reluctant to use the phrase "open competition" to describe the current quarterback situation with
Geno Smith
and
Michael Vick
. You heard a lot of, "Geno will be hard to beat out" and "Mike will help Geno." Two fascinating dynamics here: The organization (mainly Idzik) wants Smith to be the opening-day starter. Most football people would agree that Vick, if healthy, is a better quarterback than Smith. It should make for a compelling summer.
4. The Idzik 12
: The organization was holding out hope for a third-round compensatory pick, but it was delighted to receive a fourth rounder and three sixth-round choices. With 12 draft choices, the Jets were downright giddy, imagining the possibilities on May 8-10.
5. Corner concern:
Rex Ryan downplayed his concern with the current state of the cornerback position, insisting he can make it work. Give the man an Oscar; you bet he's worried about the position. I found it interesting that, amid all the damage control,
Kyle Wilson
's name rarely came up. That may not be a good omen for Wilson, a former first-round pick.
6. Bargain shopping
: Now that the first wave of free agency is over, look for the Jets to jump into the secondary market -- meaning short-term contracts for second- and third-tier players.
7. Goodbye, Sanchize
: Ryan seemed genuinely disappointed that things didn't work out with
Mark Sanchez
. Sanchez was Ryan's first draft pick, back in 2009, and there was a time when it seemed like a no-brainer that he'd be the starting quarterback for at least a decade.
8. Loss of an icon
: Owners and league officials often give scripted answers to questions from the media, but there was a genuine outpouring of emotion when it was announced that
Buffalo Bills
owner Ralph Wilson had died at the age of 95. Eagles owner Jeffrey Lurie, in an interview with the Buffalo News, teared up as he spoke about Wilson.
March, 25, 2014
3/25/14
8:00
PM ET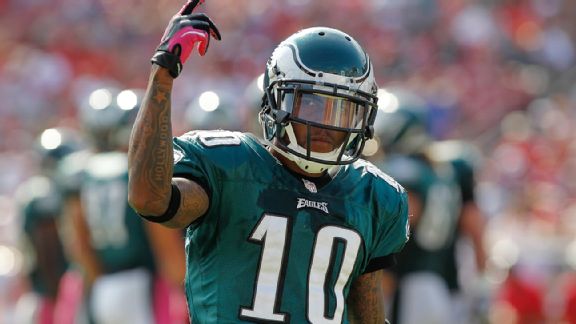 Kim Klement/USA TODAY Sports
ORLANDO, Fla. -- Imagine this scenario:
It's Week 3, and
Geno Smith
is struggling at quarterback. The
New York Jets
' revamped passing attack isn't clicking, and the inevitable clamor for
Michael Vick
is getting louder. Moody wide receiver
DeSean Jackson
isn't happy because he's not getting enough balls, and he goes public with his preference for Vick, a close friend from their years with the
Philadelphia Eagles
.
Match, meet Kerosene.
KA-BOOM!
As they mull the possibility of pursuing Jackson, whom the Eagles reportedly are willing to trade, the Jets need to take a hard look at the big picture, studying the potential impact on team chemistry. He comes with a "buyer beware" label because he can be a pain in the rear end. The Jets already have a potentially volatile quarterback situation, and the last thing they need is a devisive influence threatening to blow up a locker room that finally is healed after the dysfunction of 2011.
[+] Enlarge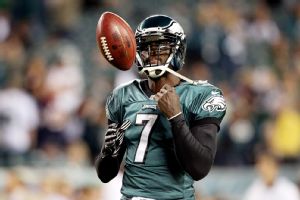 Alex Trautwig/Getty ImagesNew Jets quarterback Michael Vick has a history with DeSean Jackson.
The Jets should stay away from Jackson. Far away.
When the Jets signed Vick last week, the popular theory was that his presence would lead to a reunion with Jackson -- especially if he's released, allowing him to sign with any team. In a different time, in a different place, yeah, you'd want a Vick-Jackson tandem. But the Jets aren't ready to abandon Smith; actually, they'd love for him to be their opening day starter, elevating his game as Vick -- the seasoned mentor -- watches with pride.
It's a delicate dynamic, one that won't succeed unless all parties are all-in. Vick says he's willing to help Smith's development, but let's not be naive: He wants to start. He made that clear Tuesday, telling SportsNet New York: "I feel like I'm a legitimate starting quarterback in this league." It's a complicated arrangement, but complicated can work. It won't work if the No. 1 receiver forms an alliance with Vick -- a potential danger floated by more than one league insider Tuesday at the NFL meetings.
Yes, the Jets have interest in Jackson, as owner Woody Johnson told the world, but the interest might not be as great as everyone thinks. General manager John Idzik is trying to create a positive, winning culture, and Jackson doesn't seem like his kind of player. Idzik wouldn't respond directly to questions about Jackson, but speaking in general terms, he acknowledged there's inherent risk when acquiring a player with character issues.
"It's not easy," he said. "We're in the human business. You lean on people who have had exposure to those guys."
In this case, that would be offensive coordinator Marty Mornhinweg, who coached Jackson for four years in Philadelphia. Mornhinweg knows all about Jackson -- how he acts in the classroom, how he accepts criticism, how he responds to teammates. Even if Mornhinweg gives his blessing, it still would be a gamble.
[+] Enlarge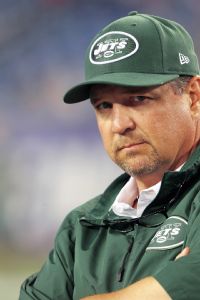 Al Pereira/New York Jets/Getty ImagesMarty Mornhinweg coached DeSean Jackson for four years in Philadelphia.
The Jets just rid themselves of a diva,
Santonio Holmes
, who gave
Mark Sanchez
plenty of agita over the years. Desperate for a receiver in 2010, they surrendered a fifth-round pick for Holmes. It was a short-term steal, but they got suckered, giving Holmes a five-year, $45 million contract in 2011. Idzik wasn't around for that decision, or the locker-room turmoil that ensued, but he's heard the stories.
Do the Jets really want to go there again?
Jackson is a terrific talent, but he has a reputation for being a petulant, me-first player. He argued with a coach on the sideline last season. He was benched for a game in 2011 for missing a meeting. He staged a training-camp holdout in 2011. He complained about his contract after last season, knowing he still had three years and $30 million remaining on his deal. Sounds like
Darrelle Revis
.
So now the Eagles are looking to move him. Ask yourself this: Why would Chip Kelly want to unload a 27-year-old receiver coming off a 1,300-yard season? Could it be a personality clash with Kelly? Maybe, but Jackson also had problems under Andy Reid.
Desperation causes smart teams to do dumb things. The Jets aren't as desperate after signing
Eric Decker
, but they're still in the very needy category. Jackson would thrill, but he'd eventually become a headache.
Vick doesn't think so, saying Jackson would benefit from a change of scenery.
"I think sometimes it takes a change in your life to understand really what needs to happen, and the course that needs to be set," he told SNY. "Maybe it's time for a change for DeSean to help him understand the maturation process of his young NFL life and his personal life."
Maybe Vick could mentor Jackson, just like he's hoping to aid Smith. But what happens in a year, when his contract expires and he's gone? The Jets would have Jackson, but not his better half.
The smart play would be to address the wide receiver need through the draft. Scouts are calling this the best receiver draft in history, and the Jets own 12 picks. Idzik wants to build through the draft. Every GM says that, but there aren't many that have the willpower to resist the temptation of a quick fix with an ugly downside.
March, 25, 2014
3/25/14
12:05
PM ET
ORLANDO, Fla. -- Unlike owner Woody Johnson, Rex Ryan wasn't about to use the 'D' word -- DeSean, as in
Philadelphia Eagles
wide receiver
DeSean Jackson
. Ryan wanted to avoid any questions about tampering, so he wouldn't talk about the possibility of acquiring Jackson.

Jackson
"Mr. Johnson is the owner, so he can do what he wants, but I'm not going to talk about anybody else on somebody else's roster," Ryan said Tuesday at the owners' meetings.
Johnson confirmed interest in Jackson, but the level of interest remains to be seen. The Jets aren't keen on the idea of trading for Jackson, but their interest could grow if he's released. Even then, there's no guarantee that he'd a must-have.
Ryan did say this much: He expects the Jets to add another wide receiver in the offseason.
"I don't think we're done in that area," he said. "We've got a lot of draft picks and it's a deep draft class at that position. It's safe to say, I bet you anything, we end up making another move for a receiver somewhere along the line, if I'm a betting man. It might not be the moves you want us to make, but how many picks to do we have? Twelve? I bet we take a shot."
Right now, the Jets' top receivers are
Eric Decker
and slot man
Jeremy Kerley
. They still have a need for a true No. 1 receiver. For depth, they have
Stephen Hill
and
David Nelson
. The Jets have expressed interest in former Raider
Jacoby Ford
, a low-level free agent. They're also looking at the possibility of adding a veteran running back. There's some interest in
Maurice Jones-Drew
, but his current asking price is beyond what the Jets are willing to pay.
March, 23, 2014
3/23/14
10:00
PM ET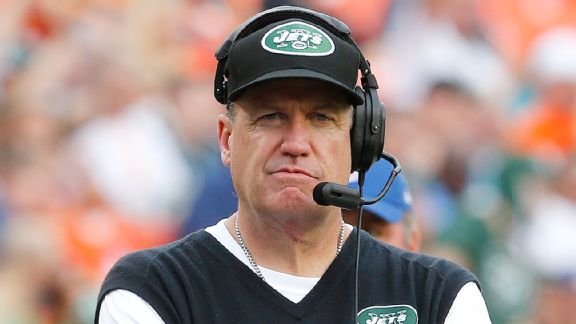 Joel Auerbach/Getty ImagesJets ownership expects Rex Ryan to improve on last season's 8-8 record.
If Rex Ryan didn't feel playoffs-or-bust pressure for 2014, he does now.
New York Jets
owner Woody Johnson, who only 10 months ago pleaded for "patience" from the fans, unwittingly turned up the heat on his coach Sunday at the NFL meetings in Orlando, saying it's a win-now mentality.
"I'm not going to use the word 'patient' anymore," Johnson told reporters. "We want to do it now."
For older Jets fans, Johnson's candid remarks may stir memories of the late Leon Hess, in 1995, growling, "I'm 80 years old. I want results now." He made those comments at Rich Kotite's introductory news conference. Hess had to wait a few years for those results, and they didn't happen until Bill Parcells came to town.
Ryan doesn't have that much time. If he misses the playoffs for a fourth consecutive year, it would be difficult to see him keeping his job. Yes, he received a contract extension after a better-than-expected season, but all that did was give him an extra year of security, with guaranteed salaries through 2015.
Clearly, Johnson expects better than 8-8 this season, and he has a right to feel that way. Patience was the way to go last season because it was the first year of John Idzik's rebuilding project. He tore the roster apart, handing Ryan a five- or six-win roster. Ryan squeezed out eight wins, a terrific coaching job. But now his boss has become impatient with being patient, revealing a greater sense of urgency than his top football man, Idzik.
Idzik keeps talking about building a team that has sustainable success, avoiding quick fixes and working from a long-term plan. Now there's a mixed message, with Johnson suggesting the league is so parity-driven that championships should always be the goal. It's a departure from last May, when he implored the fans, "Yes, be patient. Be patient and trust that we're doing the right thing for your team."
Demonstrating his win-now approach, Johnson confirmed the team's interest in
Philadelphia Eagles
wide receiver
DeSean Jackson
, who reportedly is on the trading block. It was stunning because of tampering rules -- team officials aren't supposed to comment on opposing players -- and because of the Jets' secretive ways.
[+] Enlarge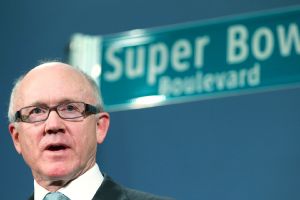 Mario Tama/Getty ImagesWoody Johnson expects the New York Jets to have a winning season in 2014.
I say, "Good for him." Finally, a straight answer from a Jets official.
That Johnson went public tells me the Jets are
very
interested in Jackson. He said they'd rather not surrender a draft pick -- meaning Jackson would be more attractive if he gets released -- but that could mean they're not willing to give up the exact pick the Eagles are demanding. It's called posturing.
Jackson doesn't seem like an Idzik kind of guy, with his enormous contract and his diva behavior. But Jackson would give the Jets a much-improved offense. With Jackson and
Eric Decker
, you're talking about a legit receiving corps. Johnson loves offense. Most owners do. It puts rear ends in the seats.
Meanwhile, Ryan must be thinking, "How 'bout a cornerback?" He has the right to be concerned about the giant hole in his defense. If the owner is making this a win-now season, the least he could do is give his defensive-minded coach a couple of proven corners. Right now, they have
Dee Milliner
and a lot of questions. You could argue that Milliner is a question, too.
The Jets have acquired three new players in free agency, all on offense -- Decker, quarterback
Michael Vick
and right tackle
Breno Giacomini
. The defense is worse than it was at the end of last season. The Jets still have the draft, and still have time to plug holes. But the expectations are higher than 2013. They got even higher Sunday, when Johnson opened his mouth.
"Look at the difference between last year and this year," Johnson said. "The team can turn very fast in the NFL. You saw Seattle. I've seen a lot of teams that came from the bottom ... that weren't doing that well, to winning Super Bowls. So, it's there. I think we're trying to put ourselves in position to accomplish those objectives."
March, 23, 2014
3/23/14
5:00
AM ET
Many happenings around the
New York Jets
:
1. Waiting on DeSean
: If the Jets want wide receiver
DeSean Jackson
, they have the resources to be a major player. They have the need, the cap space (more than $30 million) and the right recruiter (
Michael Vick
). The question is, do they have the desire?
[+] Enlarge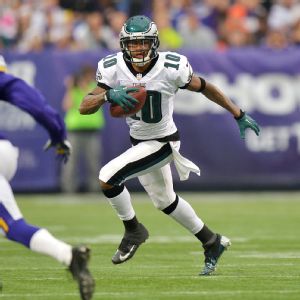 Drew Hallowell/Philadelphia Eagles/Getty ImagesDo the positives outweigh the negatives for a marriage between the Jets and receiver DeSean Jackson?
The sense I get from talking to league sources is the Jets have a measured interest in Jackson, which will intensify if he's released by the
Philadelphia Eagles
-- a distinct possibility if no one is willing to trade for his contract. He has three years, $30 million remaining on the deal. He reportedly is unwilling to renegotiate his deal, which makes a trade less likely. Jackson may not be motivated to re-work the deal because he knows it will force his release, allowing him to reunite with Vick. It's possible that Vick picked the Jets, knowing his former teammate wouldn't be far behind. Could this all be part of John Idzik's master plan?
Frankly, I think it would be out of character for Idzik. Jackson is a problem child, the ultimate risk-reward gambit. The mere fact Chip Kelly is holding a fire sale for his best receiver should tell you something about how badly he wants to rid himself of Jackson. This is
Santonio Holmes
revisited. The talent makes the player oh-so-tempting, but is he worth the aggravation? Even if Jackson's market dries up and he accepts a team-friendly deal, he'd be complaining next offseason about wanting a new contract. He's a headache waiting to happen, but the Jets appear willing to stock up on aspirin.
2. The Marty factor:
Offensive coordinator Marty Mornhinweg knows Jackson better than anyone in the Jets' building, having coached him in Philly, but I wonder about that relationship. In May, 2010, Jackson told the Sporting News, "Our offensive coordinator, Marty Mornhinweg, said some things, trying to question my toughness" -- a reference to a 2009 game in which he sat out with a head injury. "I was like, 'Coach, I just got a concussion. This (is) my brain. If it's something else -- my shoulder, whatever -- I'm going to play.'" Based on the quote, it doesn't sound like they're the best of buds.
By the way, Jackson suffered two concussions in 2009 and 2010, including a severe concussion that resulted in memory loss -- another factor the Jets should consider.
3. 3-21:
So on the two-year anniversary of the
Tim Tebow
trade,
Mark Sanchez
gets cut,
Greg McElroy
announces his retirement and Vick joins the team. That has to be cosmos, right?
4. Polarizing player:
Opinions on the Vick signing are sharply divided among fans and media, which isn't a surprise. I happen to think it's a good deal, but I spoke to one longtime front-office executive who believes Vick, 33, is washed up.
"The Jets already have a guy like him ," said the executive, referring to
Geno Smith
. "If you bring Vick in, you're not thinking. It makes no sense. He's a good kid. He's more mature, he's not a distraction and the players respect him, but he doesn't bring anything to the table anymore -- nothing. He can't win with his legs anymore, he has to win with his head. His arm is good enough, but unfortunately, the arm isn't connected to the head."
An AFC personnel scout said of the Vick-for-Sanchez move: "I don't know what to think, to be honest. You swap one out for the other. There's still no long-term solution."
5. Penalty pals, revisited:
Based on their track records, the
Willie Colon
-
Breno Giacomini
tandem on the right side of the offensive line will produce a lot of penalty flags. Colon was penalized a team-high 12 times for 82 yards last season. Giacomini, playing for the
Seattle Seahawks
, was flagged six times for 39 yards -- in only nine games, mind you. (In addition, he had two holding calls in the postseason.) In 2011 and 2012, he combined for 21 penalties for 172 yards. Unless they change their ways, Colon and Giacomini will invite comparisons to the original Penalty Pals,
Jeff Criswell
and
Dave Cadigan
, circa 1993.
6. Keeping their own
: Penalties notwithstanding, the Jets made a good move to re-sign Colon, who received a one-year, $2 million contract. Only $500,000 is guaranteed; he can also earn $1 million in base salary, plus another $500,000 in roster bonuses if he plays every game. They gave a similar deal to linebacker
Calvin Pace
, who can make $2.625 million in the first year of a two-year, $5 million contract.
All told, the Jets retained seven free agents for a combined total of only $5.255 million in guarantees -- Pace, Colon,
Nick Folk
,
Jeff Cumberland
,
Ellis Lankster
,
Darrin Walls
and
Leger Douzable
. That's what you call bargain shopping.
7. John the Rigid
: The biggest criticism of Idzik, according to some agents and league insiders, is that he shows little or no flexibility in negotiations. He assigns a monetary value to a player and refuses to adjust, they say. That style may help in certain situations, but there are times when you have to examine the big picture and ask yourself, "Do we really want to lose this player over X amount of money?" Idzik's conservative approach probably cost him cornerback
Dominique Rodgers-Cromartie
, who signed with the
New York Giants
. So now they have a gaping hole at the position. Barring a trade, or a veteran unexpectedly shaking free, the Jets will have to rely on the draft.
8. Bad things come in threes
: In a span of 12 days, Idzik jettisoned three of the cornerstone players from the last playoff team, cutting Sanchez, Holmes and
Antonio Cromartie
. That's a stunning player dump, considering they're all 30 or under. The downside is the amount of "dead" money on the cap. The three players are counting $12.78 million, nearly 10 percent of the entire salary cap.
9. Small-school sleeper
: Remember this name -- Terrence Fede. The former Marist defensive end is trying to become the first player in his school's history to be drafted. The 6-foot-3, 276 pounder was a stud pass rusher as the Poughkeepsie, N.Y., school, recording 30.5 career sacks. He has an impressive burst on the edge. He performed for scouts recently at the University of Buffalo pro day, clocking a 4.79 in the 40. All 32 teams were in attendance, including Jets scout Cole Hufnagel. Even if he's not drafted, Fede will be a priority free agent.
10. The Jets' new dogma
: Everybody knows about Vick's sordid history with dog fighting, a crime that resulted in him spending nearly two years in a federal prison. Well, here's something interesting and ironic: One of his new receivers is a dog lover. Eric Decker has a foundation called "Decker's Dogs," which provides service dogs to returning military vets with disabilities. Decker and his wife, Jessica, raise money to help train rescued dogs. They believe rescued dogs have the same success rate as dogs bred for service.
March, 22, 2014
3/22/14
7:00
AM ET
They added a former
Philadelphia Eagles
quarterback (
Michael Vick
) to go along with their former Eagles offensive coordinator (Marty Mornhinweg). Now everybody is wondering if the
New York Jets
will make a play for the Eagles' most prolific wide receiver,
DeSean Jackson
, who reportedly is on the trading block.
Vick, for one, would welcome Jackson to the Jets.
"I think DeSean has to handle his own business in his own personal manner and I have to handle mine, but if there's an opportunity to get DeSean, I'm pretty sure the New York Jets fans would be in high favor of that," Vick said Friday night, shortly after he signed with the Jets. "But who knows? It takes a lot to make a trade happen [with] all of the intricacies of a contract. It's not for us as players to decide. But, hopefully, everything will work out for DeSean. If he ends up in New York, I'll be happy, just as happy as he'd be. But who knows? You can't say."
The Eagles reportedly would take a third-round pick for Jackson, who apparenly fell out of favor with coach Chip Kelly. The Eagles are actively shopping him, the Philadelphia Inquirer reported.
A pair of 7s
: Vick quickly stamped out a potential controversy over the No. 7. He said he's planning to change numbers, allowing
Geno Smith
to remain No. 7.
"Yeah, Geno is going to wear number seven," Vick said. "I'm changing my number."
To what? He's not sure.
"I'm going to come up with something within the next week," he said.
March, 20, 2014
3/20/14
9:30
AM ET
So now we have another trade rumor that is sure to tantalize Jets Nation: The
Philadelphia Eagles
are reportedly listening to offers for wide receiver
DeSean Jackson
, who posted career numbers last season.
Are the
New York Jets
interested? Should they be interested?

Jackson
First of all, it's amusing to hear that a team isn't actively shopping a player, but willing to field offers. The Jets weren't actively shopping
Darrelle Revis
last year, and look at how that turned out. The Jackson-Jets possibility has traction because his former Eagles coordinator, Marty Mornhinweg, is now the Jets' coordinator and because the Jets still need a game-breaker at wide receiver.
Eric Decker
helps, but they need more firepower.
While you can never say "never" in the NFL, it would be a surprise if the Jets make a strong push for Jackson. Such a move would run counter to the John Idzik-ian way. Jackson's ability can't be denied (he caught 82 passes for 1,332 yards last season) and he's only 27, but there are economic and character issues that don't seem to match the general manager's philosophy.
The contract is huge. Jackson is due to make $30.5 million over the final three years of his contract, including $10.5 million this season. The money is non-guaranteed, but it would be a $10.5 million cap hit. Do the Jets want to take on another big contract at receiver after doling out $15 million guaranteed for Decker?
Jackson is straight out of the
Santonio Holmes
diva school. He argues with coaches, complains about his contract and does stuff to annoy the people around him. Why else would Chip Kelly, an offensive guru, want to trade a top weapon in the prime of his career? The Jets removed the wart that was Holmes, so do they really want go there again? Obviously, Mornhinweg's input would be vital. If he absolutely believes Jackson would behave and be a team guy, it would be worth a call to the Eagles to start some dialogue. If there is any hesitation, stay away.
One thing to remember: This could be the best wide receiver draft in history, and there is a good chance the Jets can acquire an impact player with the 18th pick. They could get Oregon State's Brandin Cooks, whom many say is a Jackson-type player.
If the Jets were a little further along in their development, meaning a legitimate contender, I could see Idzik making the splashy move for Jackson. You might have noticed, but Idzik is a slow builder, thinking long term over quick fix. It might not make the fans happy, but it's quite obvious that he doesn't care what the fans or media think.