New York Jets:

Dex McDougle
May, 13, 2014
5/13/14
3:15
PM ET
Let's take a look at the
New York Jets
' draft class through the prism of projected roles for 2014. I see only two significant contributors at the outset, but that number likely will grow as the season progresses. You will see many of the draft picks involved in special teams. A closer look:
Calvin Pryor, safety, first round
: He should be a Day 1 starter. If not, something is wrong. The roster is filled with strong safeties, so it'll be up to Rex Ryan to mix and match. Right now, the best tandem is Pryor and
Dawan Landry
, with
Antonio Allen
playing in certain sub packages.
Jace Amaro, tight end, second round:
He doesn't block well enough to be an every-down player, but he should be on the field for about 50 percent of the snaps. If he can make a relatively seamless transition to a pro-style offense, Amaro could be the tight end in the three-receiver/one-tight end personnel package on passing downs in addition to joining
Jeff Cumberland
in two-tight end sets.
Dex McDougle, cornerback, third round
: If his surgically repaired shoulder is OK, McDougle has a chance to work his way up the depth chart. Other than
Dee Milliner
, no one is entrenched at any of the cornerback spots. He should be the No. 4 corner at the very least. If he's good enough to start, it can allow
Dimitri Patterson
to play the slot, which wouldn't bode well for
Kyle Wilson
.
Jalen Saunders, wide receiver, fourth round
:
Jeremy Kerley
is the slot receiver, so Saunders' best chance to make an immediate contribution will come as a punt returner. In terms of the pecking order at receiver, he's probably looking at the No. 4 or No. 5 spot.
Shaq Evans, wide receiver, fourth round:
The situation at receiver is similar to that of cornerback. Except for Kerley and
Eric Decker
, the depth chart is fluid. Realistically, the best-case scenario for Evans is No. 5 receiver. He'd increase his value if he starts returning kickoffs.
Dakota Dozier, guard, fourth round:
He has upside, but there are two factors working against him -- he comes from a small school (Furman) and he's learning a new position (guard). There will be a learning curve. Don't be surprised if he ends up with the Idzik Red-Shirts -- i.e. the bottom-of-the-roster players who remain inactive every week.
Jeremiah George, linebacker, fifth round
: He probably will back up at the 'Mike' and 'Will' linebacker spots, joining
Nick Bellore
as the top reserves. Obviously, George will get a chance to be a significant contributor on special teams.
Brandon Dixon, cornerback, sixth round
: This is a huge leap for Dixon, who played at NW Missouri State. He's a raw, developmental prospect who could join the Red-Shirts or perhaps the practice squad.
Quincy Enunwa, wide receiver, sixth round:
See Evans.
IK Enemkpali, outside linebacker, sixth round
: He played defensive end at Louisiana Tech, but the Jets are listing him as a linebacker. If that's where he plays, it'll be a major transition. Hello, practice squad.
Tajh Boyd, quarterback, sixth round
: He will battle
Matt Simms
for the No. 3 job. Boyd has some intriguing traits, but he has to learn a pro-style offense and clean up some mechanical flaws.
Trevor Reilly, outside linebacker, seventh round:
The Jets have four veterans ahead of him, so it'll be tough to make the team. There's always room at the Inn for a pass-rusher and a big-time special-teams player, so he'll have to excel in those areas.
May, 13, 2014
5/13/14
10:30
AM ET
Leftover "sound" bites from draft weekend, with general manager John Idzik, Rex Ryan and senior director of college scouting Terry Bradway discussing some of the
New York Jets
' second- and third-day draft picks:

Amaro
Idzik on whether second-round tight end Jace Amaro can block well enough to be used in-line or flexed out as a receiver
: "I think we can do both, really. He hadn't been in-line as much. He did do a little bit of that at (Texas) Tech. He certainly has the size and he has the will, too. You see him get after it as a blocker. I think he has the size and now it's just a matter of getting a (few) more reps at doing it. We're not concerned that way.
Ryan on third-round cornerback Dex McDougle
: "When we watched him, we saw a guy that we think has versatility, can play outside, can play inside as a nickel possibly. Obviously, we like his cover skills. But we think he's a complete corner. We think he can tackle. We know he can tackle. He's aggressive. He'll challenge you at the line of scrimmage. He's got good ball skills. And, obviously, we feel good he can run. But (he's) a very aggressive player as well. And the thing that I thought was impressive."
Bradway on fourth-round wide receiver Jalen Saunders, listed at 5-foot-9, 175 pounds
: "I think he's played both inside and outside. You're right, he is smaller in stature, but he's as tough as they come. You go watch him play ... no fear. He's blocking bigger guys. He's breaking some tackles. He's a dynamic playmaker with a ball in his hands, too. He brings that return element. It was really an attractive pick for us."
Ryan on sixth-round cornerback Brandon Dixon
: "He's coming from a small school (Northwest Missouri State). So I get that, that there'll be some developing there. But at his school, wow, it was zero coverage or cover-1. So, he's got the guts, I'll tell you that. He's played it. The measurables, he's got size, he's got speed, and the thing that I was impressed with when you saw all the scouts' grades and the coaches', it was competitiveness. This young man is a competitor, and I think that's what he's going to bring. How quick he learns the system and all that, we'll have to determine that at a different time. But I love the competitiveness and obviously his God-given size-speed combination is rare."
Ryan on fifth-round linebacker Jeremiah George, only 5-11, 234 pounds
: "I like having the flexibility of playing a 'Mike' linebacker or a 'Will' linebacker. ... So here, he fits a role. We'll try to teach him both. We'll flip both those guys. That's what you want to have, that kind of flexibility. We love the fact that he's a run-hit guy, loves to play. He's got great passion for the game. You mentioned the production. We saw all that. We really like him. ... Sometimes (size) can be overrated. Zach Thomas was one of the best linebackers in the league and he was much smaller in a 3-4."
Idzik on whether linebacker Trevor Reilly's age (26) dropped him to the seventh round
: "That may be a factor. The bottom line is, what do you think of him as a player and a person? Again, he fit that way for us."
May, 12, 2014
5/12/14
2:00
PM ET
One of the lingering questions involving the
New York Jets
is whether they adequately addressed their wide-receiver need in the draft.
Amid the endless pre-draft hype, they were linked to big-name prospects such as
Odell Beckham
Jr.
,
Brandin Cooks
and
Marqise Lee
. They went hard after receivers on the third day, selecting three wideouts, but it's never a sure thing when you're relying on middle- and late-round picks. ESPN draft analyst Todd McShay agrees, claiming the Jets' draft strategy underscores their belief that
Eric Decker
-- the No. 2 receiver with the
Denver Broncos
-- will be their top dog for the foreseeable future.
"Outside of (the three picks), I don't think they were really able to solve their problem at wide receiver," McShay said Monday on a media conference call. "You have to believe Eric Decker is your No. 1 if you're going to spend that money" -- meaning the five-year, $36.25 million contract.

Amaro
The Jets drafted
Jalen Saunders
(fourth round),
Shaq Evans
(fourth) and
Quincy Enunwa
(sixth), but their key draft pick is tight end
Jace Amaro
(second). McShay described Amaro as a "big wide receiver" who needs to make an immediate impact. To me, he's the key to the draft.
"Ultimately, you need Amaro to come in and contribute, and you need more from
Stephen Hill
and you need Eric Decker to play the way he was paid," McShay said. "Hopefully, between Saunders, Evans and Enunwa, if you hit on one of those guys, you'll fill out the depth a little bit."
McShay believes the Jets got good value with their first two picks, safety
Calvin Pryor
and Amaro, but he wonders if they reached for need in the third round, taking cornerback
Dex McDougle
. No matter how team officials try to spin it, this was a "need" draft for the Jets. It's the kind of strategy that results in reaches, which end up being bad picks.
"Could they have gone wide receiver there? Yeah, sure, there were some better players at wide receiver available (in the third round), but they're still trying to fill in that secondary and get the right guys there," McShay said.
Pryor
McShay offered a few other takeaways on the Jets' draft. He sees Pryor as a great fit in Rex Ryan's defense, but he wonders if he'll have to dial back his aggressive ways to conform to the new safety rules.
"I know some Jets fans were frustrated they went with (him) at 18, but he was just a really good value and he fits what they want," McShay said. "They want a guy who's going to set a tone physically, who's tough. He's got enough range to cover the deep third and the deep middle of the field. He's never going to be a matchup safety, but he can cover in zone, he's capable of playing in the box and he's going to fill the alley hard. I mean, he knocked some guys out. He's probably going to wind up with some fines in the league, and he may have to adjust his mentality a little bit, but he's a perfect Rex Ryan-type football player."
The criticism of Amaro is he's a below average blocker. Doesn't matter, according to McShay.
"He can block a little bit, but ultimately all they did was draft a big wide receiver they can flex out and put in the slot, even split out wide at times and try to create some mismatches," he said. "I really like that pick for the Jets."
McShay's take on the next three picks:
McDougle: "I like his tape. He has durability issues, but I thought he was one of the under-rated players in this draft. When you studied what he did in 2012 and his first couple of games this season, he's got a lot of potential. They obviously love drafting defensive backs."
Saunders: "He's quick. He's a good slot receiver, he makes plays and he create after the catch."
Evans: "We had him in that fourth/fifth-round range. He doesn't have explosive burst. He's not going to stretch the field much vertically, but he has good hands and I thought he had a really good performance at the Senior Bowl. He's got a chance to stick maybe as the No. 4 or No. 5."
May, 10, 2014
5/10/14
8:00
PM ET
»
NFC wrap-ups
:
East
|
West
|
North
|
South
»
AFC
:
East
|
West
|
North
|
South
FLORHAM PARK, N.J. -- A wrap-up of the
New York Jets
' draft.
Click here
for a full list of Jets draftees.
[+] Enlarge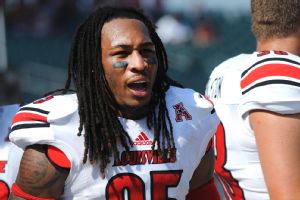 AP Photo/Tomasso DeRosaThe Jets' scouts believe safety Calvin Pryor has enough athleticism and range to hold up in coverage.
Best move:
Safety
Calvin Pryor
in the first round was a solid move. It came as a mild surprise because of their previous philosophy at the position. Rex Ryan always treated his safeties as interchangeable parts, saving the big money for the cornerbacks. Now they are trying to copycat the champion
Seattle Seahawks
, recognizing the importance of safeties in the current NFL. Let's face it, the Jets' safeties were mediocre at best last season, so they needed a playmaker. Pryor isn't a ballhawk, but he's a hard-hitting enforcer who will bring attitude to the secondary, the weak link on defense. He was a good value at No. 18 overall. They could have used a cornerback in Round 1, but their scouts believe Pryor has enough athleticism and range to hold up in pass coverage. Pryor will be a Week 1 starter, mark it down.
Riskiest move:
Third-round cornerback
Dex McDougle
missed the final nine games last season because of shoulder surgery. So, yes, he qualifies as a risk. Cornerback is the last place they needed another durability question; remember, they signed the injury-prone
Dimitri Patterson
in free agency -- and he's a likely starter. With McDougle, the Jets are making a projection based on his junior tape -- but it's not like he lit up in the ACC in 2012. He displayed ball skills in the first three games of '13 (three picks), but the competition was highly suspect. At 5-foot-10, he'll have trouble matching up against the big receivers. The Jets' scouts were giddy after watching his pro day (he ran the 40 in 4.43 seconds), but great pro days don't always translate to the field. McDougle doesn't solve the concerns at cornerback.
Most surprising move:
We'll call this most surprising nonmove. The Jets went into the draft with 12 picks and came out with 12 players -- not a single trade, reinforcing John Idzik's reputation as a conservative general manager. Naturally, he was satisfied with the outcome, but this was curious draft management. The Jets squandered a rare opportunity. They could have used the extra ammunition to jump other teams, allowing them to cherry-pick players they really wanted. They tried to trade up in the second round for wide receiver
Marqise Lee
, but they couldn't get a deal done. Right now, their draft haul includes a handful of small-school players and undersized talents for their respective positions. You can't help but wonder if they could have done better. Of course, their passive approach will be forgotten if it turns into a watershed draft for the Jets.
File it away:
The wild card is second-round tight end
Jace Amaro
. He was the most prolific pass-catching tight end in college football, but were his gaudy statistics (106 catches for 1,352 yards in 2013) the product of Texas Tech's pass-happy offense? It will be fascinating to see it play out because, if the Jets are right about him, they will have a legitimate threat at a position that has been a black hole in their passing attack. No one is expecting him to be the next
Jimmy Graham
, but if he can be a poor man's Graham, the Jets' passing game -- ranked 31st last season -- will be dramatically improved. It might take time, though. Amaro faces a potentially difficult transition into a pro-style offense. He's not a blocker, so it will be up to coordinator Marty Mornhinweg to scheme up ways to feature his strengths.
May, 9, 2014
5/09/14
10:48
PM ET
FLORHAM PARK, N.J. --
The pick
:
Dex McDougle
, CB, Maryland
My take
: The Jets must have been antsy to address their cornerback need because McDougle is a reach in the third round. He was widely projected as a third-day pick, primarily because of his medical situation. He underwent season-ending shoulder surgery last September, causing him to miss the final nine games. Obviously, the injury hurt his draft stock, as he was unable to participate in the scouting combine. He said he's healthy now. This is a risk-reward pick. When healthy, McDougle (5-10, 196 pounds) demonstrated NFL ability. He got off to a good start last season, with three interceptions in three games -- matching his interception total from his first three seasons. The raw ability is there (he ran the 40 in 4.43 seconds at his pro day). He attended every practice and game last season after his surgery, prompting the school to create an award in his honor -- the Dexter McDougle Ultimate Team Player Award.
The cornerback situation
: It's still shaky. The projected starters are
Dee Milliner
and free-agent acquisition
Dimitri Patterson
, with
Kyle Wilson
in the slot. On paper, it's the Jets' worst cornerback situation since Rex Ryan became the coach in 2009. McDougle won't be rushed into a role, meaning he probably will compete for playing time in the sub packages. Most of the corners are on one-year contracts, so it could be the Milliner and McDougle show in 2015. At least give the Jets credit for addressing their weakest area -- the secondary, adding McDougle and first-round safety
Calvin Pryor
. The pieces are in place for a bright future on the back end of Ryan's defense -- assuming the pieces are the right pieces.
What's next
: The Jets will have a busy third day. They have nine picks, including three in the fourth round. They have yet to address the wide receiver position. You also could see a quarterback and an outside linebacker.