New York Jets:

Dustin Keller
August, 20, 2013
8/20/13
9:52
PM ET
FLORHAM PARK, N.J. --
Kellen Winslow
saw the replay of
Dustin Keller
's grisly knee injury. He watched it only once. That's all it took to get him fired up, seeing Texans DB
D.J. Swearinger
dive into Keller's knee and shredding all the ligaments. That kind of low hit, Winslow believes, should be illegal.
"Just think how serious they're taking helmet-to-helmet hits," Winslow said Tuesday. "They should take these type of hits that Keller took the same way -- a defenseless receiver who's not looking. They're diving at his knee; that's unprotected. If he was able to catch it and protect himself, that would be a different story.
"But if he can't see what's coming and they're diving at his knee, I mean, that, to me, is the same as a helmet-to-helmet hit. I think it should be viewed the same way. [Swearinger] said, 'I hit him that way just to avoid the fine.' There's something wrong with that."
Keller, who left the Jets in free agency to sign a one-year contract with the Dolphins, tore several ligaments in his knee and will be out for the remainder of the season.
October, 5, 2012
10/05/12
1:08
PM ET
FLORHAM PARK, N.J. -- When Rex Ryan met with his coaching staff early in the week, he put out a suggestion box, so to speak, asking for ideas on how to get the team out of its funk. OL coach Dave DeGuglielmo offered this:
An eight-minute period in practice in which the first-team offense faced the first-team defense -- the type of thing they do in training camp.
So they did it Thursday, and Ryan loved it. All but one play in the period was a run. They used running plays from their base, power and boss packages. It wasn't live tackling, but it was full-speed. It made sense, considering their problems running and stopping the run.
"I challenged our guys to compete against each other," Ryan said Friday. "The only way to get better is to go full-speed against each other. That's what we got back to."
INJURY UPDATE
: TE
Dustin Keller
(hamstring), WR
Stephen Hill
(hamstring), NT
Sione Po'uha
(back) and LB
Bryan Thomas
(hamstring) are expected to miss practice for the second straight day. There's virtually no chance of Hill playing Monday night against the Texans. Po'uha and Thomas are major question marks. Losing both players would be a big hit to the already beleaguered run defense.
September, 7, 2012
9/07/12
12:09
PM ET
By
Mike Mazzeo
| ESPNNewYork.com
FLORHAM PARK, N.J. -- Jets tight end
Dustin Keller
stretched, worked on the side and then ran some routes with the offense during the portion of Friday's practice open to the media.
Keller (hamstring) was limited Thursday, but believes he will play in Sunday's season opener versus Buffalo.
Also, defensive tackle
Sione Po'uha
participated in position drills. Like Keller, Po'uha (back) was also limited Thursday.
The Buffalo News reported that Bills wide receiver
Stevie Johnson
(groin) was on the field for Friday's practice.
November, 8, 2010
11/08/10
4:10
PM ET
It was the battle of the nicknames and when Revis Island was able to hold Calvin "Megatron" Johnson to a single catch for 13 yards, score one for the tropics. But Darrelle Revis said it wasn't easy.
"It was tough for me because how big he is. The guy could be playing in the NBA," Revis said.
The Jets cornerback said that Johnson doesn't get the credit he deserves, saying that Johnson deserves to be thought of in the top five receivers in the NFL.
To anyone watching the game, it was obvious that Revis was back. After a hamstring issue that kept him limited in practice and out of a few games, Revis didn't appear to hold back at all.
"I felt healthier than any other game that I've played this year," Revis said.
He added that the issue is in the past for him.
Both Nick Mangold and Dustin Keller felt that the Jets ability to pull out this game had a lot to do with the maturity of second-year quarterback Mark Sanchez.
"You keep grinding and you keep fighting and you keep scrapping," Mangold said. "You don't know when the moments going to come and that's why you've always got to be prepared and be at your finest and for us it came in the last five minutes or so."
The Jets were able to wrench a victory out of Denver and Detroit despite not dominating either team for the majority of the game.
"You can tell there's a difference with us in the fourth quarter finishing out plays," Revis said.
A few other items of note off of Rex Ryan's press conference.
Ryan plans to evaluate how coaching duties are distributed in order to avoid the two timeouts for 12 men on the field. It was too chaotic, so as a staff they discussed how to improve it and will give more responsibilities to coaches in the booth.
"Our guys do a great job up top," Ryan said. "We're going to add some more responsibilities. We're going to go in with the game plan of really being able to handle those situations a little better."
In an attempt to be funny, Ryan joked that Santonio Holmes held onto the ball really well, unlike former Jets safety Kerry Rhodes. He then said a brief sorry to PR head Bruce Speight and added that Rhodes has two touchdowns.
Rhodes read about it on Twitter and wasn't perturbed. In a text, he noted that Ryan was keeping tabs on his progress.
Ryan thought it was funny that Nick Folk didn't realize he was kicking the game winner in overtime. Folk was under the impression that the Jets needed a touchdown to win on the opening drive of overtime, a rule that will go in effect in the postseason.
"I think we'd go for the touchdown if that was the case," laughed Ryan.
Ryan said he thought the Jets stayed with the run a little bit too long, "Maybe (offensive coordinator Brian Schottenheimer) was trying to appease me a little bit." Last week Schottenheimer got a good deal of criticism for sticking with an ineffective passing strategy in a 9-0n loss to the Packers.
Ryan also lamented that the Jets are 27th in the league in penalties.
October, 21, 2010
10/21/10
12:39
PM ET
We have this story and video on Jets TE Dustin Keller, who said he is just about as well known as he wants to be -- he gets recognized but people are cool with him, while QB Mark Sanchez can't have a normal day in New York.
Problem is, Keller's numbers are going up. He's the top target for Sanchez, and if the Jets keep the five-game winning streak rolling, Keller might find anonymity harder to come by. Keller is grounded enough to handle it though, and was notably the one player singled out by former agent Josh Luchs for doing things the right way when interacting with agents during Luchs' tell-all in Sports Illustrated.
September, 19, 2010
9/19/10
10:24
PM ET
By
Ian Begley
| ESPNNewYork.com
Recap
|
Box score
|
Jets Center
EAST RUTHERFORD, N.J. -- Wonder what
Joe Namath
has to say about
Braylon Edwards'
hands now?
Broadway Joe spent the week criticizing Edwards for his no-show performance in Week 1 against Baltimore. But Namath won't have much ammunition to work with this week after Edwards' stellar day on Sunday against the Patriots.
Edwards caught four balls for 45 yards and a touchdown in the Jets' crucial 28-14 win over New England. He also hauled in a 2-point conversion from
Mark Sanchez
in the third quarter. Edwards saw the day as a retribution for the mouthy Jets, who were maligned and skewered all week after a disappointing season-opening loss to the Ravens.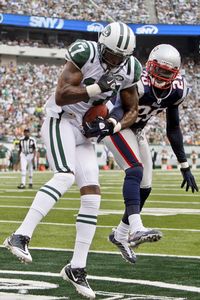 AP Photo/Seth Wenig
Braylon Edwards picked up five catches, one TD, one 2-point conversion and one taunting penalty.

"This is a team that is deserving of being ... mentioned as a contender, not a pretender," Edwards said. "We came out here today and showed them who we really are."
Edwards wasn't the only Jet to make up for a miserable performance against the Ravens. Tight end
Dustin Keller
bounced back from a forgettable Week 1 with a monster effort against the Patriots (1-1).
Keller had nine catches for 115 yards and hauled in a 1-yard touchdown one week after he stepped out of bounds a yard shy of the first-down marker on a fourth-down play in the final seconds of the Jets' 10-9 loss to the Ravens.
Both Keller and Edwards were in rhythm with Mark Sanchez for most of the day on Sunday, helping the second-year quarterback immensely in one of his best days as a pro (21-for-30, 220 yards, 3 TDs).
"When me and Mark are clicking, it just seems like everyone is clicking," Keller said.
With the Jets down 7-0 in the second quarter, Sanchez and Edwards went to work. They connected on three third-down conversions, the final being a 10-yard touchdown play to tie the game with 6:22 to go in the half. Edwards beat Patriots corner
Darius Butler
to haul in the TD in the left corner of the end zone and was hit with a 15-yard taunting penalty for dancing in front of Butler.
"When Braylon is on, the offense is hard to stop," Keller said.
Earlier in the week, Namath blasted Edwards, saying the former No. 3 pick had poor hands and lacked the breakaway speed the Jets sorely needed against the Ravens.
But Edwards, who expressed respect for Namath earlier in the week, wasn't interested in rubbing his performance in the Hall of Famer's face. In fact, Edwards says he's done talking about Namath, period.
"Mr. Namath, there's a lot of respect from me [for] the things that he did and [what] he accomplished in the city. So with that, it's cased closed," Edwards said. "I don't want to talk anymore about Joe Namath. He is who he is, and he can make comments like that. He's Broadway Joe so let's leave it at that. He'll make his comments and I'm just going to play football for the New York Jets and do the best that I can."