New York Jets:

Ellis Lankster
March, 11, 2014
3/11/14
1:00
PM ET
To paraphrase an old Eric Mangini line, a little housekeeping on the contract front:
The
New York Jets
signed three veterans in recent days to new contracts. In breaking down the deals, you will notice they gave roster bonuses instead of signing bonuses. It's a smart play because a roster bonus is charged to that year's cap, while a signing bonus is pro-rated for cap purposes over the length of the contract. Granted, these are relatively minor contracts, but with so much cap space ($39.7 million), it pays to absorb the hit now.
Jeff Cumberland, tight end
Contract:
Three years, $5.7 million. Includes a $1 million roster bonus (2014). Cap charges are $1.9 million for each year.
Ellis Lankster, cornerback
Contract:
Two years, $1.6 million. Includes a $155,000 roster bonus (2014). Cap charges: $885,000 in 2014; $745,000 in 2015.
Darrin Walls, cornerback
Contract:
Two years, $1.9 million. Includes a $350,000 roster bonus (2014). Cap charges: $1 million in 2014; $900,000 in 2015.
March, 5, 2014
3/05/14
9:50
PM ET
Addressing cornerback depth before the start of free agency, the
New York Jets
re-signed backups
Ellis Lankster
and
Darrin Walls
, the team announced Wednesday night. Lankster was slated to become an unrestricted free agent, Walls a restricted free agent.
Lankster
Walls
The moves came on the same day in which they acquired cornerback
Johnny Patrick
on waivers from the
San Diego Chargers
. It means they have six experienced corners under contract, although the future of the No. 1 corner --
Antonio Cromartie
-- remains cloudy because of a $15 million cap charge.
Lankster is an underrated signing. In fact, he was ranked No. 6 on our list of the team's 16 unrestricted free agents. He didn't play much cornerback last season (only 29 snaps), but he was a core special teamer, finishing second on the team with 20 tackles. The Jets were concerned that he'd draw interest on the open market, so they made a preemptive strike.
Walls is coming off a weird year. He played a fair amount of football (three starts and a total of 289 snaps), starting opposite Cromartie whenever rookie
Dee Milliner
was in the doghouse. But when Milliner was in the lineup, Walls was the forgotten man. The Jets rarely used more than three corners in any package, so it turned into an all-or-nothing situation for Walls, who finished with no interceptions and four pass breakups.
Rex Ryan has plenty of bodies at corner, but he'll have a gaping hole if they cut Cromartie. Aside from Milliner, none of the others are starting-caliber players.
December, 25, 2013
12/25/13
3:45
PM ET
December, 24, 2013
12/24/13
2:54
PM ET
FLORHAM PARK, N.J. --
New York Jets
cornerback
Ellis Lankster
(jaw) was not at practice during the portion open to the media Tuesday. Lankster missed Sunday's game with a jaw injury suffered against Carolina on Dec. 15.

The Jets were also without tight end
Kellen Winslow
(knee) but that's part of his schedule. Winslow sits out Wednesdays because of chronic pain in his knee, and because of the holiday, Tuesday is serving as a Wednesday for the Jets' practice purposes.
The Jets are otherwise healthy. They didn't suffer any injuries in their 24-13 win against Cleveland on Sunday.
October, 29, 2013
10/29/13
3:50
PM ET
The Cincinnati debacle notwithstanding, the
New York Jets
have exceeded expectations with a 4-4 record. Some so-called experts didn't think they'd win four games for the entire season. You know who you are.
Before the season, I spoke to several personnel experts, and the consensus was that it was a six-win roster. A former Jets player, someone who understands the pulse of the team, told me in the preseason, "They're going to be terrible."
[+] Enlarge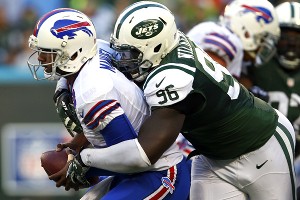 Rich Schultz/Getty ImagesMuhammad Wilkerson is the defensive star through eight weeks, notching a career-high seven sacks.
They were terrible in Cincinnati and in Tennessee, but the Jets aren't a terrible team. Despite having only one or two blue-chip players, DE
Muhammad Wilkerson
and maybe C
Nick Mangold
, they've managed to hang around in the wild-card race. Rex Ryan and his staff have done a nice job of coaching around the obvious deficiencies and a rookie quarterback. Sure, they've benefited from a couple of huge breaks (the
Lavonte David
late hit and the
Chris Jones
push), but at least they were good enough to capitalize on them.
Without further delay, our midseason awards:
Offensive MVP
: QB
Geno Smith
. Not much competition here. Yeah, I know, he cost them a couple of games with turnovers, but he also won games with his deep-throwing ability (
Buffalo Bills
), poise in the clutch (
Atlanta Falcons
) and mobility (
New England Patriots
).
Defensive MVP
: DE Muhammad Wilkerson. A no-brainer. He already has a career-high seven sacks, along with one interception and one forced fumble. He's a lock for his first Pro Bowl. If he keeps it up, he could get some votes for NFL Defensive Player of the Year.
Special-teams MVP:
PK
Nick Folk
. You can't quibble with perfection. The man is 19-for-19 on field goals, including three game winners. Next to Wilkerson, he's the team MVP.
Most Improved
: RB
Bilal Powell
. He began training camp as an afterthought, but he worked his way up to the starting job. He has become a more elusive runner than in past years.
Least Improved
: NT
Kenrick Ellis
. He was expected to make a big jump in Year 3, but he was slowed by a preseason back injury and hasn't come close to being a dominant run stuffer.
Biggest Surprise
: NT
Damon Harrison
. "Big Snacks" came out of nowhere last year and Wally-Pipped Ellis in the preseason. Harrison is one of the reasons why the Jets are No. 1 against the run.
Biggest Disappointment
: CB
Antonio Cromartie
. Coming off a Pro Bowl season, Cromartie already has allowed five completions of at least 46 yards. His uneven play has made it harder for the defense to deal with the
Darrelle Revis
void.
[+] Enlarge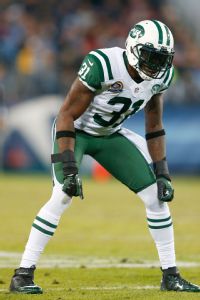 Joe Robbins/Getty ImagesIn 2013, Jets cornerback Antonio Cromartie hasn't quite lived up to his Pro Bowl season of last year.
Best Rookie
: DT
Sheldon Richardson
. If it weren't for him, GM John Idzik would be taking major heat for the Revis trade. Richardson, acquired with the Revis pick (No. 13 overall), is a future star.
Best Offseason Acquisition
: RG
Willie Colon
. Plagued by injuries in recent years, Colon hasn't missed a play and has added an element of toughness to the offensive line.
Worst Offseason Acquisition
: RB
Mike Goodson
. Because of his embarrassing arrest and the subsequent suspension, he was a disaster before he stepped foot on the field. Maybe next time the front office will put more stock in its background checks.
Best-kept Secret
: CB
Ellis Lankster
. He's not the leading tackler on special teams (he's second, behind
Nick Bellore
), but Lankster is the most dynamic player on the coverage units.
Best Coaching Move
: Ryan decided before the season to take control of the defense, running it on a day-to-day basis. Ryan is at his best -- ditto, the defense -- when he's in charge.
Worst Coaching Move
: The decision to insert
Mark Sanchez
in the fourth quarter of a preseason game, behind a backup offensive line, was a brainlock for the ages.
Biggest Concern
: There's not enough offense. In their four losses, the Jets have managed only two touchdowns. They have to face four top-12 defenses in the second half. Uh oh.
Key to the Second Half:
Continued improvement from Smith. His passer rating in Games 5-8 (75.2) was better than Games 1-4 (68.6), meaning he's moving in the right direction, albeit with baby steps. The struggling pass defense is another key, but luckily for the Jets, they face only one top-10 passing offense -- Sunday against the
New Orleans Saints
.
The Jets will make the playoffs if
: They win at least five of their remaining eight. Take a look at the AFC standings; a 9-7 record could be good enough for the second wild-card spot.
Player Ready to Emerge
: RB
Chris Ivory
. He showed flashes against the Patriots. With the weather beginning to turn, Ivory's power-running style will be critical down the stretch.
December, 10, 2012
12/10/12
1:45
PM ET
FLORHAM PARK, N.J. --
Nick Bellore
and
Ellis Lankster
were looking for opportunities to get in the holiday spirit, and asked if the Jets were doing anything as an organization to celebrate the season.
They were in luck, and so will 20 elementary school students who participate in the Generation Jets program. Bellore and Lankster, as well as
Austin Howard
,
Konrad Reuland
and
Caleb Schlauderaff
, will be on hand tonight to help the students spend $250 gift cards at a New Jersey Toys R Us.
"It's the first time I'm going to do something like that," Ellis said. "I'm ready."
"I know I would've loved getting a shopping spree when I was a kid," Bellore said.
Luckily, the win in Jacksonville and a spark of playoff hopes means the team has a little more cheer to spread.
August, 23, 2012
8/23/12
7:23
PM ET
FLORHAM PARK, N.J. -- There was action before, during and after practice on Thursday here at the Atlantic Health Jets Training Center.
Before practice, coach Rex Ryan revealed that
Wayne Hunter
has
lost his starting job at right tackle
in favor of
Austin Howard
.
After practice,
Santonio Holmes
declared himself
fit to play Sunday night
against the
Carolina Panthers
.
In between, the Jets worked out for 2½ hours Thursday afternoon in front of a few hundred fans as training camp winds to a close. They got to see Howard take all the reps with the first unit, and Holmes get a few live reps as well -- wearing a red no-contact jersey -- as he continues to recover from a rib injury.

In terms of other practice observations:
INJURY REPORT:
RB
Joe McKnight
, who missed Wednesday's practice with shin splints, was back on the field, but limited. S
LaRon Landry
was also limited for precautionary reasons. ... TE
Jeff Cumberland
, WR
Patrick Turner
, WR
Chaz Schilens
, DT
Sione Pouha
, CB
Ellis Lankster
and LB
Ricky Sapp
did not practice.
GROUND AND POUND:
The Jets worked extensively on their running game Thursday. Gang Green averaged just 1.8 yards per carry in Saturday night's preseason loss to the Giants, gaining 58 yards on 32 totes.
OPPOSITE SIDES:
The first-team offense and first-team defense rarely matched up against each other Thursday. The Jets were likely preparing for Sunday night's game against the Panthers, having the first-stringers face scout teams.
THE HIGHLIGHT?
Mark Sanchez
completed a beautiful pass over the middle to
Royce Pollard
on one of the few plays when both the first-team offense and first-team defense matched up against each other, in 11-on-11 drills. Pollard went high to reel in the ball, in between safeties
Yeremiah Bell
and
Josh Bush
. Sanchez was fired up after the play.
On the day, Sanchez completed four of seven passes against the first-team defense.
Tim Tebow
went 2-for-3 against them, with a sack.
In 7-on-7 drills, LB
David Harris
dropped a gimme interception thrown by Tebow. But he made up for it with a nice pick on a pass thrown by
Greg McElroy
. Rookie LB
Demario Davis
also had an interception late in practice, in 11-on-11 drills.
THE KICKING GAME:
Nick Folk
nailed all three of his field goal attempts at the end of practice, including one from 53 yards away.
Josh Brown
also connected from 53 yards, but missed a shorter attempt.
REMEMBER ME?
Former Jets offensive tackle
Damien Woody
, now an ESPN analyst, visited practice on Thursday, along with his two sons. Kind of ironic, considering this was the day the Jets made a switch at Woody's former position.