New York Jets:

fantasy position battles
August, 25, 2014
8/25/14
10:00
PM ET
FLORHAM PARK, N.J. --
Stephen Hill
could be in his final days with the
New York Jets
.
The disappointing wide receiver is expected to play Thursday night in the final preseason game, a clear indication his roster spot is in jeopardy. Starters and key reserves don't play in the annual Backup Bowl against the
Philadelphia Eagles
. Hill was granted that status in his first two years, when he was a big-shot, second-round pick with a bright future. Now he'll be grinding with the other marginal players, trying to convince the Jets -- or another team -- he still can be a legit player in the league.
[+] Enlarge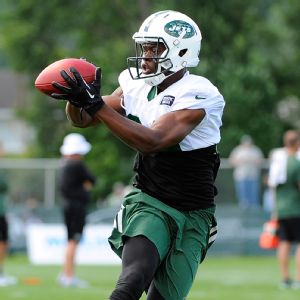 Rich Barnes/USA TODAY SportsStephen Hill has a mere 45 receptions after two full NFL seasons.
The Jets should trade him. Yep, that's what they should do. Put him on the block and see what he can fetch. Maybe they'll get lucky and deal him for an experienced cornerback with a pulse. It wouldn't be a surprise at all if they try to move Hill, who, despite his lack of production, has some value because of his draft pedigree. He's big and fast, and the NFL likes big and fast even if he doesn't have the stats to show for it.
"I think there would be some interest," an AFC personnel executive said. "There aren't a lot of free-agent wide receivers out there, so it's supply and demand."
You'd be stunned to know how much the Jets wanted Hill in the 2012 draft. They wound up picking him 43rd overall, after trading up, but he was rated so highly on their draft board that he would've been a consideration with the 16th pick if
Quinton Coples
hadn't been available.
Clearly, their scouts goofed, thinking an unpolished receiver with only 28 catches in his final season was one of the top 16 players in the draft. At the time, the Jets' top scout, Joey Clinkscales, said Hill's size-speed combination reminded him of another former Georgia Tech wideout,
Calvin Johnson
. Yes,
that
Calvin Johnson -- aka Megatron. Talk about a kiss-of-death comparison.
Clinkscales is now an executive with the
Oakland Raiders
, and he should be the first person the Jets call after putting Hill on the trading block. The two teams play on opening day, but do you really think the Jets are worried about Hill coming back to haunt them?
The Jets have some tough decisions to make at receiver.
Eric Decker
,
Jeremy Kerley
and
David Nelson
, none of whom will play against the Eagles, are locks. Now that he's healthy, rookie
Jalen Saunders
, a fourth-round pick, is a virtual lock.
Saalim Hakim
has emerged as the leading kickoff returner, so he has the inside track on a roster spot. That leaves Hill,
Greg Salas
and
Clyde Gates
for the sixth spot, assuming there is a sixth spot.
"They're still battling for roster spots, and it's not a slam dunk to say it's going to be this player or that player," Rex Ryan said. "It's probably close in a couple of situations."
Asked if Hill's spot is up in the air, Ryan said, "Again, there is still competition, and there is still competition for roster spots."
If the decision comes down to Hill versus Salas, it should be a no-brainer. Clearly, Salas has outperformed Hill. John Idzik's meritocracy would take a big hit if the underachieving high draft pick makes it over the deserving journeyman.
After two years, the Jets know what they have in Hill. He's a one-trick pony, a vertical threat who may or may not catch the ball. He'll block, but he won't fight for contested balls. He doesn't play special teams, which means there's no point in dressing him on game day unless he's a regular in the receiver rotation. The fans are on to him. The crowds in Cortland, New York, and Florham Park gave him a hard time when he dropped the ball. It's time for a change of scenery.
By the way, Hill has missed two days of practice due to an illness. On Monday, he was sent home after vomiting. Foreshadowing? Perhaps.
August, 19, 2014
8/19/14
6:20
PM ET
FLORHAM PARK, N.J. -- Wide receiver
David Nelson
summed up the reality of the
New York Jets
' quarterback situation.
Smith
"When the coaches say, 'First-group offense,' we know who's walking in the huddle," Nelson said Tuesday. "It's not something that needs to be said. He's the guy and we're moving forward."
He, of course, is
Geno Smith
. Barring an injury, he will be the Jets' opening-day quarterback, but the team isn't willing to anoint him just yet. Rex Ryan confirmed the obvious, saying Smith will start Friday night against the
New York Giants
, but he didn't want to make a commitment beyond then.
"When we think it's the right time, we'll tell you," said Ryan, who was peppered with questions.
Smith is expected to play two-plus quarters with the starters, meaning he will end the preseason with about 5 1/2 quarters with the first team. (Traditionally, Ryan doesn't play starters in the preseason finale.) So far,
Michael Vick
has played only one series with the starters. Do the math.
Why haven't the Jets made the announcement? A couple of reasons. John Idzik's mantra is competition, and he probably believes it would contradict his philosophy if they were to declare a winner at quarterback before the most important preseason game -- even though we all know it's a
faux
competition.
Secondly, there's the injury factor. Without using the word "injury" -- hey, the man is superstitious -- Ryan alluded to that as the reason for holding off. When asked what could happen that would affect his decision, he said, "I don't even want to think of the negative thing or whatever. Let's just let it play out. I'd rather not answer that question because there's an obvious scenario that I don't like to think about."
Can't blame him. After all, Ryan lost
Mark Sanchez
to a season-ending shoulder injury last preseason against the Giants.
The coach acknowledged that the third preseason game is the closest thing to the real thing, and that his starters usually end up starting the season. But he stopped short of saying the words everyone in the building, from the players to the cafeteria staff, expects to hear:
Geno is our starter.
"I'm not going to name it right now, no matter how many times you ask me," he said. "Somebody fire another one at me. 'I'm going to get it out of him.' No, you're not. I've given in to you guys before. I'm not giving in on this one."
August, 17, 2014
8/17/14
2:05
AM ET
CINCINNATI --
Geno Smith
played "great," according to
New York Jets
coach Rex Ryan. Obviously, he hasn't set the bar that high for his second-year quarterback. Smith wasn't great Saturday night against the
Cincinnati Bengals
, but he was far from awful. Continuing a summer-long trend, he made enough positive plays to show that he's maturing and developing a better feel for the game.
[+] Enlarge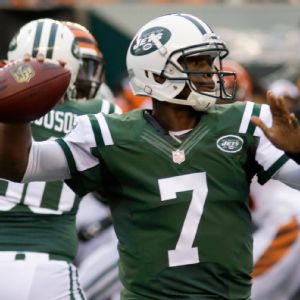 AP Photo/Tom UhlmanGeno Smith's preseason has been far from great, but it's just a matter of time until he's appointed the Jets' starting quarterback.
Smith played the entire first half in the Jets' 25-17 win, leading the offense to 17 points. Only 10 came against the Bengals' starting defense, including a short-field touchdown -- a 19-yard drive after a takeaway by the defense. His critics will find fault in the production, but he played with poise in the place where he played one of his worst games as a rookie.
"I had some good plays, and I had some plays where I think I could've done a lot better," said Smith, who completed 10 of 13 passes for 98 yards and an interception.
He made two throws he wishes he could have back. On the first play of the game, he missed an open
David Nelson
on a deep post. Later, he was intercepted by cornerback
Terence Newman
on a quick throw to Nelson.
Nelson turned late. Or Smith threw too soon. Pick your alibis.
Smith took the blame.
"We were both on the same page, but I was too early with the throw, and it caught him by surprise," he said. "I put that solely on me. I need to give him a better opportunity in that position."
Other than that, Smith did a nice job with his decision-making, looking for his check downs and running when no one was open. He ran four times for 20 yards, including a 1-yard touchdown on a read-option play.
Clearly, Smith will be the starting quarterback. The entire competition, if you could call it that, has been tilted in his favor.
Michael Vick
didn't get any work with the starters, as he was relegated to three series with the backups in the third quarter. Some might argue that Vick is a better right-now quarterback than Smith, but he hasn't received the chance to prove it.
The only question now is when, not if, Rex Ryan names him the starter. It hasn't been a stellar preseason for Smith, but he has completed 74 percent of his passes (14-for-19), with only one turnover and no sacks. His passer rating is 70.3.
Smith didn't want to get into whether he has locked up the job. He said it's up to the coaches. Asked if he believes his teammates recognize him as the starter, he said, "You have to ask them that. The intention is to work hard and put myself into the position to be the starting quarterback and to lead this team. It's up to them, whether or not they want me as the starting quarterback."