New York Jets:

free agency
March, 12, 2013
Mar 12
12:00
PM ET
Free agency kicks off at 4 p.m. Several key Jets are set to hit the open market. The Jets have only about $6 million in cap room, restricting their ability to re-sign players. The latest buzz:
DT
Mike DeVito
-- The Jets are trying hard to work out an 11th-hour deal. If not, he could wind up with the Bills, reunited with defensive coordinator Mike Pettine.
S
LaRon Landry
-- There's no chance of him re-signing before 4. His market will heat up once 49ers S
Dashon Goldson
goes off the board. The Eagles, who tried to sign Landry last offseason, are interested.
RB
Shonn Greene
-- Little chance of him returning. The Falcons, Broncos and Packers could be possible destinations.
TE
Dustin Keller
-- Another likely goner. The Titans reportedly have expressed interest.
RG
Brandon Moore
-- He won't be back. Keep an eye on the Bears, Bills and Cowboys.
LG
Matt Slauson
-- Haven't heard much on Slauson. There's a chance he could be back for the right price.
March, 7, 2013
Mar 7
3:13
PM ET
The Jets don't have much cap room, so you won't see any household names on this list. They'll be bargain-shopping. Here's a look at players who might be on their wish list, with positional grades (scale of 100) and rankings by Scouts, Inc.
QB Brady Quinn, Chiefs:
The Quinn-to-the-Jets speculation started a week ago. He has never come close to living up to expectations, but he has a relationship with new QBs coach David Lee. He'd come cheaply.
Grade
: 53.
Rank
13.
QB Matt Moore, Dolphins:
He's trying to cash in on a respectable performance in 2011, which says a lot about the state of the quarterback market. If Moore wants to start again, his best chance is with the Jets. The going rate for QBs of his ilk is about $3 million a year. Are the Jets willing to spend that much?
Grade
: 66.
Rank
: 2.
[+] Enlarge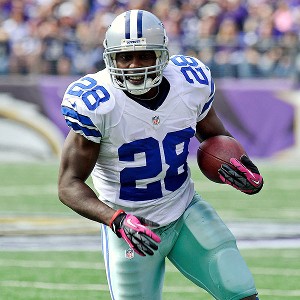 Zumapress/Icon SMIFelix Jones has rushed for 2,728 yards during his five-year, injury-plagued career.
G Jake Scott, Eagles:
He's starting to get up in years (almost 32), but he knows Marty Mornhinweg's system and could be a stop-gap starter for a year or two if
Brandon Moore
and/or
Matt Slauson
leave.
Grade
: 70.
Rank
: 4.
RB Felix Jones, Cowboys:
Like Quinn, Jones is another first-round underachiever, but he's still young (almost 26) and runs well. David Lee coached him at Arkansas, so there's familiarity.
Grade
: 75.
Rank
: 7.
WR Mohamed Massaquoi, Browns:
He has only 114 receptions in four years, but he has the body type and skill set for the West Coast system. New TEs coach Steve Hagen knows him well from Cleveland.
TE Anthony Fasano, Dolphins:
He won't threaten the safeties, but he would bring a blocking element back to the tight-end position. He's a New Jersey native. Lee knows him from his Miami days.
Grade
: 72.
Rank
: 8.
S Jim Leonhard, Broncos:
It's a long shot, but we know how Rex Ryan feels about him.
Grade
: 59.
Rank
: 33.
S Glover Quin, Texans:
He's a solid, physical safety who could replace
LaRon Landry
, a free agent. Quin is considered one of the top sleepers.
Grade
: 76.
Rank
: 7.
OLB Connor Barwin, Texans:
This might be a stretch because of the financials, but Ryan absolutely loved him coming out of college a few years ago. He had 11.5 sacks two years ago, but fell way off in 2012.
Grade
: 79.
Rank
: 7.
March, 7, 2013
Mar 7
2:51
PM ET
Everything you need to know about free agency, analyzing the Jets' unrestricted and restricted free agents, with positional grades (scale of a 100) and rankings by Scouts, Inc.:
MOST LIKELY TO STAY PUT
DE Mike DeVito:
He's a blue-collar lineman with scheme versatility, so he should draw considerable interest from other teams. The Jets want to re-sign DeVito, but with
Quinton Coples
poised for a larger role, it might be a financial squeeze to bring him back as the fourth linemen -- unless they're planning to play more 4-3 fronts. The Chiefs could be interested.
Grade
: 64.
Rank
: 15.
PK Nick Folk:
The Jets have kept him off the market the last two years with one-year contracts before free agency, but it looks like they're prepared to let him test the waters. They'd better be careful; Folk is an under-rated kicker and could get scooped up.
Grade
: 66.
Rank
: 5.
[+] Enlarge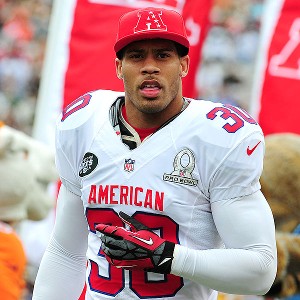 Scott Cunningham/Getty ImagesLaRon Landry was elected to the Pro Bowl in his first -- and possibly only -- season as a Jet.
MAYBE, MAYBE NOT
TE Dustin Keller:
He's expected to hit the open market, as the Jets have shown little interest in re-signing him. They will let the market dictate his value. He'd be an ideal fit in Marty Mornhinweg's West Coast offense. This offense should be collecting playmakers, not sending them away.
Grade
: 77.
Rank
: 4.
G Matt Slauson:
He won't command big bucks on the open market, so there's always a chance he could return. The Jets made Slauson take a pay cut last season and rotated him with
Vladimir Ducasse
, but he's better than Ducasse. Maybe new GM John Idzik will recognize that. Slauson may draw interest from the Cowboys and Raiders.
Grade
: 69.
Rank
: 6
WR Braylon Edwards:
He's a journeyman player at this point in his career. The Jets need size and depth in the receiving corps, but there's no sense of urgency with Edwards, who could be a post-draft option.
Grade
: 66.
Rank
: 17.
S Yeremiah Bell:
They have no experienced safeties under contract, so there's an obvious need. Bell was a nice hold-the-fort player last season, but he's 35. He could be another post-draft option.
Grade
: 69.
Rank
: 16.
GOING, GOING ...
S LaRon Landry:
He bet on himself last year, signing only a one-year contract -- and he won. Landry stayed healthy, made his first Pro Bowl and figures to cash in. The Jets would like to re-sign him, but they won't pay $6 million a year. Chances are, it'll be one-and-done.
Grade
: 78.
Rank
: 4.
RB Shonn Greene:
He's a between-the-tackles thumper, and the Jets need a No. 1 back with breakaway speed and pass-catching skills to excel in Mornhinweg's offense. Greene could draw interest from the Broncos and Falcons. There's little chance of him returning.
Grade
: 76.
Rank
: 4.
G Brandon Moore:
Their longest-tenured player on offense probably will move on, and that's too bad because Moore has been one of the Jets' most consistent and durable players. He'll be 33 before the season, so age is an issue. He could draw interest from the Bills, Cowboys and Raiders.
Grade
: 81.
Rank
: 1.
THANKS FOR THE MEMORIES
LB Bryan Thomas:
Their longest-tenured player is a true warrior, but injuries and age (34 in June) are concerns. It's time to say goodbye.
Grade
: 64.
Rank
: 13.
WR Chaz Schilens:
Well, he was always good for a sarcastic quote.
Grade
: 58.
Rank
: 35.
FB Lex Hilliard:
He was a midseason fill-in who played like a midseason fill-in. Adios.
Grade
: 56.
Rank
: 37.
RESTRICTED FREE AGENTS
RT Austin Howard:
The Jets really like his upside. They're deciding whether to make him a first-round tender ($2.86 million) or a second-round tender ($2.02 million).
Grade
: 68.
Rank
: 17.
TE Jeff Cumberland:
If he receives the second-round tender, it means Keller is a goner. The Jets could take the cheap route and assign the low tender ($1.32 million), which would give the team the right of first refusal but no draft-pick compensation.
Grade
: 61.
Rank
: 22.
LB Josh Mauga:
He missed most of last season with a torn biceps. He won't be tendered a contract.
Grade
: 20.
Rank
: 86.
LS Tanner Purdum:
A very good long snapper, but there's little chance of him getting even the low tender ($1.3 million).
Grade
: 59.
Rank
: 8.
February, 10, 2013
Feb 10
2:44
PM ET
ESPN analyst Bill Polian, a former general manager, released his free-agent rankings this week (
Insider
). He breaks them down into three categories -- A, B and C free agents.
Polian's definition of the three tiers:
A Players:
Worth paying big, starter-caliber money.
B Players:
Guys I would sign but only if the value made sense.
C Players:
Guys I'd sign for low-salary, short-term (one or two years) value, with low bonuses.
Polian mentions only five Jets in his rankings, which is interesting because he was invited by owner Woody Johnson to participate in some of the team's recent general-manager interviews.
Anyway, here you go:
'A' FREE AGENTS
S
LaRon Landry
: Landry had a good year for a bad team. He's a striker, a big hitter. While he is a little older, he's still a pretty serviceable player. We're closer to B territory now, but for a team looking for a safety, he could do a good job.
'B' FREE AGENTS
DT
Mike DeVito
: He's a hard-playing run-defender, and teams that play the 3-4 will take a look at him as a valuable role player.
Other B free agents: RB
Shonn Greene
, TE
Dustin Keller
, RG
Brandon Moore
January, 4, 2013
Jan 4
1:47
PM ET
A roundup of the Jets eligible for unrestricted and restricted free agency:
UNRESTRICTED
S
Yeremiah Bell
-- There's usually not much of a market for 35-year-old safeties, but he was a solid addition and brought leadership to the locker room. They should bring him back on a one-year deal. He's a good "hold-the-fort guy," as Parcells used to say.
DT
Mike DeVito
-- The Jets are nuts if they let him get away. He's a true heart-and-soul player, still in the prime of his career. But here's the reality: They have to make
Quinton Coples
a starter to justify his first-round status, and that means DeVito will get better money elsewhere.
PK
Nick Folk
-- Solid kicker, solid year. Sounds like another one-year contract.
RB
Shonn Greene
-- It's be interesting to see the kind of market that develops for him. He's a complementary back, not a true No. 1. Chances are, the Jets will look to upgrade, bringing in a speed back to complement
Bilal Powell
.
FB
Lex Hilliard
-- The Jets plucked him off the scrap heap and that's where he'll end up.
TE
Dustin Keller
-- Someone will get a great bargain, and it probably won't be the Jets. In the right offense, Keller has the receiving skills to shine. The Jets' interest will depend on their new offensive scheme -- assuming Tony Sparano is gone.
S
LaRon Landry
-- Should the Jets try to re-sign him? Absolutely. Will it happen? Highly unlikely. They can't use the franchise tag, per a clause in his contract, and they probably won't be able to afford him. Landry bet on himself by signing a one-year deal with the Jets -- and he won.
G
Brandon Moore
-- He's the fourth-rated guard in the league, according to ProFootballFocus.com, but the Jets probably will try to get younger. At the same, Moore, who will be 34, may want a change of scenery after a decade of Jet craziness.
WR
Chaz Schilens
-- He's a one-year, minimum-salary type of player, strictly a No. 4 or No. 5 receiver. He can play special teams, too. He's unlikely to return. The media madness around the team really was an eye-opener for Schilens.
G
Matt Slauson
-- Management forced him to take a pay cut and turned his position into a time-share with
Vladimir Ducasse
, strong indications that it's prepared to part ways. Too bad, because Slauson is a smart, workmanlike player.
LB
Bryan Thomas
-- He'll be 34 and his body is breaking down. The former first-round pick gave everything he had for more than a decade, but it's time to move on. Thomas could end up retiring.
RESTRICTED
TE
Jeff Cumberland
-- He can be a serviceable No. 2 tight end, but it wouldn't be a surprise if they let him test the market.
RT
Austin Howard
-- It'll be interesting to see if the new GM likes him as much as the old one. Howard came a long way in a year and, with continued development, he can be a solid starter in the league.
LB
Josh Mauga
-- Unlikely to be tendered.
LS
Tanner Purdum
-- They brought in some competition by signing Travis Tripuka to a reserve/future contract. He's the son of former NBA player Kelly Tripuka and grandson of former Broncos great Frank Tripuka. The Jets probably won't tender Purdum, letting him test the waters.
December, 19, 2012
12/19/12
1:36
PM ET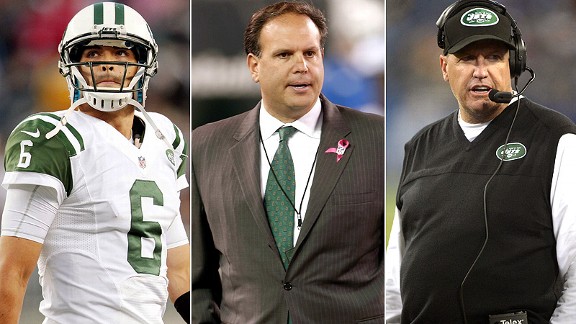 US PresswireMike Tannenbaum and Rex Ryan may have to stick with Mark Sanchez next year, but here are other ways the Jets can improve on an abysmal season.
From top to bottom, the
New York Jets
are a mess. The Jets
have quarterback issues
, an old and expensive roster and a
circus-like atmosphere
in the locker room.
New York has a gigantic cleanup project ahead in 2013.
Here are five steps the Jets should take in the offseason to turn things around:
1. Add a quarterback
Adding a quarterback will be the trickiest but most significant thing the Jets do this offseason. For starters, money is a huge issue.
Although I'm in the minority, I expect
Mark Sanchez
to be with the Jets next year. His $8.25 million salary is guaranteed for 2013, and the prorated cap hit would be much larger if he's cut. The Jets are already significantly over the cap. As much as they may be ready to move on from Sanchez, it's smarter to save the cap hit and just keep him on the roster for another season.
With Sanchez making franchise money next year, the Jets can't pay two quarterbacks the same amount. So forget about names like
Alex Smith
of the
San Francisco 49ers
. New York cannot afford to invest $16-$17 million into one position.
New York's best option would be to look for a cheaper veteran alternative. Personally, I like
Matt Moore
of the
Miami Dolphins
. He has starting experience and would take a cap-friendly contract for the opportunity to play. Moore is currently
Ryan Tannehill
's backup in Miami. Other veteran quaretrbacks like
Jason Campbell
,
Brady Quinn
and
Drew Stanton
are affordable options who can compete with Sanchez to be the starter.
The Jets can take also draft a quarterback early and hope the rookie can play right away. The quarterback class is not strong next year and head coach Rex Ryan will enter 2013 on the hot seat. He cannot afford to wait another year or two for a rookie to develop. He needs to win now.
2. Fire or demote Mike Tannenbaum
The person most responsible for putting together New York's old and expensive roster should be reprimanded.
Jets general manager Mike Tannenbaum tried to keep this group veteran together too long. New York thought it could get to the Super Bowl after back-to-back AFC title games in the 2009 and 2010 seasons. Tannenbaum locked himself into some bad free-agent contracts with older players that are crushing the team's cap.
In addition, Tannenbaum's drafts have been below average. You can start with back-to-back first-round picks of
Vernon Gholston
and Sanchez in 2008 and 2009, respectively. Both players were taken in the top six overall and the Jets whiffed. That held the franchise back. Other draft busts like
Vladimir Ducasse
also stand out.
Finally, Tannenbaum's giving Sanchez a five-year, $58.25 million contract extension in March was inexcusable. Sanchez had done nothing the year before to warrant a large extension, yet the Jets believed he was the long-term solution. It didn't take long for Tannenbaum to regret that decision.
Tannenbaum has his strengths and is a good presence within the Jets. He doesn't need to be fired, but he should no longer have final say on roster moves. The Jets need a new general manager to reshape this roster.
[+] Enlarge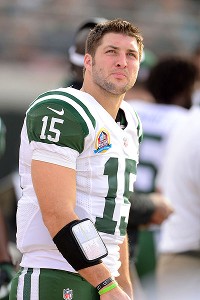 AP Photo/Scott A. MillerThe Tim Tebow experiment has failed and it's time for the Jets to move on from the quarterback.
3. Trade or release Tim Tebow
It's clear the Jets' coaching staff
doesn't think much of Tebow as a quarterback
. After benching Sanchez, New York passed over Tebow for third-stringer
Greg McElroy
. Why did Tannenbaum and the Jets ever think the Tebow experiment was a good idea?
Very few people outside of the organization thought this would work. Tebow, for starters, is not a legitimate NFL quarterback. He's a gimmick player who can help by using his rushing ability.
But Tebow brought the large following and media hype of a franchise quarterback. I remember attending training camp in August when Tebow got the loudest cheers. It immediately added unnecessary pressure to Sanchez and the team. The last thing the Jets needed was another circus, but that's exactly what they got with adding Tebow. It was a train wreck waiting to happen.
The good news is Tebow is much easier to move than Sanchez.
The New York Daily News
reports the Jets can release Tebow and take only a $1 million cap hit.
It's best that Tebow and the Jets go their separate ways after just one year.
4. Get a new offensive coordinator
Tony Sparano is very likeable and a high-energy coach, but he's a mediocre offensive coordinator.
The Jets are ranked 30th in total offense, and the play calling has been mind-numbing. New York is a team without an offensive identity. After 14 games, the Jets still haven't figured out what they do best.
Hiring Sparano in this role was a risky move from the start. He was a head coach in Miami and offensive line coach in Dallas. But the Jets hired him to call plays on offense. Sparano's Miami teams were never offensive powerhouses. There was no indication Sparano could turn the Jets' offense around. His quarterback development has been even worse, as both Sanchez and Tebow regressed on Sparano's watch.
The Jets need to hire a top-level offensive coordinator. Soon-to-be former head coaches like Norv Turner of the
San Diego Chargers
and Pat Shurmur of the
Cleveland Browns
should be available. The Jets need someone with a proven track record of developing quarterbacks and successfully calling plays next season.
5. Make cuts, rebuild through the draft
The Jets need to get younger and build through the draft. It starts by making some veteran cuts.
New York can begin by releasing expensive veteran linebackers
Calvin Pace
and
Bart Scott
. Both are 32-years-old and making big salaries. Other players like offensive tackle
Jason Smith
and safety
Eric Smith
should come off the books, as well. That should provide sizable cap relief.
The Jets won't have a lot of money to spend in free agency, which is why the draft is so important.
Using the draft to build up the offense should be the top priority. The Jets need better players at receiver, running back and tight end to help whoever becomes the starting quarterback. New York also could lose starting tight end
Dustin Keller
and tailback
Shonn Greene
, who are pending free agents, and need to fill those positions.
There is no easy way for the Jets to escape this mess. But if they follow these five steps this offseason, the Jets will be heading in the right direction.