New York Jets:

Ha Ha Clinton-Dix
May, 9, 2014
May 9
12:15
PM ET
FLORHAM PARK, N.J. -- Rex Ryan fell hard for
Calvin Pryor
the first time he saw him. So did the wide receiver that was knocked cold after getting leveled by the former Louisville safety.
During the season, Ryan watched the tape of the opening series of the Louisville-Central Florida game in October. On the second play of the game, UCF's
Blake Bortles
tossed a 15-yard completion to wide receiver J.J. Worton, who ran up the left sideline. In came Pryor, who lowered his shoulder into Worton, dislodging the ball. The ball rolled out of bounds and Worton was flat on his back. He never returned to the game. Six plays later, Pryor made a brilliant, one-handed interception in the end zone, somehow managing to get one foot down as he juggled the ball.
[+] Enlarge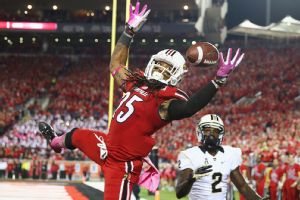 Andy Lyons/Getty ImagesThis end-zone interception by Calvin Pryor against Blake Bortles and Central Florida made an impression on New York Jets coach Rex Ryan.
Ryan was sold.
"I was like, 'That's a pretty good start,'" the
New York Jets
' coach said late Thursday night after Pryor was picked in the first round.
Ryan neglected to mention that, with 23 seconds left in the game, Pryor was one of three defenders that left wide receiver Jeff Godfrey wide open in the end zone. Bortles tossed a short touchdown pass to Godfrey to culminate a 75-yard drive, lifting UCF to a 38-35 upset against the Cardinals, who were undefeated and ranked sixth in the country. Pryor was the closest defender to Godfrey, arriving a split-second too late. That, of course, would have ruined Ryan's anecdote.
The bitter finish notwithstanding, Pryor is well-respected in the NFL scouting community. It was a surprise pick for the Jets, whom many expected to select a cornerback, but it wasn't a bad pick.
"He's an upgrade over
(Antonio) Allen
, who I think is a backup," said an opposing personnel executive, speaking on the condition of anonymity. "He's an athletic kid, can run-support and tackle. He plays with good tempo and he's a willing contact player. He's got good instincts and can play in zones and space. He's an interchangeable guy at strong safety and free safety."
Former
Washington Redskins
general manager Vinny Cerrato, an ESPN radio analyst, studied Pryor closely and compared him to former
Indianapolis Colts
star Bob Sanders. You may recall that Sanders, a 5-foot-8, 206-pound sledgehammer, was the NFL Defensive Player of the Year in 2007. Unfortunately, his career was shortened by a spate of injuries.
"I love the pick, I love the player," Cerrato said Friday morning. "He fits their defensive temperament. He'll bring attitude. He reminds me of Sanders that way. He'll come up and hit you. He's very aggressive in the run game, almost too aggressive. He gets a little out of control and will miss on occasion, but you can live with that. Is he a great center fielder? I'd say he's average, but he can play deep in Rex's defense. The fans will love him. He's fun to watch."
Pryor was the first safety off the board, but he wasn't the best safety in the draft, according to two top draft analysts.
Ha Ha Clinton-Dix
was rated higher by ESPN's Todd McShay and the NFL Network's Mike Mayock. ESPN's Mel Kiper Jr. gave a slight edge to Pryor. Here's how each player stacked up in the overall rankings:
Kiper Jr.
: Pryor, 18th; Clinton-Dix, 19th.
McShay
: Pryor, 21st; Clinton-Dix, 13th.
Mayock
: Pryor 22nd; Clinton-Dix, 16th.
May, 8, 2014
May 8
12:00
PM ET
If the extra two weeks of waiting made you anxious, imagine how the
New York Jets
feel. They've been waiting 16 months.
John Idzik's rebuilding plan, set in motion when he was hired in January 2013, is built largely around the draft --
this
draft. He accumulated four compensatory picks and acquired a future pick from the
Darrelle Revis
trade, giving him a total of 12 selections -- tied with the
St. Louis Rams
for the most. Idzik was relatively conservative in free agency, using only about half the salary-cap space -- a tactic that raises the stakes even higher.
The fun starts Thursday night. The Jets own the 18th pick -- for now. What to watch for:
1. Biggest needs:
The Jets need a lot of things, but cornerback should at the top of the list. Their pass defense was dreadful, allowing nearly 4,000 yards, and the only thing they did in free agency was replace a descending
Antonio Cromartie
with an injury-prone journeyman,
Dimitri Patterson
. Rex Ryan's defense is predicated on cornerback play, and his current secondary will get shredded against a "Missiles of October" schedule --
Philip Rivers
,
Peyton Manning
and
Tom Brady
in a 12-day span. Idzik doled out $30 million in guarantees to sign outside free agents, with only $1 million going to the defense. As one longtime personnel executive said, "Feed the defense. The only way the Jets win is if they dominate on defense." Obviously, the other glaring need is wide receiver. If you need an explanation, you must have slept through last season.
2. Moving up:
Yes, the Jets are interested in trading up, according to a league source. Presumably, their target is
Odell Beckham Jr.
, a smooth, explosive and versatile wide receiver. If this is the plan, they'd better get ahead of the
New York Giants
(12), who also covet the former LSU star. Based on the draft value chart, they'd have to surrender a third-round pick and two fourth-rounders to switch places with the
Tennessee Titans
(11). You'd have to question the wisdom of such a move. It's a deep draft, and they could land a comparable player at 18. The Jets have eight tradable picks (compensatory selections can't be dealt), affording Idzik flexibility if he wants to step out of character and ... you know, be aggressive.
3. Names to watch:
Wide receiver
Brandin Cooks
is a popular mock-draft choice for the Jets. Good prospect, solid character, but some scouts wonder if he can be more than a slot receiver because of his size (a shade under 5-foot-10). Wide receiver
Marqise Lee
also is in the conversation, but this would require a leap of faith, essentially betting he'd be the 2012 version and not the 2013 Lee. The top corners are
Darqueze Dennard
and
Justin Gilbert
, although it's quite possible one or both could be gone. Dennard is the better scheme fit, but Gilbert has more upside because of his elite ball skills.
4. Outsider's view:
This is how a rival personnel director sees the Jets' situation at 18: "They have two specific team needs -- wide receiver and cornerback. It's a tough decision, but it would be a more difficult decision if there was no value at those position at that point in the first round. But that won't be the case. There will be value at those spots. I also wouldn't dismiss the tight end (
Eric Ebron
). They're also living with two safeties (
Dawan Landry
and
Antonio Allen
) that are borderline starting caliber, so I wouldn't be surprised if they go
Ha Ha Clinton-Dix
or
Calvin Pryor
."
5. Perspective, please
: As you're watching it unfold, remember this: The Jets aren't a couple of players away, or even one draft away, from being a legitimate championship contender. They finished a soft 8-8, and before you take issue with that description, consider this: They were outscored by 97 points, the largest negative point differential for a .500 or better team since the merger in 1970. This draft is just another step in the process, albeit a big step.