New York Jets:

Isaiah Trufant
July, 27, 2013
7/27/13
6:00
AM ET
CORTLAND, N.Y. -- The Jets are on the field at 10 a.m. Once again, they will be in shells, not pads.
Here are the storylines:
1. Missing pieces
: Injuries to RB
Chris Ivory
(hamstring) and CB
Aaron Berry
(season-ending knee injury), along with the absence of RB
Mike Goodson
(did not report) and a likely rest day for TE
Kellen Winslow
, will create reps for some of the younger players. RB
John Griffin
, CB
Isaiah Trufant
and TE
Hayden Smith
, among others, have to be ready. CB
Ellis Lankster
is getting work in the nickel due to the contract dispute with top pick
Dee Milliner
.
2. QB competition
:
Mark Sanchez
and
Geno Smith
will be trying to build off a positive first day. Rex Ryan is used to having his defense dominate in the early stages of camp, so he'll be highly motivated to rebound after a so-so first day. That could mean extra blitzing.
3. Idzik speaks
: New GM John Idzik doesn't reveal too much when he speaks to the media, but he's scheduled to chat with reporters -- and it's worth a listen because, frankly, he doesn't do it that often. Maybe he can shed some light on the Goodson situation (doubtful) and the Milliner dispute.
November, 13, 2012
11/13/12
6:17
PM ET
It was a busy off day for the reeling Jets. In addition to signing RB
Kahlil Bell
, they waived pass rusher
Aaron Maybin
and placed CB
Isaiah Trufant
(knee) on season-ending injured reserve.
The big news, of course, is Maybin, whose star (if you could call it that) faded quickly after showing promise last season as a situational pass rusher. He led the Jets with six sacks last season, raising expectations for 2012. He didn't deliver. He recorded zero sacks in the first eight games and was a healthy scratch Sunday in Seattle, where he was replaced by a guy who never played in an NFL game --
Ricky Sapp
.
[+] Enlarge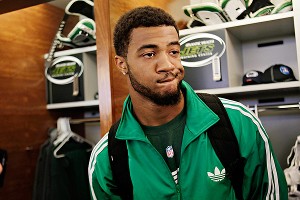 AP Photo/Seth WenigAaron Maybin
Rex Ryan talked up Maybin in the preseason. Then again, he talks up a lot of players and they never pan out. He raved about FB
John Conner
, and look what happened to him. He, too, is unemployed.
The Jets thought they had discovered a gem in the trash pile last year, when they signed Maybin after he was jettisoned by the Bills, who picked him 11th overall in 2009. He made a few plays and talked a lot in the offseason, saying he was going to gain weight so he could be an every-down player.
That never happened. Because he can't play the run, Maybin was relegated to third-and-long situations, and his playing time diminished. Nicknamed "Microphone" because of his booming voice, Maybin liked to talk. That chafed some teammates and it may have bothered some coaches, too. As one opposing personnel executive said Tuesday, "When you don't produce, and you talk, you get exposed."
One thing about Maybin, though: He's fast. The Jets will miss that dimension in their pass rush. He had nine QB hits in 119 snaps, the best ratio on the team. But, at 3-6, maybe Ryan felt the need to send a message to the team.
Trufant for hurt on his first defensive play in Sunday's game. It's too bad, because Trufant had come on strong in recent weeks and had taken the nickel-back role from
Ellis Lankster
. Trufant was so looking forward to Sunday, too. He grew up in the Seattle area and was facing his brother, Seahawks CB
Marcus Trufant
, for the first time.
With Trufant on IR, the Jets likely will expand the role of CB
Aaron Berry
, who hasn't played on defense since signing Oct. 1.
November, 10, 2012
11/10/12
10:00
AM ET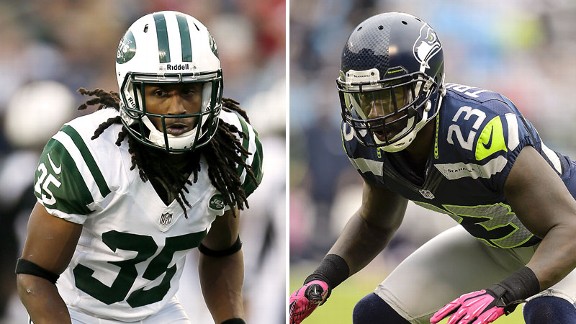 AP PhotoIsaiah Trufant and Marcus Trufant
FLORHAM PARK, N.J. -- There could be a point Sunday when
Isaiah Trufant
scans the football field and sees in front of him the person he grew up admiring: his older brother, Seahawks corner
Marcus Trufant
.
For the first time in his professional career, Isaiah will be facing Marcus when the Jets visit Seattle on Sunday afternoon. Though both are defensive backs, the two could potentially be on the field at the same time for special teams.
"It's going to be a pretty cool feeling, always looking up to my big bro throughout the years growing up," Isaiah said Wednesday. "To be out there and finally the last few years make it to the NFL and do what I love to do and live my dreams and follow in his footsteps, that's a big thing for me. And to be able to play against him, that's a good thing."
Isaiah, 29, is the middle brother; Marcus, 31, is the oldest. They grew up in Tacoma, Wash., and all three brothers -- including Desmond, who plays for the University of Washington -- developed into cornerbacks.
Isaiah has appeared in 22 games with the Jets since the start of the 2010 season, as he played in the AFL before that. Marcus has been with Seattle since 2003.
"Growing up we all started off as running backs. As a kid, you play little league, and you want the ball in your hands," Isaiah said. "Come high school you end up usually playing both sides of the ball, and (we) started excelling at some things and catching coaches' attentions when it came time for college ball."
There hasn't been any trash talking between the brothers leading up to the game, and Isaiah said there has only been the normal texting that he does with his brother as they catch up every week. Isaiah isn't viewing this matchup as a brother vs. brother contest, instead focusing on the game's importance.
"That's always a good thing to see friends and family and go back home," Isaiah said. "It's a business trip first. Gotta go there and try to get the win. That's the first objective."
Desmond has a game in Seattle on Saturday night, as Washington plays Utah at CenturyLink Field, and there is a chance Isaiah will be able to watch his younger brother play. He said it's been a while since the brothers have all been able to be together.
"The family is excited. My mom and dad are very grateful to have two sons playing at this high level of football, at the professional level," Isaiah said. "My parents never gave up on me. They always had my back and helped me whether it was financially or anything to help me through in the lower leagues."
September, 12, 2011
9/12/11
12:00
AM ET
Recap
|
Box score
|
Photos


WHAT IT MEANS:
Rex Ryan wanted to win for New York, wanted it badly on the 10th anniversary of 9/11 -- and his team delivered a heart-pounding win over the Cowboys at MetLife Stadium. The game lived up to the incredible hype. The Jets made plenty of mistakes, but they showed the NFL a new dimension -- a pass-happy attack. They also showed plenty of heart, but we already knew that about them. They proved it over and over again last season.
RESILIENT JETS:
The Jets overcame 10-0 and 17-7 deficits, receiving contributions from all three units.
Darrelle Revis
made the biggest defensive play, intercepting a horrible pass by
Tony Romo
with 49 seconds left. It set up a 50-yard field goal by
Nick Folk
, who beat his former team with 27 seconds left -- the sweetest of endings for the ex-Cowboy.
RYAN BOWL:
The blitzing brothers, Rex and Rob, staged a clinic on how to pressure the quarterback. Both teams unleashed a variety of pressure packages, resulting in a total of eight sacks, including four by the Jets. Cowboys OLB
DeMarcus Ware
(two sacks) was an absolute terror, exploiting the newest member of the Jets' offensive line, RT
Wayne Hunter
, who allowed one sack and several pressures. The patriarch of the Ryan family, legendary defensive coach Buddy Ryan, watched from a private box. He had to be proud.
AIR SANCHEZ:
Well, Ryan said they'd throw the ball more than in the past, and he wasn't kidding. Percentage-wise, this was the most pass-heavy game of the Ryan era. Ground & Pound was just a rumor. Sanchez's training wheels are officially off.
Trying to exploit a Dallas secondary that played without starting CB
Terence Newman
, and later lost starter
Mike Jenkins
for about a quarter and also No. 3 CB
Orlando Scandrick
, Sanchez came out throwing and ended up completing 26-of-44 for 335 yards, two touchdowns and one interception. He threw scoring passes to
Dustin Keller
(4 yards) and
Plaxico Burress
(26 yards).
KILLER MISTAKES:
For the most part, Sanchez played well, but he made one bad decision and one blunder -- and it cost seven points. Looking for Keller over the middle on the final play of the third quarter, Sanchez didn't see LB
Sean Lee
in a zone and was intercepted at the Jets' 38. Lee returned it to the Jets' 1, setting up a TD run by
Felix Jones
that gave Dallas a 24-10 lead.
Later, with a chance to rally the Jets to a game-tying score in the fourth quarter, Sanchez was sacked from behind by S
Danny McCray
and lost a fumble. Sanchez was careless with the ball, holding it in his right hand -- a bad habit that has plagued him throughout his career.
BLOCK PARTY:
Needing a clutch play in the fourth quarter, the Jets' special teams came up huge, with
Joe McKnight
-- once a resident of the Ryan dog house -- blocked a punt. It was recovered by
Isaiah Trufant
, who returned it 18 yards for a game-tying touchdown with 5:00 to play. Trufant who? He was signed only Saturday off the Jets' practice squad, specifically for his ability to contribute on special teams -- a masterstroke by the Jets' decision makers. For the enigmatic McKnight, it was the biggest play of his brief career.
PLAX IS BACK:
Burress, playing in his first NFL game in nearly three years, made a splashy return. A non-factor for nearly three quarters, showing no ability to separate, Burress came up big in the fourth quarter, scoring on a back-shoulder fade. It won't go down as a red-zone touchdown because it came from the 26, but it showed the type of impact he can have around the goal line.
The question is, what took so long to get Burress and
Derrick Mason
(three catches for 19 yards) involved in the offense? The Cowboys played without their top three corners for much of the second half.
WHERE'S NNAMDI?
After being spurned by free-agent jewel
Nnamdi Asomugha
, the Jets settled for their own free-agent cornerback,
Antonio Cromartie
, whom they re-signed to a four-year, $32 million contract. Cromartie is a good player, but he had a rough night. He allowed two touchdown passes, a 3-yarder to
Dez Bryant
and a 36-yarder to
Miles Austin
. Both came in man-to-man, jump-ball situations in the end zone. In fact, Cromartie appeared to have the interception on the latter play, but Austin ripped it out of his hands.
Cromartie started out on Bryant, but after Bryant scored on the Cowboys' first drive, the Jets switched it up and put
Darrelle Revis
on Bryant.
WEAK SPOTS:
Give Cowboys coach Jason Garrett credit; he did a fantastic job of attacking the Jets' weaknesses on defenses. He called plays that isolated the Jets' linebackers in space; their linebackers aren't adept in pass coverage. The Cowboys also picked on S
Eric Smith
, who got burned on a 64-yard completion to TE
Jason Witten
.
December, 30, 2010
12/30/10
7:08
PM ET
FLORHAM PARK, N.J. --Even though he has missed the last two days of practice with a back injury that he suffered Sunday against the Bears, Jets defensive end Shaun Ellis said he expects to play Sunday against Buffalo.

"I'm anticipating playing until I get further notice," Ellis said. "Anytime you have the chance to play you should play."

Ellis said the injury occurred during Sunday's 38-34 loss on a play in which he got bent back the wrong way and "it didn't feel good at all." He was able to finish the game out, though.

Ellis has started all 15 games for the Jets this season and has 4.5 sacks on the year. He said he feels good but is trying to get rested up.

Jets head coach Rex Ryan is erring on the side of caution.

Said Ryan: "If it doesn't get any better, clearly he won't play as well."

TRUFANT PROMOTED

The Jets signed DB Isaiah Trufant off the practice squad Thursday while signing DL Matt Kroul to fill Trufant's spot on the practice squad. Trufant's promotion to the active roster was a move made with the playoffs in mind.

"We want to see the kid play," Ryan said. "(Can) he help us in the playoffs? That's what we're trying to find out. He was (the United Football League's) defensive most valuable player. He's done some good things on the practice field. We want to see if translates to playing on Sunday."

Trufant played for the UFL's Las Vegas Locomotives for the past two seasons before signing with the Jets on Dec. 8. He had four interceptions, 13 tackles and four passes defended this season while winning the Defensive Player of the Year Award.

"I just want to go out and prove myself," Trufant said. "This is my chance. I never had another NFL chance besides this so I'm trying to make the most of it."

BUILDING THE FOUNDATION

After yielding 38 points to the Bears Sunday, it was back to the basics for the Jets defense this week. Ryan ran the base defense meetings Wednesday and defensive coordinator Mike Pettine explained Thursday how the team has had to "rebuild the foundation."

"We summarized some of the mistakes and when the mistakes started to show up as things that are from Jets defense 101 as opposed to 401, that's when you need to go back and make sure," Pettine said. "We're fortunate this week that we were able to build it in. It's something, moving forward, we'll look to do even more of just to make sure we have some of those basic things nailed down."

Pettine also said the coaches wanted to increase the practice tempo and that it is on the coaches to keep the players performing at a high level and not "just out there putting in a day."