October, 10, 2012
10/10/12
3:55
PM ET
FLORHAM PARK, N.J. -- Owner Woody Johnson covered a lot of ground Wednesday morning in an interview on CNBC. In addition to expressing confidence in
Mark Sanchez
but also saying he wants to keep
Tim Tebow
through 2014, Johnson rehashed Monday night's loss to the Texans.
Johnson praised Texans DE
J.J. Watt
. But, at the same time, he second-guessed his team's offensive strategy.
"The defense end that got his passes last week is probably the defensive player of the year," Johnson said, referring to Watt's three tipped passes. "We should have done a better job of accounting for him and keeping an eye spy on him wherever he is, and essentially don't throw in that area or throw extremely high.
"He's 6-6. He can jump 30 inches. So he's probably like 15 feet when you add it all up -- a tall guy. He tipped one that would have been a touchdown. ... There's probably only two or three players in the league that could have made that play."
October, 9, 2012
10/09/12
2:41
PM ET
Some of the good and bad performances from Monday night's 23-17 loss to the Texans:
THREE UP
1. Antonio Cromartie
: The Cro was flying. He shut down WR
Andre Johnson
(one catch on six targets), intercepted a pass and played a little wide receiver, nearly connecting with
Mark Sanchez
on a deep ball. Say this for Cromartie: In
Darrelle Revis
' absence, he's playing like a No. 1 corner.
2. Joe McKnight
: The running back-turned-cornerback-turned running back is a terrific kickoff returner, and he proved it again with a 100-yard touchdown -- the second kickoff-return TD of his career. He deserves a bigger role on offense because he's one of the few explosive players on the roster.
3. Jeremy Kerley
: The Jets' longest-tenured wide receiver (yeah, really) is developing into one of the best yards-after-catch threats in the league. He had five catches for 94 yards, including a 36-yarder.
THREE DOWN
1. Anybody who blocked J.J. Watt
: The Texans' second-year DE took turns beating everyone on the Jets' offensive line. He finished with six tackles, one sack and three tipped passes. One tip probably saved a TD (
Chaz Schilens
was wide open in the end zone) and one resulted in an interception. Not only did Watt create problems for the guards and tackles, but he rolled up the ankle of C
Nick Mangold
, causing an undisclosed injury.
2. The Dropsy Twins.
You have to make that catch,
Jason Hill
. Same to you,
Jeff Cumberland
.
3. Shonn Greene
. Another subpar performance. After five games, the Jets' bell cow (as Rex Ryan calls him) has rushed for only 217 yards, a 2.9-yard average and eight first downs. For a bell cow, that's chopped liver.
October, 9, 2012
10/09/12
1:28
AM ET
EAST RUTHERFORD, N.J. --
J.J. Watt
claims the Houston Texans' defense isn't a one-man show.
Stop being so modest, J.J.
In the Texans' 23-17 victory over the
New York Jets
on Monday night, the 23-year-old defensive end stuffed the stat sheet, recording six tackles, a sack and two batted passes -- one of which was a game-changer.
[+] Enlarge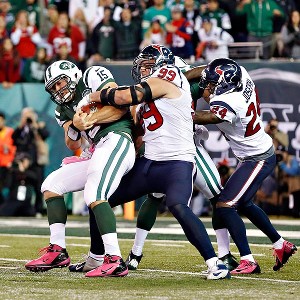 Andrew Mills/US PresswireJ.J. Watt
Playing in just his second NFL season, Watt leads the league with 8.5 sacks and five batted passes, according to ESPN Stats & Information.
"It's kind of scary that we've come to expect it out of him, because he's doing it every week and he's been consistent with it," Texans tight end
Owen Daniels
said. "He's been ballin' and hopefully he keeps on doing that."
If he does, Watt might have a shot at not only winning Defensive Player of the Year, but league MVP as well.
ESPN analyst Jon Gruden has called Watt "the best player at any position I have watched on tape this year."
Said Houston coach Gary Kubiak: "He's exceptional."
It only took one play to see that.
The Jets appeared as though they were going to tie the score at 14 late in the first half, but Watt got his hand on a
Mark Sanchez
pass and
Brice McCain
intercepted it. McCain took it back 86 yards to set up a field goal as time expired. The Texans never relinquished their 17-7 halftime lead.
"I wasn't getting a great pass rush on that play, so I stuck my hand up, tipped the ball, it went right to Brice and he almost took it all the way," Watt said. "That's a big play. They were about to get points, and then we get points."
Watt also got his hands on a third-quarter Sanchez pass that would've ended up in the arms of
Chaz Schilens
for a touchdown. Instead, the Jets had to settle for a field goal.
"You can't throw it over my head!" Watt was seen yelling after the game. "I was excited, in the moment, and it was a great way to end the game."
It wasn't easy, but the Texans are now 5-0. And they have that undefeated record because Watts is leading the way on D.
"That's a tough football team over there," Watt said, "and it shows a lot of character about our team that we can go into a tough environment up here in New York and win a ballgame that goes all the way down to the end."
October, 6, 2012
10/06/12
11:15
AM ET
FLORHAM PARK, N.J. --
J.J. Watt
's numbers speak for themselves.
Through four games, the Texans defensive end has 7½ sacks, 32 tackles, 10 tackles for loss, five pass deflections and two fumble recoveries. He's had at least 1½ sacks each game for unbeaten Houston.
[+] Enlarge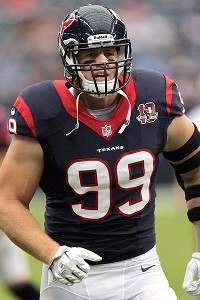 Bob Levey/Getty ImagesJ.J Watt
"The guy is obviously struggling," Jets head coach Rex Ryan joked.
On Monday night, though, it might not be a laughing matter. The Jets will have to find a way to keep Watt from creating havoc when they host the Texans at MetLife Stadium. Watt leads a defense that has 13 sacks this season, tied for fifth in the league.
"He's a heck of a player and it's going to be a difficult test for us up front," Jets center
Nick Mangold
said. "Especially since you consider they got a whole bunch of other guys that can rush the passer. It's going to be a challenge and a heck of a day for us."
To know how effective Watt has been this year, one just needed to listen to Ryan gush about him Wednesday. The Jets coach said Watt would be the defensive player of the year thus far, and relayed a story about how his brother, Dallas defensive coordinator Rob Ryan, talked about how he wanted the Cowboys to draft Watt last year. Rex Ryan said he told his brother that Watt would be a great pick.
The second-year end has certainly been all that he was hyped up to be, as he has helped transform Houston's defense into one of the most stout units in the league. Houston is tops in yards allowed per game, third-down efficiency and points per game. Having Watt bringing pressure on quarterback helps the team post such great numbers in those categories, and he was recently named the AFC Defensive Player of the Month for his efforts.
"The person that lines up against him will definitely have a challenge," Jets tackle
D'Brickashaw Ferguson
said. "He's a good player."
Ferguson complimented Watt as a talented player who plays hard, and said Houston's line is technically sound and plays together. Ferguson and right tackle
Austin Howard
will have the unenviable task of trying to slow down Watt as he moves around on the defensive line in Houston's 3-4 system.
The Jets struggled against San Francisco's relentless pass rush this week and could have another rough week if they don't figure out a way to stop Houston's attack on Monday. While Watt has produced eye-popping numbers, Ferguson wasn't concerning himself with the stats.
"Not really focused on that," Ferguson said. "(It's) great that he has talent and great he can do some nice things, but we go out there, we analyze film, we analyze tape and then we play our game."
October, 5, 2012
10/05/12
11:57
AM ET
By
Dan Riccio | ESPN Stats & Information
The bright lights of Monday Night Football will set the stage as the Jets and Texans face off in the final matchup of Week 5 in the NFL. The Texans (4-0) come to town as the only unbeaten team in the AFC and the NFL leader in point differential at plus-70. The Jets (2-2) have an unbeaten record of sorts, having won all five regular-season meetings with the Texans, including Rex Ryan's head coaching debut in 2009.
Texans quarterback
Matt Schaub
is coming off his best performance of the season, with a Total QBR of 86.6 against the Titans.
Mark Sanchez
posted a Total QBR of 2.8 against the 49ers, his fifth performance under 5.0 since the beginning of 2009. That is the most such games in the NFL over that time.


The injury bug hit the Jets again as top receiver
Santonio Holmes
is now lost for the remainder of the year. The active Jets leader from a year ago becomes
Jeremy Kerley
, who accounted for 8.5 percent of total targets in 2011. The run game may be called upon more but will face a tough test against the only defense that has not allowed a rushing touchdown this season.
Here are three matchups to watch:
1.
The Jets will have to game plan on defense around stopping
Arian Foster
, who leads the NFL in rush attempts (103) and total touchdowns (four rushing, one receiving) this season. Foster has been vulnerable behind the line of scrimmage, but so has the Jets defense. It's a battle that one team will need to control for a win. Only
Alfred Morris
has been contacted in the backfield on more rush attempts (16) than Foster and
LeSean McCoy
(15 each) this year. The Jets, meanwhile, have allowed a league-worst 4.6 yards per rush after first contact in the backfield. With Foster a constant threat to run, the play fake is also prominent for the Texans, who lead the AFC in play-action pass attempts since the start of 2011.
2.
The Texans use multiple tight-end sets often and lead the league in plays run with at least two or more on the field this season. Houston is third in the NFL averaging 6.9 yards after catch from players at the position. The Jets have been stingy on defense, allowing 0.6 yards after contact per TE reception, good for second in the league, and an average of 2.4 yards after catch per TE reception, which leads the NFL.
3.
The offensive line for the Jets will matchup with a force in
J.J. Watt
, who leads the NFL with 7.5 sacks through four games. Among defensive ends, Watt is tied for the lead with three batted passes and leads outright in tackles for loss. The Houston defense as a whole has sent five or more pass rushers on 48.3 percent of dropbacks since 2011, the most aggressive unit in the NFL. Houston also leads the league with a 7.4 Total QBR-allowed when using added pressure this season. The Jets have held fast and not allowed a sack against five or more pass rushers in 2012, one of only four teams left to share that claim.