New York Jets:

Jacoby Ford
July, 18, 2014
Jul 18
8:00
AM ET
Breaking down the New York Jets' roster, unit by unit, in preparation for training camp, July 23
:
Position
: Special teams
[+] Enlarge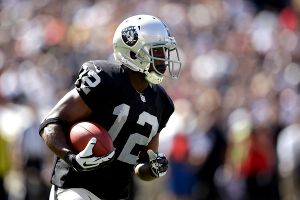 Ezra Shaw/Getty ImagesJacoby Ford has the speed to make the Jets more dangerous on special-teams returns.
Projected starters
:
Nick Folk
(PK),
Ryan Quigley
(P),
Tanner Purdum
(LS),
Jalen Saunders
(PR),
Jacoby Ford
(KR).
Projected reserves
:
Jeremy Kerley
(PR),
Kyle Wilson
(PR),
Shaq Evans
(KR).
Notables on the bubble
:
Clyde Gates
(KR).
Player to watch
: Ford. Once upon a time, he was one of the most feared kickoff returners in the league. In 2010, he flashed his 4.22 speed (his 40 time at the combine) by scoring on three returns as a rookie for the
Oakland Raiders
. If Ford can stay healthy, a problem in recent years, his explosiveness will be a major boost to a unit that disappeared last season. Rules changes have altered the game, but it never hurts to have a 4.2 guy at the ready.
Top storyline:
There's a new sheriff in town -- Thomas McGaughey, most recently the special-teams coordinator at LSU. He knows the NFL (he won a Super Bowl ring as the
New York Giants
' assistant special-teams coach in 2007), so it shouldn't be a difficult transition. For the Jets, this marks a clean break from the Mike Westhoff era. The legendary coach ran the special teams from 2001 to 2012, and one of his disciples, Ben Kotwica, was in charge last season. McGaughey will provide a much-needed new perspective for a once-formidable unit that has slipped in recent years.
Training camp will be a success if ...
: No one is longing for the days of Westhoff.
Wild card
: Saunders. If he can bring his college production to the Jets, it'll change the face of the punt-returning unit. It was awful last season, as the Jets failed to generate a return longer than 24 yards. Saunders is tiny (5-foot-9, 165 pounds), but he can take off faster than a
Johnny Manziel
tweet from Vegas. At Oklahoma, he averaged 15.4 yards per return and scored two touchdowns last season.
By the numbers
: Folk was fantastic last season, earning a four-year, $12 million contract -- his first multiyear deal since joining the Jets in 2010. One area he needs to improve, however, is his distance on kickoffs. Since 2010, the Jets rank 25th in kickoff distance, 62.4 yards, according to ESPN Stats & Information.
July, 16, 2014
Jul 16
8:00
AM ET
Breaking down the New York Jets' roster, unit by unit, in preparation for training camp, July 23
:
Position:
Wide receiver
Hill
Projected starters
:
Eric Decker
,
Stephen Hill
,
Jeremy Kerley
(slot).
Projected reserves
:
David Nelson
,
Jalen Saunders
,
Jacoby Ford
,
Shaq Evans
.
Notables on the bubble
:
Clyde Gates
,
Greg Salas
,
Quincy Enunwa
(sixth-round pick).
Player to watch
: Hill. It seems like he's in this category every year, doesn't it? In this context, it's not a positive. This is Year 3 for the talented, but inconsistent Hill, which means it's time to earn his scholarship. He showed positive signs in the spring, and he'll probably have a solid training camp. The problem is maintaining it into the season. The former second-round pick tends to fade when the pads go on, resulting in a Mr. August reputation. It's all there for him. He could win a starting job with a strong camp or he could play his way out of a roster spot if he regresses.
Top storyline:
The receiving corps is better than last season, but how much better? Decker replaces
Santonio Holmes
as the No. 1 receiver, giving the Jets a dependable, low-maintenance player from a winning program. He isn't the flashiest guy around, but he'll be there for
Geno Smith
and he won't drive the coaches crazy with moodiness. The question with Decker is whether he's a legitimate No. 1 receiver, but we won't know that until the regular season. For now, the challenge is to find a running mate for him. The Jets are hoping one of the others -- Hill, Kerley, Nelson or maybe a rookie -- can separate from the pack and nail down the No. 2 job.
Training camp will be a success if ... :
The Jets aren't entering the season with all their eggs in the Hill basket, as they've done the previous two years. If they're not, it means at least one of the other receivers had a terrific camp, minimizing their reliance on the inconsistent Hill.
Wild card:
Ford. As a rookie with the Oakland Raiders in 2010, he looked like a budding star, averaging nearly 19 yards per catch and scoring on three kickoff returns. But he faded away, in part, because of injuries. If healthy, Ford is an absolute burner, the kind of player that can change field position in the blink of an eye. Question is, will the Jets get the 2010 Ford or the '13 version?
By the numbers:
The Jets need receivers that can make plays with the ball in their hands. The team finished 30th last season in yards after the catch (1,356), according to ESPN Stats & Information.
June, 13, 2014
Jun 13
12:30
PM ET
The
New York Jets
wrapped up their organized team activity practices Thursday with a team trip to a local bowling alley. Thoughts and observations on the OTA phase of the offseason, which consisted of nine practices:
1. Growing up Smith
: Quarterback
Geno Smith
, the likely opening-day starter, drew praise from teammates on two fronts: He was decisive in the huddle, communicating plays quickly and confidently -- a far cry from last season. They also said he was more assertive than his rookie year, demonstrating more vocal leadership. These are the progressions you'd like to see from a second-year quarterback. As for his actual play, it's hard to gauge in OTAs, but there was an obvious reduction in turnovers and sacks. Clearly, it's Smith's job to lose, even if Rex Ryan is reluctant to put it in those words.
2. Strength in numbers
: Ryan likes to brag about the team's backfield depth, but depth is meaningless if half the unit is hurt.
Chris Johnson
(knee),
Daryl Richardson
(toe) and
Mike Goodson
(knee/no-show) didn't participate in the voluntary practices, leaving plenty of work for
Bilal Powell
,
Chris Ivory
and
Alex Green
, who thought he was a goner at one point. Johnson and Richardson should be ready by training camp, but given the amount of durability concerns (let's not forget about Ivory, who has a history of nagging injuries), the Jets should take a better-safe-than-sorry approach when they construct the final roster. In other words, load up on running backs.
3. The battle for No. 2:
Since there's no competition at quarterback (in the words of
Michael Vick
), the most compelling battle is unfolding at wide receiver. Who's the 2? Don't be surprised if
Stephen Hill
(yeah, him) emerges as the starter opposite
Eric Decker
. Right now, I'd say the top candidates are Hill and
David Nelson
, figuring
Jeremy Kerley
will be in the slot. Clearly, this is a make-or-break year for Hill, who has yet to transfer his elite measureables into production. Hill did fine in the OTAs. but, remember, there was no press coverage (not allowed under CBA rules). Diminutive rookie
Jalen Saunders
got a lot of quality reps and demonstrated impressive short-area quickness, but again ... no press coverage. The wild card is
Jacoby Ford
, probably the fastest player on the team. He blew away teammates with his speed, but there are durability and consistency concerns.
4. Mr. Jessie James
: Decker made headlines by skipping two days of practice to attend the CMT Awards with his wife, country singer Jessie James, which overshadowed his impressive work on the field. He's learning a new offense and getting comfortable in new surroundings, but their prized free agent appeared right at home. He's big and smooth, as advertised. You could tell he puts a lot of effort into his route running. A couple of times, he was off to the side, working on his footwork with receivers coach Sanjay Lal. Cynics will say Decker looked so good because there isn't much around him. There's an element of truth to that, but you don't catch 24 touchdowns over two years by accident.
5. Youth is served
: Ryan put first-round pick
Calvin Pryor
on the fast track, giving him plenty of first-team reps at safety with
Antonio Allen
. Is the handwriting on the wall for
Dawan Landry
? The dean of the secondary was relegated to second- and third-team duty, but that was because the coaches wanted to give Pryor and Allen as much on-the-job training as possible. They still need Landry because of his leadership and knowledge of the defense, but Ryan, who recognizes the need for playmakers in the secondary, is intrigued by the speed and athleticism of the Pryor-Allen tandem. No doubt, Pryor will be a Week 1 starter. The only question is how they divide the other spot.
6. Musical linemen:
Willie Colon
's injuries allowed them to try different combinations at guard, with
Brian Winters
and
Oday Aboushi
working in both spots. Ryan said Aboushi looks better at left guard, meaning Winters could slide to right guard if something happens to Colon down the road. There's nothing wrong with experimenting, especially in June, but it doesn't mask the fact that the Jets have no experienced backups on the offensive line. And we're not counting
Caleb Schlauderaff
, whose experience consists of 14 regular-season snaps. They need to pick up a veteran at some point before the season.
7. Dee's cranky hamstring
: It's probably nothing, but maybe it's something. Cornerback
Dee Milliner
was limited in recent practices because of what the team is calling "tightness" in his hamstring. Yeah, it's only June, but considering all the buildup surrounding Milliner -- coaches saying how much he'd benefit from his first injury-free offseason -- it was disappointing not to see him build on the momentum of last season's strong finish. This could be a moot point by training camp, but it's worth noting, especially since Milliner was beset with nagging injuries last season and played hurt throughout college with various ailments.
8. Jace not an ace -- yet
: Rookie tight end
Jace Amaro
struggled with dropped passes, probably because his brain was overloaded with new terminology. This is a big transition for the second-round pick, who didn't play in a pro-style offense at Texas Tech. He came from a simple, no-huddle system that didn't require a lot of thinking on your feet. Clearly, he has talent, but his development will be dictated by how quickly he assimilates into Marty Mornhinweg's offense. Don't expect it to happen overnight.
May, 28, 2014
May 28
6:00
PM ET
FLORHAM PARK, N.J. -- The
New York Jets
held their second OTA practice (first open to the media) Wednesday. A few thoughts and observations:
Vick
Early look at the QB competition (or is it a competition?):
Rhetoric and semantic nonsense aside, the quarterbacks --
Geno Smith
and
Michael Vick
-- performed well in the two-hour practice. Smith, in particular, was sharp, completing eight of 10 passes (plus two sacks) in team drills. One incompletion came when he intentionally "dirted" the ball. Vick completed only three of seven, but he was victimized by two drops. Watching him up-close for the first time, the aspect of his game that jumps out is how effortlessly he can throw the long ball. He can really spin it, as they say in the biz. Smith worked ahead of Vick in the rotation, but they basically shared the reps. By my count, Smith got 14, Vick 12.
Decker
Receivers, new and old
: Plenty of interesting developments here. As you would expect,
Eric Decker
stood out, impressing with his route running, his hands and his overall size. This is a new offense for him, but you can tell he knows where he needs to be. He connected once with Smith, once with Vick. The other newcomer that impressed was
Jacoby Ford
, who hooked up with Smith a couple of times. Ford is fast, we all know that, but you don't realize how fast until you witness it in person. He could be a real wild card in the competition at receiver.
And let's give some props to
Stephen Hill
, who appears recovered from his knee injury and demonstrated sure hands. There was a borderline drop on a crossing route (tough to tell from our angle on the sideline), but it still was a solid practice for Hill, who faces legitimate competition for the first time. On the downside,
Jeremy Kerley
and
Saalim Hakim
dropped well-thrown long passes by Vick.
Medical report
: Players who sat out included RG
Willie Colon
(knee/biceps), RB
Chris Johnson
(knee), S
Calvin Pryor
(toothache), RB
Daryl Richardson
(lingering turf toe), rookie CB
Dexter McDougle
(shoulder), rookie WR
Quincy Enunwa
(undisclosed) and LB
Antwan Barnes
(knee). WR
David Nelson
(illness) wasn't at practice. Remember, these sessions are voluntary. RB
Mike Goodson
(knee) also didn't attend. Rookie WR
Shaq Evans
had a school obligation.
Zach and Jace
:
Zach Sudfeld
, a slightly taller, slightly thinner version of rookie
Jace Amaro
, will be an interesting player to watch over the next few months. Sudfeld (6-foot-7, 260) has the ability to make plays downfield, and he showed it with a nice catch on an intermediate crossing route. The key for him is staying healthy, a problem throughout his college career. Amaro (6-foot-5, 265) made one mental mistake, failing to turn on a seam route in a 7-on-7 drill drill. He ended up getting doinked by a Vick pass.
On guard:
The Jets have an issue at right guard. Colon (knee scope) is out until training camp, and there is no clear-cut replacement on the roster. Second-year tackle
Oday Aboushi
, who saw no game action last season, practiced for the second straight day at Colon's spot. He "looked pretty good," according to Rex Ryan. At some point, perhaps in the preseason, they might have to import an experienced guard because they are thin at that spot. Colon is in a tough spot because he will be rehabbing two injuries -- the knee and his surgically repaired biceps, hampering his ability to do upper- and lower-body conditioning in preparation for camp. Tough break.
Odds and ends
: The rookies that received the most work were Amaro, WR
Jalen Saunders
, LB
Jeremiah George
and OLB
IK Enemkpali
. QB
Tajh Boyd
split a handful of reps with
Matt Simms
. CB
Brandon Dixon
and LB
Trevor Reilly
came in late. Dixon was promptly burned on a deep pass. ... DE
Leger Douzable
had a sack. ... CB
Ellis Lankster
made a nice pass break-up. ... Ryan on OTAs: "It's not football yet, but it's close, closer than what we've had." He said he challenged the players to not only improve individually on a daily basis, but to help make their teammates better.
May, 28, 2014
May 28
8:00
AM ET
Players not named
Geno Smith
with the most on the line in the
New York Jets
' OTA's, which continue Wednesday (open to the media):
1. Stephen Hill, wide receiver
: If his balky knee cooperates, Hill needs to reinvent himself this spring and summer, validating the first-round grade he received from the Jets as a talented but unpolished wideout who came out of Georgia Tech in 2012. If all goes well, he could start opposite
Eric Decker
. If he remains an enigma, he could jeopardize his roster spot.
2. Jacoby Ford, wide receiver
: Overshadowed by Decker and the three rookies at receiver, Ford has quietly impressed the coaching staff. People forget he was an ascending player for the
Oakland Raiders
in 2010 -- until injuries hit. If healthy, Ford could be a factor at receiver, not to mention a scary kickoff returner -- or just a tease.
3. Kyle Wilson, cornerback
: After four years, the Jets know what the former first-round pick can do, but it'll be interesting to see if they can find anyone to do it better. They imported competition in the slot. If a newcomer jumps out (perhaps
Johnny Patrick
or rookie
Dexter McDougle
), Wilson -- always a notch below expectations -- could be expendable in the preseason.
4. Zach Sudfeld, tight end
: A late arrival last season after being dropped by the
New England Patriots
, Sudfeld flashed potential as a receiver in limited action. The coaches like his upside, but they still drafted
Jace Amaro
in the second round. It's time to turn upside into production.
5. Quinton Coples, outside linebacker
: These next few weeks aren't make or break for the former first-round pick, but Coples can establish a positive tone for the season by making big strides. This is his third season, and he acknowledged recently it's time to be more productive and assertive. We already know how Joe Klecko feels about him.
May, 24, 2014
May 24
9:00
AM ET
May, 3, 2014
May 3
6:00
AM ET
This is the sixth installment in a position-by-position analysis of the New York Jets as they prepare for the draft
:
Position
: Special teams.
Current personnel
: PK
Nick Folk
(signed through 2017), P
Ryan Quigley
(2005), LS
Tanner Purdum
(2014), KR
Jacoby Ford
(2014), PR
Jeremy Kerley
(2014), PR
Kyle Wilson
(2014), KR
Clyde Gates
(2014).
Newcomers:
Ford (
Oakland Raiders
).
Departures
: KR
Josh Cribbs
(free agent), KR
Antonio Cromartie
(cut/
Arizona Cardinals
), KR
Darius Reynaud
(free agent).
Top salary-cap charge
: Folk, $3.6 million.
Scouting report:
It's a mixed bag. The Jets were happy to retain Folk, who signed a four-year, $12 million contract, but there are concerns for new special-teams coordinator Thomas McGaughey. The once-formidable unit needs an upgrade in a few areas, a sentiment shared by former STC Mike Westhoff, who criticized the talent level at the end of last season. "The personnel is limited -- and I'm being kind," he said.
Coverage and return units are populated by players in the bottom third of the roster, and the bottom third has eroded over the years. This offseason, they lost their third-leading tackler,
Isaiah Trufant
(
Cleveland Browns
), who served as a gunner and played 233 snaps on special teams. They finished in the middle of the pack (17th) in overall performance, according to a formula used by ESPN Stats & Information, but it should be higher. The addition of Ford, who scored on three kickoffs in 2010 for the Raiders, should bring some sizzle -- if he's healthy. McGaughey said he'd like to import competition for Ford. He also said his No. 1 objective is to improve the punt coverage.
Potential targets
: The Jets need more run-and-hit athletes. With 12 draft picks, including nine in Rounds 4-7, they have plenty of ammo. By the time they get done drafting and signing college free agents, they'll be stocked up on receivers, tight ends, linebackers and defensive backs. Remember these names:
Kadron Boone
and James Wright, former LSU receivers. They won't be drafted, but they were two of McGaughey's top special-teamers at LSU. The draft's top returners are
Dri Archer
(Kent State) and
De'Anthony Thomas
(Oregon), both running backs. They're small, but fast. Wide receiver
Odell Beckham Jr
. (LSU) also has exciting return ability.
Need rating (scale 1 to 10):
6.
April, 29, 2014
Apr 29
6:30
PM ET
The
New York Jets
' three coordinators fulfilled media requirements Tuesday by speaking to reporters via conference call. A few takeaways:
Smith
1. It's Geno's job -- for now
: Offensive coordinator Marty Mornhinweg, speaking to reporters for the first time since the
Michael Vick
signing (yes, really), made it quite clear they really want
Geno Smith
to emerge as their starting quarterback. He didn't use those words, but the tea leaves are obvious. Mornhinweg talked about how he doesn't want the competition to impede Smith's progress and that Vick is here to "push" Smith. Predictably, he said Smith would get more first-team reps than Vick in organized team activities, which became the headline. All things considered, Mornhinweg's comments weren't a revelation. I mean, when was the last time you heard an organization say it wants a 33-year-old to replace a young incumbent with upside -- a quarterback who happens to be the hand-picked choice of the general manager?
2. Chris squared
: Mornhinweg said
Chris Johnson
and
Chris Ivory
will form "a pretty good, little 1-2 punch." He spoke of Johnson as if this were 2009, mentioning his "electric" speed. Look, I get it, he's excited to have Johnson in the backfield. Even if he's not CJ2K, Johnson should have enough left to help the Jets.
3. Cornerback problem, what problem?:
Defensive coordinator Dennis Thurman insisted he's "comfortable" with the current state of the cornerback position. I'm not sure I'm buying that. It wouldn't surprise me if they use their first-round pick on a cornerback, creating more flexibility. Right now,
Dimitri Patterson
is projected to start opposite
Dee Milliner
, but he could slide inside to the slot (his best position) if another corner is added in the first round. Asked if the current secondary will be better than last season, Thurman said, "No one really knows," adding he won't know until the games start.
Milliner
4. Big Dee:
Thurman spoke optimistically about Milliner, saying he's hopeful the former top pick can build off his strong finish last season. "If he does, the sky's the limit," Thurman said. "I believe he will be a very good corner." He has to be. Otherwise, the defense is in big trouble.
5. New special teams coach
: Thomas McGaughey spoke to reporters for the first time since being hired in February (yes, really). He said his top priority is to shore up the punt coverage (the Jets finished 27th). "I've had a history of being able to coach that part of it pretty well," McGaughey said. "Hopefully, these guys can back up my words." He likes
Jacoby Ford
's potential as a kickoff returner, but he'd like to add competition. He talked about the differences between coaching special teams on the pro and college level (he spent the three previous years at LSU), mentioning that he always had to be prepared for trickery at LSU. The Tigers were usually up by a lot, prompting opponents "to do anything they can to get back in the game."
6. LSU intel:
Yes, McGaughey shared his thoughts with the scouting department on the various LSU prospects in the draft. The most high-profile player is wide receiver
Odell Beckham Jr.
, who could be the Jets' pick in the first round. McGaughey said his opinions will remain in-house.
7. Westie the consultant
: McGaughey said he speaks to former special teams coach Mike Westhoff about once a month. "Obviously, he's one of the best to have ever done it," he said. " We've had a relationship for about five, six years now. He's a great man, and he's really helped me along the process. He really has. [He's] a good dude."
April, 3, 2014
Apr 3
12:15
PM ET
A team often can fill its biggest needs in free agency, creating more flexibility when it comes time for the draft. In other words, the team can draft the best available player (in theory) without having to reach to address a need.
You can't say that about the
New York Jets
. They signed five free agents from other teams, including two wide receivers and a cornerback, but their top needs remain the same -- wide receiver, tight end and cornerback. This illustrates an absolute lack of depth at those positions.
April, 2, 2014
Apr 2
9:20
PM ET
Dimitri Patterson
never has been mentioned with the top cornerbacks in the NFL, but he obviously feels he's an underrated talent. His self-confidence was apparent Wednesday in a conference call with reporters.
Patterson
"Obviously, I don't have the sexiest or flashiest name or I don't have a lot of hype behind my name," Patterson said. "The thing about it is when you turn on the tape, with the opportunity that has been given to me ... my numbers speak for themselves. ... I have been able to show that, when the opportunity is given, I can play at a high level and I can handle the top receivers."
The
New York Jets
gave him a one-year, $3 million contract, which consists of a $1 million signing bonus, a $1.5 million base salary and $500,000 in roster bonuses ($31,250 for every game he's on the active 46). The size of the contract suggests Patterson will be on the field a lot. He said he will have the opportunity to replace
Antonio Cromartie
in the starting lineup.
"They told me that there is definitely a strong opportunity there for me to come in and pick up where I left off last year," said Patterson, who started four games for the
Miami Dolphins
before a groin injury forced him to the sideline.
Patterson revealed that he underwent surgery last December to correct the problem, saying he feels "great." That's the knock on him, that he's injury prone. Patterson, who turns 31 next month, has missed 24 games the past two seasons. The man he's replacing, Cromartie, never missed a game due to injury.
"I just ask that [the] individual look at what I have been able to do when given the opportunity, and look at that as a football player and not someone that has a lot of hype behind his name or is hyped up," he said. "[Just look at me] as a football player who has done a lot with the little opportunity that has been given to him."
The Jets also introduced wide receiver
Jacoby Ford
via conference call. Ford, who spent four seasons with the
Oakland Raiders
, said he will compete for the kickoff-return job and, possibly, the punt-returning job. They could use a boost in those areas. Like Patterson, Ford is trying to shake the label that he's injury prone. He missed the 2012 season, recovering from foot surgery. He claimed he's still as fast as he was when he came out of Clemson in 2010, which means he's pretty fast. He ran a 4.28 in the 40.
"The exact same or faster [than when I came out of school]," said Ford, who signed a one-year deal for probably about $1 million. "I feel that confident in my running."
April, 1, 2014
Apr 1
6:18
PM ET
A few takeaways on former
Oakland Raiders
wide receiver
Jacoby Ford
signing with the
New York Jets
:
Ford
1. Typical
: This is an Idzik-ian move all the way. One of the NFL's top receivers is on the open market --
DeSean Jackson
-- but general manager John Idzik avoids the big splash and takes a short-term flier on the fast, but injury-prone Ford. This won't increase Idzik's popularity among frustrated fans, but it's the kind of low-risk move that he likes. Jackson is too costly and has too much baggage.
2. Depth chart
: Ford (57 career catches) won't start -- heck, he's not even a lock to make the team -- but he has one thing going for him: Speed. He ran a 4.28 in the 40 coming out of Clemson in 2010, and the current receiving corps lacked a true burner. The big question with Ford is his durability. He's made out of glass, having missed 26 games over the past three years. Considering the Jets' injuries at receiver in recent years, Ford doesn't exactly fit the profile of what they need at the position.
3. Special-teams impact
: Ford, who has scored four times on kickoff returns in his career, becomes one of the leading candidates to replace
Josh Cribbs
. The Jets' return game lacked sizzle, and Ford can change that -- if healthy. It should be noted, though, that the value of kickoff returners has decreased because of the rule changes.
March, 31, 2014
Mar 31
6:10
PM ET
Interested in building depth, the
New York Jets
visited with two free-agent backups Monday, wide receiver
Jacoby Ford
(
Oakland Raiders
) and guard
Rich Ohrnberger
(
San Diego Chargers
).
The Jets had been linked to Ford, so this isn't new. Receivers coach Sanjay Lal, formerly of the Raiders, is familiar with Ford's game. He has big-time speed, but he has only 57 career receptions for 848 yards and three touchdowns.
Ohrnberger, an East Meadow, L.I., native, was a fourth-round pick of the
New England Patriots
in 2009. He has only five career starts, but he could provide depth at both guard spots. The Jets lost
Vladimir Ducasse
, who signed a one-year contract last week with the
Minnesota Vikings
.
March, 18, 2014
Mar 18
6:00
PM ET
With most of the big-name free agents no longer available, the
New York Jets
are shopping the secondary market, looking for value. They're showing interest in former
Oakland Raiders
wide receiver
Jacoby Ford
.
Ford
"Yes, there's some interest from the Jets," Ford told ESPN's Josina Anderson. "I would say they're the team showing the most interest in me. Right now, we're still in the exploration phase, weighing things out."
Ford, 26, a former fourth-round pick, doesn't have enough reputation to calm an uneasy fan base, which is wondering why general manager John Idzik isn't spending more money. (As of Tuesday, the Jets had $25.4 million in cap space, according to ESPN data.) But Ford would address a need. Even though they signed
Eric Decker
, the Jets are still looking for another receiver.
Receivers coach Sanjay Lal, formerly of the Raiders, is familiar with Ford. He's a speedster out of Clemson, but he has only 57 career receptions for 848 yards and three touchdowns. The Raiders phased him out last season, as he finished with only 13 catches for 99 yards.
In other developments:
The Jets are engaged in talks with free-agent right guard Willie Colon, who started 16 games for them last season. Colon, recovering from biceps surgery, wants to return. He's also drawing interest from other teams and could be signed somewhere in the coming days.
Free-agent cornerback Aaron Berry visited the Cleveland Browns, where former Jets defensive coordinator Mike Pettine is interested in signing him.
The Jets have expressed interest in former Seattle Seahawks wide receiver Sidney Rice. He was a big free-agent score for the Seahawks in 2011, but he has been limited by injuries. He made only 15 receptions in eight games last season and was recently released.