New York Jets:

Jake Locker
September, 30, 2013
9/30/13
8:22
PM ET
Rex Ryan called it a clean hit. His counterpart, Mike Munchak, didn't think there was anything clean about it.
The
Tennessee Titans
' coach lost his quarterback,
Jake Locker
, with a hip injury Sunday when he was slammed by
New York Jets
defensive end
Muhammad Wilkerson
and linebacker
Quinton Coples
on the same play. He's expected to miss four to eight weeks, according to ESPN Insider Adam Schefter.
"The first one, (Wilkerson) dropped his helmet into him and unloaded on him," Munchak told reporters Monday in Nashville. "You're supposed to pull back on him when you're late. He didn't. The second one was totally unnecessary."
It'll be up to the league office to decide if fines are warranted. Wilkerson said after the game that the referee told him on the field that his was a legal hit. Ryan backed that up Monday, saying Wilkerson did not do anything illegal. He was not asked about Coples' role in the play and Coples was not available to comment.
ESPN.com Titans team reporter Paul Kuharsky provides a
detailed description of the play
, opining that Wilkerson's hit was legal but that Coples crossed the line. No argument here on that assessment.
September, 29, 2013
9/29/13
10:48
PM ET
NASHVILLE --
Muhammad Wilkerson
knocked
Tennessee Titans
quarterback
Jake Locker
out of the game in the third quarter with a potentially serious hip injury, but the
New York Jets
' defensive end insisted it was a clean hit. He said one of the officials told him so.
Wilkerson
"If it was late, they would've thrown a flag," Wilkerson said after the Jets' 38-13 loss at LP Field. "They didn't throw a flag. The ref told me it was a clean hit. I took my one step and that was that."
On the CBS telecast, analyst Dan Dierdorf said Wilkerson struck Locker in the chest with the crown of his helmet. If the league sees it that way, Wilkerson likely would be fined.
Locker absorbed the blow and fell awkwardly, immediately clutching his right hip. He was motionless on the ground, silent, on his back. Nearby, defensive end
Sheldon Richardson
dropped to one knee.
"I always say a prayer when guys go down like that," Richardson said.
The Titans didn't waste any time, immediately summoning for medical help. He was carted off the field, giving a thumb's up as he left. The Titans gave no immediate update, except to say X-rays were negative.
In two-plus quarters, Locker (18-for-24, 149 yards) torched the Jets, throwing three touchdown passes -- a career high.
September, 29, 2013
9/29/13
5:44
PM ET
NASHVILLE -- A few thoughts on the
New York Jets
, down 24-6 at halftime to the
Tennessee Titans
:
1. The mirage
: Everyone was giddy after last week's win over the
Buffalo Bills
. When are people going to learn? The Jets always look good against the Bills, creating a false sense of superiority. The Titans knocked them back to reality from the outset. The first half was reminiscent of last years' December debacle in Nashville.
2. Geno Sanchez
: Rookie quarterback
Geno Smith
committed three turnovers (two interceptions, one fumble in the open field), resulting in short-field touchdowns for the Titans. They converted the mistakes into 21 points. One interception was an underthrow on a deep route to
Stephen Hill
, and the other was a poor decision, a throw into blanket coverage. Cornerback
Alterraun Verner
made both interceptions. This is what happens when you have a rookie at quarterback: severe growing pains. Smith gets little help from coordinator Marty Mornhinweg, who continues to let him throw.
3. Bad defense
: The Jets went into the game more concerned about
Jake Locker
's legs than his arm. Big mistake. Locker picked apart Rex Ryan's defense, throwing a career-high three touchdowns in the first half. It was a terrific game plan by the Titans, who surprised the Jets with their short-passing attack. It neutralized the Jets' pass rush and found soft spots in the secondary.
4. More push-ups
: Looks like Ryan's penalty-prevention program did not do the trick. One week after setting a franchise record with 20 penalties, the Jets committed eight (one declined). The lack of discipline has to be alarming, considering how much emphasis was placed on the issue.
September, 27, 2013
9/27/13
12:00
PM ET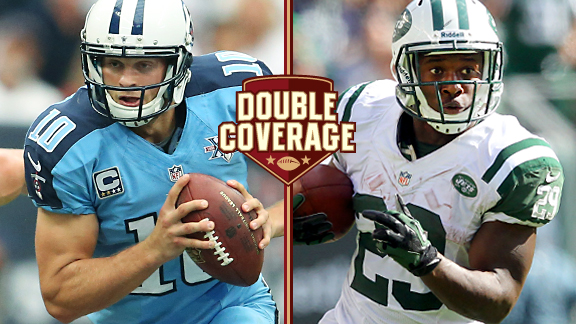 USA TODAY SportsJake Locker, left, and Bilal Powell hope to build on big games when their teams meet Sunday.
Preseason expectations for the
New York Jets
and the
Tennessee Titans
were poor, at best. Rex Ryan and Mike Munchak were at the top of the list of coaches on the hot seat. They had questions at quarterback and critics wondering about the caliber of their defensive playmakers.
Those questions still exist.
But three games into the season, entering a head-to-head matchup in Nashville, each stands at 2-1. They each won last week despite major penalty problems.
The Titans' offseason included more than $100 million spent on a big group of free agents and a revamping of the coaching staff, including the addition of senior assistant/defense Gregg Williams.
The Jets were much about turmoil, particularly with the drafting of quarterback
Geno Smith
and his competition with
Mark Sanchez
. To set up the game, ESPN.com Titans reporter Paul Kuharsky and Jets reporter Rich Cimini got together to break things down:
Paul Kuharsky:
How, Rich, have the Jets pulled off this start after such an ugly offseason?
Rich Cimini:
You're right, Paul, it was an ugly offseason. Ugly preseason, too, with a rigged quarterback competition that ended with Sanchez's shoulder injury. But to its credit, this team has stayed focused and confident. It's too early to say the Jets have arrived, but they're playing good defense. For a change, they actually have a front three/four that can put pressure on the quarterback. In the past, Ryan had to rely on exotic blitzes to generate the heat. Now he has a young, talented defensive line led by
Muhammad Wilkerson
. Seven of their eight sacks last week came on four-man rushes. The offense exploded last week, for one of the most prolific days in team history -- if you can believe it -- but I think a lot of that can be attributed to a lousy Buffalo secondary. Smith has a big arm, but he's prone to two or three big mistakes per game. He already has seven turnovers, compared to none for
Jake Locker
. What can you say about Locker's development?
Kuharsky:
He's really made nice, steady progress. I like my quarterback to do more than not make giant mistakes, and Locker showed last week that he might be capable of more. The Titans love his intangibles. In a lot of ways, they drafted him because he's the anti-
Vince Young
. Locker prepares well, works hard, understands the hard parts of being an NFL quarterback and earns the respect of his teammates and coaches. He's blazing fast and can really throw. He changed protections twice in the game-winning drive against San Diego, which is real progress. Still, it's a run-first team that wants to hand the ball to
Chris Johnson
and, when he's healthy,
Shonn Greene
. (I know Jets fans are sad he's out this week.) The Titans rebuilt their interior line to protect better, but even more so, they can establish and count on the run. How is the Jets' front as a run-stopping group, and how are the Jets running the ball to take some of the burden off the rookie quarterback?
Cimini:
Bilal Powell
is coming off a career day (149 rushing yards), but offensive coordinator Marty Mornhinweg isn't married to the idea of running the ball to take pressure off Smith. He has been pretty aggressive with his play calling, allowing Smith to attack downfield. In fact, he has nine completions on attempts that went 21 yards or longer, tied with
Aaron Rodgers
for the league lead. As for stopping the run, the front seven is doing a nice job. It's a younger, faster front seven than the one you saw last December in Nashville. Linebacker DeMario Davis, nose tackle
Damon Harrison
and rookie defensive tackle
Sheldon Richardson
have injected much-needed speed into the defense. They have held a couple of good backs in check, namely
Doug Martin
and
C.J. Spiller
. I'm really curious to see how they handle Locker and Johnson. Talk to me about the Titans' defense. Sounds like Williams has brought a different dynamic.
Kuharsky:
Yeah, Jerry Gray might still have the defensive coordinator title and might still be calling the game. But the Titans are running stuff he never thought to install or call on his own, and they've got an attitude he wasn't able to instill without Williams. The Titans are blitzing more, they are playing more press coverage, they are hitting harder, they are more assertive and their confidence and swagger is well beyond what we saw last season. Williams is completely in the background, low-keying it. If the defense plays as it has, he could re-emerge as a candidate for coordinator jobs after just one year back from his suspension. Rex seems to have backed off the crazy pronouncements and is more low-key himself. Same guy being a bit more guarded, or is there more change to it than that?
Cimini:
Ryan is in self-preservation mode. He has a new boss, general manager John Idzik, a buttoned-down guy whose objective was to send the circus out of town. He has changed the culture around the organization, and Ryan has bought into that mentality. So yes, the old bravado is gone. Selfishly, as a reporter, I liked the old Rex because he gave us plenty to write about. Another reason for the change in his approach, I think, is he realizes this is a fairly young team (three or four rookies in the starting lineup) and he doesn't want to put extra pressure on them by making outrageous statements. As a result, it's a lot quieter around here. Bummer.
Kuharsky:
It's always quiet down here, Rich. Hopefully, someone will make some sort of noise Sunday. I'm thinking it's unlikely to be a Jets receiver. I know
Stephen Hill
did some good work against the Bills. But the Titans' pass rush and coverage might be fine against Smith and his receivers. They don't rate very well, do they?
Cimini:
Astute observation, Paul. The Jets picked on a couple of backup cornerbacks for the Bills, racking up numbers you'd expect to see from
Peyton Manning
and the Broncos. It won't be that easy against the Titans. Hill is talented, yes, but he's wildly inconsistent. He'll make your heart race with a big play, but he'll also break it with an easy drop.
Santonio Holmes
remains their best receiver. Last week's big game notwithstanding, he's not the Holmes of a few years ago, still not 100 percent after foot surgery. Bottom line: This is still a receiving corps with questions.
.
September, 27, 2013
9/27/13
12:00
PM ET
It's Mirror City in the Music City.
There are many similarities between the
New York Jets
and
Tennessee Titans
, who play Sunday in a 4 p.m. kickoff at LP Field in Nashville: Both teams are a surprising 2-1. Both began the season with coaches on the hot seat. Both have young, developing quarterbacks. Both play aggressive, man-to-man schemes on defense. And both are highly penalized. For the Jets, it's their third straight opponent that won the previous week in the final seconds.
What to watch for:
1. Statement game
: If the Jets want people to take them seriously, they need to go on the road and beat a middle-of-the-road team like the Titans. Folks are getting a bit carried away by last week's win; remember, the Jets almost always beat the Buffalo Bills, the ideal punching bag. See the 2012 opener, the ultimate mirage. This is a very winnable game for the young Jets, who can show the skeptics that maybe, just maybe they can do something this season. They have to win these swing games because the schedule is about to get a lot tougher. If they can hit the quarter pole at 3-1, it changes the complexion of the season.
[+] Enlarge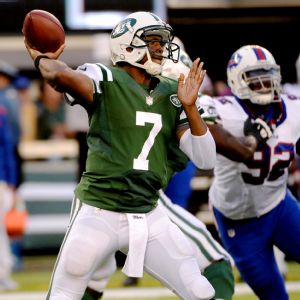 Robert Deutsch/USA TODAY SportsGeno Smith passed for 331 yards, 2 touchdowns and 2 interceptions last week against the Bills.
2. Big-play Geno
:
Geno Smith
made the
Buffalo Bills
pay dearly last week for putting eight in the box and playing man-to-man on the outside. He'll see a lot of the same looks from the Titans, who decided to change their defensive philosophy after allowing a franchise-record 471 points last season. But the difference is that the Titans' cornerbacks,
Jason McCourty
and
Alterraun Verner
, are better than the scrubs rolled out by the depleted Bills.
In other words, it'll be a challenge for the Jets' wideouts,
Stephen Hill
in particular, to get clean releases and into their routes on time. The X factor could be tight end
Kellen Winslow
, especially in the red zone. The Titans had some trouble last week with
San Diego Chargers
tight end
Antonio Gates
, so don't be surprised if Marty Mornhinweg tries to feature Winslow in the passing game.
3. Beware, the blitz:
The Titans will bring pressure out of their 4-3 front. They've blitzed on nearly 50 percent of their passing downs, significantly higher than last season. Call it the Gregg Williams factor. The disgraced former coordinator of the
New Orleans Saints
(see: Bounty Gate) doesn't call the plays, but there's no denying his presence has made an impact on the Titans' defensive mentality.
Outside linebackers
Akeem Ayers
and
Zach Brown
are fast, active players, sometimes used in zone-blitz situations. The front four is led by defensive end
Derrick Morgan
, who will be matched against right tackle
Austin Howard
. Defensive tackle
Jurrell Casey
is a strong interior pass-rusher. The Jets' offensive line played a clean game last week (no sacks), but this will be a tougher challenge, especially on the road.
4. Make him the 'Hurt' Locker
:
Jake Locker
is a great athlete still learning to play quarterback (only 11 career starts), but his confidence is soaring after last week's come-from-behind win in the final two minutes. Folks in Nashville are saying it could be the turning point in his career. Really? Locker remains a limited passer who, somehow, has managed to avoid turnovers. That's right, no turnovers in three games, compared to seven for Smith. The Jets aim to end Locker's streak. Rex Ryan has been preaching takeaways from the minute last week's game ended. (The defense has only one takeaway, which is unacceptable.)
The trick is keeping Locker in the pocket, forcing him to be a passer. His passer rating actually is significantly lower when he has extra time in the pocket, according to ProFootballFocus. If he breaks contain, watch out. He rushed for 68 yards last week, including a brilliant, 39-yard scramble. You might recall he scored a rushing touchdown against the Jets in last December's debacle.
5. Avoid the killer breakdowns
: Each week, the Jets suffer one or two defensive lapses that result in a big play. It usually shows up in the form of a busted coverage, which happened in Weeks 1 and 2. Last week they fell asleep and let
Fred Jackson
escape a pile-up for a 59-yard run. They can't do that when
Chris Johnson
has the ball in his hands. To reinforce the point, Ryan can show the clip of last year's meeting, when Johnson turned a routine, off-tackle play into a 94-yard touchdown. He leads the AFC in rushing (256 yards), but there haven't been any splash plays. The Jets need to keep it that way.
The Titans are a ground-and-pound offense (where have we heard that before?), running behind their two new guards, free-agent addition
Andy Levitre
and No. 1 pick
Chance Warmack
. The center is ex-Jet
Rob Turner
, whose shotgun snaps have been shaky. They've had some problems with inside stunting, something the Jets might try to exploit. Levitre, Turner and Warmack already have allowed 26 pressures, per PFF.
September, 25, 2013
9/25/13
6:00
PM ET
FLORHAM PARK, N.J. -- The
New York Jets
' defense was feeling pretty good about itself after its eight-sack demolition of Bills rookie quarterback
EJ Manuel
, but the postgame celebration was shattered by a challenge from coach Rex Ryan.

"Rex got on the defense about creating turnovers," defensive end
Muhammad Wilkerson
said Wednesday.
The Jets are ranked third in total defense, doing a lot of nice things, but they've struggled with takeaways -- only two in three games, none in the past two. To be recognized as an elite defense, they need to do a better job of forcing turnovers. Sacks are great. Three-and-outs are nice. But you need game-changing plays.
"That's been a big emphasis this week," rush linebacker
Quinton Coples
said.
It should be.
The Jets face the
Tennessee Titans
, who have yet to commit a turnover. Obviously,
Jake Locker
has done a terrific job of protecting the football -- one of three starting quarterbacks with no interceptions -- but he'll face a defense that's starting to mature.
A defense that prides itself on making life miserable for quarterbacks. The Jets have caused problems for the Bucs'
Josh Freeman
(benched Wednesday), the Patriots'
Tom Brady
and, of course, Manuel, who combined completed only 47 percent of their passes against the Jets and were sacked 12 times.
"We go into every game with the same intention -- stop the quarterback," linebacker
DeMario Davis
said.
If a quarterback can't solve the Jets' scheme, nose tackle
Damon Harrison
said, he's "like a deer in the headlights."
Quite simply, the Jets have to do a better job of getting their hands on the football. In fact, they've had only six pass break-ups. That's surprisingly low, considering the improved pass rush. In theory, the quarterbacks -- under increased pressure -- should be making bad decisions with the ball. But that hasn't happened yet.