New York Jets:

Joe Klecko
May, 2, 2014
5/02/14
5:05
PM ET
Former
New York Jets
defensive lineman Joe Klecko, a member of the famed New York Sack Exchange, sacked two of the team's current pass rushers --
Muhammad Wilkerson
and
Quinton Coples
-- in an interview Friday with a local radio station.
Klecko, a guest on WFAN, suggested Wilkerson and Coples don't give maximum effort on every play.
Coples
Wilkerson
"A little bit of the time, he looks like Tarzan, plays like Jane," Klecko said of Coples. "Sometimes he gets out there and does things that are unbelievable. Well, you need to go out there and stick your nose in there every time and make sure everybody knows you're there. I think he has a lot to learn."
Coples, picked 16th overall in 2012, came into the league amid question about his practice habits and work ethic. The 6-6, 290-pound defensive end-turned-linebacker has registered only 10 sacks in two seasons. He managed just 4.5 sacks last season, but he missed the first two games (surgery to repair a fractured ankle) and made the switch to a new position, outside linebacker.
"I don't know him at all, but understanding attitude and body language, he sometimes comes out there, I think, and thinks, 'Don't you know who I am? I'm here,'" Klecko said. "He has to start proving that he is something to be reckoned with
"You have to have defensive players on the team that do that kind of play – go for the jugular vein, all out, all the time. And then everyone starts to listen you. If you have just a group of lukewarm guys, you're going to have lukewarm players that will need to have to be picked up by their leaders."
Wilkerson, who recorded a career-high 10 sacks last season, is generally regarded as the best defensive player on the team. Klecko spoke glowingly of the former first-round pick's talent, but questioned his motor.
"I think there's a few too many plays he gives up on a little bit," Klecko said. "You know, he's big enough to hunt bear with a switch, there's no doubt. He's an unbelievable talent, but he has to put it out there every single play. Now, sure, everybody is going to say, 'Yeah, he does.' No, he doesn't, I'm telling you right now. He needs to put it out there every single play. Now, (Sheldon) Richardson does that."
Richardson was named NFL Defensive Rookie of the Year.
"I think Richardson plays with a chip on his shoulder every single play, which I like," Klecko said. "Kind of reminds me of me."
Klecko, a member of the Jets' Ring of Honor, made four Pro Bowls in the 1980s. He's the only player in history to make a Pro Bowl at three different defensive-line positions.
February, 13, 2014
2/13/14
3:30
PM ET
Piggybacking on LeBron James, who sparked a Mount Rushmore debate this week for the NBA, I decided to conduct an informal Twitter survey to determine the
New York Jets
' Mount Rushmore -- the four most iconic figures in franchise history.
A total of 126 votes were cast. The non-serious votes weren't counted; otherwise, Rich Kotite and
Vernon Gholston
would appear on our tally sheet. Without further delay ... the Jets' version of Mount Rushmore:
Joe Namath -- 120 votes
Curtis Martin
-- 114
Joe Klecko -- 90
Don Maynard -- 46
In my opinion, the fans got it right. I would've voted for the same four players. To me, Namath, Martin and Maynard are no-brainers -- they're Hall of Famers. Namath is Namath (what more can you say?) and Martin was the Jets' version of Derek Jeter from 1998 to 2004. I'm surprised Maynard didn't receive more votes because he was a dominant receiver in the Namath era. In fact, he averaged more than 20 yards per reception in 1967 and 1968, pretty impressive in an era where the cornerbacks were allowed to mug the receivers. He was an all-time great. Klecko, who made the Pro Bowl at three different defensive-line positions in the 1980s, makes it because he owns the unofficial title of Best Jet Not in the Hall of Fame. It's a shame he doesn't garner more consideration.
Aside from Klecko,
Wayne Chrebet
is the most beloved non-Hall of Famer in team history. He's a Jersey guy, the ultimate underdog story. Sadly, his career was cut short by concussions. I wouldn't be surprised at all if Chrebet is inducted into the team's Ring of Honor in the fall. He finished fifth with 33 votes, ahead of Mark Gastineau (23) and
Darrelle Revis
(10), who undoubtedly would've received a lot more love if it weren't for his messy divorce.
Others receiving votes: Weeb Ewbank 9, Wesley Walker 7, Freeman McNeil 5, Al Toon 4, Rex Ryan 4, Matt Snell 3,
Nick Mangold
3, Winston Hill 2,
Chad Pennington
2 and Dennis Byrd 2. Nine others received one vote apiece.
April, 17, 2013
4/17/13
12:00
PM ET
For the most part, the Jets haven't been a good drafting team, but there have been a few exceptional classes in their history. Without prejudice, we offer the ESPNNewYork.com top five classes (draft round in parenthesis):
1. 1977 (Coach: Walt Michaels)
Notables
: T Marvin Powell (1), WR Wesley Walker (2), RB Scott Dierking (4), DT Joe Klecko (6), RB Kevin Long (7), G Dan Alexander (8), QB Matt Robinson (9).
Skinny
: This was brilliant drafting. Scouting maven Mike Holovak was the director of college scouting, the man largely responsible for the best draft in team history. He found Klecko, one of the all-time Jets, in the sixth round. Klecko, Powell and Walker combined for 11 Pro Bowls, forming the nucleus of the team that reached the 1982 AFC Championship Game. Alexander played 192 games and was rock steady -- not bad for an eighth-round pick.
2. 2000 (Coach: Al Groh)
Notables
: DE
Shaun Ellis
(1), DE
John Abraham
(1), QB
Chad Pennington
(1), TE
Anthony Becht
(1), WR
Laveranues Coles
(3).
Skinny
: Bill Parcells was in charge of this historic draft, as the Jets became the only team in history with four first-round picks. Because of a greater emphasis on the salary cap, we might never see anything like it again. The Jets received two first-round choices (Abraham and Becht) in the
Keyshawn Johnson
trade with the Bucs, and another (Ellis) from the Patriots as compensation for Bill Belichick. All four No. 1s became longtime starters in the league, and Coles became one of the most prolific receivers in team history. This draft was Parcells' going-away present to the Jets.
3. 1964 (Coach: Weeb Ewbank)
Notables
: RB Matt Snell (1), DE Gerry Philbin (3), LB Ralph Baker (6).
Skinny
: This draft produced three mainstays on the Super Bowl III team and a total of six who played at least 100 games in the NFL. Snell holds the distinction of being the only player in team history to score a touchdown in the Super Bowl. Snell made three Pro Bowls, Philbin two. Philbin and Baker were sturdy players on a defense that never received its proper due. Ewbank found Baker -- where else? -- at Linebacker U, Penn State.
4. 1965 (Coach: Ewbank)
Notables
: QB Joe Namath (1), DE Verlon Biggs (3).
Skinny
: It was pretty much a two-man draft, but one of them happens to be the most famous player in franchise history -- Broadway Joe. He put the Jets on the map, played an instrumental role in the NFL-AFL merger and was elected to the Pro Football Hall of Fame. Sure, he threw too many interceptions, but you can't write a history of the league without mentioning Namath. Biggs was an outstanding player, a three-time Pro Bowler.
5. 2006 (Coach: Eric Mangini)
Notables
: T
D'Brickashaw Ferguson
(1), C
Nick Mangold
(1), S
Eric Smith
(3), WR
Brad Smith
(4), KR
Leon Washington
(4).
Skinny
: Mangini and first-year GM Mike Tannenbaum put their young heads together and delivered a terrific draft. It wasn't sexy -- two offensive linemen in the first round -- but it was productive. Ferguson and Mangold have combined for seven Pro Bowls -- and counting. This class provided the foundation for the 2009 and 2010 playoff teams. Washington was an all-purpose dynamo and Brad Smith was a valuable role player, contributing in a variety of ways.
August, 8, 2011
8/08/11
4:05
PM ET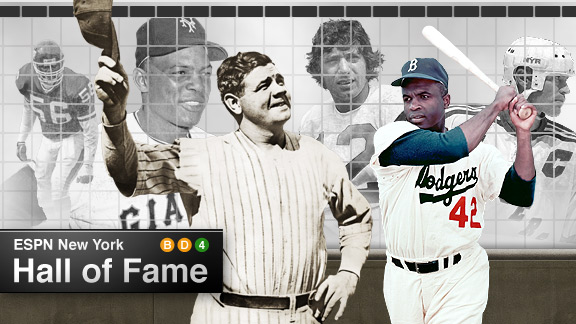 ESPN.com illustration
Vote: Pick the ESPN New York Hall of Fame class »
In honor of ESPN New York's inaugural
Hall of Fame ballot
, here's my top five Jets:
1. Joe Namath, quarterback:
More than 40 years after leading the Jets to their only Super Bowl, Namath remains the franchise's most recognizable figure. His career stats weren't exceptional (more interceptions than touchdowns), partly because of injuries, but experts say he was one of the best pure passers ever. The stunning win over the Colts in Super Bowl III was one of the most significant games in history. Namath guaranteed a victory, creating his legend. There have been many Namath wannabes over the years, but there's only one Broadway Joe. He was inducted into the Pro Football Hall of Fame in 1985.
Darryl Norenberg/US Presswire
Joe Namath is among the New York Hall of Fame finalists:
Top 20

•
Hall of Fame video

2. Don Maynard, wide receiver:
If you're talking about dominating at one position, Maynard could be the best player in team history. He recorded at least 50 catches and 1,000 yards in five seasons (remember, they played 14 games in those days), once averaging 100 yards per game. He was named to the AFL's all-time team and was inducted into the Hall of Fame in 1987. Maynard played in two of the most important games in history: the 1958 NFL Championship Game (as a member of the Giants) and Super Bowl III.
3. Curtis Martin, running back:
The fourth-leading rusher in NFL history was a Hall of Fame finalist in his first year of eligibility, which bodes well for his chances of reaching Canton in 2012. Martin was the heart and soul of the Jets from 1998 to 2005, capped by the NFL rushing title in 2004. Never known as a flashy runner, Martin's trademark was his toughness and consistency. He rushed for at least 1,000 yards in each of his first 10 seasons, the first three with the Patriots. It's no accident that the Jets-Patriots rivalry tilted the Jets' way when Martin changed teams.
4. Joe Klecko, defensive tackle:
Few will argue that Klecko is the greatest defensive player in Jets history. He made the Pro Bowl at three different defensive-line positions -- nose tackle, tackle and end. He's best remembered as a member of the vaunted "New York Sack Exchange," the front four that terrorized quarterbacks in the early 1980s. He once recorded 20.5 sacks in a season -- before sacks became an official NFL stat -- ridiculous for an interior lineman. Klecko, Namath and Maynard are the only players in franchise history to have their numbers retired.
5. Winston Hill, offensive tackle.
He's perhaps the most underappreciated player in Jets history. Hill played left tackle from 1963 to 1976, protecting Namath's blind side and dominating as a run-blocker. Hill was a four-time AFL all-star and was named four times to the Pro Bowl. He was known for his toughness, once starting 174 consecutive games. Only four players in team history have appeared in more games than Hill, who, curiously, never has been nominated for the Hall of Fame.