New York Jets:

Joel Dreessen
February, 2, 2014
2/02/14
5:00
AM ET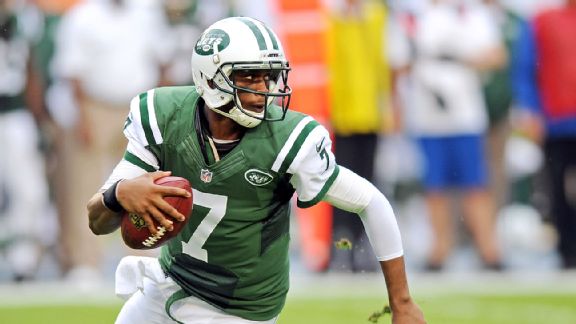 Steve Mitchell/USA TODAY SportsMore will be expected of QB Geno Smith in his second NFL season.
NEW YORK -- Talking
New York Jets
and Super Bowl XLVIII from the greatest city in the world:
1. Not yet, Geno:
Hoping to get a sense of how non-Jets personnel feel about
Geno Smith
, I interviewed 10 experts throughout the week -- talent evaluators, analysts and former players-turned-analysts. The overwheleming consensus: He hasn't done enough to be anointed the Jets' franchise quarterback, although many believe he deserves another shot with a better supporting cast.
"I don't think you just hand him the job," CBS' Rich Gannon said. "I think you make it a competitive situation. They have to get better at that position. They need more depth and talent there, and I anticipate that will happen this offseason."
A longtime personnel man mentioned two weaknesses and raised a question about Smith, saying: His body is "too soft," he must do a better job of processing information and, "Does he love football or does he like football?" In professional football, there's a huge difference.
Bart Scott
said "you can't get a fair assessment" of Smith because of the lack of weapons on offense. He suggested acquiring
Matt Schaub
, who many believe will be released by the
Houston Texans
. Schaub is "somebody who can compete and steady the ship, a bridge if Geno isn't ready yet. If not, you move on and draft somebody else."
Former
New York Giants
wide receiver
Amani Toomer
said, "I don't think he's done enough to secure the job. I think he's done some good things, but he's done a lot of bad things, too, so I wouldn't bank on Geno Smith. He's a guy that can be promising -- he has a lot of potential -- but potential gets coaches fired."
Tony Richardson
said the Jets should sign a veteran and create a competition, with Smith having "the upper hand" at the outset. Smith used up his slack last season, according to Richardson, who said "Jets fans went through the growing pains and now it's time to win football games. The best guy should be the starter, period."
Anthony Becht
believes the Jets should be patient with Smith because of his physical talent. He said it was "a humbling year" for Smith, starting with his unexpected slide in the draft. The adversity, Becht said, will fuel Smith's motivation. "You stick with the guy," he said. "People are afraid to take the time and develop talent. Sometimes they don't come right out of the box."
Wilkerson
2. Mo money for Wilkerson?:
It'll be fascinating to see how the
Muhammad Wilkerson
contract situation plays out -- all the 2011 first-round picks, for that matter. Some in the industry believe Wilkerson, who has outperformed his rookie contract, should play hardball and stage a training camp holdout, if necessary.
As I explained last Sunday
, the Jets can have him for only about $7.2 million over the next two years, assuming they exercise the fifth-year option in May. He's scheduled to make only $1.2 million in 2014 and, although the '15 option year would be guaranteed against injury, it's still a risk. This is uncharted territory because the '11 draft is the first affected by the new CBA. On Saturday, GM John Idzik declined to reveal his plans for Wilkerson.
2a. Temple of doom
: Wilkerson played two years at Temple with
Denver Broncos
defensive tackle
Terrance Knighton
-- aka Pot Roast. Wilkerson was the young pup, Knighton the upperclassman. Knighton knew Wilkersom was something special. "He was actually my backup," Pot Roast said. "He's a great player. The whole time I was at Temple, I was hoping he wasn't going to start over me."
3. Spy Games
: The acrimony between the Jets and
New England Patriots
runs so deep that, before the AFC Championship Game was played, the Patriots were squawking about the prospect of having to practice at the Jets' facility during the run-up to the Super Bowl. In fact, they wanted to practice at Rutgers instead of the Jets. It turned out to be a moot point, obviously. Both the Jets and Giants, concerned about the possibility of hosting division rivals for the week, actually asked the league if they could trade places -- NFC team at the Jets, AFC at the Giants. That request was denied. As it turned out, the Jets and Broncos hit it off. The Jets found the Broncos to be terrific guests.
4. Give my regards to Bradway
: Only two players from Terry Bradway's final draft as the Jets' GM (2005) remain active in the league -- kicker
Mike Nugent
(
Cincinnati Bengals
) and tight end
Joel Dreessen
(Broncos). Dreessen played one season with the Jets and was cut by Eric Mangini in 2006. He never forgot it. In 2010, as a member of the Texans, he caught four passes for 106 yards and a touchdown against the Jets. When he scored, he fired the football at a Jets logo on the wall behind the end zone. "That was one of my most liberating moments," Dreessen told me. "That was a really cool moment for me."
5. Trade winds
: The Jets should be monitoring the
Larry Fitzgerald
contract situation in Arizona. If it falls apart, the Jets should swoop in to see if he'd be available in a trade. Even though he turns 31 in August, Fitzgerald would be a perfect fit for the receiver-needy Jets -- at the right price, of course. He told several media outlets this week at the Super Bowl that he's willing to restructure his contract, which has an $18 million cap charge in 2014. Stay tuned.

Ryan
6. The Rex-tension
: Maybe it's just me, but ...
Every time Rex Ryan does an interview (and he did plenty this week) and is asked about his recent contract extension, it sounds like he's trying to convince everyone (maybe even himself) that he's happy with the outcome. Just my two cents.
7. Speaking the same language
: After listening to the
Seattle Seahawks
for a week, it's amazing how much their players and coaches emphasize competition. Sound familiar? Idzik, a former Seahawks executive, preaches the same gospel. It's rooted in the Pete Carroll philosophy. In fact, Carroll takes it to the extreme with "Competition Wednesday." Every Wednesday, the first-team offense competes against the first-team defense in an unscripted practice -- highly unusual in the NFL. Not even the Jets go that far. But, hey, it's a copy-cat league. If the Seahawks win the Super Bowl, you might see a "Competition Wednesday" or two popping up around the NFL.
8. No Ordinary Joe
: Talked to a couple of Hall of Fame voters this week who can't believe Joe Klecko never garners serious consideration for the Hall. It's hard to believe, isn't it? All he did was make the Pro Bowl at three different positions on the defensive line.

Sapp
9. Sad Sapp
:
Warren Sapp
is an embarrassment. Actually, it's sad to see a Hall of Famer -- a person who accomplished so much professionally -- behave like a spoiled, jealous kid. This week, on the NFL's biggest stage, Sapp felt it was his place to dump on
Michael Strahan
's
Hall of Fame candidacy
. Sinking to another low, Sapp, in an interview with the New York Daily News, took a couple of shots at Jets rookie DT
Sheldon Richardson
. Memo to Sapp: Grow up or please go away.
10. An Ode to Peyton
: Heard this anecdote about
Peyton Manning
a few years ago, and it bears repeating on Super Bowl Sunday. In 1998, Manning and
Ryan Leaf
were projected as the top two picks in the draft. The Chargers, picking second, wanted to interview both prospects. They sent an abbreviated version of their playbook to each and asked them to learn the offense before the interview. As a reward and a test, the coaches stapled a $20 bill to the last page -- a clever way to determine if they'd read the entire book. Leaf arrived for his interview and never mentioned anything about the $20. Clearly, he didn't know it was there. Manning showed up and immediately thanked the coaches for the $20. And there you have it. Unfortunately for the Chargers, they never got a shot at Manning, who went No. 1 overall.
January, 30, 2014
1/30/14
3:00
PM ET
JERSEY CITY, N.J. -- When he played for the
New York Jets
in 2005, tight end
Joel Dreessen
experienced perhaps the most tumultuous quarterback season in team history. The Jets used five quarterbacks that year --
Chad Pennington
,
Jay Fiedler
,
Vinny Testaverde
,
Brooks Bollinger
and
Kliff Kingsbury
.
[+] Enlarge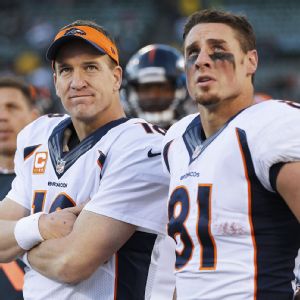 AP Photo/Marcio Jose SanchezFormer Jets tight end Joel Dreessen, right, described Broncos teammate Peyton Manning as an extraordinarily demanding and tireless worker.
Now he has one --
Peyton Manning
.
Dreessen, a sixth-round pick of the Jets in '05, has gone from a mess to a football messiah. In an inteview Thursday with ESPNNewYork.com, he provided insight into what it's like playing with one of the best quarterbacks in history.
Dreessen described Manning as an extraordinarily demanding and tireless worker who never accepts excuses for failure:
"If you drop a pass, he'll try to settle you and say, 'You have to make that play, you have to make that play,'" said Dreessen, who signed with the
Denver Broncos
in 2012. "It's not like he's trying to embarrass you or make you feel like crap. There was one time, I dropped a pass. It was in Mile High, a regular-season game. The sun was in my eyes and I couldn't see it and I couldn't bring in the ball. He yelled at me and I said, 'Man, I can't see.' The whole next week at practice, he was giving me grief for the sun being in my eyes. Basically, it was like, 'You have to learn to catch the ball even when the sun is in your eyes.
"When we miss a throw in practice, you can expect to stay after to do it again, even if it's just on air. He wants to walk off the field feeling good about every play.
"On game day, he's pretty serious. He doesn't joke in the huddle or on the sideline. He'll joke around in meetings at times, but I can't think of any game day where he did. Actually, I remember one game where he smiled. It was the opener [Manning's seven-touchdown performance]. I was inactive because I was hurt. He had just thrown touchdown No. 5 against the Ravens and I greeted him on the sideline. I said, 'Five touchdowns?!' He was smiling a little and, under his breath, he said, 'There might be more.' He was right.
"He's a machine. It makes you feel like, if you're in another offense or have another quarterback, you're beating your head against the wall because they can't do what he does as far as getting us in the best play every time. Really, he's like a scientist, except he's 6-foot-5 and he throws the ball amazingly accurate.
"He's going to put it most of the time where you -- and only you -- can catch it. When I first got here, I was frustrated because if I was wide open, most quarterbacks would put the ball right on me. But he's going to keep leading you so you can run underneath it and have more room to run after the catch, keeping it further away from the defender. It's a very catchable ball, a very accurate ball. Even when it's not, he expects you to catch it.
"You definitely want to match his work ethic and preparation. It kind of gets to be a competition: Who can know more about the opponent than Peyton? Who can know the offense better than Peyton? He'll go around the room and quiz guys about their assignments on particular plays. It happens all the time. He makes sure you're on top of it. He really does raise the expectation level at every position. Same with the coaches. He wants information from the coaches. Before he starts his preparation, he wants breakdowns and statistics. It's not just the players he raises up, it's the coaches, too.
"I always come in on Tuesday [our day off] to do some weight lifting. By the time I leave around lunch time, he's coming in early to get a jump-start with the coaches on the game plan. His day off is really not a day off. He truly honors all six months of the season. He takes a few hours off here and there, but I've never seen him take a full day off.
"Honestly, I can say he's not preparing any different for this game than he would a preseason game. I kid you not. Every game is important. To say he's preparing harder for the Super Bowl would be an insult because that would suggest he wasn't preparting as hard as he could for the other games.
"Some day, if I'm telling my grandchildren about Peyton Manning, I'd probably describe how gifted a person he is as far as his intelligence and his technique and his accuracy. I'd describe those things and add to it his work ethic. He's gifted, but he worked at it."
January, 11, 2013
1/11/13
5:00
AM ET
There are four divisional-playoff games this weekend, involving plenty of familiar faces. Here's our top-10 list of ex-Jets (tell us what you think of our rankings):
[+] Enlarge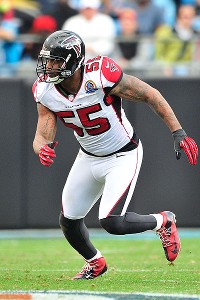 Grant Halverson/Getty ImagesJohn Abraham
1.
John Abraham
, DE, Falcons -- He has 68.5 sacks in seven seasons since being traded.
2.
Jonathan Goodwin
, C, 49ers -- A Pro Bowl in '09 for the Saints, solid pivot man for the Niners.
3.
Danny Woodhead
, RB, Patriots -- Totalled 747 yards from scrimmage this season.
4.
Leon Washington
, KR, Seahawks -- Made his second Pro Bowl, averaging 29 yards per return.
5.
Joel Dreessen
, TE, Broncos -- Caught a career-high 41 passes this season from
Peyton Manning
.
6.
Jim Leonhard
, S, Broncos -- Battled back from major knee injury. Punt returner and reserve DB.
7.
Wade Smith
, G, Texans -- A three-year starter at left guard.
8.
James Ihedigbo
, S, Ravens -- Three starts, mostly special teams and backup duty.
9.
Marquice Cole
, DB, Patriots -- Solid special teamer.
10.
Emanuel Cook
, S, Ravens -- On injured reserve.