New York Jets:

Johnny Manziel
June, 9, 2014
6/09/14
10:35
AM ET
One of the fascinating aspects of the NFL draft is that each one produces a lifetime of what-if scenarios. No one knows this better than the
New York Jets
, whose history is filled with stars that got away. They passed on Dan Marino, Warren Sapp,
Emmitt Smith
... and the list goes on. Well, here's another what-might-have-been:
Davis
Vernon Davis
.
Former Jets coach Eric Mangini, speaking to the Hartford Courant during the run-up to his annual youth football camp last weekend in the Hartford, Connecticut area, said the Jets almost grabbed the freakishly talented tight end in the 2006 draft. Their interest in Davis was reported at the time, but it wasn't thought to be serious. Apparently, they were dead serious about Davis.
"When I was with the Jets, I really loved Vernon in the draft," Mangini said. "We were pretty close to drafting him in New York. It's funny how that kind of comes full circle."
Mangini is the new tight ends coach for the
San Francisco 49ers
, so he gets to work with Davis on a daily basis. It would've been fun to see Davis with the Jets -- they haven't had a weapon like him in a long time -- but you can't criticize them for not drafting him. Picking fourth in '06, they selected
D'Brickashaw Ferguson
, a three-time Pro Bowl selection who has missed only one
play
in his entire career. Ferguson isn't as good at his position as Davis is at tight end, but he solidified the crucial left-tackle spot for the Jets.
In other words, this wasn't like picking Kyle Brady instead of Sapp. But, hey, on a slow day in June, it's interesting to ponder what might have been.
Comparing Tebow and Manziel:
While on the subject of former Jets coaches, ex-defensive coordinator Mike Pettine was asked over the weekend to compare his Tim Tebow experience (2012) with the current
Johnny Manziel
phenomenon. Believe it or not, the
Cleveland Browns
' coach said the Manziel hype is more manageable than it was for Tebow.
"The circumstances are different," Pettine told the Cleveland Plain Dealer. "Tebow was an established NFL player, he wasn't coming in as a rookie, unproven. It's a little easier for us with Manziel because he understands he earned Johnny Football as a college player and nobody understands it more than him. It's like, 'Listen, I don't want to be named starter coming out of the draft.'
"People criticize us for referring to him as a backup. That's what he is. It would have been a disservice to the other 80-some players in the locker room and it would have been a service to him carrying that burden of 'What have you done to deserve this?' We all want him to be successful but there is a process that has to occur and he has to go through it."
Presumably, Pettine won't have clandenstine, training-camp practices featuring Manziel-specific plays.
May, 18, 2014
5/18/14
4:30
PM ET
Thoughts and observations on the
New York Jets
(better late than never):
1. No, Johnny, no
:
Johnny Manziel
never was a consideration for the Jets with the 18th pick. Never. Their target was safety
Calvin Pryor
. When the
Baltimore Ravens
selected lineback
C.J. Mosley
at 17, the Jets' draft room "erupted," general manager John Idzik said in a radio interview. They were ecstatic because they thought the Ravens might take Pryor. Unlike the
Dallas Cowboys
, the Jets didn't have a Manziel discussion when they were on the clock. They simply didn't buy into Johnny Football, according to a person familiar with the team's thinking. No doubt, there were non-football reasons as well. Idzik wasn't going to buy a ticket to that circus, no way. The Jets are happy with Pryor. They believe he's smart enough to quarterback the secondary as a rookie. Rex Ryan always talks up his rookies, but he's particularly smitten with Pryor.
[+] Enlarge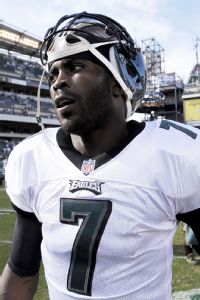 AP Photo/Michael PerezIf Michael Vick is the better choice at starter, will the Jets really stand behind quarterback Geno Smith?
2. Pettine's Law
: Can't help but think that
Cleveland Browns
coach Mike Pettine is cracking down on the media access to Manziel because of what he learned from witnessing the
Tim Tebow
debacle in 2012. Pettine was the Jets' defensive coordinator that year, and he saw first-hand how the Jets let Tebow mania get out of control. It was a "How-not-to-manage-a- phenomenon" clinic. I'm not saying I agree with everything Pettine is doing, but he has seen the other approach and he apparently wants to stay as far away from that as possible.
2a. Johnny's everywhere
: My local butcher always likes to talk football -- usually Jets -- when I stop in. On Sunday morning, I expected a question about the Jets' draft or
Geno Smith
vs.
Michael Vick
. Instead, he greeted me with this question: "How do you think Johnny Manziel will do in Cleveland?" That tells you everything you need to know about the impact of Johnny Football.
3. A keg of dynamite?
Joe Namath is right: Vick is better than Smith -- right now. It's indisputable, which is why the Jets have a potentially volatile quarterback situation. If the same perception exists in late August, and they go ahead and name Smith the starter anyway (they clearly want him to be the guy), it will send a bad message and could create issues in the locker room. In theory, the best player should play, right? You'd like to think the decision-makers will put ego aside -- i.e. Idzik and his investment in Smith -- and start the quarterback that gives them the best chance to win. You have to figure a tie goes to Smith, but what if Vick is a notch better than Smith? Idzik and Ryan dodged The Decision last year because
Mark Sanchez
got hurt, giving Smith the job by default. This year, they might actually have to pick one.
4. Ryan supports DC:
Ryan
offered strong public support
of defensive coordinator Dennis Thurman. Some might question it from a public-relations standpoint -- Ryan gave legs to the story with his second-day, unsolicited defense of Thurman's character -- but he was sticking up for a friend. Ryan is fiercely loyal to his assistants, especially Thurman. Blind loyalty can be a slippery slope -- Ryan admitted he doesn't know the particulars of the case -- but his strong reaction is one of the reasons why he's so popular among his players. He has the back of those around him.
Other than the accuser's friend, no one has come forward to corroborate their version of the events -- that Thurman slapped a 28-year-old woman in the face at a restaurant bar. Meanwhile, a handful of witnesses have spoken to various media outlets, refuting the allegations. Bottom line: No charges by the Morristown, N.J., police department and no further investigation.
5. Tajh is a quarterback
: Ryan made it clear he has no intention of using sixth-round pick
Tajh Boyd
in any other role except quarterback. "Right now, it's 100 percent quarterback," he said. Ryan didn't rule out the possibility of expanding his role in the future, maximizing his athleticism, but it's not on the frontburner. It's a moot point this season because, even if Boyd makes the 53-man roster, he'll never be active as long as Smith and Vick are healthy. The Jets are following the Geno script with Boyd, converting a shotgun college quarterback into a pro-style passer. They won't clutter his mind by giving him a gimmick role.
5a. Humble QB
: Boyd may never play a down for the Jets, but it's hard not to like his attitude. Boyd, who set 57 Clemson and ACC records, said it dawned on him the other day as he was reading his playbook, "You're just a small fish in a big pond." Love it.
6. Seeing double:
It's too bad the Jets don't play the
New Orleans Saints
again this year, because there could be a great photo op. Naturally, you'd have the Ryan brothers, Rex and Rob, the Saints' defensive coordinator. You also could have the Dixon twins, Brandon and Brian. The Jets drafted Brandon, a cornerback in the sixth round, from Northwest Missouri State. The Saints signed Brian as an undrafted free agent. He, too, played corner at Northwest Missouri State. This is the first time in their lives they're not playing in the same secondary.
7. The stable grows
: Picking up
Daryl Richardson
on waivers was a good, no-risk move. He has talent, evidenced by a promising rookie year in 2012. The question is whether he's healthy. Richardson battled toe turf last season for the
St. Louis Rams
, causing him to miss the final eight games. He became expendable when the Rams drafted
Tre Mason
in the third round. The Jets have a crowded backfield, but Richardson could challenge for the third or fourth spot, jeopardizing
Mike Goodson
's place. Richardson already has a comfort level in the AFC East; he averaged 5.9 yards per carry against the division in 2012.
8. Like Mike
: Boyd already has talked about how he grew up admiring Vick; he's not the only draft pick in that boat. Wide receiver
Jalen Saunders
was a quarterback in high school -- a left-handed quarterback and a dual threat, same as Vick. Just the other day, Saunders got a chance to meet him in the locker room. "It was great to meet somebody you idolized growing up," Saunders said. No, he didn't share his childhood secret with Vick. Said the rookie: "I wouldn't tell him that. We're both grown men now."
9. Welcome back, E. Smitty
: After sitting out last season, former Jets safety
Eric Smith
is back with the team -- as a coaching intern. As a player, Smith was an overachiever who relied on his smarts. He was always one of the sharpest guys in the room, and now he'll get a chance to apply himself as a coach. "I think he's the smartest coach we've got," Ryan said. "I think he's got a chance to be a great one."
10. 'Mayhem' says goodbye
: Former
Buffalo Bills
first-round bust
Aaron Maybin
, who played with the Jets in 2010 and 2011, announced his retirement last week at the age of 26. He had a strange run with the Jets. He was a sparkplug in 2011, recording six sacks. The following year, he was utterly ineffective and was fired in the middle of the season. His nickname was "Microphone" because his booming voice traveled across the locker room when he gave interviews. His football career never panned out, but Maybin has a promising career as an artist.
May, 9, 2014
5/09/14
2:00
AM ET
FLORHAM PARK, N.J. -- Jon Gruden owes me.
A week ago, the former coach-turned-ESPN analyst conducted a pre-draft conference call with reporters from across the country. I was one of them, hoping to hear his unique insights on the draft -- specifically, the quarterback prospects.
When it was my turn on the call, I asked Gruden, "If
Johnny Manziel
happens to slip to 18 to the Jets, what would you do?"
Gruden replied ever-so-confidently: "If Johnny Manziel is there at No. 18, I'll give you my cell phone number and take you out to a steak dinner."
I'll be honest, I didn't think Johnny Football would be around for the Jets, although I did think he'd go lower than expected. Sure enough, there he was, sitting there for the Jets at 18. They passed, selecting safety
Calvin Pryor
. Manziel tumbled to 22, where his fall was stopped by the
Cleveland Browns
, who traded up.
I'm expecting to hear from Coach Gruden, and I'm starting to scout out steak houses in Manhattan. ESPN's Monday Night crew will be in town for Week 3, Jets vs. Bears, so that'll be a good time to break bread. My appetite will be waiting.
May, 9, 2014
5/09/14
1:20
AM ET
FLORHAM PARK, N.J. -- One of the greatest college football players in history was right there for the
New York Jets
. All they had to do was write "
Johnny Manziel
" on a card, give it to the commissioner and -- boom -- the NFL draft would've been turned upside down.
Manziel
Johnny Football in the Big Apple.
He-e-e-e-e-re's Johnny!
Didn't happen, of course. The Jets passed on Manziel, selecting former Louisville safety
Calvin Pryor
with the 18th pick. In more ways than one, it was a safety choice.
Afterward, general manager John Idzik refused to say whether they considered Manziel.
"We won't get into who was in consideration," he said. "Suffice it to say, we stuck to our philosophy and we stuck to our board."
Idzik acknowledged that they "fielded plenty of calls" from teams picking below them, presumably teams interested in trading up for Manziel. One of them may have been the
Cleveland Browns
(26th), who wound up trading places with the
Philadelphia Eagles
(22nd) to take the former Texas A&M star.
It would've been an upset if the Jets had picked Manziel, considering how much they've talked up
Geno Smith
, not to mention the one-year contract they gave to
Michael Vick
. Now, if Smith fails to develop in 2014, the Jets will be back to square one at the quarterback position in 2015, providing fodder for those who thought they should've grabbed Manziel. Clearly, Idzik didn't want to toss Smith to the curb after one year, in part, because it would've been a self-indictment on his scouting and decision making.
It would've been fun, though.
April, 29, 2014
4/29/14
1:20
PM ET
Unlike
LeSean McCoy
, ESPN analyst Jon Gruden doesn't have a strong feeling about who will prevail in the
New York Jets
' quarterback competition. In a conference call Tuesday with reporters, Gruden was non-committal on
Geno Smith
versus
Michael Vick
, although he suspects Smith would be the Week 1 starter if it's a close battle.
Smith
Vick
"I wish I could answer that," Gruden said. "It's a two-horse race. It might be a photo finish. You might have to ask me this after we see the preseason. I have no idea, just because Michael Vick has an association with Marty Mornhinweg. I do like what Geno Smith did as a freshman ... er, rookie quarterback in the NFL. He had a rocky beginning -- he had some rough outings -- but he showed some mental and physical toughness. I think he improved. I like the youth at the quarterback position that has experience. I think if it's close, I think the tie goes to the second-year player."
Just for kicks, I asked Gruden what the Jets should do if, by chance,
Johnny Manziel
falls to them.
"If Johnny Manziel is there at 18, I'll give you my cell phone number and I'll take you out to a steak dinner," Gruden said.
Now there's a medium-rare opportunity.
April, 14, 2014
4/14/14
3:00
PM ET
Only one team in the last 40 years has drafted a quarterback in the first round the year after picking one within the first two rounds -- the
Carolina Panthers
, who chose
Cam Newton
in 2011 to replace
Jimmy Clausen
, a second-rounder.
Could the
New York Jets
become the second team?
Unlikely, but it's a good talking point because of the uncertainty regarding the top three quarterbacks --
Blake Bortles
,
Teddy Bridgewater
and
Johnny Manziel
. In his weekly
Monday Morning Quarterback
column, Sports Illustrated's Peter King notes that four quarterback-needy teams in the top six are thinking hard about waiting until after their first pick to address the position. The teams: The
Houston Texans
(No. 1),
Jacksonville Jaguars
(No. 3),
Cleveland Browns
(No. 4) and
Oakland Raiders
(No. 5). The
Minnesota Vikings
(No. 8) didn't make the list, but they're also looking for a quarterback.
If one of the top three quarterbacks gets past the Vikings, it's possible he could fall all the way to the Jets at No. 18. What, then? It certainly would add to the drama at Radio City. Would the Jets, only one year removed from choosing
Geno Smith
in the second round, take another quarterback?
First of all, this isn't a Carolina situation for two reasons: Unlike Clausen, Smith showed some promise as a rookie. In addition, the Panthers owned the No. 1 pick when they drafted Newton, who was deemed a legitimate franchise quarterback. Most talent evaluators agree there are no quarterbacks of that ilk in this year's draft, just a group of intriguing prospects that fall into the good-not-great category.
Some believe the most likely to fall is Bridgewater, once considered a top-five pick. (Sound familiar, Geno?) If he slips to the Jets, they'd have to ask themselves: Is he better than Smith and could he be our starting quarterback in 2015? Personally, I'd pull the trigger if it were Manziel.
The organization is hopeful that Smith can become their long-term starter, but it's not sold on him. If that were the case,
Michael Vick
wouldn't be here. If the Jets have a strong conviction on Bridgewater (or any others), and he's clearly the best player on their board, they should take him. This is a quarterback-driven league, and you can't have sustainable success (where have we heard that before?) without a good quarterback.
That said, it would an upset if the Jets go in that direction. They have too many other needs and they're not ready to abandon Smith after only one season. If they picked a quarterback, the Smith trade rumors would begin about 30 seconds after the selection. Could you imagine Rex Ryan's reaction if his general manager picks a player that probably wouldn't be able to help until 2015? He'd have to pull a Sir Laurence Olivier to convince the fans he's on board with that one.
A similar situation played out in 2006, when the Jets were looking to move on from
Chad Pennington
. With the fourth pick, they resisted the quarterback temptation, passing on
Matt Leinart
to take tackle
D'Brickashaw Ferguson
. They later looked into trading up for Leinart as he began to slide, but they wisely made no deal, walking out of the first round with Ferguson and center
Nick Mangold
.
In the end, this could all be a moot point because you know how teams react around draft time: When they're desperate for a quarterback, they panic and reach. If it turns out that Bortles, Bridgewater and Manziel are picked in the top 17, it would benefit the Jets, as it would push a "need" player or two down to them.
February, 21, 2014
2/21/14
6:00
AM ET
On the schedule for Friday in Indianapolis:
New York Giants/Jets media availability:
New York Giants coach Tom Coughlin is scheduled to speak with reporters at 12:45 p.m. Among the topics sure to come up are his contract situation, new offensive coordinator Ben McAdoo and his potential impact on
Eli Manning
, impending free agent
Hakeem Nicks
and plans to fix the offensive line. The
New York Jets
are finished with their formal media availability.
Combine schedule
: Place-kickers and special-teamers work out for NFL personnel at Lucas Oil Stadium. They will join offensive linemen and tight ends for the bench press, psychological testing and team interviews. ... Quarterbacks, wide receivers and running backs are measured, take medical exams, participate in team interviews and meet the media. ... Defensive linemen and linebackers arrive in town for a medical pre-exam and X-rays, plus an orientation and team interviews.
Players of interest
: Because the Giants and Jets share a wide receiver need, the media sessions for Clemson's
Sammy Watkins
, USC's
Marqise Lee
and Texas A&M's
Mike Evans
will be of particular interest. But, make no mistake, the spotlight will belong to Texas A&M QB
Johnny Manziel
, arguably the most popular player in college football and the potential No. 1 overall pick. Manziel already has said he won't participate in throwing drills, saving them for a personal pro day, but he will be the headline of the day based simply on what he says.
January, 19, 2014
1/19/14
5:00
AM ET
Championship notes (hopefully) for a championship Sunday:
1. Knock, knock. Who's there? Bill. Bill Belichick
: The
New England Patriots
' coach is one win away from his sixth Super Bowl and a full week of access to the
New York Jets
' facility in Florham Park, N.J. The prospect of the SpyGate kingpin roaming the halls has to be unnerving for Jets fans -- and maybe the organization, too.

The AFC team in Super Bowl XLVIII will practice at the Jets' facility, the NFC team at the Giants' place. That's the set-up. The trepidation is understandable, considering Belichick once got into a heap of trouble for illegally videotaping the Jets' signals during a game, but I wouldn't get too concerned. The facility will remain fairly secure. According to the league:
Coaches don't share coaches' offices. So, no, Belichick wouldn't have the chance to put his feet up on Rex Ryan's desk.
Teams usually hold meetings at their hotel, where meeting space is set up by the league. Both teams are staying in Jersey City.
Teams usually eat at the team hotel, so they won't get to sample the impressive fare at the Jets' cafeteria.
Equipment is loaded into the locker room and kept there for the duration. Depending on the type of practice, the players will get dressed in the locker room. You can bet the Jets' staff will inspect it beforehand, removing any type of intelligence (i.e. game plans or iPads) left behind from the season.
Most host teams will have their staff off during the times the Super Bowl participant is at the facility, so there's no chance for the staff to see the AFC team's staff or players. Too bad; a Ryan-Tom Brady encounter at the water cooler would've been priceless.
The visiting team will be protected from potential espionage as well. Windows of any office with a view of the practice field will be taped over.
Chances are, Belichick, whose disdain for his former team is well documented, would feel more uncomfortable than his hosts. In the field house, he'd practice beneath giant murals of members of the Jets' Ring of Honor, including the one that got away from the Patriots -- Curtis Martin. Around the building, he'd see "Play Like a Jet" references on the walls, probably making him queasy. In short, it's probably the last place in the world he'd want to prepare for a Super Bowl.
2. Thoughts on the Rex-tension
: Before Ryan finalized his contract extension, there were some people who thought he'd take a chance and coach out his current deal, becoming a free agent in 2015. That's tough to do, of course. When someone puts $4 million on the table, it's hard to walk away. He reportedly is due to make $3.3 million in 2014 (under his previous contract) and, from what I understand, he'll get a small raise for 2015 -- figuring close to $4 million guaranteed. Some people say he didn't get as much security as he coveted -- 2016 is a quasi-option year -- but I think he did OK for a coach who has missed the playoffs for three straight years.
3. Bottom line on Rex
: Because it's technically a "multi-year" extension, the contract will create the perception that Ryan is safe beyond 2014. Yeah, it might quiet some of the speculation, but here's the reality: He's back to where he was before the 2013 season. As someone who knows Ryan told me, "If he bombs, he's gone."
4. Merit raises:
RB
Bilal Powell
and WR
Jeremy Kerley
, heading into the final year of their rookie contracts, each received a $744,000 bump for 2014, thanks to salary escalators, according to overthecap.com. It brings their salary up to $1.389 million in '14. To earn an escalator, a player (drafted in Rounds 3 through 7) must play in at least 35 percent of the snaps in two of his first three seasons or 35 percent of the total snaps over the three-year period.
5. The Simms spotlight:
Backup QB
Matt Simms
has a link to two of the "Final Four" quarterbacks -- and, no, I'm not referring to the fact that his famous dad will be broadcasting the Patriots-Broncos AFC championship. In 2010, Simms attended the Manning passing academy in Louisiana, hosted by
Peyton Manning
, Eli and their father, Archie. It's a four-day event for high school and college quarterbacks. One of Simms' fellow campers was
Colin Kaepernick
. In a skills competition, Simms finished second, ahead of Kaepernick and some kid named
Andrew Luck
. Yeah, Simms always could sling it, and now he's starting to mature as a player. The Jets recognize it, signing him before the season ended to a one-year, $495,000 contract (the second-year minimum).
By the way, Taylor Potts of Texas Tech (who?) beat out Simms in the skills competition.
6. Not 'The Man':
After Friday's incident, I guess
Geno Smith
shouldn't expect to land one of those cool headphones commercials, a la Kaepernick.
7. So long, Sammy
: Waiting in line at a restaurant the other night, a Jets fan asked me, "Can we get
Sammy Watkins
?" The draft still is more than three months away, but fans already have developed an affinity for Clemson's stud wide receiver, who would address a huge need for the Jets. Could Watkins fall to 18th? No way. An NFC scout, whose team picks in the top 15, said Watkins wouldn't get past them.
"He ain't gonna be there," said the scout, speaking on the condition of anonymity. "Tell John Idzik, unless he trades up, he won't get him. He's a great kid, he works hard and he has some of the quickest hands you'll ever see. This kid has an unbelievable talent. He can fly and he has courage."
8. If not Watkins, then ...:
There will be other wide receiver options for the Jets at 18.
Marqise Lee
(USC) could be there. A longtime scout told me, "I like him. Big-play ability. I could see the Jets taking two receivers in this draft and signing one in free agency."
Kelvin Benjamin
(Florida State) is a rising talent. Said the NFC scout: "He's got first-round talent. Before this year, every time I saw him, he was dropping easy ones, but he's matured and improved. He's running routes better and it seems like he's finally figured it out."
9. Dreaming of Johnny Football
: Unless
Johnny Manziel
pulls an embarrassing stunt before the draft (thrown off a plane?), he won't fall to the Jets at 18. Some mock drafts project him going No. 1 overall to the
Houston Texans
. Our NFC scout said of Manziel, "He has unbelievable instincts. He's got eyes in the back of his head. He can run and throw and win games. But he's kind of small. He looks like a peanut. Durability could be a big issue, but that [kid] can play." It would be a major upset if he lasts beyond the top 8.
10. Losing games and viewers
: TV ratings are soaring for the NFL, but the Jets are one of 10 teams whose local ratings have declined for two straight years, according to the Sports Business Daily. Their two-year drop is 19 percent, the second highest in the league. Only the
Oakland Raiders
(22 percent) suffered a bigger fall off. By the way, the
New York Giants
weren't far behind at minus-15 percent.
January, 8, 2014
1/08/14
7:05
PM ET
If
Johnny Manziel
is sitting there for the
New York Jets
on the night of May 8, their draft room should recreate the postgame scene from the season finale in Miami, where the team celebrated Rex Ryan's announced return with a spontaneous burst of loud and crazy.
There were cheers, screams, high-fives and a bro-hug between Ryan and general manager John Idzik, and they could do it all over again if Johnny Football is available.
For the Jets, a franchise whose draft history is built on great players they didn't want (Dan Marino) and great players they wanted but couldn't get (Brett Favre), it would be a defining moment of uncommon luck if Manziel slips to them with the 18th pick.
The Jets have been looking for the next Joe Namath since Broadway Joe limped off to the Los Angeles Rams in 1977, and they'd be insane to pass on Manziel, who officially declared Wednesday for the NFL draft.
The Texas A&M star was one of the best and most exciting college football players of his generation, and the Jets -- a team on the rise after a surprising 8-8 finish -- could use some best and exciting to galvanize a rebuilding effort that shifts into Phase 2.
Geno Smith
was the lowest-rated passer in the league and, although he showed promise over the final four games of his rookie season, the organization still isn't convinced he's The Guy. It was telling that Idzik, who rarely reveals his true feelings, remarked in his season-ending news conference that "we'll look at quarterbacks, yes, we will look at quarterbacks" in the offseason.
You don't look beyond Manziel if he somehow gets past the five teams in the top eight that have glaring quarterback needs.
If he's there for the Jets, they should draft him and announce an open competition with Smith, knowing it would be Manziel's team when he's ready. The one year devoted to Smith wouldn't go to a waste because young quarterbacks with upside have value, and they could always trade him in a year or two, perhaps recouping their second-round investment.
It's rare for a team to use first- and/or second-round picks in back-to-back drafts on quarterbacks -- the
Carolina Panthers
did it in 2010 and 2011 with
Jimmy Clausen
and
Cam Newton
, respectively -- but teams with quarterback questions shouldn't turn away from a potential franchise-changing player.
Manziel, the 2012 Heisman Trophy winner, could be that guy. Don't take my word for it; listen to retired coach Dan Henning, who spent more than 30 years tutoring quarterbacks in the NFL.
"Bring him on, baby," Henning said in a phone interview. "I think he's a Tebow who can pass. He has tremendous leadership ability; the players rally around him. He wasn't going to let them lose [against Duke in the Chick-fil-A Bowl]. I just think he's a really good player."
Henning said Manziel has "a little [Jim] McMahon in him, so you have to watch the off-the-field stuff," but he's convinced Manziel has the skill set to succeed in the NFL.
Henning is right. Manziel's arm is good enough. He's instinctive. He can improvise with the best of them. Henning said Manziel reminds him of
Russell Wilson
, meaning he can escape the pocket but still is capable of making a throw on the run.
Manziel will be the most scrutinized draft prospect over the next four months, with scouts questioning his size (6-feet) and nocturnal habits.
Yeah, Johnny Football likes the nightlife, as Namath did back in the day, so there would be some risk in bringing Manziel to New York. If he can get to Las Vegas from College Station, Texas, he certainly won't have any problem finding Manhattan from the Jets' headquarters in Florham Park, N.J.
The Jets would have to prepare for the inevitability of TMZ becoming part of the organizational lexicon, but that wouldn't necessarily put Manziel on the road to draft-bust-dom. Namath loved to party, but he was devoted to his craft and the team, his teammates will tell you to this day. Obviously, quarterback-needy teams will have to investigate Manziel's background, determining his level of commitment.
Manziel-to-the-Jets could be just a crazy dream. ESPN draft gurus Mel Kiper Jr. and Todd McShay rate him as the 12th- and 18th-best prospect, respectively, so you have to figure there will be a team ahead of the Jets that succumbs to Johnny Fever before May 8.
Maybe a trade up? The Jets did that in 2009, jumping from 17th to fifth, selecting quarterback
Mark Sanchez
. But that was a perfect storm, as they received a sweetheart deal from the
Cleveland Browns
, whose coach -- former Jets coach Eric Mangini -- was willing to accept Jets trash in a trade package.
The Jets won't get that lucky again, so they'd have to surrender actual commodities (high draft picks) to move up high enough for Manziel. But sometimes you have to take chances. When you're a star-crossed franchise, 45 years without a Super Bowl, you don't look away when a true star crosses your path.
December, 30, 2013
12/30/13
7:00
AM ET
MIAMI -- It has been nearly three years since that magical day in Foxborough, where the
New York Jets
delivered their biggest win since that other magical day in the franchise's history, Super Bowl III, in 1969.
In January 2011, Rex Ryan conquered his nemesis, the
New England Patriots
, creating a big, loud and cocky green monster that figured to wreak havoc for seasons to come. But instead of the Incredible Hulk, they turned into Shrek -- ugly and goofy.
On Sunday, the Jets completed their third consecutive non-playoff season. It's their longest postseason drought since the dark ages of the 1990s, when they failed for six straight years under four different coaches. Their record since 2011 is just 22-26.
Without question, they overachieved in 2013, squeezing eight wins out of a young roster devoid of stars. Ryan did a commendable job in a rebuilding year
and will return in 2014
, the team announced after a season-ending 20-7 victory in Miami.
For GM John Idzik, the honeymoon is over. It's on him, and he faces an offseason with many challenging issues. Such as:
Augment the quarterback position:
This is the biggest decision facing the Jets. They have to decide if
Geno Smith
is a true No. 1 quarterback or whether they should hedge their bet by bringing in legitimate competition. They have 16 games on tape to evaluate.
While Smith's late-season rally reduces the need to make a major acquisition, the smart play would be to add a competent veteran. Problem is, it's hard to find that guy, a No. 1/No. 2 quarterback.
Mark Sanchez
fits the description, but there are health and salary-related questions, not to mention the entire issue of whether they'd want to re-create last summer's competition. Been there, done that.
An interesting target would be
Kirk Cousins
, who probably will be dangled in trade talks by the
Washington Redskins
. He wouldn't come cheaply in terms of compensation, maybe a second-round pick. That's a lot to surrender for a possible backup, but they have to look at the long view. He'd be an asset that appreciates in value.
They could go for
Matt Schaub
, the 2006 version of Cousins. Schaub would bring some baggage to the party, assuming he's released by the
Houston Texans
, but he's still only 32 and would be a worthwhile reclamation project/insurance policy.
What about the draft? Unless Idzik absolutely falls in love with someone (
Johnny Manziel
, anyone?), it wouldn't make much sense to sink a first-round pick into a quarterback, one year after using a No. 2 on Smith.
Jay Cutler
could be the big fish in free agency if the
Chicago Bears
let him hit the market, but he'd be a disaster in New York.
Rebuild the offense:
The Jets' skill-position talent has deteriorated steadily since 2010. Since 2011, they're ranked 26th in scoring, due largely to a lack of playmakers and poor quarterback play. They've ignored this side of the ball under the defensive-minded Ryan. It's time to pour money and resources into the offense so they compete in an offense-obsessed league.
They need a new tight end and two new wide receivers, preferably a game-breaker.
Stephen Hill
was supposed to be that guy, but he can't be counted on after two disappointing seasons.
The free-agent market for receivers is thin --
Eric Decker
of the
Denver Broncos
might be the best -- so look for Idzik to address the need in the draft. There are a couple of good ones,
Sammy Watkins
(Clemson) and
Marqise Lee
(USC), assuming they turn pro. The top free-agent tight end is
Jimmy Graham
, but there's little chance he gets away from the
New Orleans Saints
.
[+] Enlarge
AP Photo/Alan DiazWill Antonio Cromartie, a Pro Bowl cornerback in 2012, be playing in the Jets' secondary in 2014?
Spend money:
Facing a tight cap situation last offseason, Idzik operated on a shoestring budget, doling out modest contracts. Cap space won't be an issue this time. With
Darrelle Revis
coming off the books, and with
Mark Sanchez
and
Santonio Holmes
likely to be released (a total savings of $16.5 million), the Jets will have close to $40 million in cap space.
In theory, the Jets could stage their biggest spending spree since 2008, the year they acquired
Alan Faneca
,
Kris Jenkins
,
Calvin Pace
and
Damien Woody
, but Idzik believes in building through the draft. He owns eight choices, a total that could grow to 10 or 11 with expected compensatory picks.
This is "go" time for Idzik, a chance to show his acumen as a team-builder.
The first thing they should do is take care of couple of their own free agents, namely right tackle
Austin Howard
and kicker
Nick Folk
. Both earned long-term deals with their play in 2013. Linebacker Pace and guard
Willie Colon
are B-list free agents who have value for the short term.
Out with the old:
Sanchez, Holmes and
Antonio Cromartie
-- key players on the 2010 team that reached the AFC Championship Game -- are highly paid players with injury questions. It's possible all three could be playing elsewhere in 2014.
Holmes is a goner, for sure. They would've cut him two years ago if it weren't for $24 million in guarantees, one of the contracts that got Mike Tannenbaum fired. Sanchez fits the profile of what they need, but he's due a $2 million roster bonus in March -- and there's no way that will be paid. He'd have to agree to a massive pay cut, and that's unlikely to happen. Chances are, he'll be released.
Cromartie is a tough call, with a lot depending on his bad hip. His contract, which runs through 2014, is prohibitive -- a $15 million cap charge, including a $5 million roster bonus. He says he wants to retire a Jet, but let's see if he changes his tune when they propose a pay cut. Chances are, they'll cut him, letting him establish a market price before deciding whether to bring him back on a new deal.
November, 17, 2013
11/17/13
6:00
AM ET
Back at it after a bye-week respite:
1. Committed to Geno?:
Imagine this scenario: It's draft-night, 2014. The
New York Jets
own the 16th pick. Two quarterbacks, Marcus Mariota and Teddy Bridgewater, already are gone. But, lo and behold, Johnny Manziel still is on the board for the Jets. Draft drama doesn't get any better than this. Do they select one of the most exciting college football players in recent memory or do they stick with
Geno Smith
?
[+] Enlarge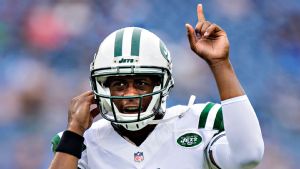 Wesley Hitt/Getty ImagesWill the Jets stick with Geno Smith?
The scenario isn't that far-fetched. ESPN draft analyst Mel Kiper said this week he expects Manziel, assuming he turns pro, to be picked in the middle of the first round. Scouts, Inc. rates Manziel at No. 21 on its list of top prospects. You can see this coming from six months away: If Manziel or another first-round quarterback is available, general manager John Idzik will have the toughest decision he may ever face. That's when we'll know the Jets' true level of commitment to Smith.
The Jets have a good feeling about Smith, but they want -- and need -- to see more over the final seven games. So far, there hasn't been enough evidence to convince them he's the real deal. He has given them two games of very good, three games of good enough and four games of awful. His QBR in losses is 8.6, the worst in the league, according to ESPN Stats & Information. (QBR is an ESPN rating system, 1 to 100.)
The clock is ticking. The Jets face some tough defenses down the stretch, so the game plans figure to be relatively conservative. That may make it tough to get a good and complete evaluation of Smith. The worst thing that could happen to them is finishing the season and still not having a clear-cut answer.
2. Namath likes Geno
: Jets legend Joe Namath said he has seen "a nice improvement" from Smith since the preseason. What jumps out to Namath is that he thinks the rookie has become more decisive with his reads.
"Maybe I'm wishing because I want to believe it, but I think I see it," Namath told ESPN.com.
Namath said Smith "still makes the wrong decision from time to time, but that's going to happen. It's the nature of the position." The Hall-of-Fame quarterback, like a lot of people, has been impressed with Smith's mobility.
"He wasn't a runner in college and still isn't a runner, per se," Namath said, "but having the ability to make that play when they need it, it has been big time in the wins."
3. An up-close look at Ed Reed
: Naturally, the Jets believe that reports of Reed's demise are greatly exaggerated. What did you expect them to say after signing him? A closer look reveals that, as defensive coordinator Dennis Thurman noted, Reed wasn't tested too often in pass coverage with the
Houston Texans
. Whether that was because opponents were wary of Reed, as the Jets believe, is impossible to say.
Reed was targeted only three times, according to the stats-based web site ProFootball Focus. Those three targets resulted in three completions for 82 yards and a touchdown. His worst moment came in Week 5 against the
San Francisco 49ers
, when he allowed a 64-yard touchdown to TE
Vernon Davis
. Reed, playing his customary deep middle, looked old and slow on the play. He arrived late, took a bad angle and made a pathetic tackle attempt. I guess you can rationalize it by saying Davis makes a lot of safeties look bad.
The bigger concern might be Reed's tackling -- four missed tackles in seven games, per PFF. No doubt, Rex Ryan will try to keep Reed out of heavy-duty tackling situations, but you can't hide him all the time.
All things considered, I liked to move to sign Reed. You can't beat the price. He signed for the veterans' minimum ($940,000), meaning he'll make $387,000 from the Jets over the final seven games. Former
Washington Redskins
GM Vinny Cerrato, who lives in the Baltimore area and has studied Reed closely, also gave it a thumb's up.
"You have to account for him because the guy has great instincts," Cerrato said. "He can add something because he's so smart back there, and he'll get you interceptions because he'll know where the ball is going. He's not going to tackle. Two games a year, he'll tackle. Otherwise, no."
4. Hey, that's Ed Reed:
Like a lot of players on the team,
Muhammad Wilkerson
had heard the Reed rumors, but he didn't know it was a done deal until he saw Reed walk past him in the trainer's room. Wilkerson was getting his ankles taped, looked up and there he was, one of the best safeties in history.
"It makes the team, and it makes the defense that much better to have a leader like that in the locker room," Wilkerson said. "He's known for making big plays. I'm looking for more turnovers on the back end when people want to throw the ball deep."
The Jets have allowed eight pass plays of at least 45 yards. Another damning stat: The team has only five interceptions. The Jets could end up setting a team mark for futility. The low in a 16-game season is 11 interceptions. That happened three times, including last season.
5. Ulterior motive
: Back in my cynical days, I would've said the Jets only signed Reed to upstage the
New York Giants
, who have rallied back to relevance with a three-game winning streak.
6. Slamming the door
: Statistically, the Jets have the best run defense in the league, allowing a league-best 3.15 yards per attempt. Let's put that into perspective: Only five times since 2001 has a team produced a better mark -- the '06
Minnesota Vikings
(2.83), the '07
Baltimore Ravens
(2.84), the '10
Pittsburgh Steelers
(3.02), the '04 Redskins (3.11) and the '07 Vikings (3.13).
Conclusion: The Jets are playing some serious run defense.
7. The rookie show
: Sunday's game features two of the top candidates for NFL Defensive Rookie of the Year -- Jets DT
Sheldon Richardson
and
Buffalo Bills
LB
Kiko Alonso
.
Alonso has been impressive -- four interceptions, two sacks and a team-high 52 solo tackles. Richardson, too, is having a terrific year -- 2.5 sacks, 30 solo tackles and one forced fumble. I asked Richardson if he believes he's a legitimate candidate.
"I'm only competing against rookies, so I guess I belong in that conversation," he said. "I'm glad people are talking about me, but we still have seven games left. Alonso is a good linebacker, so I have my work cut out for me."
8. Cromartie vs. Pettine:
In the soon-to-be-released book, "Low Collision Crossers," which chronicles the 2011 Jets, author Nicholas Dawidoff writes that CB
Antonio Cromartie
cursed out then-defensive coordinator Mike Pettine in a meeting room. The passage:
When Pettine chided him, Cro said, 'Shut up.' Then he said, '[F---] you.' Pettine told him quietly, 'Don't lose your cool. We're all in this together.'

As soon as Pettine left and the defense split into positional units, Cro said loudly that Pettine was 'a high-school coach' and declared he wasn't 'gonna take it' from him.

This isn't surprising. As I've reported previously, Cromartie wasn't the only player who chafed under Pettine's leadership. Don't expect Cromartie and Pettine, the Bills' coordinator, to exchange a 'bro hug before or after the game.


9. A little of the old Rex
: It never registered on the radar because of the Reed news, but I found it interesting that Ryan, in an unsolicited remark, said he's surprised the Bills are favored. First of all, coaches aren't supposed to pay attention to that stuff. Secondly, is it so outrageous that a 5-4 team is a road underdog against a division rival? With that little comment, Ryan told the world exactly how he feels his team stacks up against the struggling Bills, which may resonate in the Buffalo locker room.
10. The dunk heard 'round the globe
: Remember William Bullard? Probably not. He's a former Texas A & M-Corpus Christi basketball player who tried out for the Jets in a 2008 minicamp. He was a 6-foot-5 wide receiver who didn't last long. These days, Bullard plays for the Harlem Globetrotters and he became an Internet sensation this week with a frightening dunk that could've been tragic.
Check it out
. Football might have been a safer career choice.