New York Jets:

Jon Gruden
May, 9, 2014
May 9
2:00
AM ET
FLORHAM PARK, N.J. -- Jon Gruden owes me.
A week ago, the former coach-turned-ESPN analyst conducted a pre-draft conference call with reporters from across the country. I was one of them, hoping to hear his unique insights on the draft -- specifically, the quarterback prospects.
When it was my turn on the call, I asked Gruden, "If
Johnny Manziel
happens to slip to 18 to the Jets, what would you do?"
Gruden replied ever-so-confidently: "If Johnny Manziel is there at No. 18, I'll give you my cell phone number and take you out to a steak dinner."
I'll be honest, I didn't think Johnny Football would be around for the Jets, although I did think he'd go lower than expected. Sure enough, there he was, sitting there for the Jets at 18. They passed, selecting safety
Calvin Pryor
. Manziel tumbled to 22, where his fall was stopped by the
Cleveland Browns
, who traded up.
I'm expecting to hear from Coach Gruden, and I'm starting to scout out steak houses in Manhattan. ESPN's Monday Night crew will be in town for Week 3, Jets vs. Bears, so that'll be a good time to break bread. My appetite will be waiting.
April, 30, 2014
Apr 30
6:30
PM ET
FLORHAM PARK, N.J. -- Remember last year in free agency, when the
New York Jets
lost
LaRon Landry
,
Dustin Keller
,
Mike DeVito
and
Shonn Greene
?
General manager John Idzik, who took a lot of criticism for the exodus, admitted Wednesday that the decision to let those players walk was based, in part, on knowing they'd receive compensatory draft picks for the losses.
The Jets ended up receiving the maximum number of compensatory picks (four), giving them a total of 12 picks in next week's draft.
"The compensatory draft-pick system is always in your mind," Idzik said at the team's pre-draft news conference. "It's a factor. It's not the determinant, but it's a factor."
A number of well-respected teams, namely the
New England Patriots
,
Green Bay Packers
and
Baltimore Ravens
, have maximized their compensatory picks. Now the Jets get a chance to cash in. The third day of the draft (rounds four to seven) will be hectic, as the Jets have nine picks over the final four rounds.
Not everyone is a fan of collecting compensatory picks.
"We never went into free agency saying, 'Let's let Bobby and Billy go so we can get a compensatory pick to replace them,'" said ESPN analyst Jon Gruden, a former coach. "We never said, 'Let's not sign a free agent because it will hurt our ability to get a compensatory pick.'"
The Jets' compensatory picks: Fourth round (No. 137 overall), sixth round (No. 209), sixth round (No. 210) and sixth round (No. 213).
Numbers game
: A lot of work goes into a draft. It takes almost a full year for the entire scouting process. Former GM Terry Bradway, the senior director of college scouting, provided his annual numbers breakdown, illustrating the point:
Number of schools visited: 263.
Number of school visits: 575.
Number of players written up in scouting reports: 1,372.
Number of player evaluations: 3,500.
Player interviews: 635.
Pro days attended: 115.
College games attended: 120.
The numbers remain fairly steady from year to year, and you can bet every other team is doing the same amount of homework.
April, 29, 2014
Apr 29
1:20
PM ET
Unlike
LeSean McCoy
, ESPN analyst Jon Gruden doesn't have a strong feeling about who will prevail in the
New York Jets
' quarterback competition. In a conference call Tuesday with reporters, Gruden was non-committal on
Geno Smith
versus
Michael Vick
, although he suspects Smith would be the Week 1 starter if it's a close battle.
Smith
Vick
"I wish I could answer that," Gruden said. "It's a two-horse race. It might be a photo finish. You might have to ask me this after we see the preseason. I have no idea, just because Michael Vick has an association with Marty Mornhinweg. I do like what Geno Smith did as a freshman ... er, rookie quarterback in the NFL. He had a rocky beginning -- he had some rough outings -- but he showed some mental and physical toughness. I think he improved. I like the youth at the quarterback position that has experience. I think if it's close, I think the tie goes to the second-year player."
Just for kicks, I asked Gruden what the Jets should do if, by chance,
Johnny Manziel
falls to them.
"If Johnny Manziel is there at 18, I'll give you my cell phone number and I'll take you out to a steak dinner," Gruden said.
Now there's a medium-rare opportunity.
January, 15, 2014
Jan 15
8:00
AM ET
We're counting down the 10 most important plays of the
New York Jets
' season. After presenting numbers
six through 10 in one post
, we'll take it one at a time from five to one.
Play No. 5:
Nick Folk
delivers in Atlanta.
A heavy underdog in their only appearance on "Monday Night Football," the Jets staged a frantic rally in the final two minutes, beating the Falcons, 30-28, on Folk's 43-yard field goal as time expired in Week 3.
Rookie quarterback
Geno Smith
was masterful on the last drive, completing 5 of 5 passes for 45 yards. On the seventh play of the drive, which covered 55 yards,
Bilal Powell
made one of the unsung plays of the season, a 6-yard run after slipping a would-be tackle in the backfield. That set up Folk, who made the second of three game-winning field goals for the season.
The win added a sense of legitimacy to the Jets' surprising start. At the time, the Falcons were considered a top team. Who knew they'd bottom out? I remember talking to ESPN analyst Jon Gruden on the morning of the game, and he absolutely felt the Jets had a chance to pull off the upset. "Chucky" turned out to be right.
October, 7, 2013
10/07/13
2:35
PM ET
ATLANTA -- In a pregame sitdown with ESPN.com, Jon Gruden discussed the
New York Jets
quarterback situation, including coach Rex Ryan's ill-fated decision to play
Mark Sanchez
behind a backup offensive line in a preseason game.
Gruden said he was "surprised" by it, adding that he couldn't recall another coach making a move like that -- one that resulted in a significant shoulder injury for Sanchez. As for
Geno Smith
, ESPN's "Monday Night Football" analyst said it's too early to draw any definitive conclusions, but noted that Smith has to reduce his turnovers or "they'll have somebody in the bullpen pretty quick." Quarterbacks aside, Gruden praised Ryan's work, saying the Jets are playing "championship defense."
Our chat with Gruden, who will be in the booth with Mike Tirico for the Jets-
Atlanta Falcons
game:
[+] Enlarge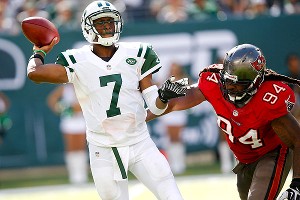 Jeff Zelevansky/Getty ImagesESPN analyst Jon Gruden said that he's been impressed by the toughness of Jets QB Geno Smith.
Geno Smith attended your pre-draft quarterback camp. Is he developing into the quarterback you thought he'd be?
Jon Gruden
: It's way too early to say. Talent-wise, you see the athleticism, the passing ability. You also see a tough kid. The guy's been booed, the guy's been beat up, the guy's come back. I like that. Those three things I like a lot. I think as his supporting cast improves, we'll be able to see the true Geno Smith. They struggle at guard. They've struggled with their receiving corps. He was thrust into this position, I think, because of the injury to Sanchez in the preseason. I don't think they wanted him to be the opening-day starter -- I can't say that for sure. There are a lot of situations that go into what we've seen so far.
Were you surprised that Sanchez was inserted into the fourth quarter of a preseason game, behind the backup offensive line? At the time, it seemed like he was the presumptive starter.
JG
: I was surprised, because I've never really seen that. You have a proven commodity -- you probably know more about Sanchez than you do about any other Jet player -- so I was surprised to see him in the game at that point, behind a young, unproven, inexperienced line. They're just too hard to find, these quarterbacks. I'm surprised they risked it, putting him out there.
Marty Mornhinweg has been aggressive with his play-calling. Do you think he needs to dial it back a little bit to help the rookie quarterback through choppy waters?
JG:
I like the way they're moving the football. You know, they are moving the ball, they are making yards. With a kid that can throw the deep pass, and the fact that you're getting some pressure looks that make him pass, why not accentuate his strengths and take some shots deep? Buffalo will be the first team to tell you the kid can make some deep passes. You see the Wildcat, you see the zone-read, you see the no-back sets. You see him dabbling in a lot of different agendas, different types of offenses. And I see West Coast passing principles that Marty learned from Bill Walsh and Mike Holmgren. I see progress. I see a lot of offense. It's just ball security. We're having a totally different conversation if Geno can protect the ball better. That's what he's got to do.
The Jets haven't named Smith the permanent starter. They say he's week to week, competing for the job. What's your take on that?
Gruden:
It's probably because they've seen too many turnovers. I mean, 11 turnovers in four games is not good. There's also a seven- or eight-play reel where the ball should've been intercepted and wasn't. The decision-making has to get better. The ball security must improve -- fast. Quarterbacks that turn it over, running backs that can't protect it, receivers that can't catch it ... they don't play in the league. So ball security is paramount. He has to show dramatic improvement in that. If he does, he's got a chance to be the quarterback. If he doesn't, they'll have somebody in the bullpen pretty quick.
As a former head coach, put yourself in Rex Ryan's shoes, working for a new general manager and knowing your job could be in jeopardy. How tough is that dynamic?
JG:
He's in a tough spot -- two new coordinators, new GM, plus he's on his second rookie quarterback. You can only worry about the things you can control. I remember saying, 'You know what? If I'm here 10 days, it'll be the 10 best days of hard work I've ever done. If it's 10 years, I'll give you 10 years, all I've got.' That's what I like about Rex Ryan. He's working his butt off, his defense still is on the cutting edge. They're playing championship defense right now. Worry about what you can control. Don't fight every battle out there. You just can't explain some things that happened, and he shouldn't even try. I like that his press conferences got shorter. It means he's going back into the film room to work with his football team.
June, 14, 2011
6/14/11
1:00
PM ET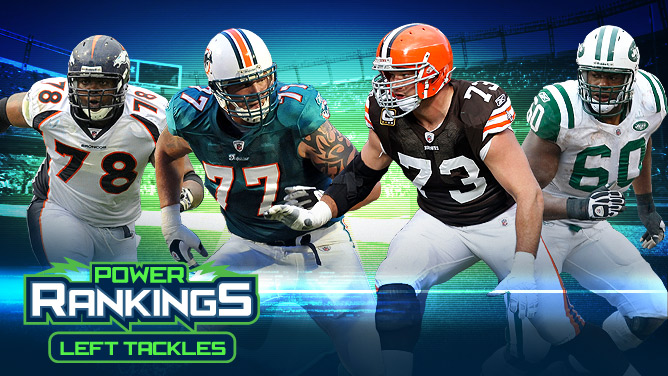 ESPN.com IllustrationOur bloggers say Joe Thomas and Jake Long are the NFL's best left tackles by a wide margin.
ESPN.com ranks the NFL's top 10 at left tackle, one of the most important positions in the league. Next week: Top up-and-coming assistants.
Take a quarter out of your pocket and look at its width. That's basically the difference between the top two left tackles in the ESPN.com Power Rankings.
Cleveland's
Joe Thomas
received 76 points from our eight-person panel of voters. Miami's
Jake Long
received 75. That put them way ahead of the rest of our top 10 list of the NFL's best blindside pass protectors.
Our panel of division bloggers gave Thomas five first-place votes, and Long received three.
"It was pretty much a coin flip for me,'' said NFC East blogger Dan Graziano.
If Graziano's quarter had landed on the other side, we might have had a different outcome. I think the same can be said for some of the other voters. I gave Thomas my top vote only after some strong consideration for Long.
But let's cut to the chase and point out the man who ultimately decided this election. It's AFC South blogger Paul Kuharsky. Every other voter had Thomas and Long in the top two spots. Kuharsky threw things off a bit by putting Long at No. 1 and Tennessee's
Michael Roos
at No. 2. He had Thomas at No. 3.
Let's turn to Kuharsky for his rationale.
"I've seen Long more, which helped him,'' Kuharsky said. "Also, frankly, I knew there could be close to a consensus for Thomas. He's very good. But we're not talking
Orlando Pace
or Jonathan Ogden. The groundswell for Thomas as top left tackle is, in my eyes, more a media creation than the view of players, scouts and coaches. I wanted to note and reflect that.''
Point taken, and I agree that we're not talking the same level as Pace and Ogden -- at least not yet. Thomas and Long are young and it's too early to put them in the category of surefire Hall of Famers. But, aided largely by Kuharsky, Roos did finish No. 6 overall.
Ryan Clady
,
Jordan Gross
and
D'Brickashaw Ferguson
rounded out our top five at Nos. 3, 4 and 5 respectively. After Roos, the rest of the top 10 was filled out by
Jason Peters
(No. 7),
Marcus McNeill
and
Donald Penn
, who tied for No. 8, and
Matt Light
at No. 10.
Let's work our way back toward the top, with one more quick stop at Roos. I had him at No. 8 on my ballot, and James Walker and Kevin Seifert didn't even vote for him. I've had a couple of scouts tell me Roos is a good left tackle, but seemed to take a step backward last season.
Kuharsky heard otherwise.
"I've had a coach and two scouts tell me Roos is as good or better than Thomas and Long,'' Kuharsky said. "I obviously see Roos a lot and think he's quite good, certainly better than he wound up here.''
Roos or ruse? Take your pick, but let's head right back to the top of the voting and back to the argument between Thomas and Long. They were drafted one year apart with Thomas entering the league in 2007 and Long coming in for the 2008 season. Each has made it to the Pro Bowl in every season played.
Kuharsky mentioned the "media creation'' about Thomas. In Cleveland? That's not where you usually turn to find guys to top Power Rankings, so our vote has to say something pretty strong about Thomas. Let's turn to the guy who covers Thomas.
"Thomas has always been focused on doing his job,'' Walker said. "You can't tell whether the Browns are 16-0 or 0-16 with the way he plays, and that's why he's been to four straight Pro Bowls. The NFL has gone the way of speed pass-rushers, and Thomas is the prototype to combat that. He's lean with very good feet and agility, but still strong enough to dominate in the running game. There's really no weakness in his game."
None of our panelists saw a weakness in Long's game.
"I thought Long's run-blocking ability put him a little bit ahead of Thomas,'' Grazianzo said. "I think he's shown improvement every year and is likely to pass Thomas soon if he hasn't already (and for me, these lists are about which guy I'd pick right now, so a guy I think is going to get better is going to get a long look from me). And he earned a bonus point or two from me for playing the last six games of 2010 in a shoulder harness and still being incredible.''
The best news is, these guys are so young we can have this same argument every year for the next decade. Now, let's move on to some other notes about the voting in the Power Rankings for left tackles.
Turn off the Light.
As we mentioned, Light came in at No. 10. That surprised me a bit because he's a big name with three Super Bowl championships and three Pro Bowl selections. I had Light at No. 6 and Walker had him at No. 4. But Light didn't even appear on four ballots, including the one from AFC East representative Tim Graham.
"Matt Light is a quality player, but Stats Inc. blamed him for 10 sacks allowed and four penalties last season, more in each category than his previous two seasons combined,'' Graham said. "I've always thought Light got more recognition simply from being
Tom Brady
's left tackle. Once you name the three or four elite tackles and you rack your brain for the next group, it's easy to understand people sorting through the great quarterbacks and asking, 'Who is so-and-so's left tackle?' Light made the Pro Bowl last year, but as an alternate. Light's reputation also is enhanced by his involvement in the union and being a truly rare species: the gregarious Patriot.''
Also-rans.
Andrew Whitworth
,
Chad Clifton
,
Doug Free
,
Russell Okung
and
Jeff Backus
didn't make the top 10, but each received votes.
"I don't think there are 10 elite or even complete left tackles in the NFL,'' NFC West blogger Mike Sando said. "I list Okung on a very short list of players with the talent and makeup to be elite at that position. Okung hasn't played enough to this point, but I think he'll join that group this season. Listing someone with considerably less ability was the alternative.''
The longest shot.
Somewhere, former Tampa Bay general manager Bruce Allen and coach Jon Gruden are smiling at Penn's name appearing on this list. It's true, they headed the regime that signed Penn as a free agent in 2007 after he was cut by Minnesota in 2006. Then again, they were also the ones who signed Luke Petitgout, and Penn only got a chance to play because Petitgout turned out to be washed up. I used to subscribe to the theory that you needed to use a first-round pick to get a good left tackle. But Penn has shown that's not necessary. In his case, he simply made the most of his shot at playing time and turned it into a $48 million contract as training camp started last year.