New York Jets:

Kellen Clemens
February, 11, 2011
2/11/11
10:35
AM ET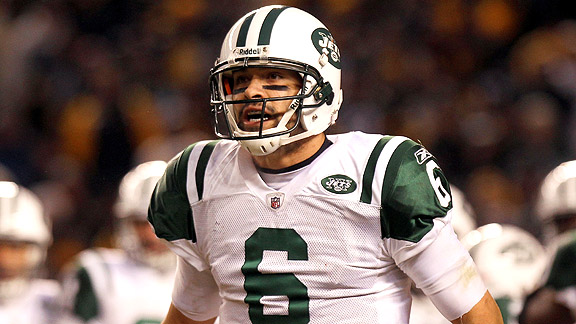 Nick Laham/Getty ImagesMark Sanchez racks up the victories. His other statistics aren't nearly as impressive.
This is part four in our daily, position-by-position breakdown of the Jets' roster. Monday: Offensive tackle
.
Focus
: Quarterback
Depth chart
:
Mark Sanchez
,
Mark Brunell
,
Kellen Clemens
,
Kevin O'Connell
,
Erik Ainge
, Drew Willy
Expiring contracts
: Clemens.
Rear-view mirror
: Few players in the league stimulate as much pro-and-con debate as Sanchez. Our take: He wins a lot of games for a guy with mediocre passing numbers. He finished near the bottom of the league in passer rating (27th), completion percentage (29th), yards-per-attempt (26th) and yards-per-game (25th), yet he won 13 games, including two in the playoffs to become the Jets' all-time winningest QB in the postseason. To his credit, he raised his level of play in the postseason with a sore shoulder.
How did he do it? Give credit to his competitiveness, for sure, but Sanchez has been helped immeasurably by a very good supporting cast. Would he be as successful in Tampa if he traded places with Josh Freeman? It's debatable. Sanchez is a good system quarterback, not a true franchise quarterback, according to some scouts. Hey, there's nothing wrong with that -- as long as you're in a good system and the front office keeps enough talent around you.
Sanchez improved his decision making significantly -- one interception every 39 attempts, up from one per 18 attempts as a rookie. (Luck factored into that, as you will see below.) His lack of accuracy (54.8 percent) is troubling. Anything below 60 percent is unacceptable, especially in a ball-control offense. His slow starts, too, are maddening -- a first-quarter passer rating of only 66.9. Scouts say he's slow to adjust when a defense unveils a new wrinkle at the start of a game -- i.e. the Denver Broncos using a four-man line instead of their 3-4. Isn't it interesting that he picked up his play late in the season when he was called out publicly by Rex Ryan?
Maybe we're being too hard on him, considering his lack of experience, but the point is this: Sanchez is closer to "work in progress" than "elite quarterback."
Numbers Game
: Sanchez led the league with 15 dropped interceptions, by far the most, according to FootballOutsiders.com.
Crystal ball
: Quarterbacks usually take a big step in Year 3, so things look promising for Sanchez. He knows how to win; that sounds simple, but a lot of quarterbacks with more physical talent than Sanchez haven't mastered that. The key for him is becoming more consistent, not only from game to game, but from quarter to quarter. He also needs to make smarter decisions off the field if he wants to last in New York.
"Booger" Brunell figures to be back as the No. 2/Sanchez big brother. Clemens is a goner. Ainge, who spent the season on the non-football injury list because of substance-abuse issues, still is under contract -- but his future is shaky at best. They need a developmental player to fill the No. 3 spot.
Hot Seat
: Sanchez. As long as you play quarterback in New York, you're on the hot seat.
Positional rating
(scale 1 to 10): 7.5
August, 3, 2010
8/03/10
2:20
PM ET
It didn't take long for things to get chippy. Wayne Hunter got a few too many late hits from Kenwin Cummings and it was on. Pretty soon, Jets offensive coordinator Brian Schottenheimer and defensive assistant Bob Sutton were firing R rated words around.
"It's going to happen in camp sooner or later," said Hunter, "for us it happened sooner."
He added that Cummings is a friend of his off the field, and he should have expected something knowing how competitive the backup linebacker can be. The backup tackle said he got the last word on the field, blocking Cummings on a blitz to finish in a tie.
This kind of back and forth makes Rex Ryan smile. After practice, the Jets coach noted that he was happy with the intensity level of today's morning practice at Jets training camp in Cortland as opposed to Monday when everyone was relatively cordial. He even joked that he'd go through the league to request a fine for the cursing.
"There was a little competitive spirit out there, and it got a little sensitive, I thought. That's always great to see. You love watching it when coaches go at it and all that jazz."
The day offered a few dramatic plays to get the fans into it as well. David Clowney, a wide receiver who had his share of drops and misses, had a 30 yard catch from quarterback Mark Sanchez and would have run it in for a touchdown in a game situation. Clowney got a hug from Jerricho Cotchery as he jogged back upfield with the ball.
Marcus Henry had a nice one-handed catch from Kellen Clemens, who was very limited in practice after reporting with a calf injury. TE Jeff Cumberland got a hold of a ball over safety Emanual Cook — who also got a piece but Cumberland came down with it. In the press conference Ryan said he needed to do a better job of blocking.
Matthew Mulligan had some nice catches, two with Brunell and another with O'Connell. Brunell looked rusty, and would've been sacked three times in the scrimmage drills. He also threw away a few balls under pressure.
DE Vernon Gholston got reps with the first team defense, and Lowery knocked down a pass from Sanchez intended for Cotchery. Calvin Pace grabbed a ball popped up by Braylon Edwards, and Antonio Cromartie had a leaping pick on a ball intended for Clowney. Kris Jenkins (hamstring) didn't practice for a second day.
Damien Woody said that the practice was good, and several players mentioned feeling sore after roughly five hours of practice on Monday. This afternoon is a special teams practice, so the veterans should get some rest.
"The first day, that's probably the best you're going to feel all year," Woody said.
As far as Darrelle Revis' holdout, veteran Bart Scott said it's hard to miss him on the field right now because so much of the time is devoted to learning plays with newer parts.
"In games when guys catch a pass it counts," Scott said. "Out here we just coach a guy up for what he did wrong and get better."
More coaching up at 4:20 when special teams practice starts.
July, 29, 2010
7/29/10
9:22
PM ET
The rookies, quarterbacks and injured players had to check in with the team in Florham Park today, and the Jets made a few moves.
Notably, RB Joe McKnight failed his conditioning run and won't practice with the team until he passes it. He was placed on the active non-football injury list.
Knight had fitness issues at the Jets rookie minicamp as well. He sat drills out and was physically ill during the first practice.
QB Erik Ainge was placed on the reserve non-football list with an undisclosed illness, and won't count against the 80-man roster. After signing Mark Brunell Wednesday, the Jets would have gone into camp with five quarterbacks in Mark Sanchez, Kellen Clemens, Kevin O'Connell, Brunell and Ainge.
The team signed safety Emmanuel Cook, who was a UFA at training camp last year but was cut and spent last season on the Tampa Bay practice squad. The Jets also waived LB Ezra Butler.
Every player will have to report to the training facility on Sunday, and go from there to the dorms at SUNY Cortland where training camp officially starts on Monday.
April, 19, 2010
4/19/10
12:46
PM ET
The Jets addressed their needs on offense through free agency in getting WR Santonio Holmes and RB LaDainian Tomlinson.
That won't stop the Jets from drafting a running back and perhaps even a wide receiver.
The Jets have five picks in the 2010 NFL Draft, and they have a glaring need for a pass-rusher and a safety. That said, if the player they identify for those spots isn't available at No. 29, it's conceivable Jets general manager Mike Tannenbaum could trade back and get a few more picks.
Last year the Jets got three players in the seven rounds. To get QB Mark Sanchez and RB Shonn Greene, the Jets traded away the store. Although the team has found gold in undrafted free agents before, like DT Mike DeVito, it's not a good long-term strategy.
Extra picks would allow the Jets to address a pressing need at running back. You look at the roster and see Greene, LaDainian Tomlinson and Leon Washington, but which one of those players takes the preseason games?
The Jets aren't going to exhaust their No. 1 back in Greene. Tomlinson isn't at a point in his career where he needs the extra wear and tear. Washington is coming back from an injury so severe that few have even attempted a return. That leaves one Chauncey Washington for the bulk of four games.
Add to that contract issues. Tomlinson is here on a two-year contract but Leon Washington's situation would change if the league and players association come to an agreement that makes the 2006 draft class free agents. Again, there could be a lockout next season which would render it all moot, but I'm assuming there is no lockout.
Getting a young back out of a lower round would protect the Jets' top three running backs and allow Tomlinson's mentoring potential to be fully used.
The Jets are set for wide receivers for this season, but next year could have a problem at the position. Both Holmes and Braylon Edwards will be free agents. Depending on how well they play, it will probably be too expensive for the Jets to pay them both. (Like with the lockout, I'm making the assumption here that Holmes doesn't incur additional substance policy violations.)
That leaves you with Jerricho Cotchery as a solid returner. Also on the roster at the position are Brad Smith, David Clowney, Danny Woodhead, Aundrae Allison, Marcus Henry, Britt Davis, S.J Green and Larry Taylor. That's a crowded field but, aside from Smith and Clowney (go ahead and debate), is there a lot of potential? Last spring Jets coach Rex Ryan was high on Davis, but he fizzled at camp.
There's the offensive line. I'll take a look at that in a future post. And lastly a backup quarterback. Ryan clearly doesn't have a ton of faith in Kellen Clemens given the fact that they brought in veteran QB Mark Brunell earlier this spring, but that's a need they are better off addressing through free agency.
If Jason Taylor decides to stick with the Dolphins, the Jets could use Jay Feely's vacated spot to bring in Brunell or another veteran QB.
The Jets have five picks late 20s in the 1st, 2nd, 4th, 6th and 7th rounds. The third went to Cleveland for Edwards and the fifth to Pittsburgh for Holmes. Although the defense is a bigger focus of Jets draft-watchers, there could be a few offensive picks as well.
April, 13, 2010
4/13/10
10:27
AM ET
Restricted free agent Kellen Clemens confirmed to ESPNNewYork.com that he signed his tender contract offer from the Jets on Monday afternoon. The backup quarterback said last week that he still hoped to start some day in the NFL, but that there was only one quarterback who would start with the Jets and that is Mark Sanchez.