New York Jets:

Konrad Reuland
November, 20, 2013
11/20/13
12:10
PM ET
FLORHAM PARK, N.J. -- To fill a roster spot, the
New York Jets
signed free-agent linebacker
Jermaine Cunningham
, originally a second-round draft choice of the
New England Patriots
.
Cunningham
Cunningham, 25, most recently spent time with the
San Francisco 49ers
. He was released Oct. 29 after a month with the team. He didn't make the Patriots' roster coming out of the preseason.
Cunningham, a Bronx native who was drafted in 2010, has appeared in 36 games. He has 59 tackles and 3.5 sacks. The Jets had a roster opening after placing tight end
Konrad Reuland
on injured reserve.
November, 19, 2013
11/19/13
5:00
PM ET
Tight end
Konrad Reuland
, a wedge blocker on the
New York Jets
' kickoff-return unit, was placed on season-ending injured reserve Tuesday with a knee injury.
The injury is a bit curious because Reuland played the entire game Sunday against the
Buffalo Bills
-- a total of 21 snaps, all on special teams. He didn't appear to get hurt. In fact, he was on the field for the final special-teams play of the game, a Bills kickoff with 4:02 remaining.
Reuland didn't appear last week on the Jets' injury report. He played in 10 games, but had only a small role on offense. In fact, he played on 34 offensive snaps. He finished with one catch for 7 yards.
The Jets didn't announce a corresponding move. They have 52 on the roster, including three tight ends --
Jeff Cumberland
,
Kellen Winslow
and
Zach Sudfeld
.
November, 4, 2013
11/04/13
10:00
PM ET
FLORHAM PARK, N.J. -- With the
Jonathan Martin
/
Richie Incognito
controversy unfolding in Miami, the issue of bullying has become a hot-button issue in the NFL. Several Jets weighed in Monday, including quarterback
David Garrard
, who spent time with the Dolphins last season.
"I would just say he's a jokester kind of guy," Garrard said of Incognito, adding: "It's unfortunate. You never want it to get to a point where guys want to leave the team. You would hope other guys in the locker room would help police it. It's one of those situations that's sad to see."
Incognito
Martin
Garrard, released by the Dolphins at the end of the 2012 preseason, said he never noticed that type of culture in the Miami locker room.
"I remember Martin when I was there," he said. "He was quiet. He never really said much. Good player. I'm not sure exactly what happened in their locker room down there, but from what I've seen and read, it seems like it went too far and lasted a little too long. He's not a rookie anymore, but they're still doing the same pranks and jokes on him. He's just fed up."
Tight end
Konrad Reuland
played with Martin for three years at Stanford. He described his former teammate as, "Just another one of the guys. He's a completely down to earth, normal guy in every sense of it."
Reuland said he has no idea what allegedly occurred with Martin, whom he usually sees in the offseason.
"I just hope everything is all right with him," Reuland said.
Several players said they haven't experienced or witnessed any bullying in the Jets' locker room. There was a well-documented incident of rookie hazing in 2010, when several players tied a rookie defensive back named
Brian Jackson
to a goal post in training camp and doused him with ice, Gatorade and powder. It was captured on HBO's "Hard Knocks."
"There's a fair line for making a guy earn his right of passage and then there's another guy of harassing a guy and making a guy feel degraded," said guard
Willie Colon
, who signed with the Jets last offseason. "We're all men, we're all professionals, we all come from different walks of life, and I was always taught respect the practice-squad guy to the starter. Treat them all the same. Any time a guy feels disrespect and feels like he can't go to work and is uncomfortable, you can't have that in the locker room. At the end of the day, he's playing and he's playing for you. You have to take care of him."
It's traditional for rookies to take veterans out to dinner and foot the bill. Martin was reportedly asked to pay $15,000 for a trip to Las Vegas.
"It's a culture that's changing, that needs to change because you're messing with a guy's way of living," Colon said. "Nobody can kick up 15 grand and have to pay rent and God knows what else he has to do. I think it's irresponsible his teammates and everybody else. You got to be accountable for how you treat people, and it's tough he had to go through that. I feel sorry for him or whatever."
Jets guard
Brian Winters
, a rookie, said the most he's told to do by the veterans is buy burgers from a local fast-food joint.
Defensive tackle
Sheldon Richardson
said he has been subjected to "a little bit" of rookie hazing.
"Don't take it to heart, just laugh it off," he said. "Or you could be like me and Dee (Milliner) and talk back a little bit. There might be a little consequences that go along with it, but I can deal with it at this point in my life. It's all fun and games, and the vets know not too take it too far and they keep it all in perspective."
Richardson has been asked to buy food before away games and bring donuts on Fridays for meetings. In camp, he and Milliner got angry when their mattresses were flipped over and everything was on the floor. He still doesn't know who did it.
"Cold case right there," he said.
November, 3, 2013
11/03/13
12:15
PM ET
EAST RUTHERFORD, N.J. -- The
New York Jets
will be hurting at tight end Sunday against the
New Orleans Saints
.
Cumberland
Starter
Jeff Cumberland
, listed as questionable with a concussion, was declared inactive before the game.
Kellen Winslow
is serving the final game of his four-game suspension for PEDs, leaving
Konrad Reuland
and
Zach Sudfeld
as the only active tight ends active. Reuland, listed as the starter, and Sudfeld have combined for only 64 offensive snaps and three receptions. Neither one is a good blocker, so Cumberland's absence will hurt the running game. They could use G
Vladimir Ducasse
as a blocking tight end.
The good news for the Jets is that RG
Willie Colon
(calf), also listed as questionable, is active and will start.
Aside from Cumberland, the Jets' inactive players are QB
David Garrard
, WR
Santonio Holmes
, RB
Alex Green
, G
Will Campbell
, T
Ben Ijalana
and OT
Oday Aboushi
. WR
Greg Salas
and rookie S
Rontez Miles
, signed from the practice squad Friday, are active for the first time.
The news for the Saints is that WR
Marques Colston
(knee) is inactive. So, too, are safeties
Malcolm Jenkins
and
Roman Harper
. That will put a dent in Rob Ryan's game plan because he likes to use three-safety packages.
Rafael Bush
is expected to start for Jenkins.
Rookie
Kenny Stills
is listed as the replacement for Colston, but the Saints will use all four receivers that are active.
Their other inactives are QB
Ryan Griffin
, RB
Khiry Robinson
, T
Terron Armstead
and DE
Tyrunn Walker
.
November, 1, 2013
11/01/13
6:00
AM ET
FLORHAM PARK, N.J. -- To say the
New York Jets
are hurting at tight end is an understatement.
With
Jeff Cumberland
(concussion) sidelined this week, and with
Kellen Winslow
serving the fourth game of a four-game league suspension, the Jets will face the
New Orleans Saints
Sunday with ... (drum roll, please)
Konrad Reuland
and
Zach Sudfeld
at tight end.
Oh, boy.
Reuland and Sudfeld have played a total of 64 offensive snaps and have three receptions. Neither one is a good run-blocker, which could be a problem because the Jets should be in a run-oriented mode against the Saints' suspect rush defense.
What to do? The Jets have to get creative.
Offensive coordinator Marty Mornhinweg said there are a "handful" of players who can play multiple positions, hinting there could be some "double-dutying." Backup guard
Vladimir Ducasse
has been used as an extra blocker in the past, but there's a chance he could be pressed into right-guard duty if
Willie Colon
(bruised calf) can't play or can't finish the game. They could reach to the practice squad and elevate tight end Chris Pantale. Or -- who knows? -- maybe they can use defensive tackle
Sheldon Richardson
. He played one snap on offense in the Week 5 win over the
Atlanta Falcons
.
All we know is that Reuland and Sudfeld, who began the season with the
New England Patriots
, will play.
"One guy [Sudfeld] probably has a little better skill set as a receiver, one's probably a little bit better blocker," Rex Ryan said. "So if Konrad starts, expect a run. If Sudfeld starts, expect a pass. No, it's not like that, but we will play them in different things. It's not just a set starter."
ICYMI
: Cumberland and WR
Santonio Holmes
(hamstring) haven't practiced this week and
won't play Sunday
. It'll be Holmes' fifth straight game on the sideline. ... The Jets could use CB
Antonio Cromartie
to cover TE
Jimmy Graham
.
Hey, why not?
The Patriots used CB
Aqib Talib
on Graham a few weeks ago, and he shut him down. ... On Friday, former Jets G
Brandon Moore
will
formally announce his retirement
at the team's facility. ... WR
David Nelson
said he was
fined by the league
for his block on
Cincinnati Bengals
CB Adam "Pacman" Jones. Nelson said he will appeal. ... Check out this week's edition of "Gang Green Report." ... For the best Saints coverage, read my colleague Mike Triplett on the ESPN.com
Saints team page
.
October, 11, 2013
10/11/13
6:00
PM ET
A few thoughts on TE
Kellen Winslow
's being suspended four games without pay for violating the NFL's policy on performance-enhancing substances:
1. Impact on the offense:
Winslow's absence will hurt the passing game. Not only is he the team's leading receiver (17 catches), but the overall offense functions better when he's on the field. Facts are facts: With Winslow in the game as the only tight end, the Jets have passed 79 times for 516 yards -- 6.53 yards per play. With
Jeff Cumberland
as the only tight end, the Jets have passed 35 times for 198 yards -- a 5.66 average. Coordinator Marty Mornhinweg hasn't used a lot of two-TE sets with Winslow and Cumberland. When he has, it hasn't been too productive -- 33 pass plays for 141 yards, a 4.27 average.
2. Depth chart
: This will mean a bigger role for Cumberland, who has appeared in 51 percent of the offensive snaps. (In case you're wondering, Winslow is 60 percent.) Cumberland is a capable player and, as he demonstrated Monday night against the
Atlanta Falcons
, he can be a threat in the deep seams. There won't be much of a dropoff there, but the problem is, it'll mean more playing time for
Konrad Reuland
and newly acquired
Zach Sudfeld
. Clearly, Reuland (only 12 snaps) hasn't found a niche in Mornhinweg's offense. He's a tight end/fullback tweener, not offering much in the passing game. Sudfeld, who stands 6 feet 7, played well for the
New England Patriots
in the preseason and was a surprise cut last week. Once he learns the offense, he could leapfrog Reuland on the depth chart.
3. There goes the feel-good story
: Winslow, in a statement released through his publicist, said he was surprised by the suspension and claimed he hasn't taken any supplements that list banned ingredients. Nevertheless, this tarnishes a potentially wonderful story. Rejected by the rest of the league, Winslow signed with the Jets after a minicamp audition, made the team and became an important player. Because of chronic knee pain (multiple surgeries), every day is a struggle. It flared up recently, causing him to miss more practice time than usual. That probably contributed to his reduced role in Atlanta (and perhaps his postgame frustration), although he made his only catch count -- a toe-tapping reception in the back of the end zone. "I want to do a lot more in this game," he told me last week. "I don't know how much longer I have, but I want to give it my all until I'm done. "
Now he's done for four weeks.
September, 27, 2013
9/27/13
6:00
AM ET
FLORHAM PARK, N.J. -- Barring a dramatic change, cornerback
Dee Milliner
and running back
Chris Ivory
-- both dealing with hamstring injuries -- probably won't play Sunday against the
Tennessee Titans
. Time to analyze the contingency plans.

As of Thursday night, the Jets still were holding out hope for Ivory. If he's ruled out, they could wind up dressing only three running backs --
Bilal Powell
,
Alex Green
and rookie fullback
Tommy Bohanon
. That sounds like a dangerously low number, but they believe Bohanon is capable of playing tailback in a pinch. They can also use third-string tight end
Konrad Reuland
as a fullback; he lined up in the backfield at times last season, when he was deployed as an H-back.
They will get some help next week, when
Mike Goodson
returns from his suspension. The Ivory situation has to be frustrating for the Jets, but his durability issues weren't a secret. That was the knock on him with the New Orleans; the Jets knew exactly what they were getting. Sure, he has talent, but talent doesn't help the team from the trainer's room.
Milliner appears worse off than Ivory. At cornerback, Rex Ryan hinted that he'd like start
Darrin Walls
in the base defense, with
Kyle Wilson
playing in nickel situations. Wilson will play a lot because the Titans will be in a three-receiver package for most of the game.
Ryan bristled when it was suggested that Milliner, who missed half the preseason with an Achilles' injury, is prone to injuries. Also remember, he missed the offseason recovering from shoulder surgery.
"How many games did he miss in college?" Ryan asked. "Yeah, exactly, I think it was one game."
But Milliner also underwent surgery five times in college. Obviously, the Jets weren't concerned because they drafted him ninth overall, paying him a fully guaranteed $12.6 million. Still, I recall what one longtime NFL coach told me the first time he met Milliner. He was stunned by the rookie's relatively slight frame, wondering how he'd handle the wear and tear of the NFL.
Maybe we're starting to find out.
ICYMI
: You have to like
Powell's story
. Once considered an afterthought in the backfield, he has emerged as the workhorse back. ... Defensive coordinator Dennis Thurman offered some advice to Wilson on how to handle situations like the one that came up last Sunday with
Buffalo Bills
wide receiver Stevie Johnson:
If you seek revenge
, the football gods shall provide you with that chance.
June, 26, 2013
6/26/13
6:15
PM ET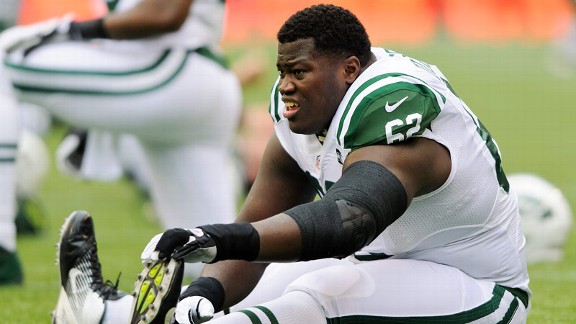 Steven Bisig/USA TODAY SportsVladimir Ducasse's Jets scholarship is over. Can he finally make an impact in 2013?
Continuing our "Take 5" series, we look at which veteran players will be fighting for jobs in training camp. It will be an intense camp, as GM John Idzik has been singing the "competition" song from the moment he arrived. Here's our list of those whose jobs are the most tenuous:
1. G/T Vladimir Ducasse:
This is a make-or-break year for the former second-round pick. His biggest ally, former GM Mike Tannenbaum, is gone, meaning his scholarship has expired. Ducasse played every position except center during the offseason, helping his chances. But with three draft picks and improved depth, he'll actually have to earn his spot.
2. QB Greg McElroy:
Former seventh-round picks don't get to hang around forever. This will be McElroy's third year, and he's battling
Matt Simms
for the No. 3 job -- if there is a No. 3 job. QBs coach David Lee has been trying to get him to take more chances, throwing downfield instead of opting for check-downs.
3. WR Clyde Gates:
Rex Ryan keeps telling everyone that Gates is one of the fastest players in the league. He might be right, but even when he's healthy (which hasn't been often), Gates doesn't play to his speed. He's here because former OC Tony Sparano liked him from their days in Miami. Now Sparano is in Oakland. By the end of August, they could be reunited.
4. TE Konrad Reuland:
The arrival of
Kellen Winslow Jr.
could jeopardize Reuland's spot on the roster. They're basically the same type of player -- pass-catching tight ends. Reuland's fate could be tied to Winslow's health; a chronic knee condition makes it 50-50 that the former Pro Bowler lasts through training camp.
5. RB Bilal Powell:
The Jets acquired two backs in the offseason,
Chris Ivory
and
Mike Goodson
, an indication they don't view Powell as a long-term answer. The same could be said of
Joe McKnight
, but he has value as a kickoff returner. Powell has to find a niche. His value increases if Goodson is suspended for his recent arrest.
April, 18, 2013
4/18/13
6:00
AM ET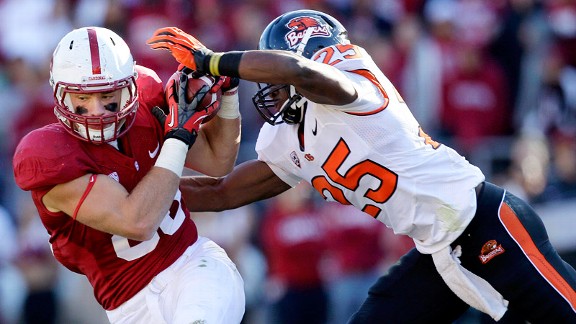 AP Photo/Jeff ChiuStanford's Zach Ertz could be an option for the Jets in the second round.
This is the fourth installment in a position-by-position analysis of the Jets as they prepare for the draft
:
Position
: Tight end
Depth chart
:
Jeff Cumberland
,
Konrad Reuland
,
Hayden Smith
.
Departures:
Dustin Keller
(Dolphins).
Total salary-cap charge (positional rank):
$2.28 million (9th).
Scouting report
: The Jets parted ways with their only proven tight end, letting Keller bolt for a one-year, $4.25 million contract. What's left? A lot of questions. The Jets thought enough of Cumberland to sign him for $1.3 million, the amount of his RFA tender, but that doesn't entitle him to a starting job. He can occasionally beat coverage on a deep seam, but he's not a reliable short to intermediate receiver. He played 55 percent of the offensive snaps, a team-high for tight ends, but he finished with only 29 catches. Cumberland's blocking is suspect. Reuland has some value because he can play fullback and H-Back. Smith, the former rugby player, remains a project.
Keller would've been ideal in Marty Mornhinweg's West Coast offense, but got squeezed by a suddenly frugal front office. Mornhinweg needs a pass-catching tight end for his offense, so it wouldn't be a surprise if the Jets address it as early as the second round. The position has been neglected long enough.
The last time
: Believe it or not, the Jets haven't drafted a tight end since 2008, when they traded up to take Keller at the bottom of the first round.
Potential targets
:
Tyler Eifert
(Notre Dame), the best in the class, would be perfect, but it would be a reach to pick him ninth overall.
Zach Ertz
(Stanford) would be a solid second-round value at 39 overall. Ertz (69 catches, 898 yards, six TDs) played in a West Coast system, which helps. At 6-foot-5, 249 pounds, he has the size to overwhelm safeties. He's not a burner, but he has good separation skills. He's also not a traditional 'Y' tight end; he was flexed out a lot. He had 24 receptions on passes of 15+ yards, but also dropped four, according to ESPN Stats & Information. Overall, his skill set matches the Jets' need. If they wait until the third or fourth round, they could take
Gavin Escobar
(San Diego State), who grew up near Sanchez in SoCal. Escobar (42, 542 and six) is a lot like Ertz (6-foot-6, 254 pounds), a better receiver than blocker.
Need rating (scale of 1 to 10):
9
February, 7, 2013
2/07/13
5:00
AM ET
This is part four in a nine-part analysis of the Jets -- a position-by-position breakdown as we head toward the scouting combine and free agency:
TIGHT END
2012 depth chart:
Dustin Keller
(starter/injured),
Jeff Cumberland
,
Konrad Reuland
,
Hayden Smith
, Josh Baker (injured).
[+] Enlarge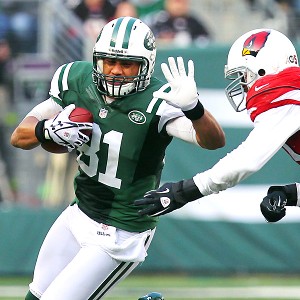 Ed Mulholland/USA TODAY SportsDustin Keller played in only eight games in 2012, making 28 catches for 317 yards and two TDs.
Overview
: The tight ends combined for only 69 receptions last season. The biggest reasons were Keller's hamstring and ankle injuries, which cost him eight games. He never really had an extended stretch of healthy football, sabotaging his contract year. Another reason for the low production was Tony Sparano's scheme, which wasn't tight-end friendly. Cumberland displayed some big-play ability -- six of his 29 receptions went for 20-plus yards -- but he was an inconsistent route runner and made mental mistakes in hot-read situations. Reuland played mostly as an H-back, doing the dirty work.
Free agents
: Keller, Cumberland (restricted).
2013 personnel preview
: Keller has Pro Bowl-caliber ability if used correctly, and now the Jets have a system -- the West Coast offense -- that suits his pass-catching skill set. On paper, it should be an ideal marriage, but money could get in the way. Doesn't it always? Even though he's coming off a disappointing year, Keller is bound to draw interest and could price himself out of the Jets' range -- if they allow him to hit the open market. They could make a push to sign him before that, but they won't break the bank. Remember, the Jets took a pass last offseason when Keller wanted to talk long-term deal. Cumberland is a solid No. 2, with room to improve. There's nothing special about him, bu he could be the starter by default. Baker has some value because of his receiving skills, assuming he's recovered from a serious knee injury. There's not a sturdy blocker in the bunch.
Salary-cap situation
: The Jets could opt to put the franchise tag (about $6 million) or the transition tag ($5.1 million) on Keller, but that would eat up a lot of valuable cap space. What about a tag-and-trade? It's possible, but unlikely. They'd recoup only a middle-round pick for Keller, whose value is sagging because of last season's injuries. Some team will get a great deal.
December, 10, 2012
12/10/12
1:45
PM ET
FLORHAM PARK, N.J. --
Nick Bellore
and
Ellis Lankster
were looking for opportunities to get in the holiday spirit, and asked if the Jets were doing anything as an organization to celebrate the season.
They were in luck, and so will 20 elementary school students who participate in the Generation Jets program. Bellore and Lankster, as well as
Austin Howard
,
Konrad Reuland
and
Caleb Schlauderaff
, will be on hand tonight to help the students spend $250 gift cards at a New Jersey Toys R Us.
"It's the first time I'm going to do something like that," Ellis said. "I'm ready."
"I know I would've loved getting a shopping spree when I was a kid," Bellore said.
Luckily, the win in Jacksonville and a spark of playoff hopes means the team has a little more cheer to spread.