New York Jets:

Kyle Fuller
May, 7, 2014
5/07/14
10:00
AM ET
Hang in there, folks, only one more day to the draft. Here, I rank the top eight options for the
New York Jets
at 18, based on how I believe they have them rated on their board. Included are quotes from three people outside the organization -- two personnel executives and one scout, all of whom spoke on the condition of anonymity:
Odell Beckham Jr., wide receiver, LSU
: "If
Sammy Watkins
weren't in this draft, Beckham would be the top receiver. I think he's better than [Mike] Evans. ... He's a helluva prospect. He has size, speed, separation ability, route running. He can be an inside-outside guy. He has good to very good potential. He excites me. If I had him, I'd feel very good about the future of the position. You can move him around; he has versatility. He operates like an NFL receiver. He's NFL-ready. ... He's a pretty clean kid. No problems with his work ethic. This kid can play."
Eric Ebron, tight end, North Carolina
: "He's talented. He's a legit pass-catching threat. He can defeat man or zone. He's not that big [6-foot-4 1/2, 250], but he's plenty fast. He has a high ceiling. ... For the Jets, he'd be complementary to [Jeff] Cumberland. You'd have your two-tight end sets locked in stone. He'd provide Marty Mornhinweg with flexibility. You'd have Cumberland in the running game [as a blocker], with Ebron giving you another threat in the passing game. ... I know people say he can't block, but he's not devoid of blocking skill. I think you can train him."
Darqueze Dennard, cornerback, Michigan State
: "He'd be a good value at 18. ... He has average size [5-11, 199], but he has good strength. He's a physical kid. He can play press, he can play man. He's good in zone. He's instinctive. He's a pretty good tackler. ... I think he's a scheme fit for the Jets. He's consistent, dependable, a good No. 2 corner."
Brandin Cooks, wide receiver, Oregon State
: "He's an outstanding athlete. He's sudden. He has quick explosion. He's a ball catcher, not a body catcher. He has good ball skills. He's not big [5-10], but he's a tough kid. He'll be a very good slot player. ... If you put him outside the numbers, you may have to scheme it up for him in terms of formations. He'll be a viable starter on the outside at some point, but he's a Day 1 starter in the slot. ... He's like a midget. To me, he's a luxury, a specialty-type player."
Justin Gilbert, cornerback, Oklahoma State
: "He has good height [6-0], good length and good enough speed. His ball skills are terrific. You wish he were a little more physical. ... I think he fits [Rex Ryan's] defense and what he's trying to do. He'd be a good complement to
Dee Milliner
. I think Rex could teach him to be more physical."
Kyle Fuller, cornerback, Virginia Tech
: "He's a good scheme fit for their defense. He can play that press-man that Rex likes. He's a real instinctive player. He's not as disciplined with some of his techniques as you'd like, so I think there would be a developmental stage. But, in their secondary, I think he could come in and compete for a starting job."
Bradley Roby, cornerback, Ohio State
: "He's more talented, more of an athlete and more explosive than Dennard, but he's not as polished. ... You have to do your due diligence [with regard to off-the-field incidents]. It's a measured risk. There are some red flags in his background. Enough to omit him from your draft board? No, I don't think it's at that point, but you're measuring risk."
Marqise Lee, wide receiver, USC
: "He had a better '12 than '13. I see him as a No. 2 receiver. He has good size [6-0], good speed and good hands -- not great hands. He had some drops last year. He has a lot of good qualities. Does he have a lot of great qualities? Maybe not, but he'll be a solid pro. ... We have him rated ahead of Cooks. He's just a better all-around player, a safer pick."
May, 7, 2014
5/07/14
6:00
AM ET
This is the ninth and final installment in a position-by-position analysis of the New York Jets as they prepare for the draft
:
Position
: Secondary
Current personnel
: CB
Dee Milliner
(signed through 2016), CB
Dimitri Patterson
(2014), CB
Kyle Wilson
(2014), S
Dawan Landry
(2014), S
Antonio Allen
(2015), CB
Darrin Walls
(2014), S
Jaiquawn Jarrett
(2014), CB
Ellis Lankster
(2014), CB
Ras-I Dowling
(2015), CB
Johnny Patrick
(2014), S
Josh Bush
(2015), S
Rontez Miles
(2016), CB
Nick Taylor
(2015), CB
Lowell Rose
(2016), CB
Jeremy Reeves
(2016), S
Brandon Hardin
(2014).
Projected starters
: Milliner, Patterson, Landry, Allen.
Newcomers:
Patterson (free agent/
Miami Dolphins
), Patrick (waivers/
San Diego Chargers
), Reeves (college free agent).
Departures
:
Antonio Cromartie
(cut/
Arizona Cardinals
),
Ed Reed
(free agent),
Isaiah Trufant
(free agent/
Cleveland Browns
).
Top salary-cap charge
: Milliner, $2.88 million.
Scouting report
: The secondary needs help. The Jets allowed 15 pass plays of 40-plus yards, the fourth-highest total in the league. They surrendered 3,947 passing yards, the most by the franchise since 1986. A broken-down Reed made three interceptions in seven games -- and that was good enough to tie for the team lead. Need we go on? In free agency, they made only one significant move, essentially replacing Cromartie with Patterson. When healthy, Patterson is a playmaker, especially in the slot, but he hasn't been healthy in recent years. Cromartie played poorly last season, so maybe they figure anything they get out of Patterson is an upgrade. That's a risky way to do business. Rex Ryan needs at least three good corners to play his style of defense, and there are no sure things on the roster. Milliner capped an otherwise bad rookie season with a strong finish, but does that make him a legit No. 1 corner? If Milliner doesn't make a big leap, it's trouble.
Last DB drafted:
They picked Milliner, ninth overall, last year.
Potential targets
: There's a decent chance they could pick a corner in the first round (18). No fewer than seven corners made pre-draft visits to the Jets' facility, including the top four --
Darqueze Dennard
(Michigan State),
Justin Gilbert
(Oklahoma State),
Kyle Fuller
(Virginia Tech) and
Bradley Roby
(Ohio State). Dennard is the best scheme fit because he played a lot of man-to-man in college. Gilbert is a freakishly talented athlete with terrific ball skills, but he's not physical -- a younger version of Cromartie. Fuller can play in any scheme. Roby has "boom or bust" written all over him. Dennard, Gilbert and Fuller would be good value at 18.
Keith McGill
(Utah) is a possibility if they want to wait until the second or third round.
Dex Mcdougle
(Maryland) is a third-day option. The could use a cover safety, but
Ha Ha Clinton-Dix
(Alabama) won't last until 18. Ryan's defense doesn't value safeties as much as other teams, so it wouldn't be a surprise if they wait until Day 3 to draft one, if then.
Dez Southward
(Wisconsin) is a late possibility.
Need rating (scale of 1 to 10):
CB -- 10; S -- 7.
May, 4, 2014
5/04/14
5:00
AM ET
Four more days until the
New York Jets
are on the clock ...
1. The target list:
It's impossible to predict the Jets' pick at No. 18 because so many things could happen in front of them, but I'm going to narrow the options and rank them based on interviews with scouts and talent evaluators. This is
my
ranking based on what I think the Jets should do, weighing their needs and the best players likely to be available:
a. Darqueze Dennard, CB, Michigan State:
Coach Rex Ryan needs a man-to-man corner, and he's the best in the draft.
b. Kyle Fuller, CB, Virginia Tech
: A football player. Not the flashiest, but he can play Ryan's scheme.
c. Justin Gilbert, CB, Oklahoma State
: Picture a young
Antonio Cromartie
-- tremendous talent, but he's a finesse player.
d. Odell Beckham Jr., WR, LSU
: A fast, all-around receiver with return ability. Strong character.
e. Brandin Cooks, WR, Oregon State
: Speed is the offseason theme on offense, and Cooks is a blur.
f. Eric Ebron, TE, North Carolina
: Has a high ceiling, but he doesn't block and there are questions about his attitude.
g. Marqise Lee, WR, USC
: Coming off a mediocre year and lacks that extra gear.
[+] Enlarge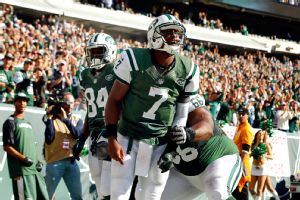 Jim McIsaac/Getty ImagesDespite a shaky rookie year, the Jets have been quick to praise QB Geno Smith this offseason.
2. Double talk
: The Jets are engaging in a ridiculous game of semantics with regard to the quarterback position. They refuse to say Geno Smith is the starter, but they talk about him as if he's the starter. They say Michael Vick is here to "push" Smith, adding they don't want to do anything to impede his progress. Sure sounds like a starter to me, except they're afraid to use the "S" word because it's not allowed in Idzik World. Ironically, the only person who uses it is Vick, who reiterated Saturday in an interview with NJ.com what he said on the day he signed in March: Smith is the starter. This may sound like a small thing, but it sends a mixed message, blurring the lines in a quarterback competition (are we allowed to call it that?) that could turn into a controversy.
3. Ulterior motives
: The Jets have hosted at least three quarterbacks on pre-draft visits --
Jimmy Garoppolo
,
Tom Savage
and
Logan Thomas
-- fueling speculation they could be in the market. Yes, they could be, but there's another reason for the interest: Gathering information for future use. Like every team, the Jets keep a dossier on each prospect. Some day, they may have to face Garappolo in a game, at which time they can refer to their notes on him. The
New England Patriots
are known for this practice.
"All those reports and the work that's done going into the draft, we look at that as the start of his library, and you will definitely tap into that as he progresses through his pro career," GM John Idzik said.
4. The Dirty Dozen
: If the Jets wind up picking 12 players, it'll be their largest draft class since 1998 -- another 12-pick year. Quantity doesn't always ensure quality, as that '98 draft proved. Only one of the 12 players ended up starting in the NFL -- OT Jason Fabini (fourth round). The Jets were hurt by not having a first-round pick (sent to the Patriots as part of the Bill Parcells compensation package), but it still ranks as one of the worst drafts in team history. And there were a lot of smart people in the draft room -- Parcells, personnel director Dick Haley and three future GMs, Mike Tannenbaum, Scott Pioli and Trent Baalke. Like people always say, the draft is a crapshoot. The Jets still reached the AFC Championship Game, in large part, because they assembled one of the best free-agent classes in history -- Curtis Martin, Vinny Testaverde, Kevin Mawae and Bryan Cox.
5. Gang of New Yorkers
: New York isn't known as a football hotbed, but there are four intriguing defensive-line prospects from the area. The top guy is Staten Island's
Dominique Easley
(Florida), a first-round talent coming off his second ACL surgery. He held a late pro day and impressed scouts to the point where he could sneak into the second or third round. Other locals are Flushing's
Jay Bromley
(Syracuse), the Bronx's
Caraun Reid
(Princeton) and Nyack's
Terrence Fede
(Marist).
6. The truth hurts
: Former Jets great Joe Klecko was on the money with his assessment of OLB
Quinton Coples
, whom he said "looks like Tarzan, plays like Jane." Coples has tested the patience of the coaches from the day he arrived, giving inconsistent effort. The talent is obvious, which explains the frustration level in the organization. He finished last season on an upswing (3.5 sacks in the last five games), so maybe he turned a corner. As for Klecko's comments about
Muhammad Wilkerson
, suggesting he doesn't give maximum effort on every play, I haven't heard anyone around the team question his motor.
7. Goodson soap opera
: Coming off an ACL injury, and facing charges for gun possession,
Mike Goodson
's future with the team is murky. Remember, he still faces the possibility of another suspension; this time it would be for violating the league's personal-conduct policy. Idzik said they've approached this offseason with the idea that Goodson will be on the team. "We assume that Mike is a Jet," Idzik said. "We've always made that assumption." He has another court date, May 19. If they draft a running back, it could be curtains for Goodson.
8. Scouting shake-up
: Last year's draft was widely considered a success, yet some of the unsung people who contributed -- a handful of area scouts -- were replaced. This will be Idzik's first draft with
his
scouting staff in place. For the record, the new scouts: Chris Prescott (Virginia to Louisiana), David Hinson (Midwest), Dave Boller (West) and Rick Courtright (national combine scout). Former player Aaron Glenn, who worked in pro personnel in 2012, became an area scout for the first time, working Texas to North Dakota.
9. Numbers game
: Vick should be changing his number again in 3 ... 2 ... 1 ...
10. Richard the Reclusive
: The last time an Alabama quarterback was drafted in the first round was ... you have to go back, back, back to Richard Todd in 1976 -- sixth overall by the Jets. The 38-year drought is "kind of sad," according to Todd, who is hoping
AJ McCarron
will end the slump (he won't). Todd doesn't do many interviews, so it was interesting to read his comments last week on his initial experience with the Jets.
"I was kind of thrown to the wolves when I was drafted," Todd told Alabama.com. "I thought I'd back up Joe (Namath) for two or three years and it took about two or three games, and I was kind of thrown into it. We threw the ball about six times a game my senior year (in the wishbone), so it was totally different.''
Two words, Richard: A.J. Duhe.
May, 1, 2014
5/01/14
5:15
PM ET
So the way NFL Network draft analyst Mike Mayock sees it, the first-round decision for the
New York Jets
comes down to best available wide receiver vs. best available cornerback with the 18th pick.
Mayock assessed the Jets' options Thursday on a conference call with reporters. First, some background.
His cornerback rankings are different than most. His top corner is
Kyle Fuller
(Virginia Tech), followed by
Darqueze Dennard
(Michigan State),
Justin Gilbert
(Oklahoma State) and
Bradley Roby
(Ohio State). Mayock made an interesting observation, noting Gilbert and Roby are favored by personnel types because of their movement skills while Fuller and Dennard are liked among coaches because they're considered better players than athletes.
"From a cornerback perspective, the Jets could get a Kyle Fuller, a Bradley Roby perhaps ... everybody has different flavors at corner," Mayock said, assuming Dennard and Gilbert will be gone. "It's those four cornerbacks they'd be looking at versus the highest-rated receiver on the board at the same time."
Mayock hasn't revealed his official mock draft, but in a preliminary mock (do we call that a mock mock?), he has the Jets selecting wide receiver Odell Beckham Jr. (LSU). He believes six receivers will go in the first round, and he has them broken up into three tiers:
Sammy Watkins
(Clemson) and
Mike Evans
(Texas A&M), followed by Beckham and
Brandin Cooks
(Oregon State), followed by
Marqise Lee
(USC) and
Kelvin Benjamin
(Florida State).
April, 25, 2014
4/25/14
6:00
AM ET
With draft day (May 8 ) rapidly approaching, we'll whet your appetite with a daily factoid, courtesy of ESPN Stats & Information. We'll keep it New York Jets-centric, sticking to team needs, possible selections, trends, etc.
Virginia Tech's
Kyle Fuller
is a solid, all-around cornerback prospect whose stock has increased to the point where he could be picked in the top 20 or 25. The Jets, picking 18th, scheduled a pre-draft visit with Fuller, who played blanket coverage in the ACC. You might say he outplayed the top corners in the draft.
Opponents completed only six of 22 passes (27.3 percent) when targeting Fuller, the lowest completion percentage allowed by any defensive back from a BCS automatic-qualifying school (minimum: 20 targets), according to STATS LLC. His senior season ended prematurely because of hernia surgery last November.
The Jets are in the market for a young cornerback.
April, 8, 2014
4/08/14
4:40
PM ET
They wouldn't. They couldn't.
Oh, yes, they could.
With their first-round pick in next month's draft, the
New York Jets
could select a cornerback for the second straight year (
Dee Milliner
, 2013) and the third time in the past five years (
Kyle Wilson
, 2010). That may sound like overkill, but it isn't, not when you consider the importance of corners in Rex Ryan's defense. It's also not farfetched when you look at the way the Jets have approached free agency, cutting
Antonio Cromartie
and ostensibly replacing him with journeyman
Dimitri Patterson
-- hardly a long-term solution with a one-year, $3 million contract. General manager John Idzik, criticized for not landing any of the top corners, seemingly held back, knowing he had an ace up his sleeve -- the draft.
So it comes as no surprise that four of the highest-rated corners in the draft are scheduled to visit the Jets -- Michigan State's
Darqueze Dennard
, Ohio State's
Bradley Roby
, Oklahoma State's
Justin Gilbert
and Virginia Tech's
Kyle Fuller
, listed in order of Scouts Inc's ranking. It's an interesting mix of talent.
Dennard, who won the Thorpe Award as the nation's top defensive back, doesn't have off-the-charts measureables, but he possesses some
Darrelle Revis
-like qualities in terms of instincts and toughness. Gilbert is a bit inconsistent, but it's hard to ignore his playmaking skills -- seven interceptions last season (two returned for touchdowns) and six kickoff-return touchdowns over his career. Roby may have the most pure talent of the group, but he had a mediocre year and has character questions. Fuller is a solid, all-around package, but he underwent hernia surgery last November.
The Jets could wait until the second round (No. 49 overall) to address the cornerback need, but it gets dicey at that point because the top prospects could be gone. Scouts, Inc. has seven corners rated in its top 50, five of whom could go in the first round. Over the last four drafts, six, four, six and seven corners have been picked in the top 50.
If the Jets don't choose a wide receiver in the first round, it'll be a cornerback. Write it down.