New York Jets:

Leon Washington
September, 5, 2013
9/05/13
12:34
AM ET
The
New York Jets
are showing interest in an old favorite, free-agent kickoff returner
Leon Washington
, a league source confirmed. Washington, released by the
New England Patriots
in the final cut-down, also has drawn interest from the Giants. He worked out for them Tuesday.
Washington
After cutting
Joe McKnight
, whom they drafted in 2010 to replace Washington, the Jets may be looking for a new kickoff returner. Right now, the job probably belongs to
Clyde Gates
. Washington, 31, made the Pro Bowl last season with a 29.0 average and one touchdown. He also could be a change-of-back back and a strong locker-room presence. The Jets have three backs on the roster, plus the suspended
Mike Goodson
.
General manager John Idzik was a Seahawks executive during Washington's three-year run in Seattle. The Jets could wait until after Week 1 to make a move on Washington. As a vested veteran, his salary wouldn't be guaranteed if he signs after the first game.
Washington was a popular and productive player with the Jets from 2006 to 2009, when he suffered a severe broken leg. Contract negotiations turned acrimonious and he was dealt to Seattle. TheJetsBlog.com first noted the interest in Washington.
January, 11, 2013
1/11/13
5:00
AM ET
There are four divisional-playoff games this weekend, involving plenty of familiar faces. Here's our top-10 list of ex-Jets (tell us what you think of our rankings):
[+] Enlarge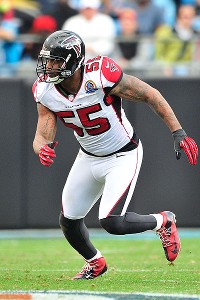 Grant Halverson/Getty ImagesJohn Abraham
1.
John Abraham
, DE, Falcons -- He has 68.5 sacks in seven seasons since being traded.
2.
Jonathan Goodwin
, C, 49ers -- A Pro Bowl in '09 for the Saints, solid pivot man for the Niners.
3.
Danny Woodhead
, RB, Patriots -- Totalled 747 yards from scrimmage this season.
4.
Leon Washington
, KR, Seahawks -- Made his second Pro Bowl, averaging 29 yards per return.
5.
Joel Dreessen
, TE, Broncos -- Caught a career-high 41 passes this season from
Peyton Manning
.
6.
Jim Leonhard
, S, Broncos -- Battled back from major knee injury. Punt returner and reserve DB.
7.
Wade Smith
, G, Texans -- A three-year starter at left guard.
8.
James Ihedigbo
, S, Ravens -- Three starts, mostly special teams and backup duty.
9.
Marquice Cole
, DB, Patriots -- Solid special teamer.
10.
Emanuel Cook
, S, Ravens -- On injured reserve.
November, 7, 2012
11/07/12
8:11
PM ET
FLORHAM PARK, N.J. -- To
Leon Washington
, returning a kickoff for a touchdown this Sunday against his former team, the Jets, would mean the same to him as it would if it were any other team in the NFL. Washington is playing Gang Green for the first time since the team traded him away in 2010.
"There is no added attention to me playing the Jets," Washington said on a conference call. "Honestly, I'm very serious when I say this: we're concerned with what we are doing out here. We got a really good football team so we're trying to put things together. We're not too concerned about our opponent, we're prepared for them but we're concerned about doing things we need to do for us to win the game."
Washington, a fan favorite during his time with the Jets, rushed for 13 touchdowns in his career with the Jets and was a threat out of the backfield. As a return man, he showed he was among the league's best, earning a Pro Bowl bid in 2008.
The running back broke his leg in a win against Oakland in 2009 and missed the remainder of the season. After he suffered the injury, the Pro Bowl return man was worried that if he would ever be able to get back to that same level. He ranks second in the NFL with a 29.1 kickoff return average this season, and is second all-time in kickoff returns for touchdowns.
"Obviously the doubt from breaking my leg that part of it was like, wow, can I ever get back to being Leon, can I ever get back to returning kicks and making plays," Washington said. "That's the only hesitation that I had but obviously playing football again was a great opportunity that Pete (Carroll) gave me out here in Seattle. I'm thankful for that part of it. Just to play football again is awesome."
After Washington signed a one-year tender with the team, the Jets ultimately shipped him and a seventh-round pick away for a fifth-round choice in the 2010 NFL Draft. Washington said he was told the team needed to pay its stars, like center
Nick Mangold
and
Darrelle Revis
, and he understood the decision. Since leaving the Jets in 2010, Washington has 90 carries in his 41 games with the Seahawks.
"It's a business, I understand it," Washington said of his trade. "I was just thankful I had the opportunity, they drafted me in the first place. It was awesome."
Washington is still close with some of the Jets and keeps tabs on his former team. He said he was surprised to see Rex Ryan was recently voted the most overrated coach in the league since he believes Ryan is a player's coach. Washington played under Ryan for one season in 2009.
"I saw that yesterday it's kind of like man, the Jets are 3-5 this year and he's overrated. A couple years ago when they're going to AFC Championships and things he's the best coach in the National Football League," Washington said. "You know how things like that go. Every year it's something different in the National Football League."
April, 24, 2010
4/24/10
11:53
AM ET
The Jets had been planning to draft a running back at some point in the draft. I wrote on April 19 that the Jets would be looking for one in a lower round.
The Jets traded up to get RB Joe McKnight out of USC, who will once again be playing with Jets quarterback Mark Sanchez.
The Jets needed a RB because they have legitimate durability issues with their top three backs, LaDainian Tomlinson, Shonn Greene and Leon Washington. McKnight is in the system and can benefit from Tomlinson's mentoring right away, even if he doesn't start to contribute for another year.
Chauncey Washington, acquired last December, is the fourth RB on the current roster.
The big pass rushers and defensive tackles haven't been taken yet by the Jets, and the fact that two of the first three picks are offensive players in a little puzzling to fans. Rex Ryan is defense first -- no one was surprised when he took a cornerback in the first round -- but once again the Jets have masked their intentions when it came to specifics.
A few have expressed that Leon Washington will be cut, after Rich Cimini reported that Alan Faneca could be released after OT Vladimir Ducasse was drafted in the second round. In this case however, McKnight could be more of an insurance policy. It would be premature to cut Washington before seeing if he is ready for minicamp.
But Washington is probably on notice.
April, 19, 2010
4/19/10
12:46
PM ET
The Jets addressed their needs on offense through free agency in getting WR Santonio Holmes and RB LaDainian Tomlinson.
That won't stop the Jets from drafting a running back and perhaps even a wide receiver.
The Jets have five picks in the 2010 NFL Draft, and they have a glaring need for a pass-rusher and a safety. That said, if the player they identify for those spots isn't available at No. 29, it's conceivable Jets general manager Mike Tannenbaum could trade back and get a few more picks.
Last year the Jets got three players in the seven rounds. To get QB Mark Sanchez and RB Shonn Greene, the Jets traded away the store. Although the team has found gold in undrafted free agents before, like DT Mike DeVito, it's not a good long-term strategy.
Extra picks would allow the Jets to address a pressing need at running back. You look at the roster and see Greene, LaDainian Tomlinson and Leon Washington, but which one of those players takes the preseason games?
The Jets aren't going to exhaust their No. 1 back in Greene. Tomlinson isn't at a point in his career where he needs the extra wear and tear. Washington is coming back from an injury so severe that few have even attempted a return. That leaves one Chauncey Washington for the bulk of four games.
Add to that contract issues. Tomlinson is here on a two-year contract but Leon Washington's situation would change if the league and players association come to an agreement that makes the 2006 draft class free agents. Again, there could be a lockout next season which would render it all moot, but I'm assuming there is no lockout.
Getting a young back out of a lower round would protect the Jets' top three running backs and allow Tomlinson's mentoring potential to be fully used.
The Jets are set for wide receivers for this season, but next year could have a problem at the position. Both Holmes and Braylon Edwards will be free agents. Depending on how well they play, it will probably be too expensive for the Jets to pay them both. (Like with the lockout, I'm making the assumption here that Holmes doesn't incur additional substance policy violations.)
That leaves you with Jerricho Cotchery as a solid returner. Also on the roster at the position are Brad Smith, David Clowney, Danny Woodhead, Aundrae Allison, Marcus Henry, Britt Davis, S.J Green and Larry Taylor. That's a crowded field but, aside from Smith and Clowney (go ahead and debate), is there a lot of potential? Last spring Jets coach Rex Ryan was high on Davis, but he fizzled at camp.
There's the offensive line. I'll take a look at that in a future post. And lastly a backup quarterback. Ryan clearly doesn't have a ton of faith in Kellen Clemens given the fact that they brought in veteran QB Mark Brunell earlier this spring, but that's a need they are better off addressing through free agency.
If Jason Taylor decides to stick with the Dolphins, the Jets could use Jay Feely's vacated spot to bring in Brunell or another veteran QB.
The Jets have five picks late 20s in the 1st, 2nd, 4th, 6th and 7th rounds. The third went to Cleveland for Edwards and the fifth to Pittsburgh for Holmes. Although the defense is a bigger focus of Jets draft-watchers, there could be a few offensive picks as well.