New York Jets:

Lex Hilliard
August, 21, 2013
8/21/13
11:13
AM ET
Fullback
Lex Hilliard
, who played in 12 games last season for the Jets, will have season-ending surgery next week to repair a fractured shoulder blade, a league source confirmed Wednesday.
[+] Enlarge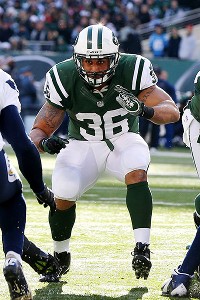 Jim McIsaac/Getty ImagesLex Hilliard's second season with the Jets will be spent rehabbing an injured shoulder blade.
The Jets placed Hilliard on injured reserve Wednesday and signed wide receiver Marcus Rucker.
"That's really unfortunate because Lex is a tremendous player and also a tremendous person," Rex Ryan said.
Hilliard, who missed the first two preseason games due to a rib injury, left the practice field Tuesday in severe pain. Afterward, Rex Ryan mentioned a possible shoulder dislocation.
Even if he had remained healthy, Hilliard would've been hard-pressed to retain his roster spot. Rookie
Tommy Bohanon
, a seventh-round pick from Wake Forest, has impressed the coaching staff and is in line to win the starting job.
Ryan said the Jets would keep their options open but he was complimentary of Bohanon after Wednesday's practice.
"He's been impressive," Ryan said. "I've been very pleased with Tommy."
Hilliard was one of the few unrestricted free agents that new GM John Idzik decided to retain. Hilliard signed a one-year, $780,000 contract, including a $65,000 signing bonus. The Jets picked him up last season because of his background with former offensive coordinator Tony Sparano. Hilliard rushed eight times for 31 yards and made four receptions for 23 yards in 2012.
He played in only 25 percent of the offensive snaps last season, a total of 271, but he was a steady contributor on special teams (203 snaps).
Bohanon said that he's confident that he can handle the starting role, if necessary.
"I definitely think that I'll be able to go out there and do everything they asked me to do," he said. "That's why I'm out there before practice and after practice working on my technique."
August, 9, 2013
8/09/13
6:00
AM ET
CORTLAND, N.Y. -- The Jets open the preseason Friday at the Lions. Kickoff is 7:30 p.m. Here is what to watch for:
1. Quarterback battle, Round 1
:
Mark Sanchez
starts,
Geno Smith
relieves. Sanchez figures to play a series or two with the starters before yielding to the rookie, who might get a series with the first unit. Smith will stick around and play with the backups as he attempts to convince the powers-that-be that he's ready to take over the team. The focus is on Smith, but it'll be interesting to see Sanchez in Marty Mornhinweg's West Coast offense. He loves the system. We'll see if it loves him back.


2. The rookies
: The Jets could open with three in the starting lineup -- DT
Sheldon Richardson
, CB
Dee Milliner
and FB
Tommy Bohanon
, the only fullback on the traveling roster. Incumbent
Lex Hilliard
didn't make the trip with an undisclosed injury. Milliner is rusty, which is to be expected. He missed the offseason and the first few days of camp, so his conditioning and technique still need work. Just for kicks, Rex Ryan should let Milliner cover
Calvin Johnson
for a couple of plays. Now
that
would be a welcome-to-the-NFL moment. Rookie LG
Brian Winters
(ankle) didn't make the trip, hurting his chances of winning a starting job.
3. Empty stable:
Chris Ivory
(hamstring) and
Joe McKnight
(head) are out, so the workload will fall to
Bilal Powell
. There's some concern among the coaches that Powell is being overworked, so don't expect a super-heavy work day.
John Griffin
and
Chad Spann
will see some carries as well. Mornhinweg, known for his pass-happy philosophy, will have no problem throwing it all over Ford Field.
4. Mega Who?
When the Jets drafted WR
Stephen Hill
last year in the second round, they made the mistake of comparing him, from a size-speed standpoint, to another Georgia Tech alum -- Johnson, aka. MegaTron. Hill is nowhere close to Johnson, but he has made strides on the practice field, especially with his technique. Now he has to take it to the game. With
Santonio Holmes
in limbo, they could be relying on Hill to be their No. 1 receiver.
5. New-look defense
: They have seven new starters, so there's bound to be growing pains. They could show up in the secondary, which was overhauled in the offseason. The only returning starter is CB
Antonio Cromartie
. The Lions like to spread the field, and they have a quarterback (
Matthew Stafford
) who can get the ball anywhere on the field. This should be a nice first test for the Jets' sub packages. Watch LB
Demario Davis
; he brings a pass-coverage dimension to the linebacking corps.
6. Q's debut
: Former No. 1 pick
Quinton Coples
plays his first game at outside linebacker. It has been a quiet camp for the former lineman. Part of that could be attributed to the position switch. But the coaches also want him to play with a greater sense of urgency. The feeling around the team is that Coples is the key to the defense. If he thrives in his new role, the defense has a chance to be really good.
7. Safety in numbers
: The most unsettled position is free safety.
Antonio Allen
has received most of the reps, but he's hardly a sure thing. Former Eagle
Jaiquawn Jarrett
has impressed the coaches with his approach and he could sneak in and grab the job.
March, 23, 2013
3/23/13
7:00
AM ET
The Jets had a lot of unrestricted free agents heading into the offseason, and the better players were snapped up quickly. A few linger, waiting for new teams or to re-sign.
Rex Ryan said Friday the Jets weren't in a rebuilding phase. Check out the list and see if you agree.
WHO IS GONE
TE Dustin Keller:
Drafted by the Jets in 2008, Keller signed a one-year deal with the Dolphins worth $4.25 million. Keller was injured for much of last season, but was one of the most familiar targets for quarterback
Mark Sanchez
.
S LaRon Landry:
Landry's Pro Bowl year with the Jets helped him rehabilitate his foot and elevate his profile. Ultimately he became too expensive to keep and signed a four-year, $24 million contract with the Colts with $14M in guaranteed money.
DE Mike DeVito:
The New York-born DeVito will play in Kansas City after getting a three-year, $12.6 million deal from the Chiefs. He will be tough to replace as a player and locker room presence.
RB Shonn Greene:
Drafted in the same class as Sanchez, Greene heads to the Titans or a three-year, $10 million contract. He'll be paired with
Chris Johnson
, and Johnson already bristled at the idea.
S Yeremiah Bell:
Bell will replace former Jet
Kerry Rhodes
with the
Arizona Cardinals
. Bell signed a one-year worth $965,000, which was a number in the Jets' neighborhood but they passed.
WHO RE-SIGNED
K Nick Folk:
Signed a one-year deal to return to the Jets.
RB Lex Hilliard:
Another one-year deal for Hilliard, who replaced
John Conner
at fullback last season.
WHO IS IN LIMBO
OL Brandon Moore:
The veteran right guard has options, and seems to be weighing them before deciding on his future.
OL Matt Slauson:
Slauson, drafted by the Jets in 2009, had for his left-guard job with
Vlad Ducasse
. The two split time during the season, a move that even offensive line coach Dave DeGuglielmo said was a decision made above him.
WR Braylon Edwards:
The former and current wide receiver has said he wants to be a Jet, although Ryan didn't mention him on Friday's list of receivers he expects to excel in 2013.
LB Bryan Thomas:
Thomas, 33, played 11 seasons with the Jets -- and has likely played his last.
WR Chaz Schilens:
He has barely been with the Jets a year, and his deal is up. Schilens played well at times, but there seems no hurry to bring him back.
March, 13, 2013
3/13/13
5:39
PM ET
Not every free agent is leaving the Jets. The Gang managed to retain FB
Lex Hilliard
on a one-year contract, a source confirmed.
This was a bit of a surprise. Hilliard, a midseason replacement last year for
John Conner
, isn't a great fit in Marty Mornhinweg's West Coast-style system because he's not a particularly good pass receiver. He's a solid lead blocker in two-back sets, although his blitz pick-up leaves a lot to be desired. He blew some blocking assignments that resulted in quarterback hits.
Hilliard rushed eight times for 31 yards. He had four receptions for 23 yards. He also contributed on special teams.
February, 5, 2013
2/05/13
10:19
AM ET
This is part two in a nine-part analysis of the Jets -- a position-by-position breakdown as we head toward the scouting combine and free agency:
RUNNING BACK
2012 depth chart
:
Shonn Greene
(starter),
Lex Hilliard
(starter),
Bilal Powell
,
Joe McKnight
,
John Griffin
.
Overview
: Greene slipped past the 1,000-yard mark for the second straight year, delivering the kind of season you've come to expect from him -- solid between-the-tackles production but very little explosiveness. He broke only two runs of 20+ yards. You can win with a player like Greene as long as he's paired with a speed back, but that wasn't the case with Powell, an inside slasher. McKnight has home-run ability, but he's wildly inconsistent from a fundamentals and focus standpoint.
Free agents
: Greene, Hilliard.
2013 personnel preview
: Greene is as good as gone. Despite his limitations, he'll draw moderate to heavy interest in a mediocre free-agent class. Plus, he's not a fit in Marty Mornhinweg's West-Coast system. The Jets need a versatile back with outside speed and pass-catching ability. Free agent Reggie (Hot Sauce) Bush would be ideal for the Jets, but there's little chance they'd be able to afford him. They probably will rely on the draft to find a No. 1 or No. 1a back that can be paired with Powell. Eddie Lacy (Alabama) and Montee Ball (Wisconsin) will be intriguing in the second round.
Salary-cap situation
: You can't blame the running backs for the team's cap situation, as Powell and McKnight are counting a combined $1.4 million on the cap. In fact, the Jets haven't made a significant investment since 2007, when they traded for
Thomas Jones
and gave him a four-year deal with $12 million guaranteed. They've taken the cheap approach, and don't expect that to change.
October, 21, 2012
10/21/12
10:18
PM ET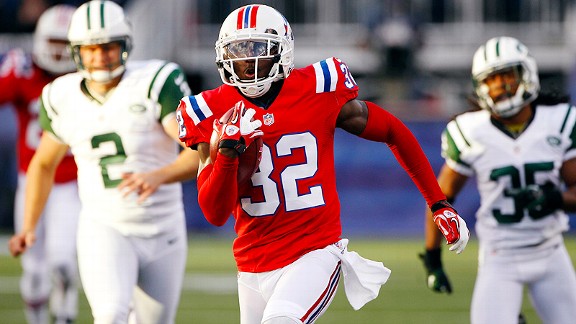 AP Photo/Stephan SavoiaDevin McCourty's 104-yard kickoff retun erased the Jets' opening score.
FOXBOROUGH, Mass. -- The Jets' special teams unit made its mark on Sunday's game.
For better and for worse.
In Sunday's 29-26 overtime loss, the Jets allowed a 104-yard kickoff return by
Devin McCourty
that tied the score in the first quarter, but bounced back to force and recover a critical fumble in the fourth quarter that led to a field goal, which put the Jets up 26-23 in the final two minutes. New England ultimately rallied to send the game to overtime and win it.
It was the first time since 2009 that the Jets allowed a kickoff return for a touchdown.
"We pride ourselves on kickoff coverage and we did a great job all year. And getting them inside the 20 and have a play like that happen, it's unfortunate," Jets fullback
Lex Hilliard
said. "We'll recuperate from it and go back to the practice field and work hard and make sure it doesn't happen again."
Despite its early blunder, the Jets' special teams put Gang Green in prime position to pull off the big upset in New England. After tying the game at 23 with a little more than two minutes left, Hilliard poked the ball loose from McCourty on the ensuing kickoff and safety
Antonio Allen
recovered it at the New England 18. The Jets would kick a field goal to go ahead 26-23, but the Patriots had too much time left on the clock and marched down the field to tie it.
"At the time it was going to be a game-changing play," Allen said. "But the way the game turned out, that play doesn't even matter."
Although that play gave the Jets a chance to win the game, the specials teams unit previously had negated all of the positive energy the team had in the first quarter. After the Jets took a 7-0 lead on their first drive, McCourty took the following kickoff 104 yards to the house and went unscathed down the left sideline to tie the game.
During the week, the team had been reading the wedge New England used and knew where it was going to go, but even that preparation didn't help. Allen said the team was too aggressive and tried to play over the wedge, and McCourty instead hit them with a backdoor cut to tie the game.
A mistake like that didn't sit well with the team after the heartbreaking loss.
"It was a special-teams breakdown," Allen said. "We have to get back on our jobs and come out next week and do better."